Web
The 12 best websites and tools to make or create comics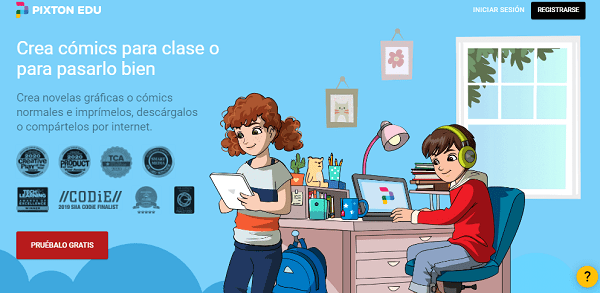 If you consider yourself a fan of comics and are looking for a method that allows you to write your own stories without having to draw, you should know that the Internet abounds with a wide variety of platforms aimed at those who have this in mind, but do not know very well where or how to start the creation process. Keep in mind that these are places where you can capture your ideas and bring your stories to life.
In the following post you will find a series of pages to make comics quickly and easily. It should be noted that each of the proposals to be mentioned have tools aimed at facilitating the drawing and coloring lines, as well as allowing you to create unique vignettes to provide a personal touch to your creations. Plus, with both free and paid websites , you don't need to be an expert cartoonist.
SuperAnimo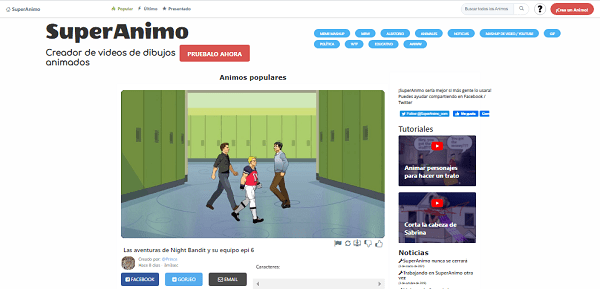 SuperAnimo is a website where you can design comic-style videos to tell your stories. This, through the use of tools that create a cartoon effect and allow you to add thought clouds, striking texts, stickers and all kinds of characters. In the same way, you can add sounds, videos and images in PNG, GIF and JPG formats.
To create your own comic videos, all you need is to register on the page. Once the registration is complete, you will have access to all the creation elements for your comics. It is worth noting that this platform can be used completely free of charge.
Official page: https://www.superanimo.com/
StoryboardThat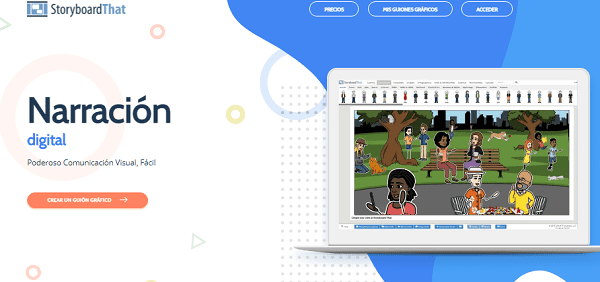 It is perfect for those users who want to visually communicate their concepts and ideas in a fun, simple and fast way. When you log in to StoryboardThat, you will have access to a tool that incorporates a wide range of options to customize characters, objects and backgrounds according to your tastes. With this option, you can save a maximum of six vignettes for free.
However, if you want to have complete tools and enjoy them to the fullest, you can pay a subscription of USD $ 9.99 per month. In this way, you can save all kinds of vignettes in an unlimited way.
Official page: https://www.storyboardthat.com/es
Canva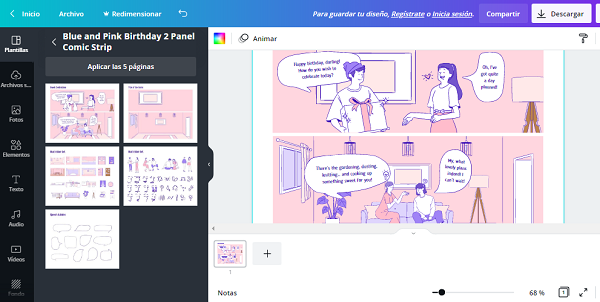 Canva is one of the most popular platforms aimed at fans of graphic design, which has an option to create comics in which you will have at your disposal a large catalog of templates, texts, elements, stickers and images to make unique comics and personalize them your way.
Also, the site allows you to use grids and even organize your stories by block to create your own narrative effects. It is worth noting that Canva is available for free and to use it, it only requires a registration with an email.
Official page: https://www.canva.com/es_es/crear/historietas/
Create Your Own Super Hero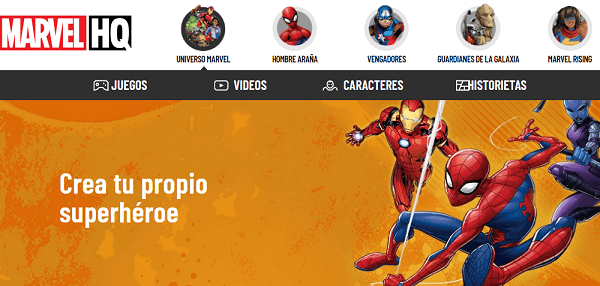 Marvel is one of the best known companies in the world of comics and is characterized by presenting a totally free platform aimed at comic book lovers so that they can publish their own stories. To do so, it will only be necessary to choose the characters from the Marvel universe that you want and start your story.
With this website, you can make use of a wide variety of tools, including selecting settings, sound effects, characters, writing text in balloons or clouds, modifying the camera angle, and more.
Official page: https://www.marvelhq.com/create-your-own-super-hero
Witty Comics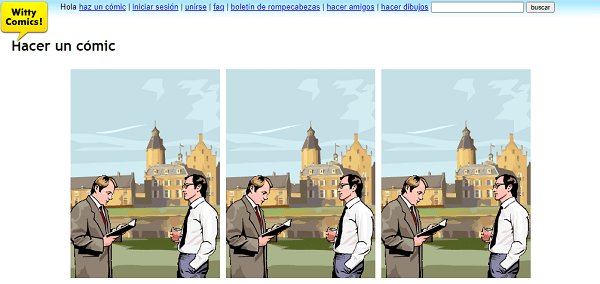 It is one of the pages to make comics easier to use and that stands out for presenting classic realistic images. Once you access Witty Comics, you will find 3 vignettes in which you can modify different kinds of elements to create your own comic. Here, you will have tools to add scenery backgrounds, texts, speech bubbles and a maximum of two characters.
As a result, it is a very simple website with limited tools compared to others. However, it is still a good option because it is a free service and allows you to download your creations in PNG.
Official page: http://www.wittycomics.com/
Make Beliefs Comix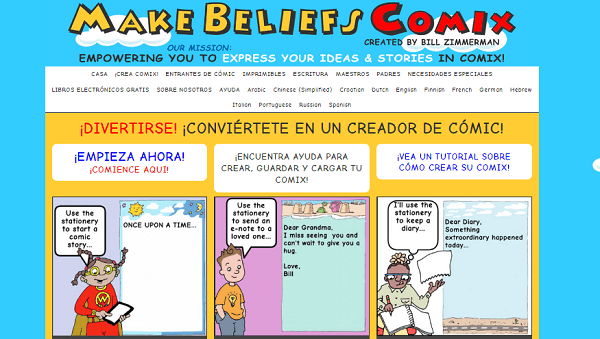 It is a platform to create comics in a very fun way, so it is
perfect for children. The platform is completely free and has three canvases on its home page where you can start creating. This, taking into account that the maximum number of vignettes is 18 and in them, you can add different characteristic elements of the comics, such as objects, texts, backgrounds and characters that you can later download in PNG format.
Official page: https://www.makebeliefscomix.com/
PhotoJet

It is a platform where you can make all kinds of graphics for free and online. FotoJet has a series of templates to design banners, collages and cards. By choosing this page, you will have the option of creating image strips that can be of great help when making comics. The page does not require registration and offers a wide variety of editing tools.
Official page: https://www.fotojet.com/
Storybird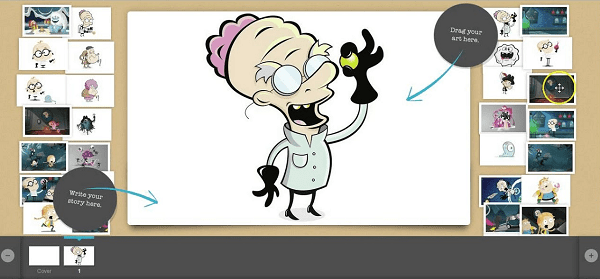 It is a tool designed to allow you to create comics or illustrate your stories, poems and personalized books using a series of predetermined images. It should be noted that Storybird has a box dedicated to text in order to create your comics. And to have access to it for free, you will only need to register with your email.
Official page: https://storybird.com/books/comic-strip-1/
Voki

It is a free platform with which you will have the opportunity to create your own character by allowing you to choose all its characteristics in relation to its body appearance and other details. It is ideal for creating your own comics, since you can design your characters, add texts, backgrounds and sounds. In fact, Voki has options with which you can add public figures such as Obama, Abraham Lincoln or Trump.
Official page: https://www.voki.com/
Write Comics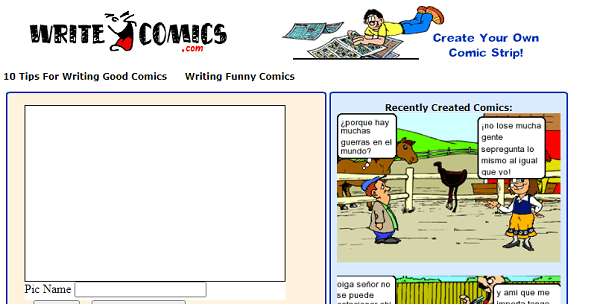 Write Comics has a slightly outdated interface, but it has an excellent editor that is located on its home page, where you will find a series of work tools that will be useful when creating your own comic, including options for add objects, speech bubbles, scenes, and people. In addition, it is a website where you will not need to register.
Official page: http://writecomics.com/
PlayComic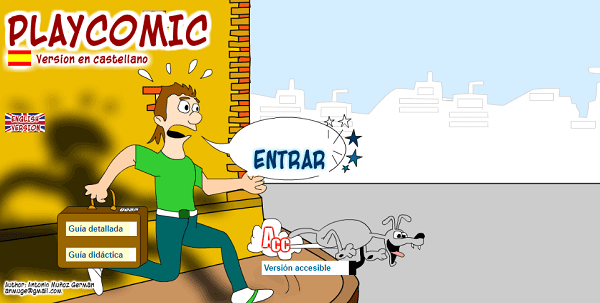 PlayComic is a good didactic tool and mainly aimed at students where you can create your own comics. You will need to register to have access to its wide variety of tools that will allow you to draw a cartoon with predefined elements or create just its story.
It presents a very intuitive interface, since it presents help messages that will appear during your creation process, didactic suggestions and other types of functions to encourage you to finish your projects.
Official page: http://ntic.educacion.es/w3/eos/MaterialesEducativos/mem2009/playcomic/index_es.html
Pixton EDU

Pixton EDU is a platform in Spanish with which you can create comics online. By accessing it, you will have the option of using the service according to your requirements, be it companies, students, parents or educators. The page has specific templates with unique designs that will allow you to develop storyboards of the stories you want.
You can create your avatar or character by choosing their physical characteristics and gender. Similarly, you will have a series of design tools, including the option to select t
e number of bullets, elements, backgrounds, among others. However, Pixton EDU offers a free 7-day plan where you must register to start it.
Official page: https://edu-es.pixton.com/solo/
Comics offer a less stressful experience when it comes to learning and even reading practice. They are also positioned as excellent entertainment media to hook you with unique and colorful stories. So if you want to express yourself artistically and creatively, feel free to opt for one of these comic book pages mentioned above.