Web
Fix Windows 10 cloud sync error 0x8007017C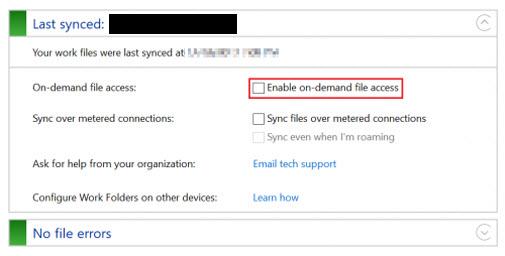 Our way of working has changed a lot in recent years. Until not long ago, files were still sometimes shared on USB sticks. The trend today has changed and it is normal to have folders in the cloud that we share with our co-workers. However, on some occasion you may one day receive an error message 0x8007017C in which you tell us that the operation in the cloud is not valid. In this tutorial we explain the possible causes of this failure, and in addition, we will also offer you the most appropriate solutions to solve the problem.
This problem usually happens when you have different work folders set up on your computer or on multiple devices. The failure occurs when trying to synchronize files in Windows 10, when we receive the message of a failure, in this case we refer to error 0x8007017C. This failure can be solved in several ways that we are going to detail below, however, before starting to solve this problem we would recommend that you make a backup or configure a restore point in Windows 10 in case the problem persists. In this way, you can go back with all the changes made quickly and easily, without the need for you to go back to undo all the changes made.
Causes and solutions for error 0x8007017C
Generally, one of the causes that produces this error is when we have activated the function of access to the file on demand. Another possibility that can cause this failure is if we have the Windows update KB4592449 installed on our Windows 10 PC. If we have this problem, then a message will appear with a screen like the following one, in which it indicates that the error 0x8007017C.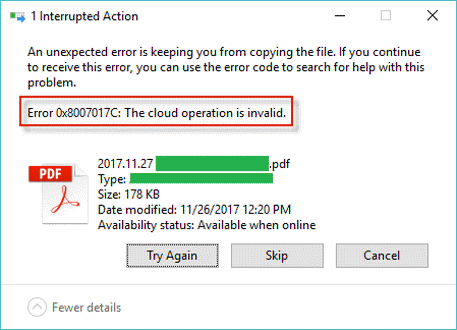 As you can see, it is indicated that the operation in the cloud that we want to perform is not valid. Regarding the KB4592449 update , it should be noted that it contains a change in the application programming interface (API) that causes work folders to not be able to synchronize files from the server to the device. Therefore, in the event that we want to solve this failure, we must check these two possible solutions:
Uninstall update KB4592449.
Proceed to disable the on-demand file access feature.
Next, we are going to explain how to perform both tasks in order to permanently get rid of the 0x8007017C error.
Uninstall Windows update KB4592449
Previously, we had already identified this Windows update as the culprit for the cloud sync error. Therefore, to solve it, we will proceed to uninstall it. To do this, we are going to follow these steps:
We go to the start menu.
We write search for updates and click on Enter.
Next, a screen like this will appear, and click on View update history :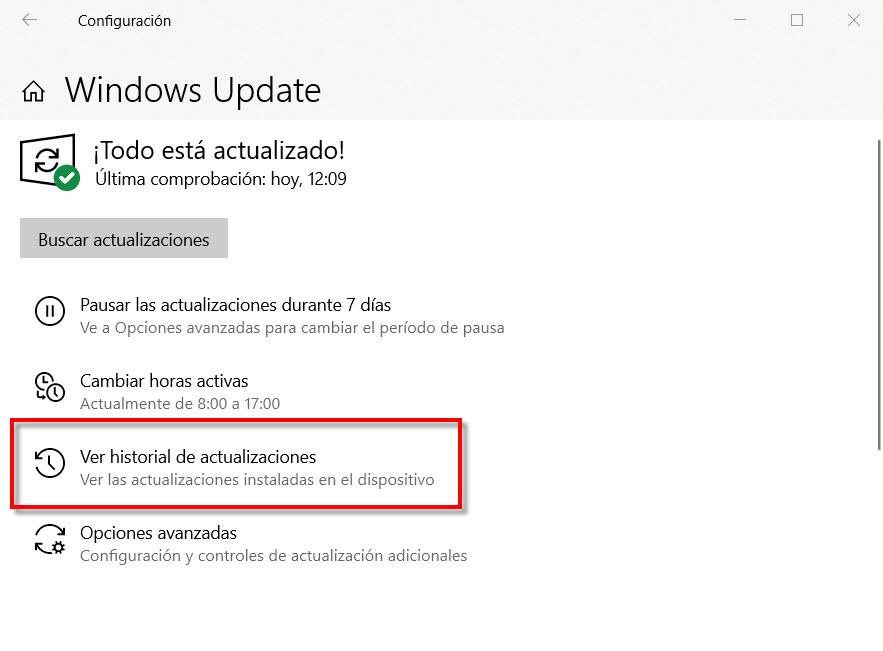 Here we will get a list with all the updates that Windows 10 has installed, this part is very important in the operating system, because on some occasions, Microsoft releases new updates that break some functionality in the operating system, or it directly works badly, slow and there are even random blue screens of death. If you have problems with your computer and you have just installed an update, it would be highly recommended that you go into this section, and try to uninstall an update that you have just installed, to check if the problem has been solved or not. For this reason, Microsoft tends to release operating system updates in "batches," and not to all users of its operating system simultaneously.
The next thing we have to do is check if the KB4592449 update appears in the history. If so, we will click on Uninstall updates.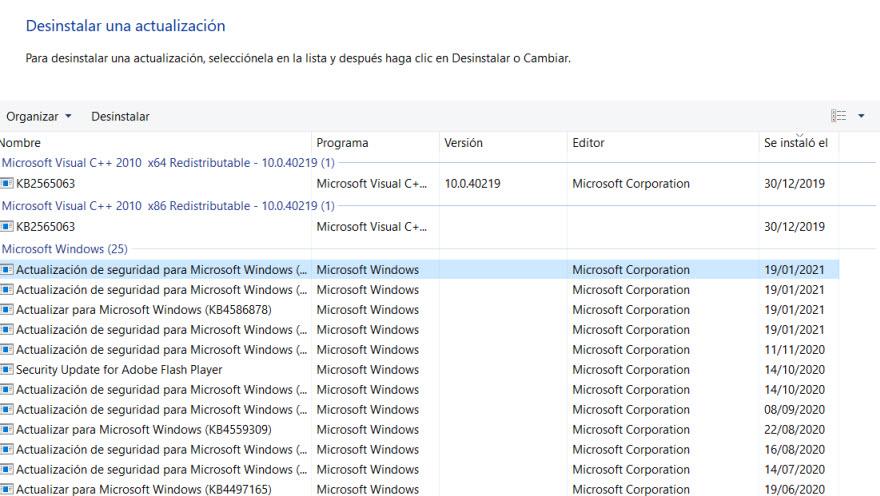 Then we look for it again and proceed to uninstall it. This does not have any complications, we will simply have to select the update to uninstall with the right click of the mouse, we accept that it be uninstalled, and later it is highly recommended that you restart the operating system to apply changes. Surely when the operating system starts again you will no longer have the aforementioned problem, and everything has been solved without any problem.
Disable the "on-demand file access" feature
One thing you should know is that to solve the 0x8007017C error problem by disabling the on-demand file access function, we can do it in two ways. The first one we are going to deal with is using the local group policy editor. To carry out this operation we will follow the following steps:
We are going to press the Windows key + R to bring up the run window. Another option would be Start Menu, we write run and give Enter.
We type gpedit.msc and press Enter again.
Once the local group policy editor opens, select User Configuration > Administrative Templates > Windows Components > Work folders > Specify work folder settings.
Then we disable Preference for access to files on demand and we click OK.
This is a screenshot in which you can see how we have disabled this function that caused the error 0x8007017C: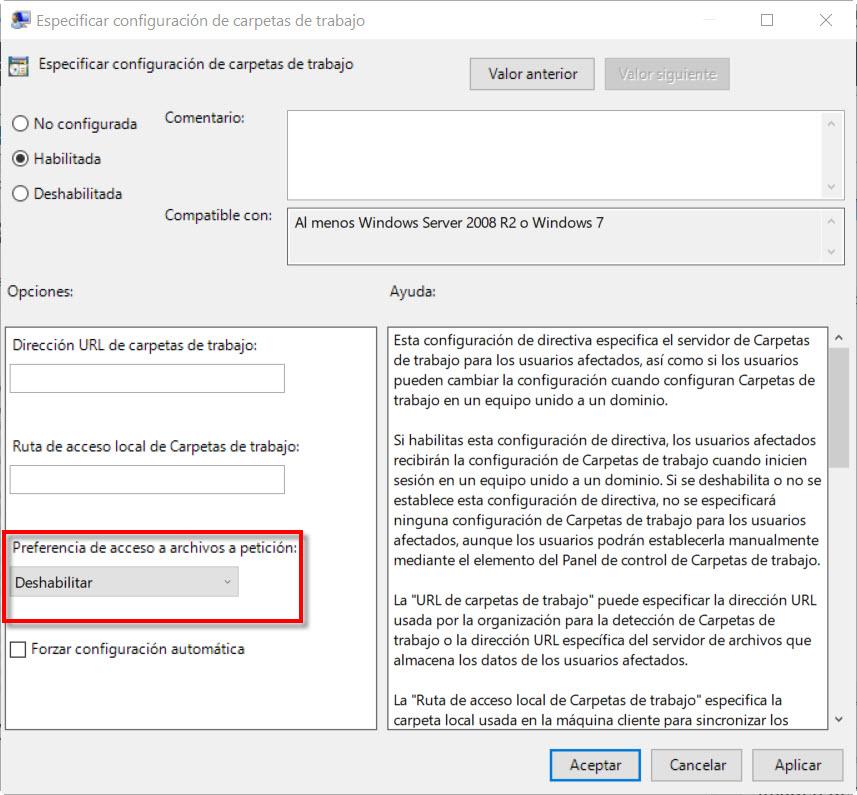 Now we are going to explain the second way to disable the on-demand file access feature. This time we will do it as follows:
We go to the Windows menu.
We write control panel and give Enter.
We click on System and Security.
Work folders.
We unchecked the checkbox to enable file access on demand.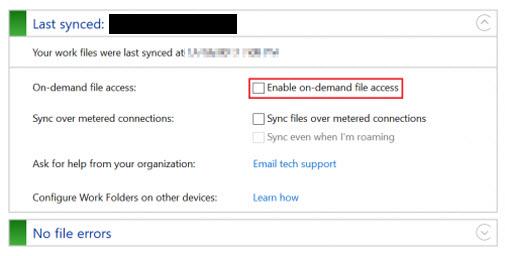 With these steps, you can definitively solve the error 0x8007017C that occurs in Windows 10 on some occasions. We recommend that you make a backup copy of the operating system with programs such as Acronis True Image, in case you have any problems when making all the changes. This program is paid, but it has advanced protection options against ransomware, a built-in antivirus and also has Acronis Cloud to upload the backup to the cloud, with a size of 1TB to save our entire PC and restore it with just as just have an internet connection.