Social media
Slack conversation threads what arehe, what are they for, and how to use them in your workspaces?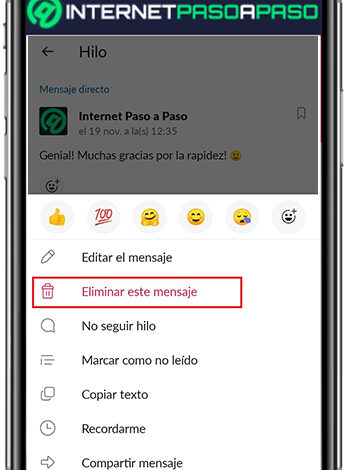 Currently, Slack is considered one of the newest alternatives that companies or organizations worldwide have at hand to complement the digital world in an excellent way . Since, it refers to an instant messaging application that offers numerous utilities to facilitate and optimize work connections between the members of a work team.
In this way, this service is characterized by promoting inclusion among all the people who are part of a workspace, in order to increase their productivity and thus, simplify the achievement of all the goals or objectives set by the company in question. Reason why, even, it allows adding other users as guests to create a more collaborative environment.
However, to improve communication between workgroup members and / or with guest users, Slack lets you make use of the famous conversion threads . Which, guarantee much more organization and, in view of that, it is interesting to know what they are for . Therefore, in this post, we will explain what they are about, what advantages they provide and how they should be used .
What are conversation threads and what are they for in Slack?
While this is true, Slack conversation threads can be defined as a referral message through which a series of replies are generated or a conversation is triggered. Which, basically, have been designed to segment conversations when dealing with specific issues in a private workspace or group .
In this sense, conversation threads are used to organize chats in channels and direct messages, as well as to talk about detailed topics without having to add clutter to the main view of the conversation in this application. By their nature, they even offer the ability to track conversations much easier and more efficient .
Now, in terms of its operation, we highlight that, by default, these threads remain connected to the original message and thus, they are characterized by maintaining their connection with said message. Therefore, they allow you to respond directly to a message on a channel and keep the responses in order within a single conversation. But, they will not appear in the main view of the conversation and the notifications of new replies will only be received by those users who have commented on the thread in question .
What are the benefits of using conversational threads in your Slack workspaces?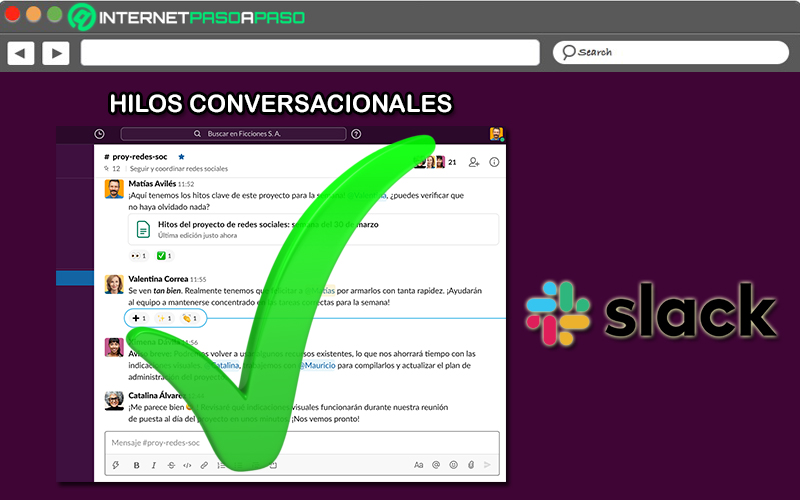 As you can see, conversation threads refer to a Slack feature that can improve communication between users, because they focus on grouping messages with their responses, visually.
Therefore, its use in the workspaces of this platform reveals certain advantages that must be taken into account and that is why, here we mention these pros:
They are ideal resources to prevent Slack channels from focusing or stopping on the least important of a certain issue or from going around the bush.
They allow to optimize the organization of the workspaces, in its entirety. Which is much more convenient for all members who manage their tasks from there.
They help to improve the experience of conversations without the need to affect the normal operation of the messages broadcast on the different channels.
They are considered a great assistance to better structure and coordinate communications, since they can be delegated as secondary messages.
They avoid causing annoyance to members of the workspace that have nothing to do with the topic at hand. Since, they only send notifications to those users who follow the thread or have contributed to it before.
Learn step-by-step how to use conversation threads in Slack and get the most out of them
Although the conversation threads in Slack are considered an ideal resource to provide a better functioning to the workspaces of this instant messaging platform, the truth is that many users still do not know how to use them correctly .
That is why we want to explain step by step how to use Slack's conversational threads and get the most out of them:
Reply thread message
One of the most relevant processes that you have to handle to understand how to use conversation threads correctly, of course, lies in knowing how to reply to messages in it .
Which is why we start by showing you the steps to follow to start a thread or reply to it within Slack, both from your computer and also through the mobile app:
Using the web version on the computer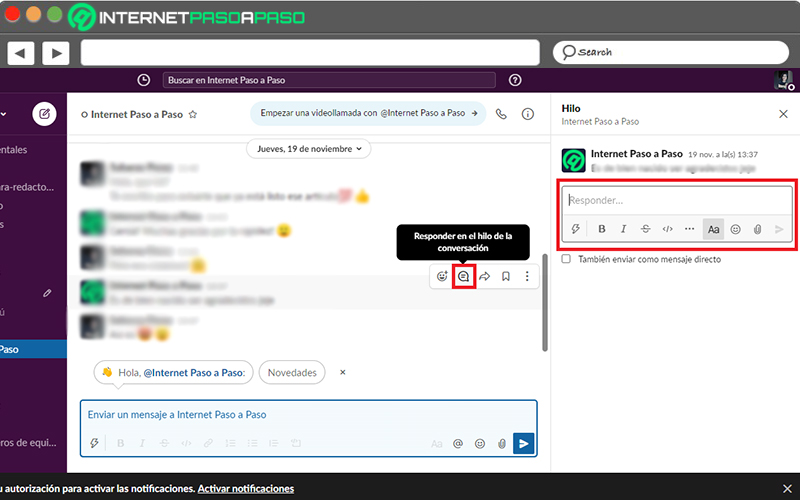 Access your Slack account through the official website of this service.
Next, in the conversation to be discussed, proceed to place the cursor over the message you want to reply to .
Afterwards, click on the "Reply to thread" icon and write your reply on the right side of the screen.
Finally, if you wish, click on "Also send as direct message" (optional) and all that remains is to send the message .
From the app for Android and iOS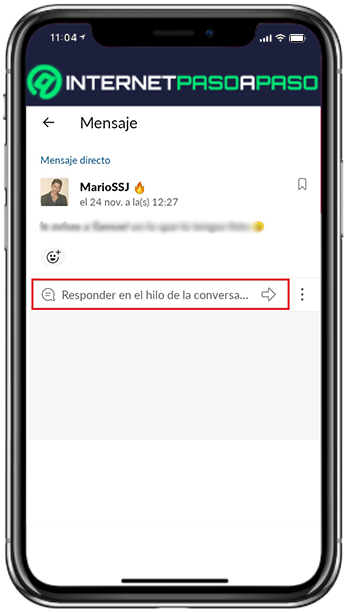 Enter the mobile application and enter your workspace .
Next, look for the chat to be dealt with and select the specific message and then click on the field that says "Reply in the thread of the conversation" and there, add what you want to an existing thread. If you want to create it, you have to press the "Start a thread" icon .
Then it's time to write your answer .
Finally, just press the corresponding icon to send the message (that is, the paper plane icon).
Find thread
Another fundamental procedure to be able to manage Slack conversation threads in a relevant way, is to know each step to follow in order to find a specific conversational thread .
As a consequence, below, we explain what you have to do on your computer and on your mobile device to do this:
Directly from your computer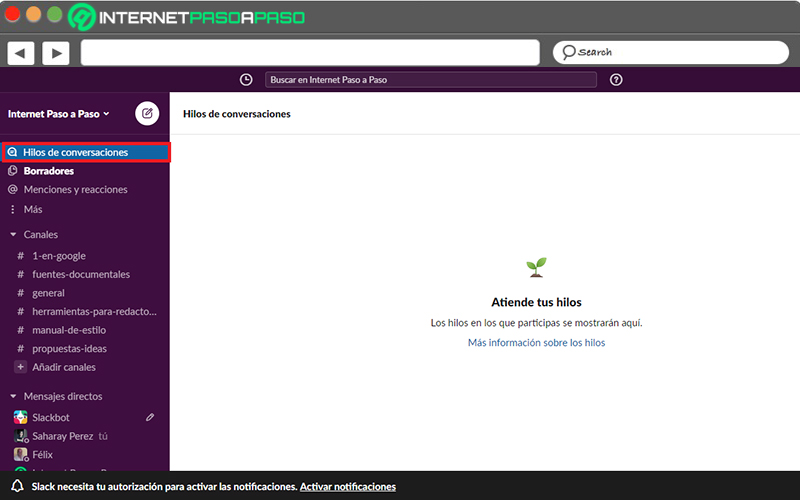 Using the official web version of this service, you have to proceed as follows:
Log into your Slack account and access the corresponding workspace .
After that, go to the left sidebar that contains a complete menu and click on the option "Threads of conversations" (it is in the first place).
Now, once the system loads all the conversations, you will be able to see which threads are available . Also, if there are any threads with unread responses, you will see them at the top of the list.
Additionally, from this section, you will be able to reply to any thread and select a certain thread to open it in the original (or primary) conversation .
On Android or iOS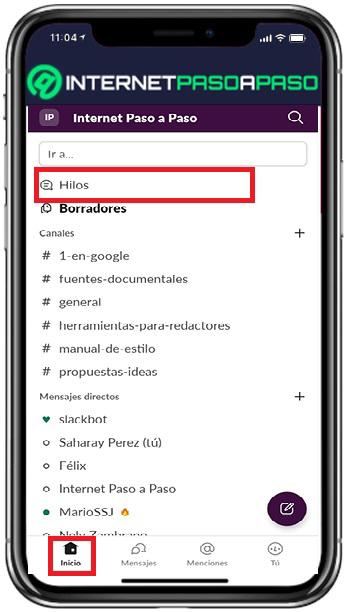 Using the Slack mobile app , it is also very easy to find a point thread .
Taking into account that, in this case, you will have to do the following:
Start by logging into your Slack account through the mobile app and accessing the relevant workspace .
Once this is done, click on the Home tab (at the bottom) and within the list, touch on "Thread" (it is located in the first position) .
You will then be able to see and attend to all the threads in which you participate . Also, if there are threads with unread responses, you will find them at the top of the list.
In case you want to add a thread, simply click on "Reply" .
Go on and leave a thread
When you are part of a conversational thread in Slack, automatically, once there are new responses, you will receive notifications . Like, if another user mentions you in the original message, in any of the responses of the thread or, if you have answered in one of them. However, at times, this becomes annoying for different reasons and as a consequence, members choose to stop following a certain thread in order to stop receiving notifications of new activities.
Therefore, we show you how you can manage these threads to follow or unfollow them at any time:
Through your computer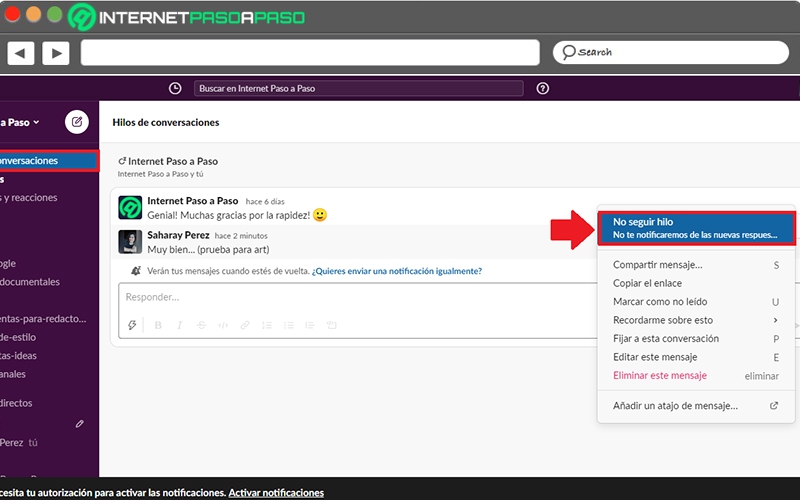 It should be noted that, again, this has to be done directly from the web version of the service .
So, once you access your account with the corresponding data and enter the workspace, you have to do the following:
Find the thread as we taught you in the previous part. That is, by clicking on "Conversation threads" from the left sidebar.
Next, select the thread in question and click on its icon with three dots, that is, on the option of "More actions" .
Followed by that, a small menu will open and within it, you have to choose the option "Do not follow thread" to be able to stop receiving notifications. Otherwise, click on "Follow thread" .
With the mobile app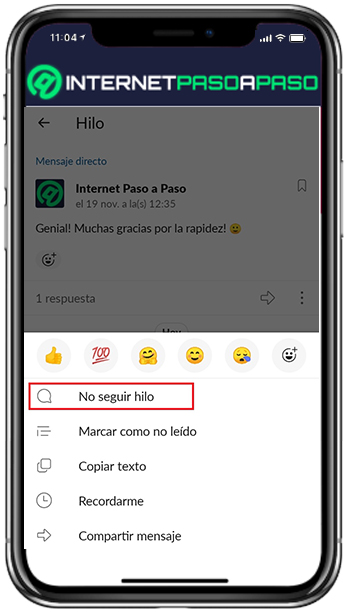 On your Android or iPhone device , you also have the option to follow and unfollow a certain Slack conversation thread from its mobile app .
In such a case, you have to do the following:
Enter your workspace, select the Home tab at the bottom and tap on the "Threads" option .
Now, locate the thread you want to follow or unfollow and press it.
Next, press the icon with three dots that is located below the original message
Once this is done, a menu will open and in it, it is time to select the option that indicates "Do not follow thread" to stop receiving all your notifications. Otherwise, click on "Follow thread" .
Delete message in conversation thread
Apart from all the above, the Slack system also allows you to delete a specific message within a conversational thread . Either to modify it for another, because you have changed your mind or for any reason.
So, to make it easier for you to manage these threads when deleting messages, we tell you what you should do:
Using the web version on the computer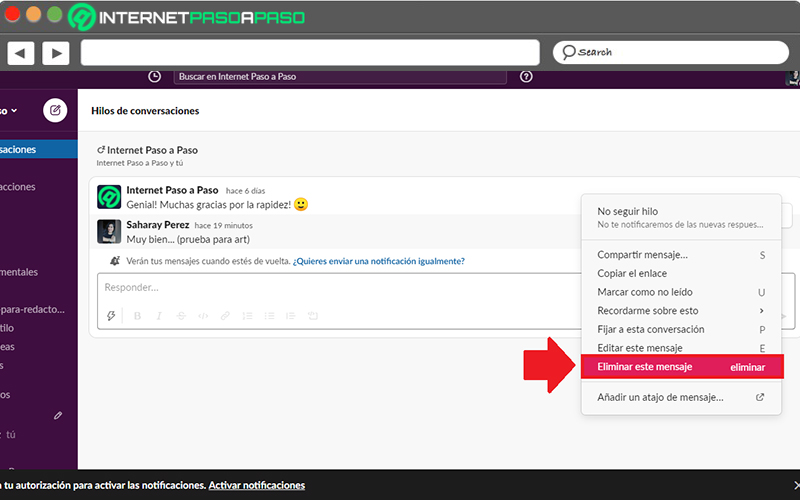 In this case, you have to access your Slack account from the official website, enter the workspace and click on "Conversation threads" in the sidebar, and then:
In the list of all the threads to which you belong, proceed to search and select the thread in which you want to delete one of your messages.
Next, it's time to search for that message throughout the entire conversation.
When you locate it, click on it and select "More Actions" (the three-dot icon). There, click on "Delete this message . "
Finally, confirm the action by choosing the "Delete" button within the box that appears.
Using the mobile application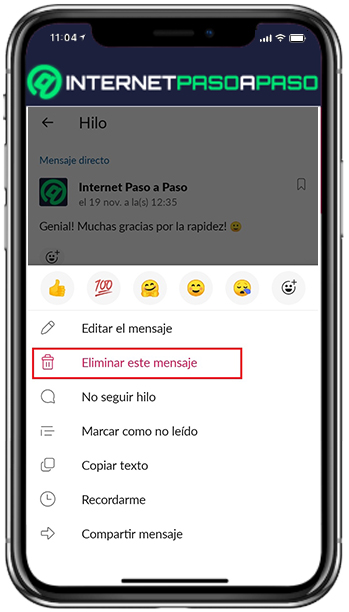 If you prefer to manage this through your mobile phone, you have to start by opening the Slack app to go to the Home tab and choose the "Threads" option .
Once that is done, it only remains to do what we indicate here:
Among all the conversation threads to which you belong, find and locate the thread in which you want to delete a certain message.
Once you access that thread, it is time to locate the message you want to delete .
When you specify the message in question, press it for a few seconds and in this way, a small menu will open .
To conclude, you just have to tap on "Delete this message" to confirm it by clicking on the "Delete" option .