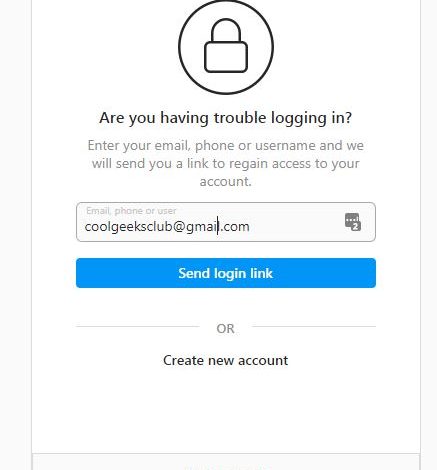 Every day millions of people log into their Instagram account to see the news published by their friends in the form of statuses, photos or videos; however, many times the account access process is interrupted by an error that requires the account to be recovered. Forgotten password, loss of email or account "hacking" are the most common problems. Fortunately, these problems could have a solution.
Instagram offers methods to recover an account quickly, although sometimes it depends on the severity of the case. It is possible to do them both from the computer and from the mobile application; We will show you these processes step by step here in InfoCuentas so that you can access your profile again
Recover Instagram account from the web
This method to recover account works from both the PC and mobile browser, although for the latter there is also the possibility of recovering the account from the application. Here are the steps to recover your account from the Instagram website.
Go to https://www.instagram.com/accounts/password/reset/ to reset your password.
Enter your email address or username to receive an account access link.

Enter your email inbox and look for the email sent by Instagram.
Once inside the email you will have the option to enter your account directly or change your password. We recommend choosing the last option to ensure your access to the service in the future.

Choose a strong password and enter it in both fields. Then press the " Confirm " button .
By following these steps, you will have successfully recovered your Instagram account from your computer or mobile browser.
Recover Instagram account from Android or iOS
You can also recover your Instagram account from the application for Android or iOS. Below we will guide you step by step through the process.
Access the application and on the home screen tap " Get help ".

Enter the email address of your account or your username and then press " Next ".
Select " Send an email " if you don't have a Facebook account linked to your Instagram. If you have a phone number assigned to your account, the option to " Send SMS " will appear. If you have a linked Facebook account, you can access it directly by pressing "Login with Facebook".
Check your email inbox and click on the "change Instagram password" link. You can also directly access your account by pressing the blue button "Enter as …", however, it is convenient that you change your password to ensure your access in the future. If you have chosen the " Send SMS " method , you must enter the digits sent to your phone number.
On the next screen, enter a new password for your account and press " Continue ".
Your password will be changed.
If you no longer have access to your email, in step 3 select " Need more help? " And a form will be enabled to send a review request to the Instagram team. Provide all the possible data to have a better chance of recovering your account.
Recover hacked Instagram account
In the worst case, you may no longer have access to your Instagram due to circumstances other than a simple password loss. This method can help you in the following cases:
Loss of access to your email address.
Forgetting email address.
Account hacking (someone else has taken control of your account).
Fortunately, Instagram makes available to its users a form to request more help, it is only available in the official application. Here are the steps:
On the screen to log into Instagram, click on the " Get help " link .

Enter the email address of your account or your username and then press " Next ".
On the next screen you can fill out a form to get more help from Instagram. In this form, you must complete:

Registration email: the email with which you have registered on Instagram.
Preferred email: an email to which you have access, it is important that you can access it since in this medium Instagram will contact you.
Select type of account : here you can select if your account is a company or a brand; or if it is a personal account with or without photos in which you appear.
Select problem : here you must specify the problem with your account.

Add a detail that helps solve the problem: describe exactly what the problem is and if possible tell the Instagram team more about your account and your identity.
Press the "Submit request" button.
Now we will only have to wait for a response from Instagram, the term of which is not determined by the company.