software
How to delete to wallapop account? Step by step guide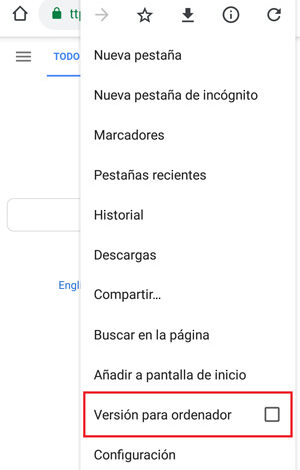 The buying and selling of second-hand products is one of the oldest in the trade. All of us, from time to time, have decided to get rid of products that we were no longer interested in to get some extra income, as we have also searched this market in order to find something much cheaper than in stores where it is sold completely new.
With the arrival of the Internet and its total paradigm shift, proposals have been born that have been in charge of bringing this type of market to the Internet, just as Wallapop does. This platform is responsible for making the sale and purchase of second-hand products easier, offering a system that allows you to place and search for ads in the areas that we indicate. Thanks to it, available both in web format and in app, it is possible to sell everything we want, explaining in detail what it does, what it is for and accompanying with photos so that its status is clear.
Although it offers many facilities, such as the possibility of contacting via text chat to make appointments or even bargain with prices, there are those who after spending time trying this system decide to unsubscribe because they have already achieved what they wanted or because they do not consider it interesting. In those cases is when you have to know how to cancel a Wallapop account to completely disappear from this platform, and that is what we are going to explain here.
Steps to permanently cancel Wallapop account
This guide that we bring you details step by step the process to follow to completely unsubscribe from this platform, either through a computer or a smartphone. Whatever the reason you have and the device through which you want to request the closure of your profile, we will help you to achieve it in just a few minutes.
If you want to close your Wallapop account permanently, you have to follow the following steps that we indicate on PC and mobile phones.
Delete profile from PC
Open your computer's web browser. When you're in it, go to the address bar at the top and type this URL: https://web.wallapop.com
Once inside, you must go to the top and click on the "Sign up or log in" button. When the small pop-up window appears, choose the method you prefer and log in as usual.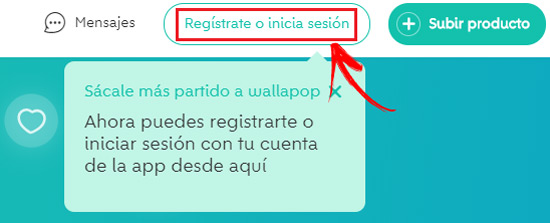 Once connected, you must go back to the top bar and click on "My zone".

In the new panel, go to the left column and click on the "Profile" section.
Now you will see all the main data of your account on the screen. You must descend until you reach the option "I want to unsubscribe", which is in the penultimate place.

You will be asked if you are sure to proceed. Press the "Yes, I want to unsubscribe" button.

In the next window, choose one of the reasons that appear or click on the option "The reason is … " and then write what corresponds. Then click on "Send ".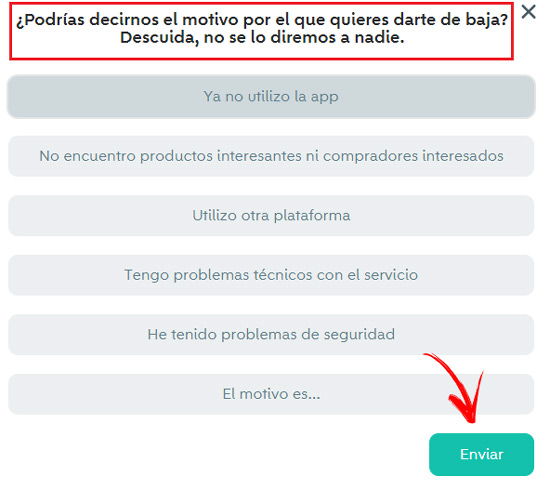 You have already canceled your account in Wallapop.
Unsubscribe from mobile (Android and iOS)
Follow these simple steps to get through the process quickly:
Since the app is not suitable for this process, open your web browser and type the URL: https://web.wallapop.com
In the browser settings, you must enable the option to browse as on PC. Usually, you just tap the icon with three dots and, in the drop-down, check the box for "Website for computer".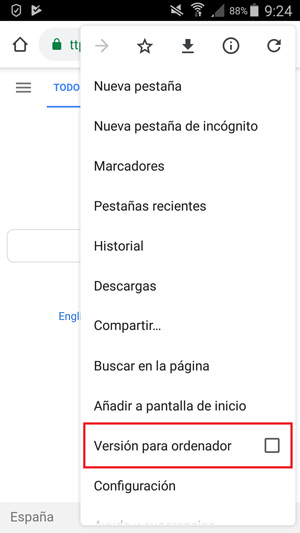 From now on, proceed as indicated from the second point of the previous section. You must log in, access your panel and request the cancellation through your user configuration, since it is the only possible way to achieve it.
How to delete an ad posted on Wallapop?
To delete an ad published on Wallapop, because you regret it and do not want to sell it or because you have already sold it.
This is what you should do:
Open the Wallapop app on your smartphone. If you don't have it, go to Google Play (Android) or the App Store (iOS) and download it by searching for it.
Once inside, log in to Wallapop by entering your data if you have not done so previously.
Now, on the main screen, go to the upper left corner and press the icon with three lines.
In the drop-down that appears, press your username (at the top) to access your profile.
Now choose the ad you want to delete by clicking on its photo.
Within the description, click on the icon with three circles on the top right to access the options. In the drop-down, choose "Delete product".
You can mark the option "I have sold it " or "Other " when indicating the reason why you delete.
You have already removed the Wallapop ad.
If you have any questions, leave them in the comments, we will answer you as soon as possible, and it will surely be of great help to more members of the community. Thanks!