software
Recover your privacy in windows 10 thanks to debotnet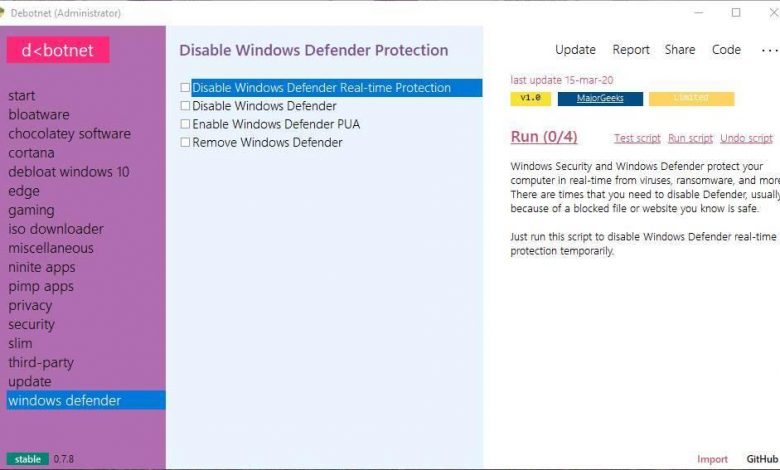 Since its launch, more than 4 years ago, one of the things that has bothered Windows 10 users the most is the lack of privacy. The Microsoft operating system collects operating system usage data and sends it to Microsoft. And although this data is anonymous, the truth is that the lack of control over what Windows 10 collects or does not collect, bothers users a lot. Luckily, it is possible to improve the privacy of Windows 10 thanks to tools like Debotnet.
Debotnet is a simple, totally free program whose main purpose is to allow us to configure Windows 10 to achieve the highest level of privacy possible. Thanks to this program we will be able to apply up to 100 changes to the system, many of them are even hidden in the operating system, to allow us to use the computer in a much more private way.
Main features
The main features that this program offers us are:
Disable telemetry from the operating system.
Disable some online features that can share data with Microsoft.
Allows users to choose which features they want to disable and which they don't.
The tool works through scripts. And the scripts are updated directly on GitHub.
Very easy to use interface with descriptions of what each function does.
We have full control over what the program does. We can know at all times what changes you are making.
Support for the Ninite service.
Compatible with Chocolatey repositories.
Allows you to download a Windows 10 ISO and create a bootable USB.
Integrate custom scripts.
Allows you to download classic Windows applications, such as the old calculator.
Modern interface with support for themes.
Portable. It does not need installation nor does it leave traces on the PC.
As we have said, Debotnet is totally free and also open source. This allows us to be sure that it does not hide anything strange that could harm Windows. And also know for sure what it does and what it does not do in the system.
To use this program, we simply have to download it from the following link. Let's see how it works.
How to improve Windows 10 privacy with Debotnet
Once we have downloaded the program, we unzip it and we will have it ready to use. You do not have to install it, or install any dependencies or any other type of software to be able to use it.
Of course, we must make sure to run it as Administrator, since, otherwise, we will not be able to apply all the changes that this software offers us. The first thing we will see when executing it will be a window like the following one.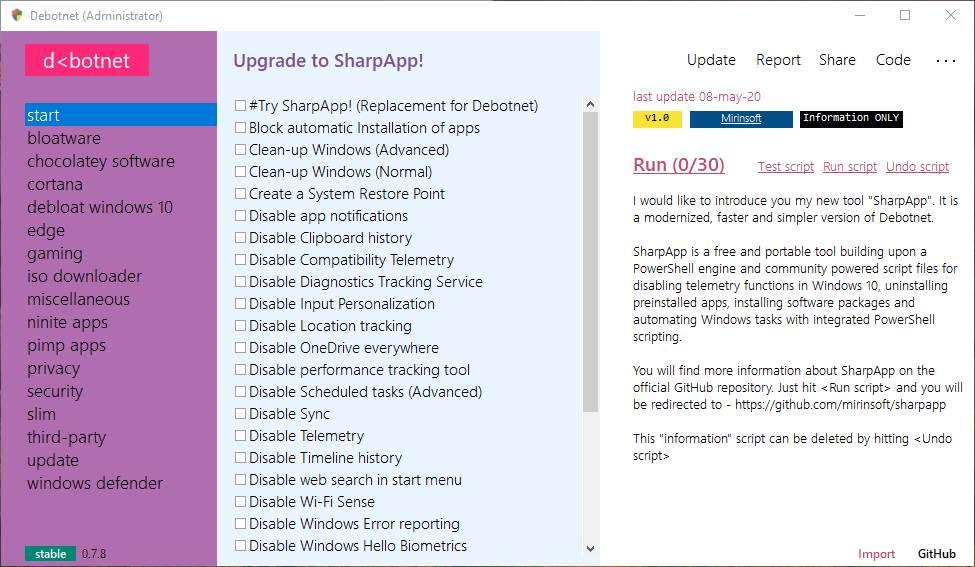 As we can see, the program's interface has no difficulty. On the far left we will find the main options of the program. In the central part we can see a list with all the scripts that we can find. Each of them applies a series of changes to the system to allow us to improve our privacy. And on the right we can see if it is a recommended script (changes that we can apply without problems) and a description of what it does.
We simply have to go through all the program scripts one by one, select the ones we want to apply to the system and that's it.
Different categories of scripts
This program divides all its functions into a series of categories that we are going to see below:
Start: here we will find a series of general scripts to control the telemetry of our Windows 10. We can activate and deactivate functions and features of Windows 10 to improve its performance or to prevent our personal information from being sent to Microsoft.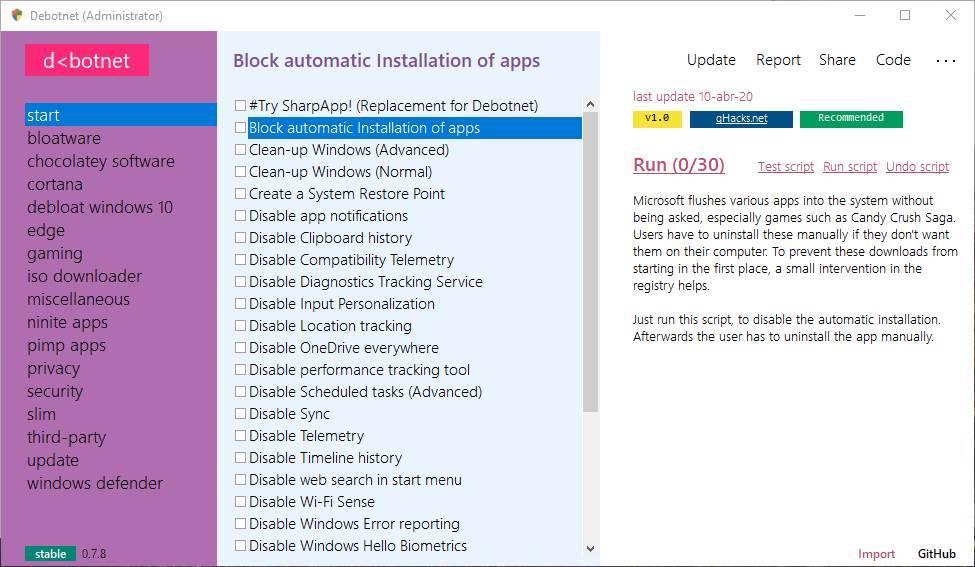 Bloatware: allows you to select all the bloatware that comes installed in Windows 10 to remove all these applications with a single click.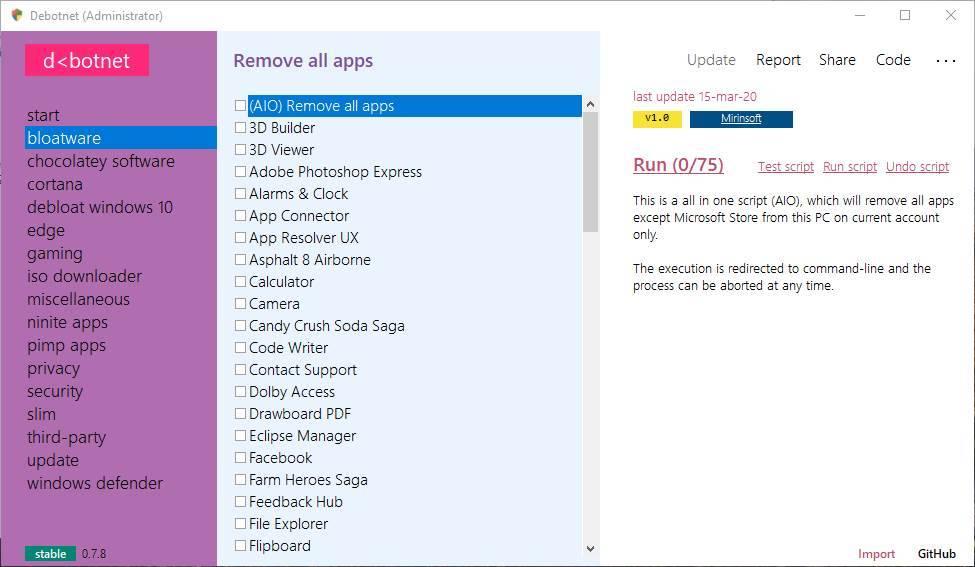 Chocolatey Software : allows us to install a series of programs through the Chocolatey repositories.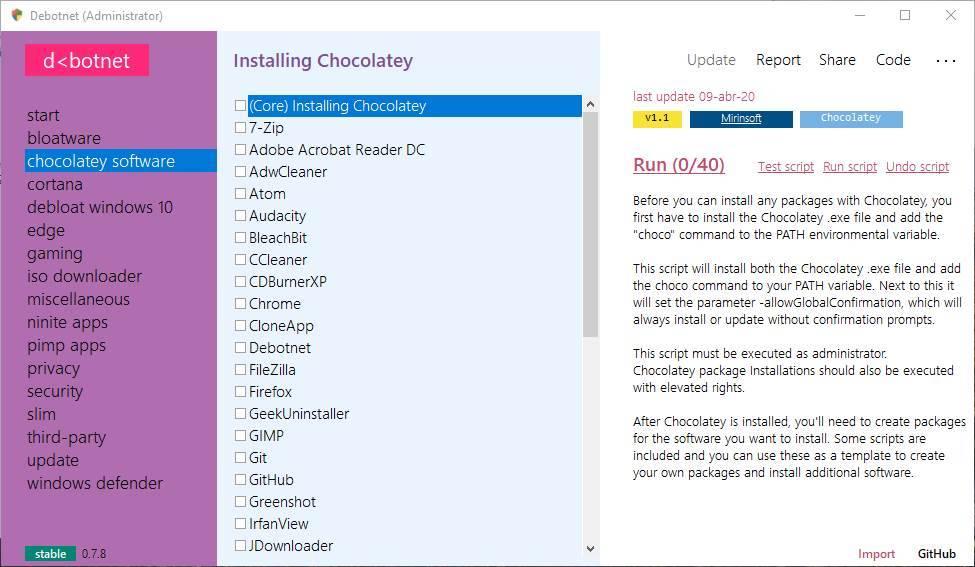 Cortana: Scripts to disable Cortana and Bing from Windows 10 integration. If you're not using the Windows 10 wizard, this is the safest way to remove it.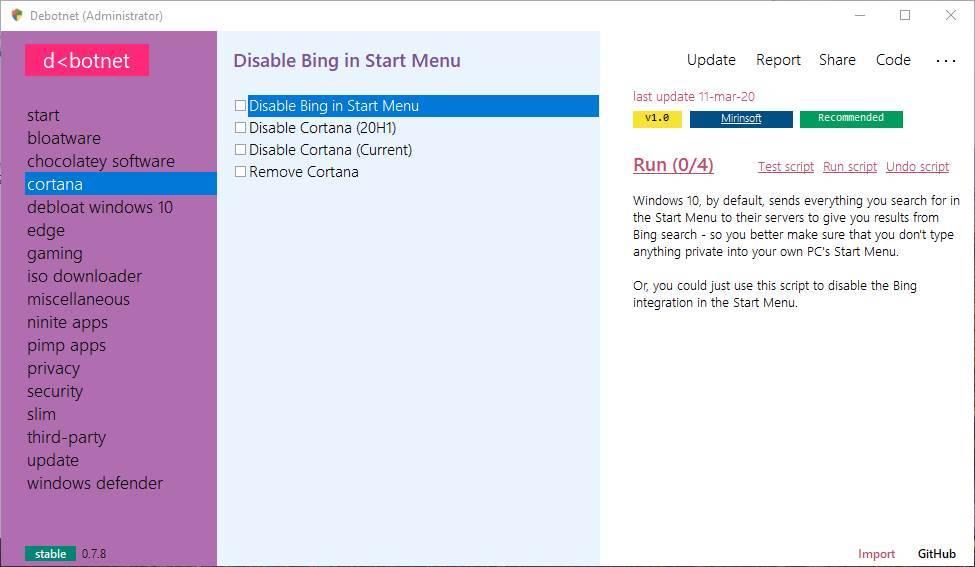 Debloat Windows 10 – A series of scripts to remove bloatware from Windows 10 and make it as clean as possible.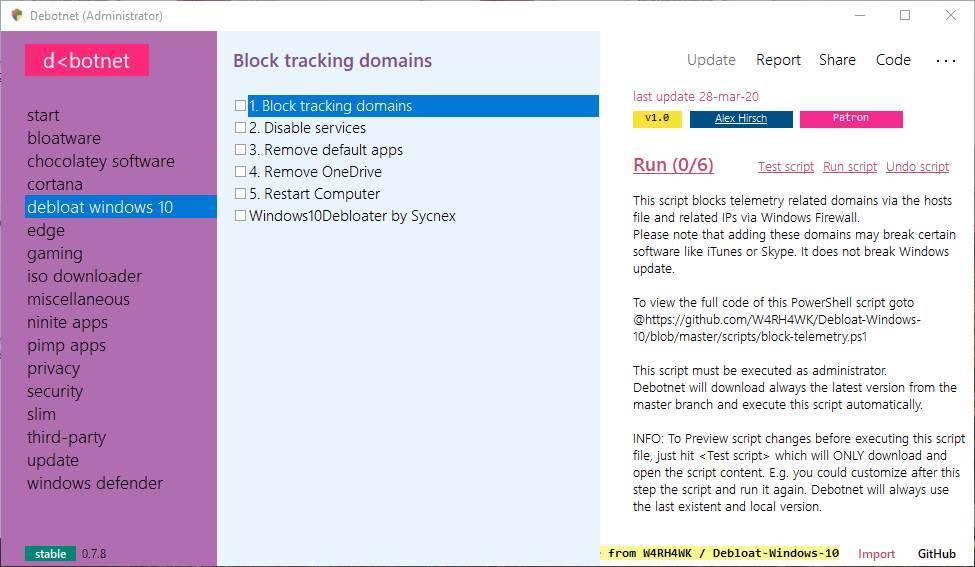 Edge: allows you to configure the privacy of the Edge browser. It also allows us to activate and deactivate the functions of this. Of course, it is only valid for the classic version, not Chromium, of the browser.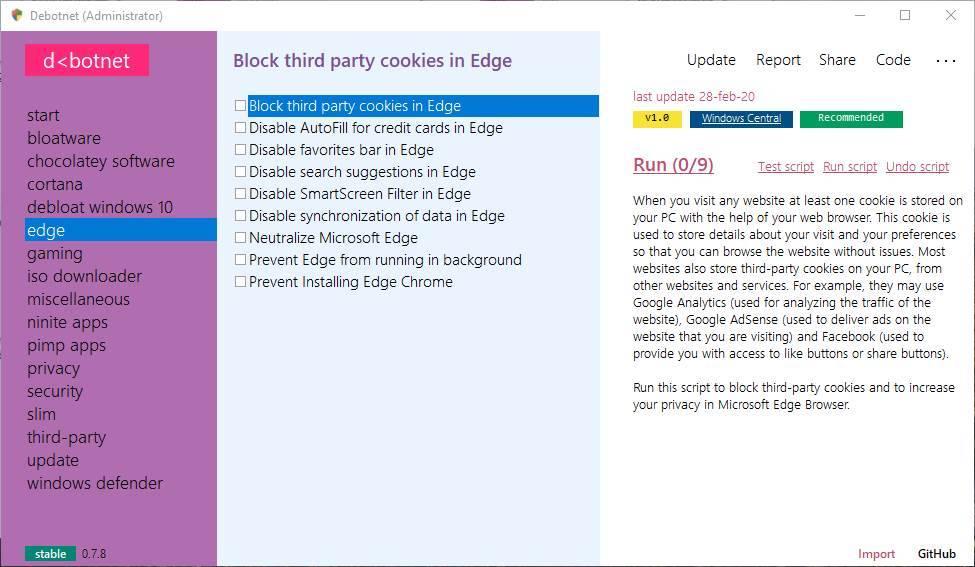 Gaming: allows us to deactivate the Windows Game Bar or deactivate the different game services installed by some manufacturers, such as NVIDIA, Logitech and Razer.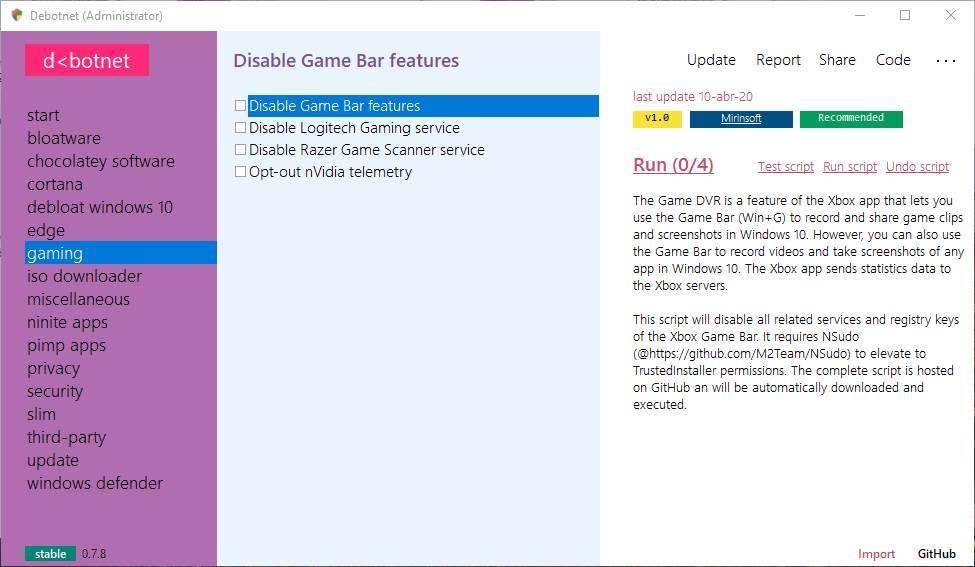 ISO Downloader : allows us to download the latest Windows 10 ISO and create an installation USB in seconds.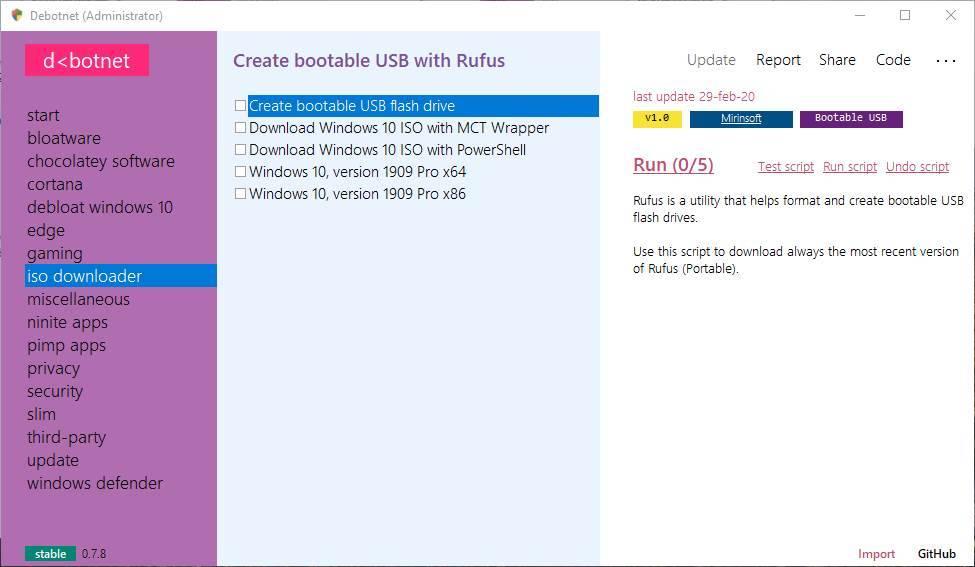 Miscellaneous: generic scripts and tools to improve the control of our operating system and your privacy.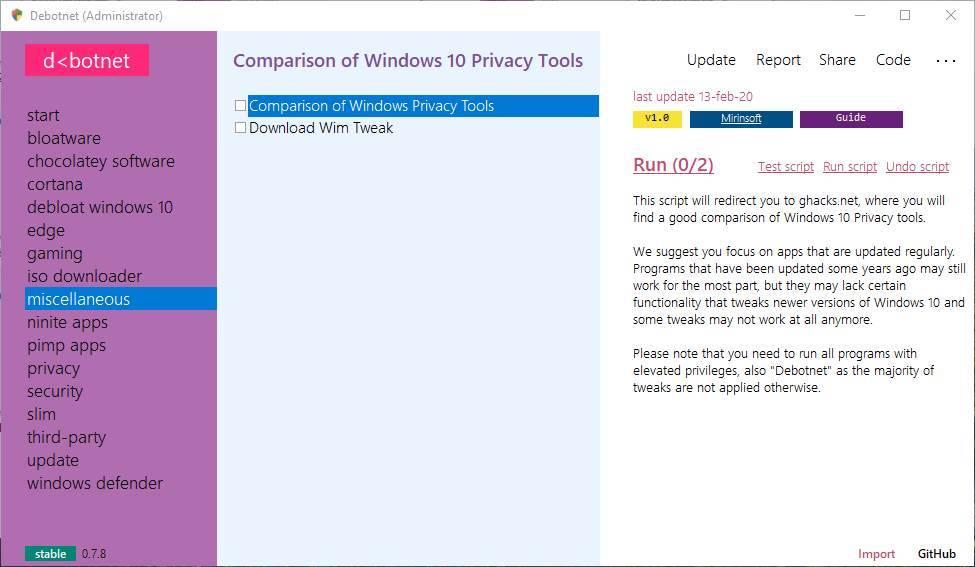 Ninite apps : allows us to install a series of essential Windows applications using Ninite scripts.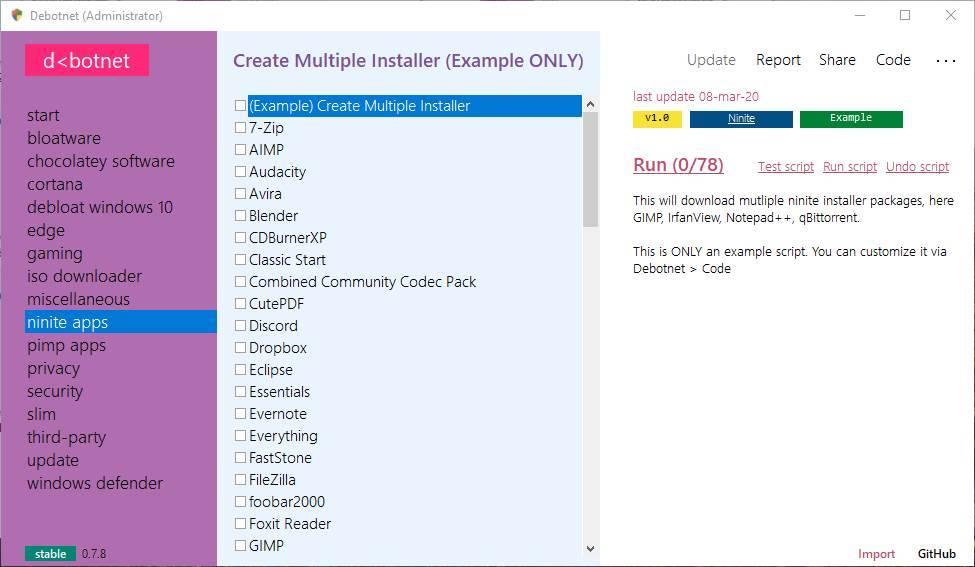 Pimp apps : improve some apps. At the moment we will only find a script to improve Ccleaner, although other scripts will be added later.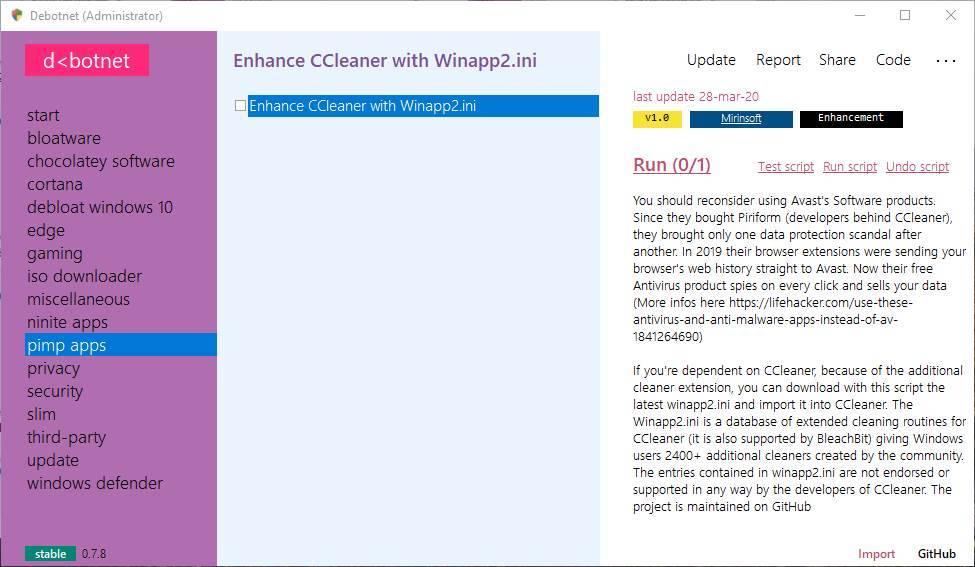 Privacy: allows us to configure the permissions of all applications to the different elements of Windows. For example, we can prevent apps from accessing account information, calendar, contacts, email, and much more.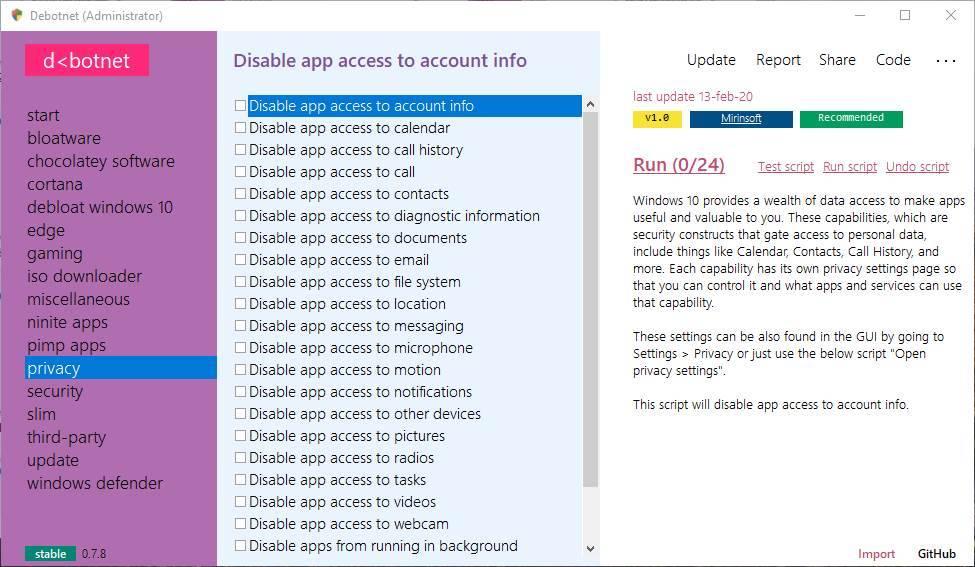 Security – Allows you to configure Windows security by disabling Windows Media DRM and the Reveal Passwords button.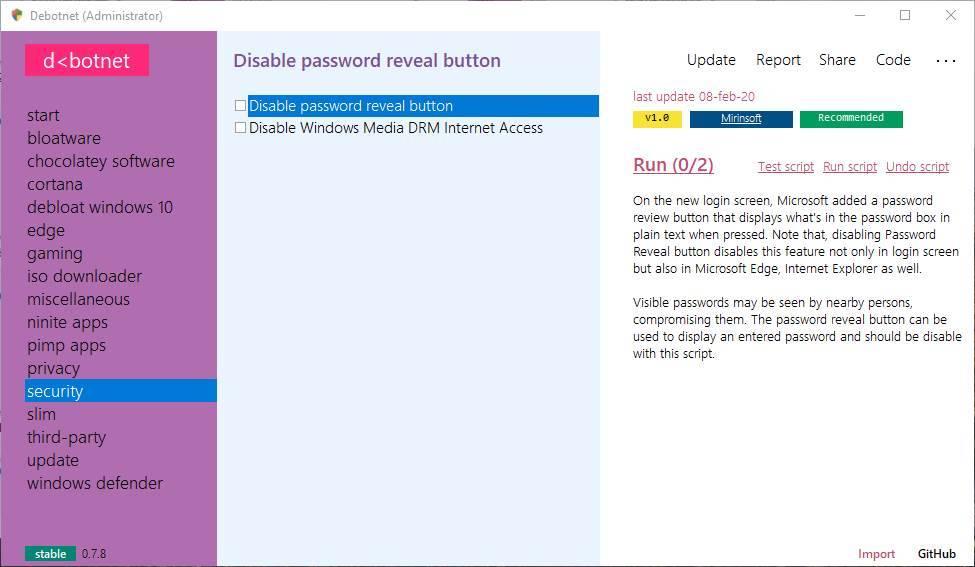 Slim – Offers scripts to reduce Windows 10 disk usage by disabling operating system features.
Third-party : allows us to execute a series of scripts related to third-party software. For example, we can block Chrome software reports, disable Ccleaner functions or control Firefox telemetry, among other options.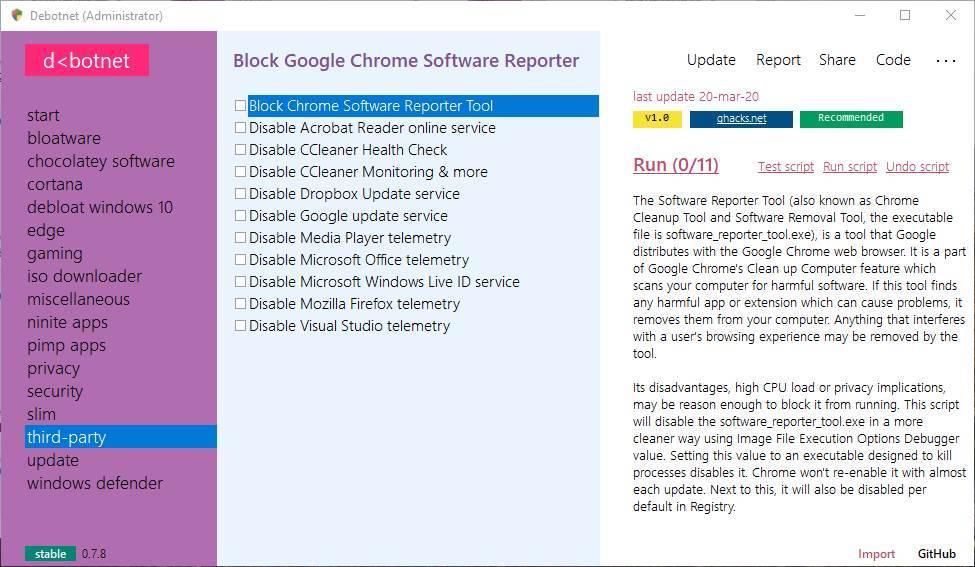 Update: allows us to configure everything related to Windows updates. We can launch Windows updates or Store apps from this program, as well as postpone or block them.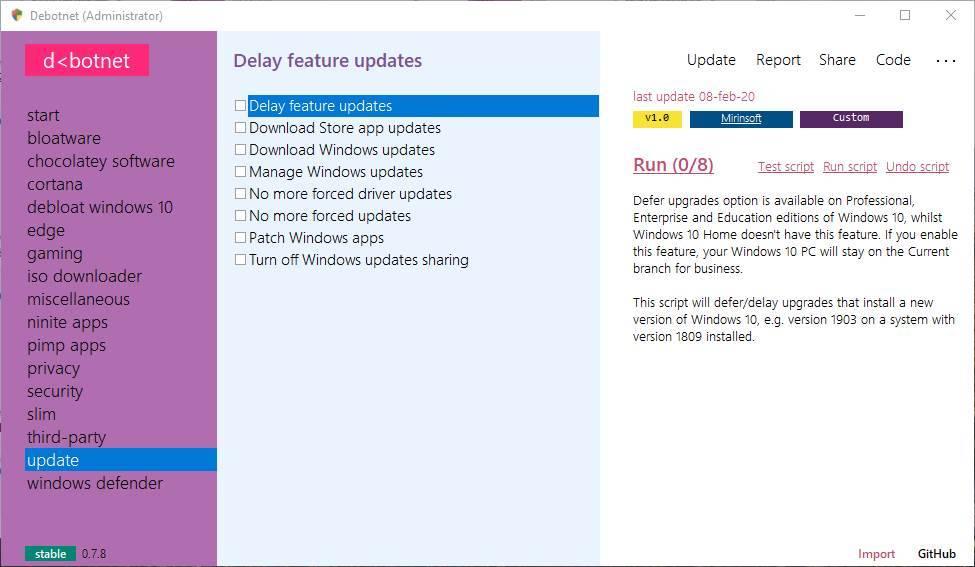 Windows Defender : allows us to activate or deactivate some features of Windows 10 antivirus. Among others, it allows us to activate protection against PUA, deactivate real-time protection and even completely deactivate Windows Defender.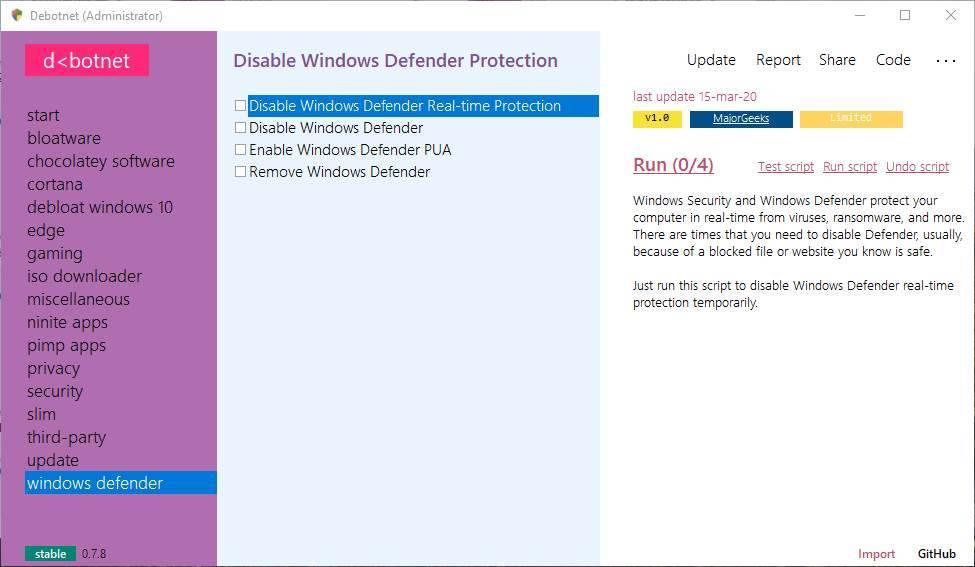 Apply the changes to Windows 10
When we have all the scripts selected, the only thing left to do is press "Run" to execute all the selected tasks and that's it. When the program finishes applying all these scripts, we will have our Windows 10 ready to be able to function much more privately.
Of course, we recommend you read calmly all the options that we are going to select and the notices that may appear. For example, if we check the option to deactivate Cortana along with some other functions, Windows Search may stop working on our PC. The same can happen with other script combinations. We must be careful with the changes we apply. But if we read, we will have no problems.
And if in addition to improving Windows privacy you want to leave your hard drives clean, we recommend you take a look at CleanmgrPlus. This program is from the same developers and is one of the best alternatives to Ccleaner and Microsoft's disk cleaning software.