software
All your pc hardware in windows with desktop info

One of the characteristics that we all look for in our computers is to be able to customize it to our liking. Windows, for example, allows us to change the background, sounds, icons and color theme, among other aspects, so that each user can adapt it to their tastes. However, many users miss being able to go further and configure simple widgets on their desktop. Fortunately, there are programs that allow us to do this, such as Desktop Info .
It is worth mentioning that these widgets to which we refer, reach their splendor in past versions of the Redmond operating system, specifically in Windows 7. However, with the arrival of the current Windows 10, its decline has plummeted, as we have been able to verify. But with everything and with it, there are still many users who somehow manage to continue using them today. It is evident that for this they use third-party software solutions, as is the case at hand.
Once we know all this, as the name of this program indicates, Desktop Info allows us to display all kinds of information on the desktop of our PC. In this way, this program will allow us to always have all kinds of information about the status and use of our computer in view. For example, the temperature of the PC, the use of CPU, GPU and RAM memory and the free space on hard drives, among others. As you can imagine, this will be of great help to us in certain circumstances. For example when a specific program, such as a game, is making excessive use of PC resources. So we can see first-hand these data to which we referred
Advantages of Desktop Info in Windows
Therefore, to know if we are interested in testing or not this widget that we describe, the first thing is to know what its most outstanding characteristics are.
The main features of this software are:
It consumes very few resources.
Updates the information on our PC in real time.
It shows all kinds of data and metrics about the hardware of our PC.
Many options and customization possibilities.
Visual alerts when something requires our attention (for example, too much RAM used).
Run commands and scripts.
Runs with low priority by default.
Screen saver.
Compatible with all versions of Windows, from 2000 to 10.
Full support for Unicode.
In addition, it includes a complete manual that explains from the most basic operation of the program to its most advanced options and all its configuration. Therefore, as we can see, without even spending a euro, we will have a powerful as well as useful desktop widget in Windows 10.
A customizable widget that shows a lot of data from the PC
Well, once we have downloaded and installed it on our Windows computer, when we open the program for the first time we will be able to see how an example widget appears on the system desktop. This will show us the basic information of our equipment through data such as the date, CPU usage, RAM memory, network card usage and free space on hard drives, etc. In addition, one of its most interesting points is that it does all of this in real time, hence its usefulness.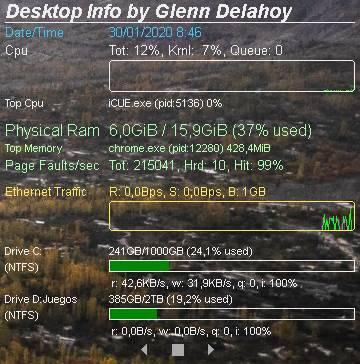 If we right-click on this widget, a contextual menu will appear from which we can access the additional options of the widget as such. All the configuration must be done within the text file that is opened in the program. And to know all the details and all the options we must go to the PDF manual that is included with the program. This will be very helpful if we are somewhat inexperienced users in this type of software solution, or in Windows in general.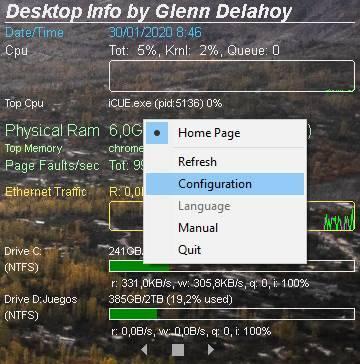 Of course, we must bear in mind that configuring this program completely may take us a while. But at the same time, once we have it all done, the results can be very attractive as well as functional. To do this, simply save the .ini file and we will have our widget always available and ready to customize our PC as we are interested in at that time.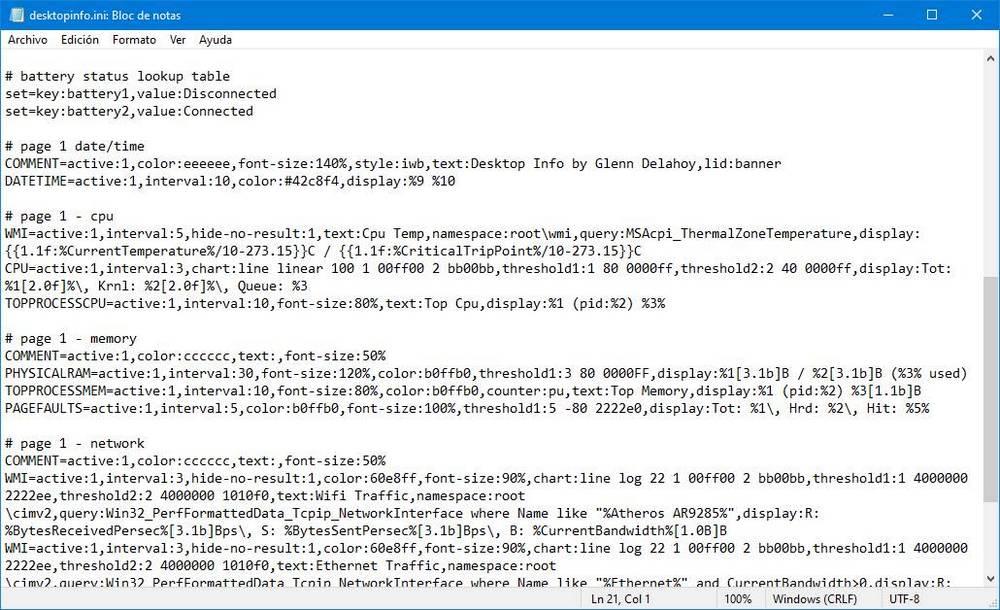 On the other hand, it is also interesting to know that if we search a little on the Internet, we can find interesting widgets already created and ready to download and use. Each of them will have its own objective and mode of operation. There are those that offer us news directly on the desktop, for weather information, the stock market, unit converters, etc.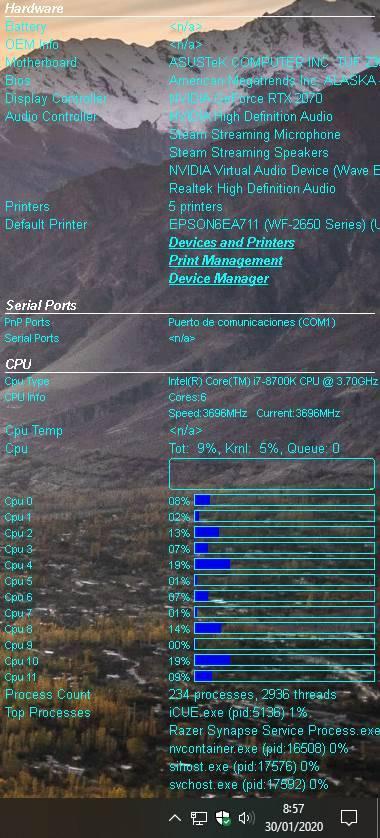 Of course they are not the classic Windows 10 widgets, that is true. But on the contrary, we must bear in mind that Desktop Info does allow us to customize and make the desktop of our Windows-based computer more useful. Although we surely have to spend a good time getting it ready, everything will depend on the level of customization we want to obtain with it.
How to download and install Desktop Info
This widget for the desktop of our PC is completely free. To download it, all we have to do is access the author's website and download the latest version from there. The program will be downloaded in a ZIP file, within which we will have everything we need to start it.
Desktop Info is a portable program. This means that just by unzipping it we can run it. It is not necessary to install anything on our computer.
Within the compressed file that we download we will find several files. As we will see, we can find an executable of the program compiled for 32 bits and another for 64 bits. We will also find several configuration files (.ini files) and a complete instruction manual for the program, in PDF.

Assuming that our computer is 64-bit, we simply execute the file «DesktopInfo64.exe» and the program will start immediately. As we can see, its installation and initial start-up is very simple, then its total customization is somewhat more complex, as we have mentioned before.
Alternatives Desktop Info
If we are looking for a program that helps us monitor all the hardware information on our PC, we can choose one of these alternatives to Desktop Info:
CPU-Z
This software is characterized by displaying detailed information about the hardware of our computer, such as the CPU, the motherboard, the RAM, the motherboard and the cache memory. Just by running it, we will be able to know all the data such as the name and manufacturer of the processor, core data, supported voltage, memory included, among others. We can also use it to check the stability of the system when changing its voltage if we want to overclock. We can download CPU-Z for free from their website .
HWMonitor
This program allows us to monitor our hardware so that we can keep track of it. We can keep track of temperature, voltage, CPU power consumption, temperatures, and fan speeds. It also gives us information about the temperature and use of the GPU and the hard disk, among others. It is a complete software with a simple interface that is easy to understand and that will help us to carry out all kinds of checks with which we can maintain and extend the useful life of our PC hardware. We can download HWMonitor from the developer's website .