multimedia
View, edit and convert photos quickly with honeyview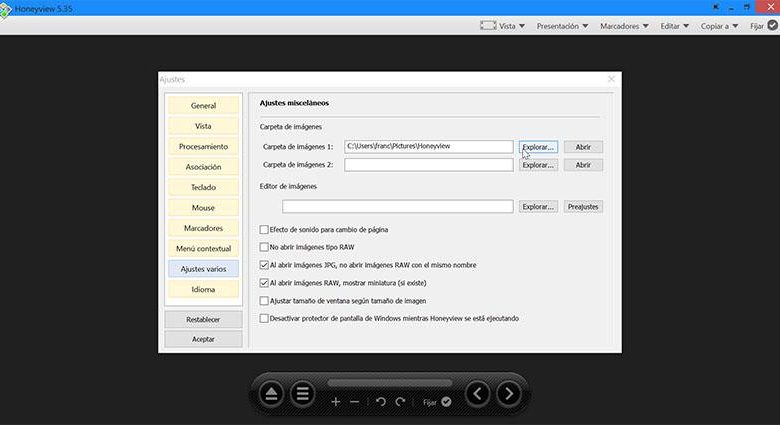 On our computer we store a large number of images and photographs with different types of formats. For this, we can choose an application such as Photos, which incorporates Windows by default and is not usually highly valued by users. Another option is to use a free image viewer, an option in which Honeyview appears , about which we are going to talk to you next.
If what we are looking for is to view our photos, in practically any format quickly, we do not need any heavy application with a multitude of options that we are not going to use. The important thing is to have a light, fast application with different display options and some basic editing functions. This is where this application comes into the picture that we are going to see next.
Honeyview, complete viewer with additional functions
Honeyview is an image viewer for Windows, which is characterized by being extremely fast when going through the photos, being compatible with most of the most used image formats. In this way, we can view our entire gallery of images quickly and easily without worrying about the extensions of each photograph.
In addition to displaying images, this application also allows us to display all the EXIF information of each photograph in JPG format on the screen . In this way we will be able to characteristics such as the file size, the edition date, the aperture of the diaphragm, the ISO sensitivity, and even the GPS location of all our photos through Google Maps.
Another of the functions that Honeyview incorporates is the possibility of converting image formats in batches, allowing the change of size. It also allows us to display animations for GIFs and is compatible with WebP files. In the same way, it allows us to show all our compressed images without having to extract the file.
Supported formats
Image: BMP, JPG, GIF, PNG, PSD, DDS, JXR, WebP, J2K, JP2, TGA, TIFF, PCX, PGM, PNM, PPM, BPG
Raw Image: DNG, CR2, CRW, NEF, NRW, ORF, RW2, PEF, SR2, RAF
Animated Images: Animated GIF, Animated WebP, Animated BPG, Animated PNG
For direct viewing of compressed images without extraction: ZIP, RAR, 7Z, LZH, TAR, CBR, CBZ
It has numerous configuration options
Once we start the application for the first time, we find its main menu, with a user interface with a pleasant aspect, which allows us to open images through the file browser or simply by dragging and dropping. In the upper right we find a series of tabs where you can perform different functions. Here we find the options for "View", "Presentation", "Bookmarks", "Edit", "Copy to" and "Set".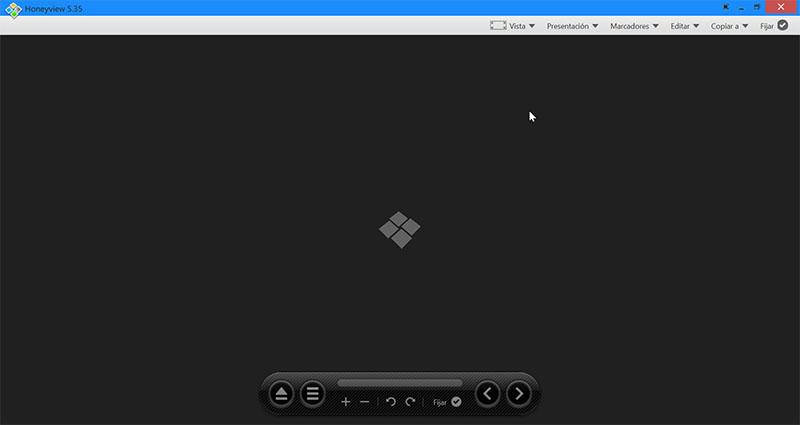 View EXIF ​​information
Once we have opened any image we can see all its EXIF information by clicking on the button enabled for it in the upper left. In this way, it shows us information such as the name of the file, the size of the image, the modification date and other information such as the resolution and its format. It also has a button that allows us to copy all the EXIF ​​information of the file to the clipboard.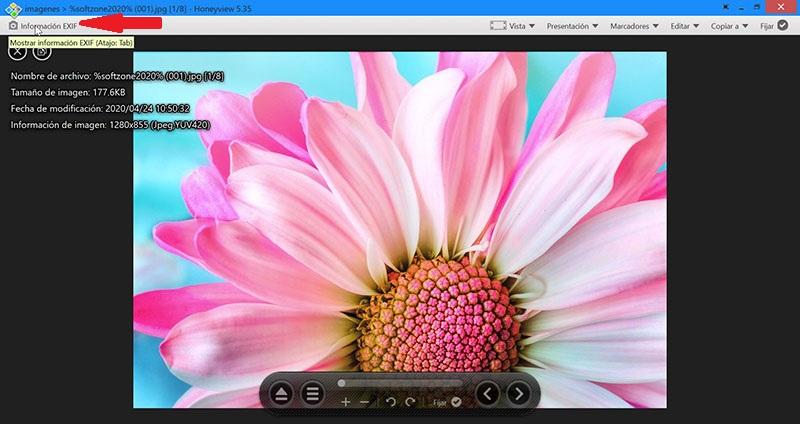 Make and configure slides
From the «Presentation» function, we can make a presentation in the form of slides from all the selected images. This function allows us to select the duration of each slide, enable repeat or random playback mode, as well as apply flip effects, slide fade.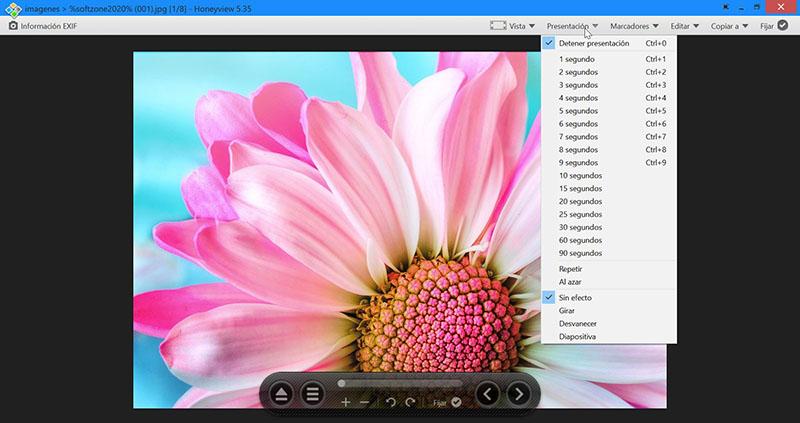 Convert images to other formats
We can mark our favorite images to be able to access them quickly at any other time. With the "Edit" function we can perform image conversion functions from one format to another . From it we can rotate the image to 90 or 180 degrees, resize to a new size and make adjustments to the format. We can also choose a different folder to save it so that it differs from the original image.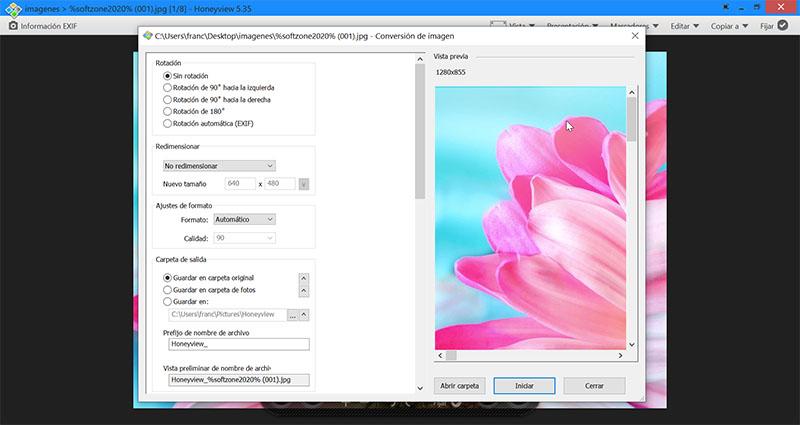 Other Honeyview Features
Other editing functions that the application allows us is the possibility of setting an image as the desktop background, copying it to the Clipboard, opening it using an external image editor .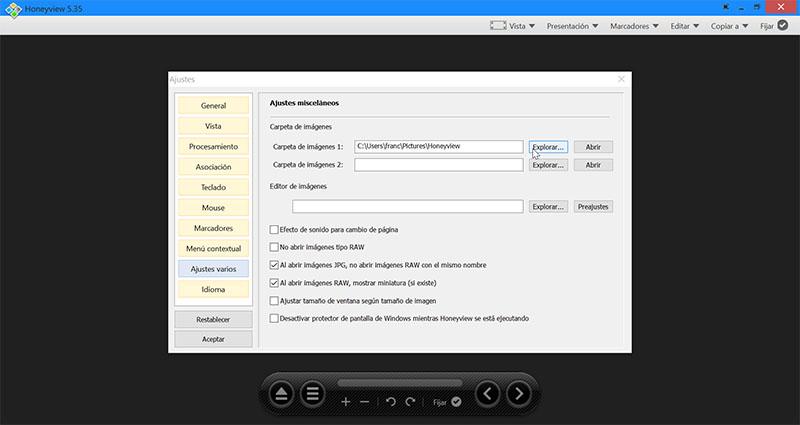 The application includes basic controls for viewing images such as the ability to zoom in and out or rotate the images to the left or right. It is also possible to stretch small images, fit photos to window or width, view their original size and enable the "Smart Double Page" function (from left to right or vice versa). Also, the files can be copied to two other locations that we can define in advance.
Download Honeyview
Honeyview is an application that has a Freeware license, which means that it is completely free and can be downloaded from its website . It has both a version with installation and a portable version, which allows it to be executed from any external storage device such as a hard drive or pendrive without the need for installation. It does not incorporate any type of adware, spyware or virus and is compatible with the Windows operating system in its versions of XP / Vista / 7/8 / 8.1 / 10.
Its latest version 5.35 is currently available, which dates from September 7, 2020, which shows that it has a good support and updates policy from its developers.
Alternatives to Honeyview
If we are looking for a tool with which to view images in Windows and Honeyview does not convince us, we tell you a couple of alternatives that should be taken into account.
XnView
We are talking about a very popular, complete and versatile tool with which to view, edit and organize images. It has compatibility with more than 500 image formats and has additional functions such as the ability to edit metadata, batch rename, search for duplicate images, perform slideshows, among others. XnView is a free tool for private or educational use, which we can download from its website .
Apowersoft Photo Viewer
This image viewer stands out for being compatible with popular formats such as JPG, PNG, BMP, PSD, CRD, RAW and offers support and compatibility with the HEIC format, as well as PDF files. It also allows us to perform some editing functions, such as the possibility of adding texts, drawing on images, adding filters or taking screenshots . Apowersoft Photo Viewer is a free image viewer that we can download from the official website.