multimedia
Change the format of your audios and videos for free with mediacoder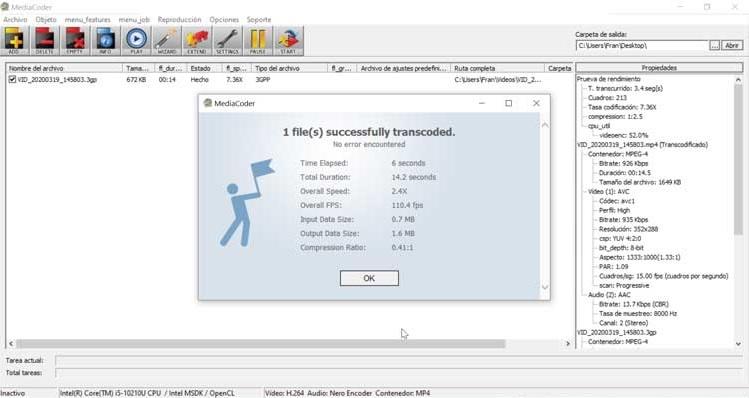 If we like to record video, either with a professional camera or with our mobile, there are two important elements that cannot be missing from our computer. On the one hand, it would be a program with which to edit the videos, and on the other, a tool that allows us to transfer the videos from one format to another, so that it can be compatible with any type of player. To do this, we can opt for a free program such as MediaCoder, which will allow us to convert both audio and video.
When we talk about video formats, we are referring mainly to their encoding, since depending on the element we use to record our videos, they will be saved and encoded in one format or another (MPEG, AVI, MP4, etc.). When it comes to wanting to play them on your mobile, television, a Tablet or a DVD player, not all devices support any type of format. That is why there are tools such as MediaCoder that will help us move from one format to another quickly and easily so that we do not have any problem when it comes to playing it on any device.
MediaCoder, the all-in-one video and audio converter
MediaCoder is a program that allows us to convert the codecs used to convert audio and video files between the most popular formats, so that we can play it on any device. It has H.264 / H.265 GPU- accelerated encoding and is capable of extracting from optical storage devices such as Blu-Ray, DVD, VCD and CD, as well as taking video captures.
With this powerful tool we can also improve our audio and video content through filters, being able to reduce and compress any file. It is even capable of fixing video files that have been partially downloaded or corrupted. All this makes MediaCoder a fundamental tool for audio and video lovers.
Supported formats
Lossy audio compression : MP3, Vorbis, LC-AAC, HE-AAC, Opus, AC-3, MPEG Audio, MusePack, Speex, AMR, Windows Media Audio, ADPCM, mp3PRO.
Lossless audio compression formats : FLAC, WavPack, Monkey's Audio, OptimFrog, ALAC, TTA, and PCM.
Video compression : H.264, AVC, H.265, HEVC, VP8, VP9, ​​MPEG 1/2/4, Flash Video, XviD, DivX, Theora, Dirac, H.263, RealVideo, Windows Media Video, Huffyuv and MJPEG.
Video formats : MP4, WebM, F4V, FLV, MKV, AVI, MPEG-PS, MPEG-TS, ASF, MTS, M2TS, AVCHD, MOV, PMP, RealMedia and OGM.
External storage media : Blu-Ray, DVD, VCD, SVCD, CD, CUESheet, HTTP, FTP, RTSP, and UDP.
Steps to convert audio with MediaCoder
Once we run MediaCoder for the first time, an interface loaded with options appears, aimed mainly for advanced users . That is why the newest in the field can be overwhelmed by so many functions. To do this, it allows us to configure the mode of its interface. The first thing we have to do is put it in Spanish from the Options tab at the top. Once changed we must restart the application for the changes to take effect
Choose the interface design to your liking
At the top we find the classic function tabs, where we must click on "Options". Later, within the "Interface mode", we choose between "Simple", "Normal" and "Expert", depending on our knowledge. Therefore, for the most inexperienced the best is the Simple mode, which takes care of hiding various adjustment parameters or using the configuration wizard. It will always be better and more productive to have a minimalist interface without having to load too many elements that we are not going to use.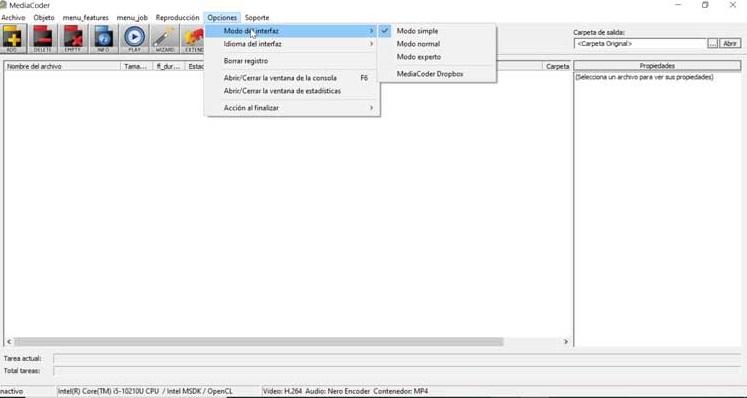 Add the file we want to convert
The first thing we need to do is add a file to convert. To do this we can use the "ADD" button located in the upper right and a drop-down menu will open to choose if we want to add a file, a folder, a track, etc. We can also add them simply by dragging and dropping the file, or using the files tab where we can find the option to add a file, add the content of a folder or add the content of a folder along with its subfolder.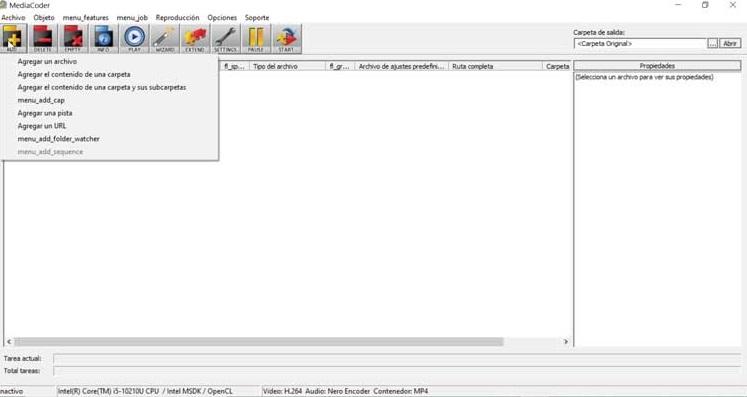 Detailed file information
Once added, it will appear in the panel, showing us its name, format, size and path. If we click on the file in the right column, all its information will appear in full detail . In it we will see both audio and video data such as bitrate, duration, codec, resolution, among others. In the upper right part we must select the «Output folder» where the video or audio that we have converted will be saved. We just have to click on the three points and select the route.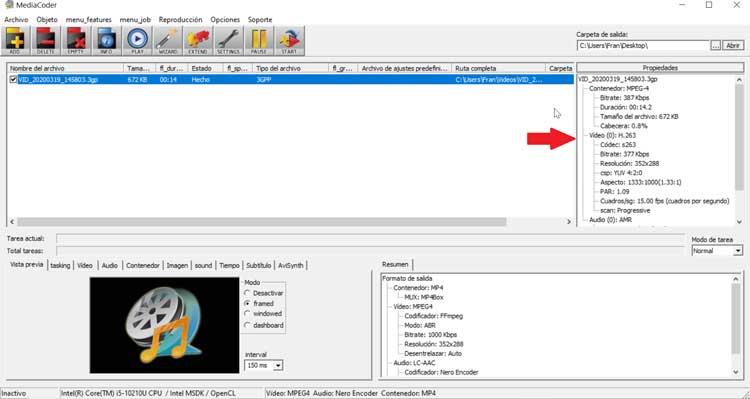 More configuration options with interface in normal or advanced mode
If we use the interface in Normal mode, at the bottom we see different tabs to configure the different parameters of each file. If we are going to convert a video to another format, just click on the "Video" tab and select the "Format" to which we want to convert. Additionally we can configure other parameters, it all depends on our level of knowledge.
For example we can in a video file the quality or the average bitrate that we can configure to our liking will be possible. The different parameters that we have available will also depend on the format that we have chosen for its conversion. The options are high, so the higher our level of knowledge, the more we will benefit from the characteristics of this program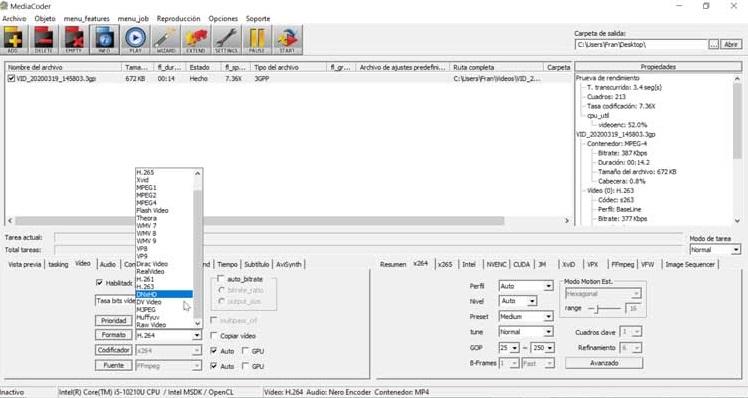 Once the parameters are set, the conversion begins
Once the video, the conversion format and the output folder have been selected, all you have to do is click on the upper «Start» button for the program to start converting the file . The duration will depend on several factors such as the size of the file, the chosen format and the processing capacity of our computer. In general, if it is only one file or several, the time is quite small. We may notice that it takes a little longer to convert when dealing with a large collection of files. For example, if we want to transfer several music albums that we have in FLAC to MP3 format. Once finished, a poster will appear informing us of how the process has gone and the time it took.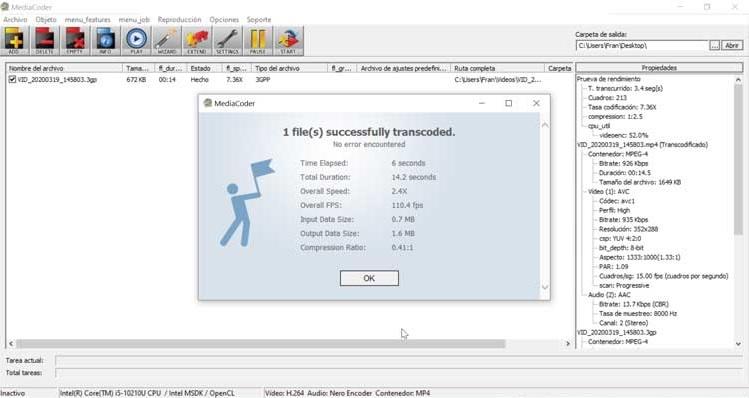 Free Download MediaCoder
MediaCoder is an audio and video conversion program that we can download for free from its website . It has a version with installation and a portable version, so we can run it from any external storage system such as a pendrive, hard drive or memory card without the need for installation. It is compatible with the Windows operating system in 32-bit and 64-bit versions .
The latest available version of MediaCoder is 0.8.62, which corresponds to August 28, 2020, which is why it shows that its developers have a good maintenance and update policy.
Alternatives to MediaCoder
If we are looking for a program with which to convert audio and video files to other formats, we suggest a couple of alternatives to consider.
Any Video Converter Free
It is one of the best free video conversion tools that we can find. It is compatible with DivX, XviD, MPEG, MOV, WMV, AVI formats among others. It is an ideal program for editing and converting high definition videos, as it includes support for 4K, without loss of quality. It can also be used to download videos from YouTube and convert them directly. We can download Any Video Converter Free for free from its official website .
Handbrake
This is a famous open source multiplatform video converter. With it we will obtain a great quality in our conversion of both image and sound. For more advanced users, it has the possibility of including subtitles, adding or eliminating audio channels or dividing a file in two, changing the resolution of the video or cutting a fragment by eliminating the edges. It is compatible with formats such as MP4, MKV, MPEG and MP3 among others. We can download Handbrake you can do it for free from the developer's website .