multimedia
Design, draw and edit all kinds of images with lunacy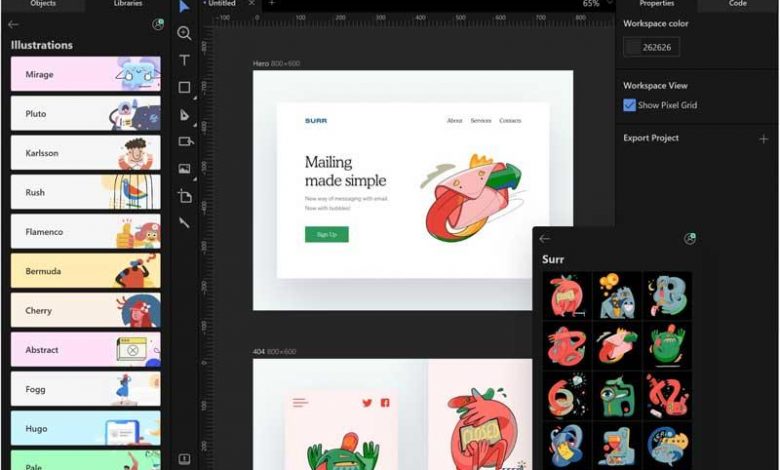 For all those who love graphic design, digital illustration or photo retouching, it has a large number of tools with which to carry out their favorite hobby or work. More and more designers are moving from Mac OS to Windows, where you also find tools with which to fit perfectly. One of these tools is Lunacy, a free graphic editor with which to perform all kinds of tasks.
What is Lunacy and what is it for
Lunacy is a free graphic design program that works without the need for an internet connection. In addition, it became the first program on Windows that allows you to open a Sketch file and export it to raw HTML / CSS code. It comes from the hand of Icons8, specialized in developing free tools and resources for all kinds of creatives and graphic designers.
It is a graphic editor with which we can also perform other functions such as drawing, joining and aligning objects, organizing pages and work boards. For this, it has advanced typography tools, as well as a wide catalog of fonts. It supports CSS and XAML codes and will allow us to export our work in SVG and PNG files. It also offers us many facilities to deal with sketch files, organize pages, join and align objects or use typography tools in the same way.
Of its characteristics we can highlight, above all, its extensive library of integrated resources, since it has more than 100,000 quality photos between icons, symbols, backgrounds, illustrations, images with transparency and objects, which we can combine to our liking to create the image we need.
Lunacy, in addition to being a tremendously useful tool for professional designers, can also be used by all types of users, even if they do not need very advanced options. The application will allow us to use it as a basic editor with which to make all kinds of graphics quickly and easily. Without a doubt, it must be taken into account even if we do not have much skill with design tools.
Navigating Lunacy
Once we have installed and launched Lunacy, we will be presented with the main menu with an interface with a black background. In the upper left part we find the three horizontal bars of the Menu, where we will have the options of File, Edit, Object, Text, Vector, Sort, View and Help.
With the File menu , it will not only help us to open Sketch files, but we can also obtain additional functions, such as exporting the document we are working with to PNG and SVG formats, so that they can be used by other applications.
Regarding the editing functions, we can add text, draw rectangles, lines or ellipses, embed external images, or create an artboard or avatars.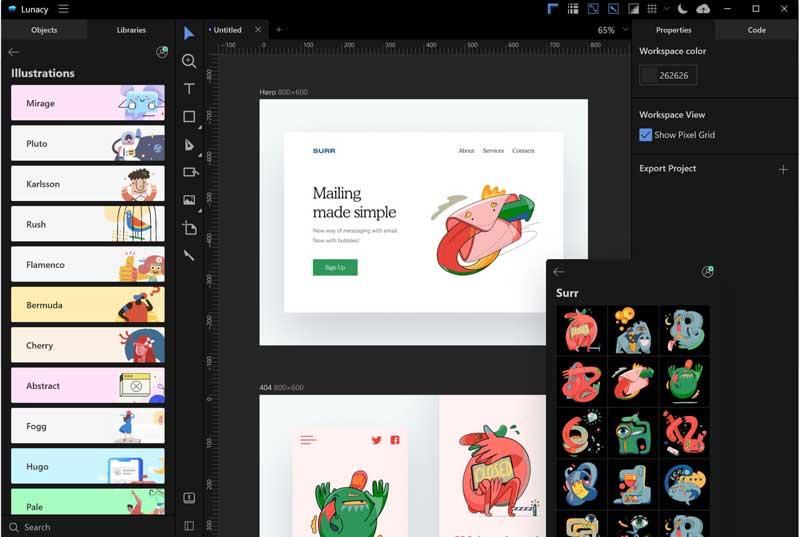 Just below the three menu lines, we see the Library column , from where we can select and work with its large number of integrated resources. We will have a section of Symbols, Text Style, Layer Styles, Icons, Photos, Masked Photos, Illustrations and Interface Kits.
From Lunacy, we can carry out design tasks of all kinds. From the interface we can start drawing projects through the different options of geometric shapes, pens and element alignment mechanisms. We can also count on layered work , so we will work with complex images regardless of their components.
Download Lunacy
Lunacy is a completely free Windows tool without any subscription or payment service. We can download it directly from its web page from the Microsoft Store application store quickly because it only occupies 15 MB and does not need powerful technical requirements to work with great fluency.
Alternatives to Lunacy
Lunacy is a powerful vector design tool, which also has alternatives on the market like the ones we present below: