multimedia
This trick allows you to see the font used in a photo, image or text

The search for fonts or typefaces is one of the tasks most repeated by designers and artists to customize their creations. This can become a quick task if we know what to look for and where to look for it, or it can also be one of the most complicated things if we do not know, for example, the name of the font in question. Luckily, there are tools and platforms designed to help us identify and download any font, even without knowing its name, without having to spend hours searching and testing all kinds of fonts on our PC.
Today there are a large number of different sources and many websites and sites from which to download them. Without going any further, if we want to download fonts for Windows 10 we can resort to websites such as DaFonts or Google Fonts, or to platforms such as the Microsoft Store, where we can find a good collection of fonts, free and paid, for our projects.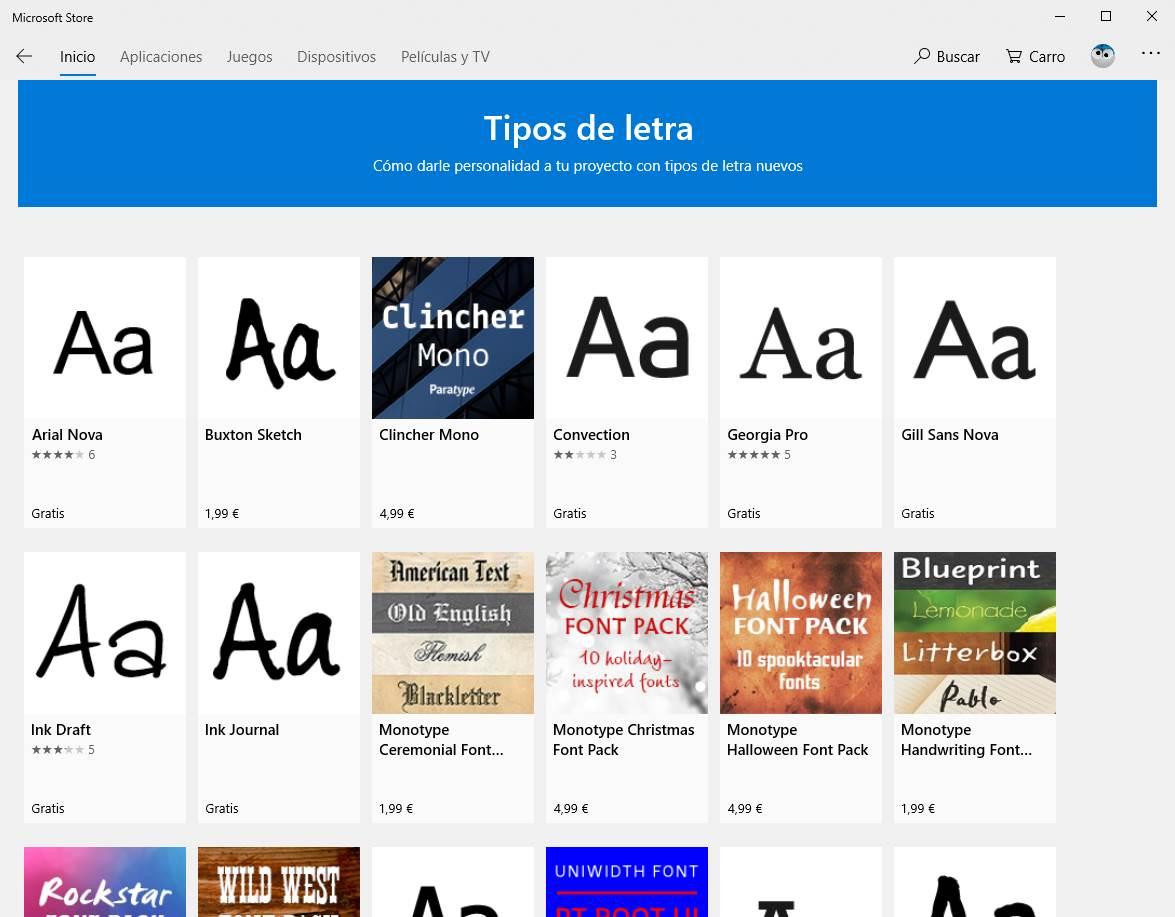 If we know the name of the source, finding it on the Internet is not complicated at all. Any of the above alternatives surely has it, and if not, a quick Google search will allow us to find it in a few seconds. Problems come when we don't know what the name of the source is. How do we look for it then?
How to identify and download a font using Photoshop
In 2015, Adobe introduced a tool called " Font Matching " in Photoshop. This tool makes use of the Adobe OCR recognition engine to analyze any image or any background and be able to find out what source it is.
To do this, once the image is scanned, Photoshop uses the TypeKit database to compare the scanner with the recognized fonts and show us a series of suggested fonts. Once we have found the font we were looking for, we can know its name to download it from any page, or take advantage of TypeKit to download, install and add it directly to Photoshop.
This option is found within Photoshop, in the " Text> Matching fonts " section.

We select this tool and what we will have to do next is adjust the box that appears to the text that we want to scan. The more precise it is, the more precise the results obtained by the tool will be.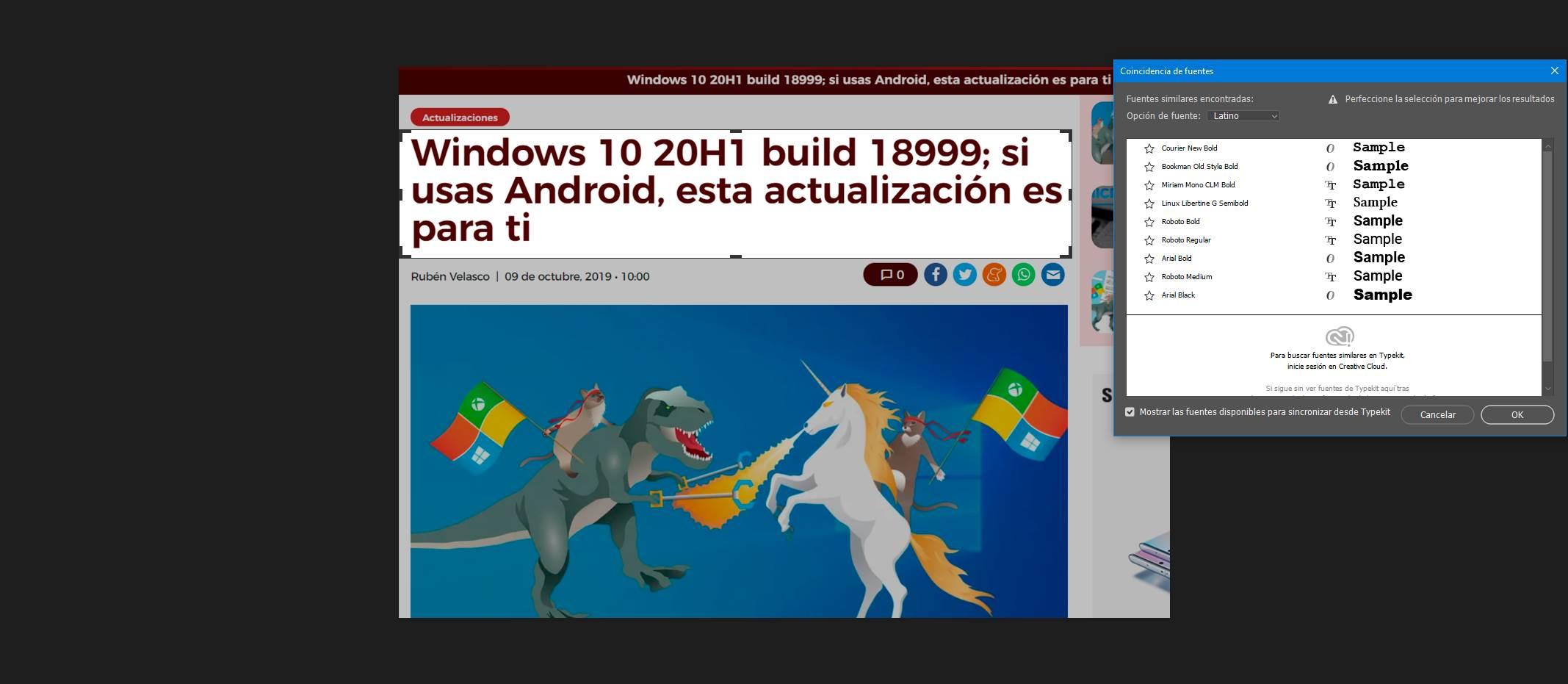 In a few seconds a series of fonts similar to the one we have scanned will appear. Photoshop will show us fonts that we have installed on the computer in the list, and if we have logged into Adobe Creative Cloud, it will also show us those from the TypeKit database.
We choose the font that we want to download and use and that's it. We can now start working with these sources.
Why do I need to identify text sources
We live in a time when technology seems to be marked by everything related to images, graphics, videos or 3D. However, we can never leave aside something as important as the texts that we edit, use and add to all kinds of documents from a multitude of programs. In fact, despite the widespread use of videos, photos and the like, text is still a key element in most of the work we do on a PC. This can even be extrapolated to the design projects that are being talked about so much at the moment.
This is precisely where the different fonts that we are talking about in these lines come into play. The fonts, fonts or typefaces that we can use at the moment number in the thousands. Some are better known and used than others, some are paid, many others are free. And it is precisely in these design projects, especially in the larger ones, where knowing the type of font used becomes more important. This will allow us, for example, to continue working and expanding the projects of others who have used certain sources, without clashing. In addition, it must be taken into account that the ways to identify these elements that we are talking about here are very fast and effective.
Moreover, thanks to the websites that we are going to show you below, we will save a good amount of time in this type of specific task, and without having to pay in most cases.
Other websites to identify and download fonts
If we don't like the Adobe tool, or we don't have access to Creative Cloud, there are also other free web pages that take care of scanning any image or text to tell us what font you are using.
WhatTheFont
One of these pages is WhatTheFont. This application allows us to upload any image to your server so that, using its OCR recognition engine, it identifies the text of the image and allows us to analyze any typeface in search of its identity.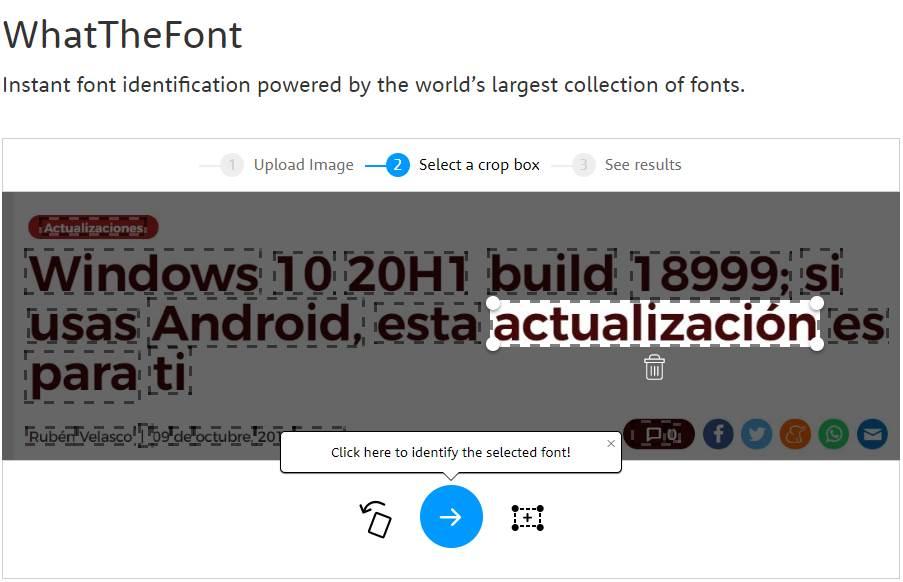 We can see several results similar to the source that we have analyzed. Next to each result we can see its name (to search for it in other sites) and the possibility of buying said font in this store. This will be very useful to us, since from this same website, once we access it, we can carry out various tasks related to these sources that we mention.
WhatFontIs
Another similar alternative is WhatFontIs. This website also allows us to upload any image from our computer to analyze it and be able to identify the sources it uses. If we register, the OCR will recognize all characters automatically. If not, we will have to introduce some of us (we recommend the most characteristic of the source) to be able to compare it.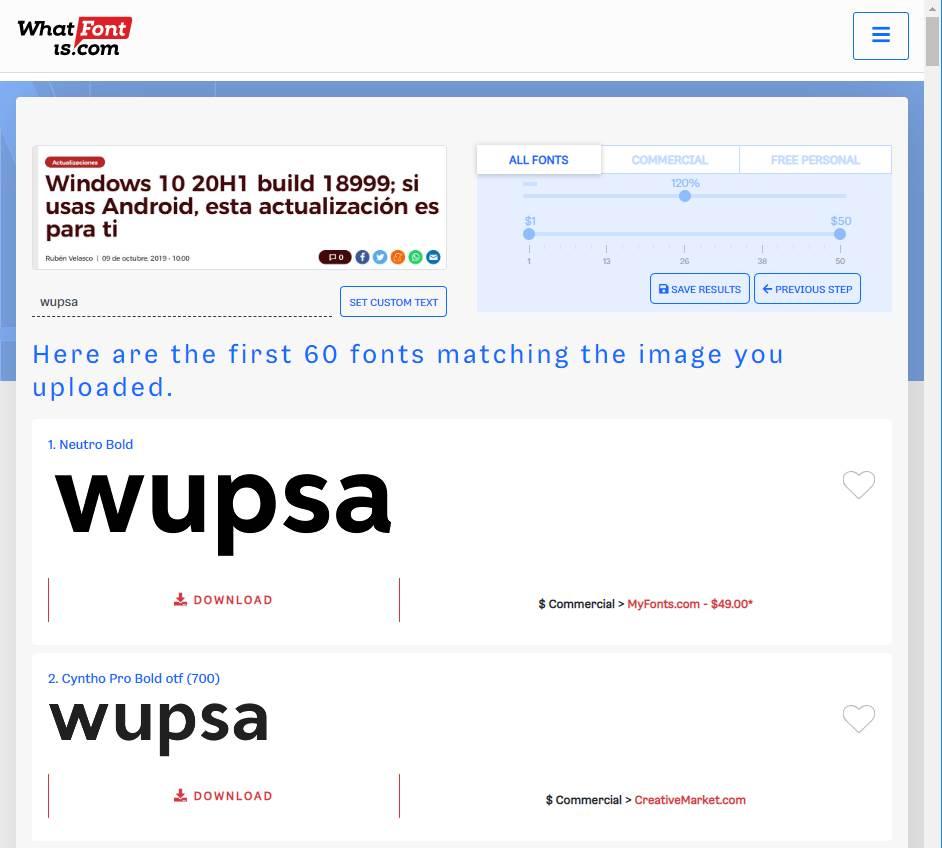 This website will show us the names of the sources and the possibility of buying it, in case it is paid, or downloading it. We can also filter between free fonts and commercial fonts. It must be borne in mind that depending on the type of use of these contents, sometimes it will be profitable for us to acquire payment sources, especially if we are going to use them in professional environments.
Identifont
Identifont is another alternative that will help us identify any typeface that we can see on the Internet. This website not only allows us to upload a fragment of the source to be able to analyze it and tell us what it is (or which one resembles it), but it also allows us to guess which source it is based on a series of questions.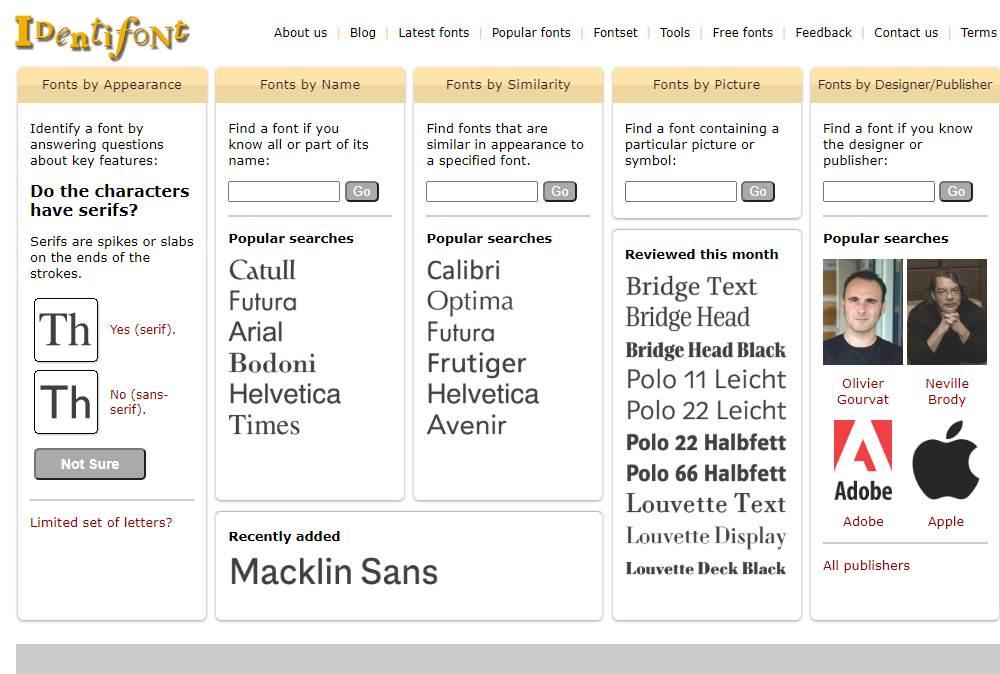 In addition to uploading a photo with the typeface that we want to guess, we can also identify it by appearance, by a part of the name or by similarity. It even allows us to search for fonts according to their creator. A very complete option to discover new sources and use them in our projects.
Fontface ninja
In this specific case we find an option to find sources somewhat different from those previously exposed. We tell you all this because when we talk about FontFace Ninja, we are actually referring to an extension for Google Chrome. The main purpose of it, as you can imagine, is to identify the fonts of the web pages we visit. To do this, all we have to do is install it in the web browser and click on the extension icon so that it starts working by itself.
In this way, the mouse pointer itself becomes a powerful tool to identify sources of all kinds. This is something that we achieve by passing it over the text that interests us. At that time we will be shown the font, which is in addition to other data corresponding to it. Of course, we must bear in mind that the extension works with texts as such, not with texts in images. With everything and with this, its operation is very effective with the elements that we comment on.