Applications
Edit and convert videos, images and audio for free with shutter encoder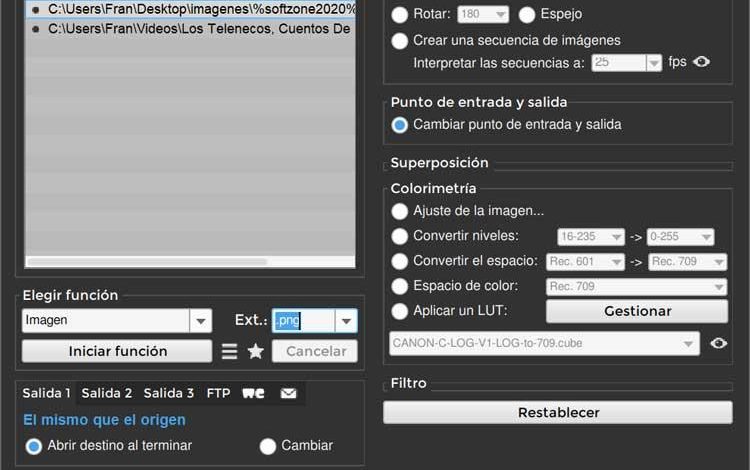 The multimedia section is one of the most important features that we use the most on our PC. The use of videos, audio and images is common today, as we not only store them on our computer, but then we want to have the opportunity to view them on any other device. Therefore, if we use numerous formats, it will surely be difficult for us to find software capable of handling them in one place. This is something that we can do with Shutter Encoder that offers us compatibility with the most used multimedia formats.
Shutter Encoder is a program dedicated to converting video files, and it also offers support for audio and image files. It has been designed by video editors to be as accessible and efficient as possible, offering compatibility with FFmpeg to handle its encoding. It has support for all kinds of codecs
This application offers us full control over encoding, with access to powerful tools such as duplicate frame detection, frame rate interpolation, analytics tools, and deinterlacing with various filters available. We can cut parts of the video and select exactly where the cuts will take place thanks to its built-in video player.
The amount of functions to be carried out by this application is overwhelming, since we can convert both audio, video or images. Even if we have a DVD or Blu-ray player, we can use this program to record and copy video discs. It is also possible to normalize the audio of different music files or even detect cuts. The options are almost endless, which can delight many users or make others despair.
Shutter Encoder, performs all kinds of multimedia functions
Once we run the application, its main menu appears with an interface and aesthetics somewhat different from others in the competition, as it is quite compact and elongated without the possibility of putting it in full screen. To add any file, just click on the "Explore" tab and browse Windows Explorer for your choice. Each file that we choose will be shown in the list just below. If we right-click on the file we can batch rename it, create a ZIP file, send to an FTP server, etc.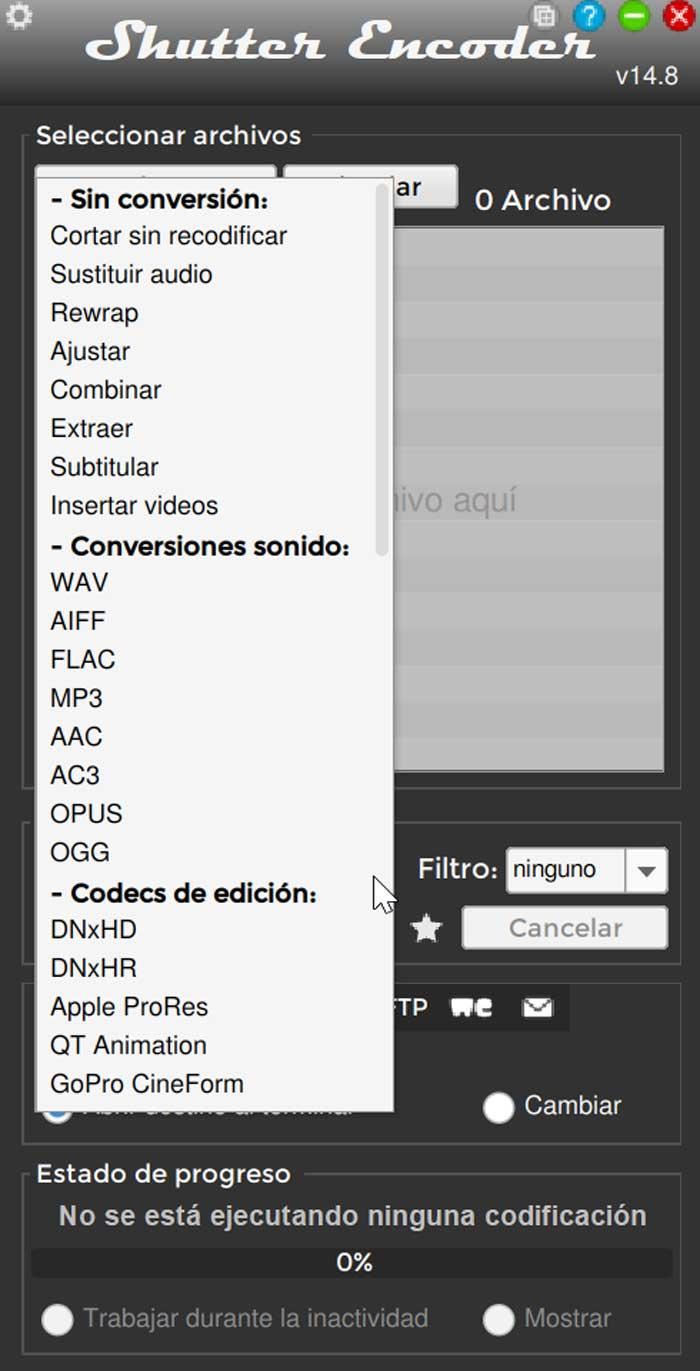 From the Choose function section we can carry out editing and conversion tasks that we want to carry out. Here we find the following options to perform:
No conversion: cut without recoding, replace audio, rewrap, adjust, combine, extract, subtitle and insert videos.
Sound conversions: WAV, AIFF, FLAC, MP3, AAC, AC3, OPUS and OGG.
Editing codecs: DNxHD, DNxHR, Apple ProRes, QT Animation, GoPro CineForm and Uncompressed YUV
Output codecs: H.264, H.265, VP9, ​​AV1 and OGV.
Broadcast codecs: XDCAM HD422, AVC-Intra 100, XAVC and HAP
Old codecs: DV PAL, MJPEG, Xvid, WMV, MPEG
File codecs: FFV1
Image Creation: JPEG, Image
Burn and copy: DVD, Blu-ray and DVD RIP
Analysis: Loudness & True Peak, normalize audio, detect cuts, detect black background, detect offline media.
Download: web video.
Audio and video functions
Selecting the desired option will open a right panel where we can find different editing options. For example, if we add a video and choose the H.264 output codecs function, where we can choose the desired bitrate, resolution or size. You can also make audio adjustments, adjust colorimetry, and make corrections or transitions. Undoubtedly a series of advanced features that will delight the most demanding but that can overwhelm users with less knowledge.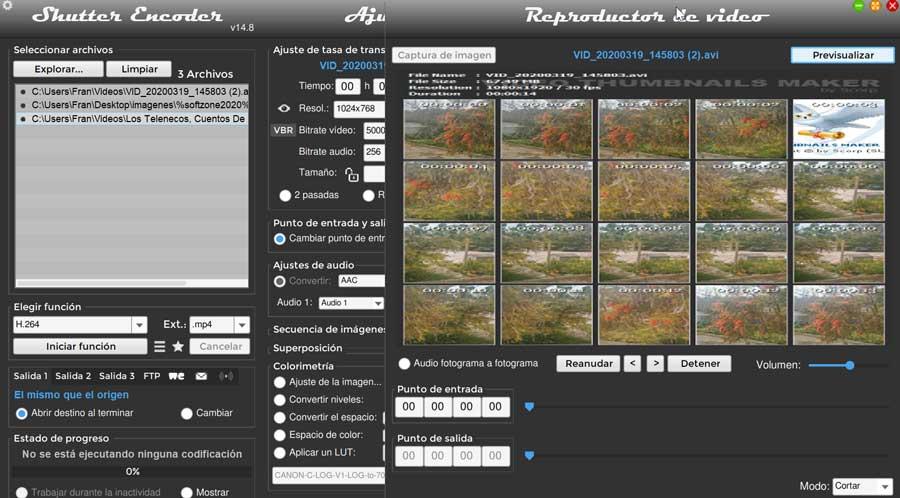 It also has a video player that we can use to play the video, take a screenshot and select the start and end points. We can use the timeline or the arrow buttons next to resume and stop, along with the In point and Out point fields to be able to precisely select the exact frames to trim the video.
Imaging features
This application is also compatible with images, so we can edit those that we import from the Image function. We can make an image creation and choose to save it in formats such as PNG, BMP, TBX, TGA or TIF. In the right panel we can choose some editing options that allow us to choose the resolution, crop, scale, rotate, reflect the image or adjust the space and color correction. We could even create a sequence of images from a video. The possibilities are many, if we take the time to learn to navigate its interface.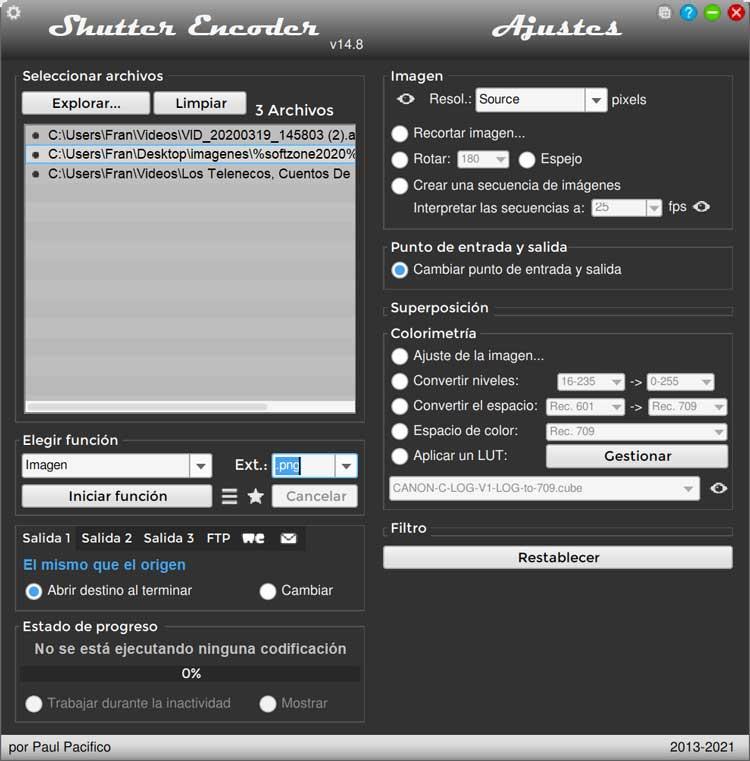 Shutter Encoder Free Download
Shutter Encoder is a free application that we can download from its website . It is compatible with Windows in both 32-bit and 64-bit versions, as well as other operating systems such as macOS and Linux. It has both a version with installation and a portable version , which allows its use without the need to install, so no modifications are made to the Windows Registry. In addition, it allows its use from an external storage device such as a hard drive, pendrive or memory card.
Its latest available version is 14.8 corresponding to March 04, 2021 . This shows a great support and updates policy on the part of its developers, keeping the application constantly.
Alternatives to Shutter Encoder
If we are looking for a program with which to convert our multimedia files such as video, audio and images, we propose some alternatives to Shutter Encoder:
Format Factory
It is an application with which we can convert the format of any multimedia file such as video, audio, images or documents, so that they can be played on any device. It also allows us to extract tracks from DVD and audio CDs, merge files, repair audios and videos, and batch processing. We can download it for free from its website .
HD Video Converter Factory Pro
We are facing a complete multimedia file converter. With it we can convert audio and video files to more than 500 different formats. It has the ability to join two or more files and extract audio tracks from videos. It has a free version that we can download from this link.