Applications
Boost your experience with telegram with these alternative clients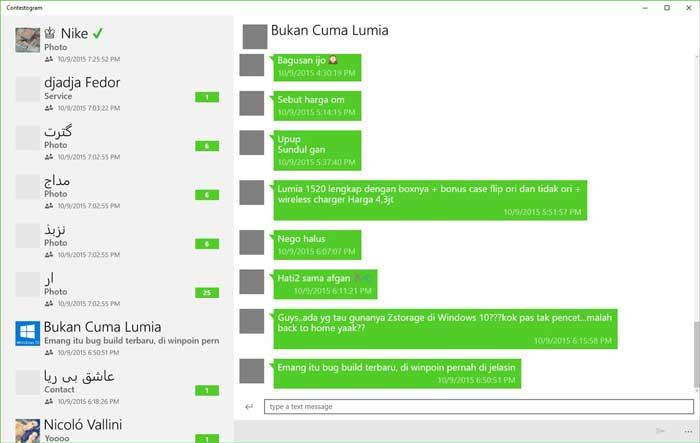 Telegram has become little by little and in the shadows the great alternative to WhatsApp as an instant messaging application. Although these types of applications were designed in the first instance to be used on mobile devices, the truth is that it has also been possible for a long time to access them from desktop and web applications.
Telegram has its own desktop application called Telegram Desktop with a very similar appearance to the mobile application, being compatible with Windows, macOS and Linux. This application is independent of the mobile, so it can be used even if we have it turned off, which allows us to have our session open on several devices at the same time. In addition, this desktop version has options unified with that of the mobile, so we can do practically the same, but with an interface adapted for the computer.
Of course, although it has practically the same options, there are some that being present in the mobile version we cannot find in its desktop version, such as multi-account support and the secret chats function.
The secret chats are designed for users who want more security. In this way, all messages in secret chats use end-to-end encryption . This means that only us and our receiver can read those messages, so no one else can decipher them. They should not be confused with private chats, which is what Telegram calls chats between two people that are stored in the cloud, and which also has strong encryption based on the MTProto protocol.
The messaging application owned by Pavel Durov, is open source and free which allows independent developers to access it, and create their own clients. That is why today we are going to see which are the best Telegram clients for PC that we can use as an alternative to its official version.
Telegram clients to use from the computer
Unigram, the most popular client
This is possibly the most popular Telegram client, developed and optimized exclusively for Windows 10. Its functions include the use of emoticons and sticks, it supports group chats showing the images of the profiles. It also allows photo sharing, shipment verification and synchronization through our phone number. In addition, it has integration with the Muy People function, which allows us to add a contact to our taskbar so that we can talk to him without having to open the application. We cannot ignore its keyboard shortcuts that allow you to use the F1-F6 keys to filter all types of chats, as well as mention its multi-account support.. Regarding its interface, it is possible to adapt its design to our needs, so that its use is more comfortable for us.
If you want to use Unigram as an alternative Telegram client, we can download it from the GitHub page .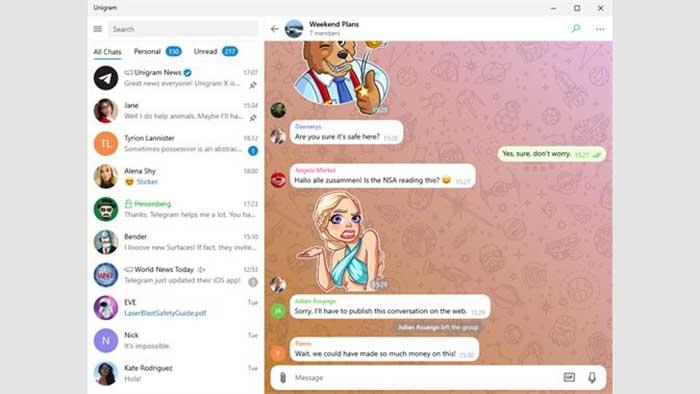 Telefuel, a customer based on productivity
We are facing a Telegram client that has been developed thought and directed for advanced users, who want to use the application as a work tool. With it we can group groups and conversations by folders and well-differentiated workspaces . We will also have the ability to configure filters, keyboard shortcuts, among other functions. In addition, we will have five columns to organize chats in, private chats, bots, groups, channels and open chats.
Telefuel has a free version, compatible with Windows, Linux and macOS, which we can download from its website, although it has some limitations. This version limits the number to 3 workspaces with 12 per workspace and does not allow filtering by read and unread messages. In order to access all its functions, it is necessary to purchase the premium version that costs $ 10 per month.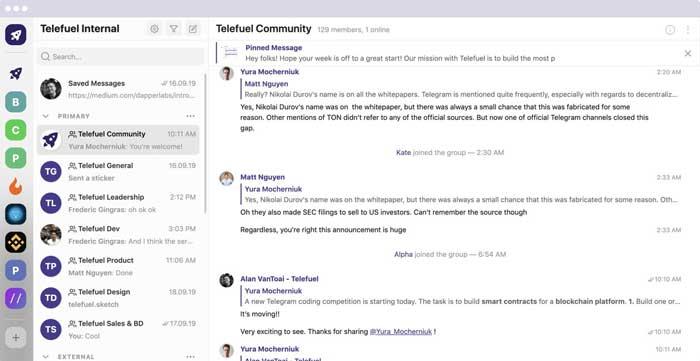 iGram Desktop Free, one of the fastest and lightest clients
Now we find one of the fastest and lightest unofficial versions of Telegram. Like the original application, it uses API to connect directly to the main Telegram server. That is why we will have the same security system. iGram has some additional features that we cannot find in the official application. It allows us to change colors and size of many of the objects such as text, icons, headers, as well as create our own theme, and share it with our friends. In addition, it has the possibility of using the sharing function without needing to quote the sender.
If we want to use iGram as an alternative Telegram client, we can download it for free from the Microsoft Store.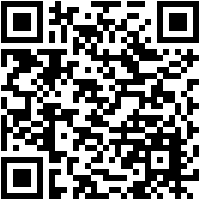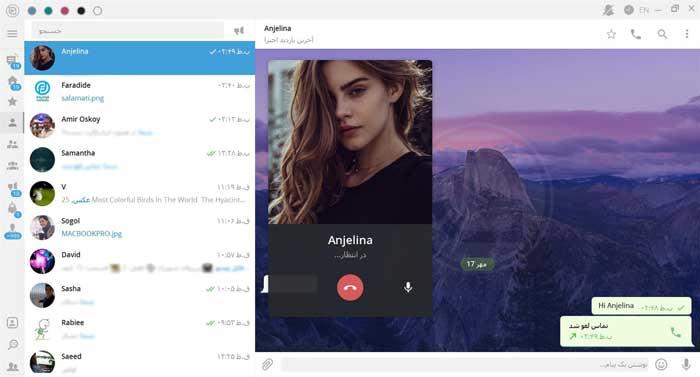 Cutegram, attractive interface and additional functions
Another great alternative that we find as a Telegram client is Cutegram. This application has a more attractive and user-friendly interface than the official application. With it, we will not only be able to send and receive messages or create groups of chats. It also makes other key and differentiating characteristics available to its users. For example, it has the ability to drag and drop to send files or forward messages, smart notifications and even the ability to integrate into the system tray. It also allows us to keep your contacts organized as it has advanced sorting options. In addition, we can change the font, colors and sounds quickly, obtaining an application with a more customizable environment.
Cutegram is a free and open source application that we can download from this link .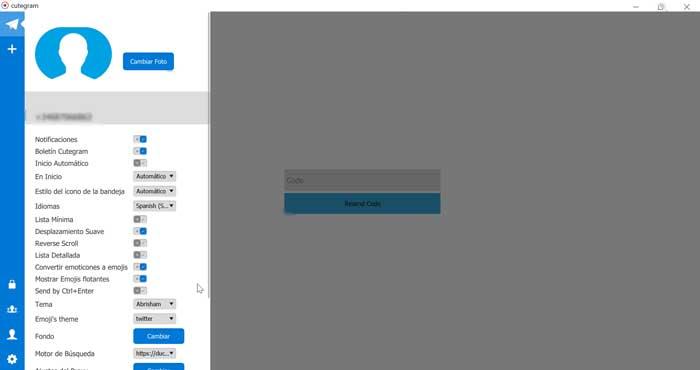 Bettergram, a "supervitaminated" Telegram
We are dealing with a Telegram client, which its own developers describe as "a Telegram on steroids". We are talking about an open source and multiplatform application, being compatible with Windows, Linux, macOS and mobile devices. Among its features we find the possibility of setting up to 50 chats, sorting messages by category, as well as marking those conversations that we need as important. This client uses the Telegram API and some additional open source libraries with some modifications that will allow us to keep chats and groups better organized. As a curiosity, it will also be possible to track the prices of cryptocurrencies, which may be of interest if we use Telegram as a work tool.
We can download Bettergram for free from the developer's website .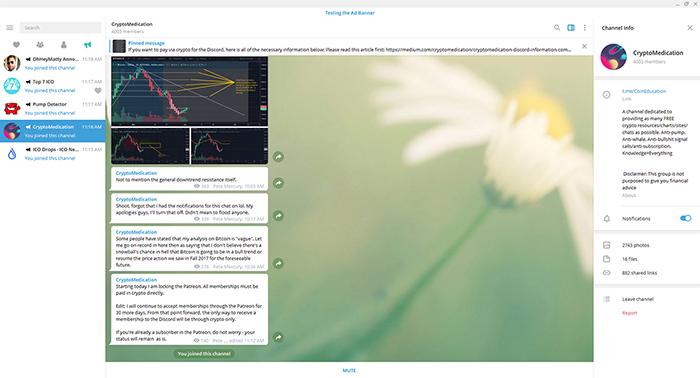 Ferdi, brings together messaging services in a single app
This open source multi-system application is available for Windows, Linux and macOS. Its main feature is that we can use it with multiple accounts. But not only from Telegram, but it is also compatible with other messaging systems such as WhatsApp, Slacks, Facebook Messeger, etc. In this way we can save space on our taskbar, with a single application that brings together all the messaging services. It is also possible to use it in portable mode . Its functions include its universal dark mode, quick keyboard shortcuts to switch between services and a do not disturb mode that we can activate or deactivate with a single click.
If you want to start using Ferdi, we can download it for free from its website .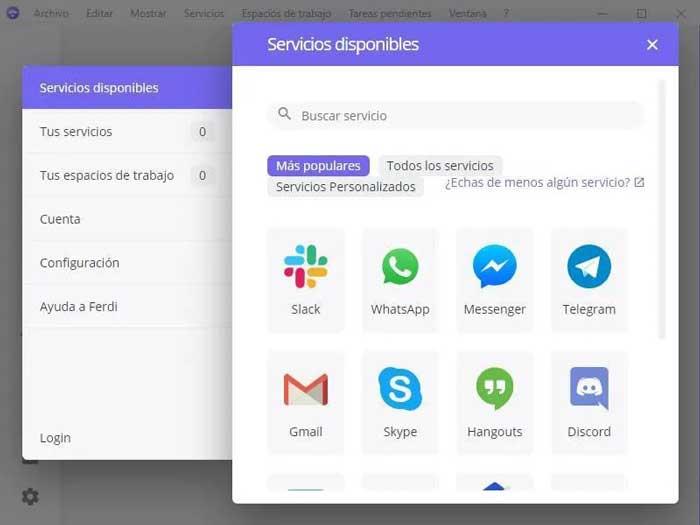 Franz, sync up to 65 different apps
As with Ferdi, we are facing a multiplatform application that allows us to synchronize our account with up to 65 different service applications such as Telegram, WhatsApp, Slack, Facebook Messenger, among others, keeping them separated in tabs for those that do not communicate with each other. . It is an ideal tool to manage multiple accounts, so we can combine our personal accounts with the professional ones. Additionally, you can create a to-do list and add words or sentences from a message to it.
Franz has a free version that we can download from his website and that allows us to add up to 3 services from more than 70 options, with account synchronization and desktop notifications. It also has payment services from 2.99 euros per month to take advantage of all its functions.
Chatogram Preview, the simplest alternative
Finally, we are going to mention a very simple Telegram alternative for Windows. This is Chatogram, which has been developed solely to exchange texts with our contacts in the messaging network. In return, we lose all media media that we can find with other customers. Chatogram is aimed at those users of minimalism, where they want an application for and to write without having to be surrounded by all kinds of options that they will not use, and who only need a simple and simple proposal.
You can download Chatogram Preview for free from the Microsoft Store.