Tutorials
How to contact Amazon: what are the customer service channels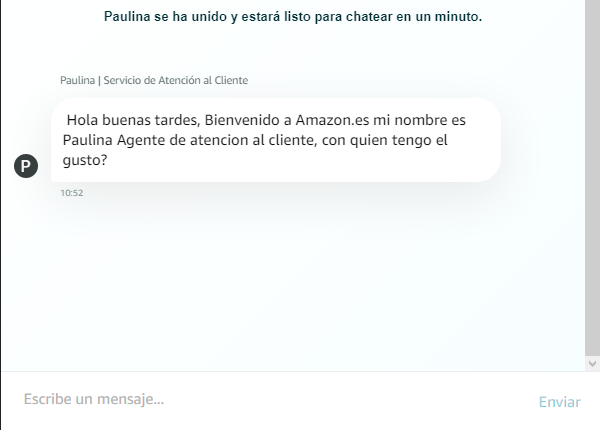 You have various means to contact Amazon in case you have made a purchase and want to track it, want to know about their services or know the status of your order. This web platform is one of the most popular digital marketplaces worldwide. Therefore, it is natural to need a service number or a direct contact channel in which you can find out more details about your products, services, deliveries, among others.
If you have made a purchase on this website, it is entirely understandable that you wish to have an Amazon customer service number. Therefore, in this article you will see how to contact Amazon in case you want to make a query about their services, find out when your purchase will arrive, formalize a claim, request a refund, among others. It is necessary to remember that you must have a user to be able to contact that company.
Contact forms
If you want Amazon to call your phone directly, write an email or contact them through their online chat, you must have an account or an active user on Amazon. Once you have registered on the page, you just have to follow the instructions that will be indicated in the following sections.
From a direct call
Amazon can call you at the phone number you specify. You just have to enter the country of origin and your phone number. Then, you must follow the steps that will be detailed below:
Enter the " Amazon Contact " through thislink.
If you require it, choose the order with which you want to request a claim. This step is optional, you can skip it in case you don't have to make any complaints.
Go to the " Tell us more " section and select an option from the first drop-down list. In this case, "Payment problems" will be chosen.
Choose another option from the second drop-down list. In this opportunity, "Duplicate charge" will be selected.
Swipe on the page and you will see that the section " How would you like to contact us? ". Press " Phone."
Enter the country of origin, your phone number and click " Call me now."
Note: In case your country is not included in the listed countries, you have to select the " Other " option . At this point you will see that Amazon will tell you that it cannot call other countries or regions that are outside the list and will provide you with the numbers for international calls.
Via email
You can also contact Amazon via email. All you have to do is follow the steps mentioned in the previous section, go to the section " How would you like to contact us? "And click on the button that says" E-mail ". It will automatically redirect you to another page where a direct message will be enabled.
You will see that the characteristics of your problem will be detailed and in a text box, more detailed information will be requested to provide a solution. Once you have written the problem, you just have to press " Send e-mail ". You will generally receive a response within 12 hours.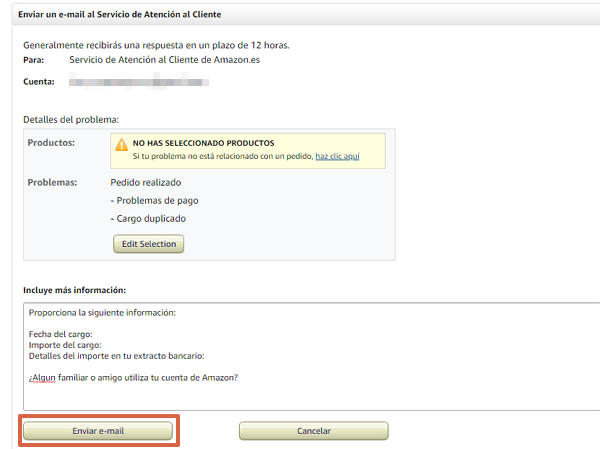 Through online chat
By following the same steps, you will detail that you also have the option to contact Amazon through its online chat. All you have to do is press the " Chat " button for an external window to appear in which you will contact Amazon. If this chat window does not appear, you must allow the use of pop-up windows in the browser.
If it is your first time on this platform, when you press the " Chat " button you have to enter your account password to log in again. The system will then put you in touch with one of Amazon's customer service agents. They work from 6:00 in the morning until midnight. The answers will be immediate and will directly solve your problem.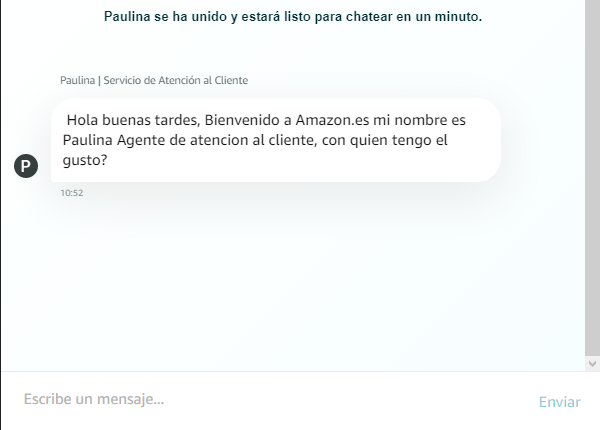 Additional phones
Amazon no longer has a toll-free number that can be called, however, it has numbers to make international calls and direct contact with the carriers who receive and ship the product to the address you have indicated.
International calls
The phone +34 911 23 04 13 is only for international calls, that is, if you are not in your country (or in one of the countries listed by the company) and you need to contact Amazon. With this number you can ask general questions related to the services they offer. Similarly, if you have any questions about Kindle, this is the phone number to call:
/font>+34 911 230 420.
It is important to note that the call to these numbers is not free. You should contact your service provider for the applicable rates. Likewise, it is important to mention that these contacts are intended for the purposes that have been mentioned. In case Amazon customer service is called , you will hear a recording stating that it is not the contact method you should use. Additionally, it will remember the other communication channels such as email or online chat.
Carrier telephones
Due to the large volume of purchase and sale that is made on this platform, Amazon has several carriers which send the order to a previously indicated address. If you have any problem with your package, you cancontact the carrier directly through the following numbers:
ABF Freight System Inc: 1-877-609-5681.
Australia Post: outside Australia + 61-3-8847-9045 / within Australia: 13-POST-13-7678.
CEVA Logistics: 1-844-215-0640.
DB Schenker: 1-800-225-5229.
Hurry: in Bogotá 4051405 / rest of the country 01 8000 519393.
DHL Express (frequent transport): 1-800-225-5345.
ECMS EXPRESS: 1-855-266-9299.
FedEx (common carrier): 1-800-463-3339.
Fidelitone: 1-844-524-6320.
Israel Post (ILP) : + 972-076-887-1216.
Innovel Solutions: 1-888-460-5404.
Landmark Global: 1-888-205-2251 (toll free).
LaserShip: 1-804-414-2590.
Lonestar Overnight: 1-800-800-8984.
Menlo Worldwide / UPS Supply Chain Solutions: 1-800-443-6379.
Ninja Van: (+65) 6602 8271.
NSD: 1-844-401-9082.
OnTrac: 1-800-334-5000.
Parcel Pool: 1-877-727-2354.
Pilot: 1-877-549-0160.
US Postal Service (Common Transportation): 1-800-222-1811.
SF Express: if you are in Taiwan (+886) 2 2192 6063 / if you are in Hong Kong (+852) 2730 0273.
TForce Final Mile: 1-855-396-2639.
UPS (frequent carrier): 1-800-742-5877.
WnDirect: 1-516-254-4540 (4 am to 6:30 pm EST)
XPO Logistics: 1-844-285-5279.
As you have seen, contacting Amazon does not require much protocol. You only need to have a username and password to follow all the steps mentioned in the previous sections. In the same way, you have the direct number to make international calls and the list of carriers with their respective telephone number in case you have a problem with the delivery of your package.