Tutorials
B1 Online Archiver: How to Unzip Files Online for Free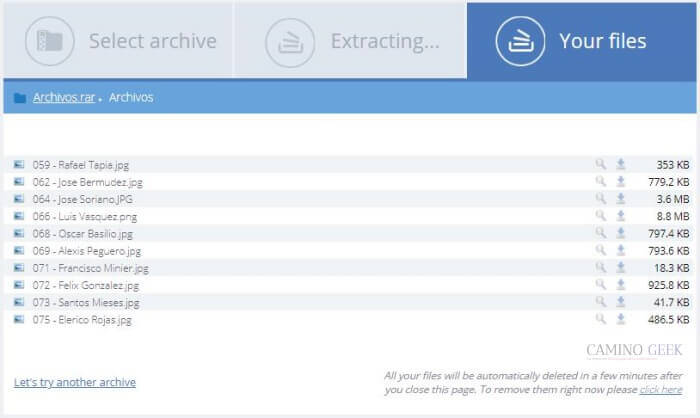 There are many file compressors available to compress and decompress, such as Winrar, Winzip, 7Zip, etc. But if you have an archive to unzip and you don't have one installed on your system, you can choose to unzip files online using the B1 Online Archiver service.
The file compression is the most convenient way to package them , downsize and and easy storage and transfer. For example, if you have a folder with a lot of files to send, you can zip it up and mail it without any hassle. But in this post we will see how to decompress online without installing anything on the PC with a cloud service.
Unzip online with B1 Online Archiver
B1 Online Archiver is an online service designed to decompress online RAR archives and other compression formats. Everything is done in the simplest and fastest way, without the need to have programs such as Winrar or Winzip installed on the PC.
The service is convenient for a number of reasons. For example, when you use a PC other than yours and you receive a compressed file in the mail; You may need to unzip it quickly, but there is no file unzipping utility installed on the system. In these and other cases, a service such as B1 Online Archiver can be very useful to solve quickly.
Among the files that you can decompress online, direct from the cloud, are the formats: ZIP, RAR, 7z, gzip and b1. Also, jar, xpi, arj, bz2, bzip2, tbz2, tbz, txz, cab, chm, chi, chq, chw, hxs, hxi, hxr, hxq, hxw, lit, cpio, deb, gz, tgz, tpz, hfs, iso, lzh, lha, lzma, rpm, tar, xar, z, taz, xz, dmg, cb7, cbr, cbt, cbz.
A long list of formats, but now that you know everything you can decompress online, let's see how to do it.
How to unzip files online
To unzip online with B1 Online Archiver, follow these steps:
1. Go to the B1 Online Archiver website here.
2. Click on the Select archive tab to choose the archive from your PC.
3. Then you look for the file from the hard drive or the drive where you have it stored.
4. From the moment you select the compressed file, the application will begin to extract it automatically.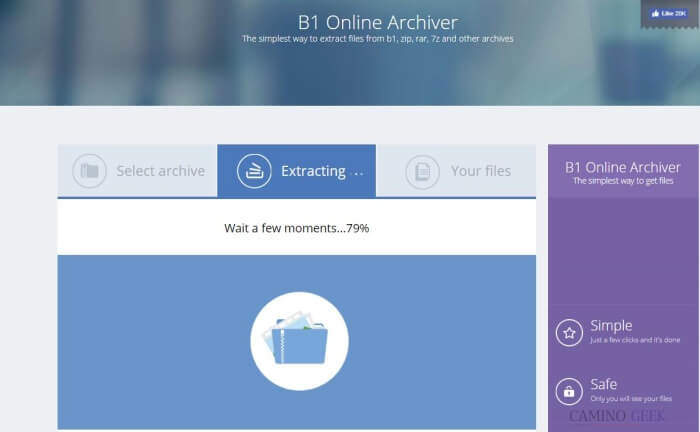 The decompression process will take time depending on the size of your file, and of course, the quality of your Internet connection. But to me in particular it seemed quite fast.
5. When it finishes unzipping the files, the application will show them to you in the Your files tab .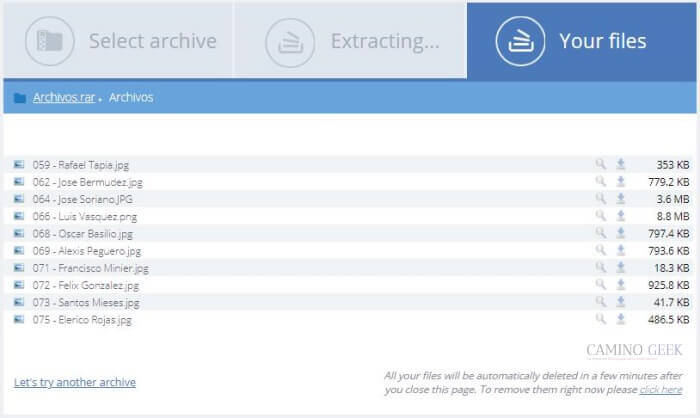 As you can see in the previous image, all the extracted files are shown with their size, including a button to download and another to preview. From here you can download all the files by clicking on them, or on the download button. You can also preview each file using the magnifying glass icon.
Privacy is not an issue when extracting files online with this web application. The files are deleted within a few minutes after you leave the website. The service ensures that only you will be able to see your files.
Unzip online quickly
B1 Online Archiver is without a doubt the easiest way to unzip files online quickly and easily. There are many circumstances in which a service of this nature can help you.
It also has desktop applications for Windows, Mac OS, Ubuntu, and Fedora; in addition, for Android devices and soon there will be a version for iOS.