Linux
Use Maestral as an alternative Dropbox client on Linux and macOS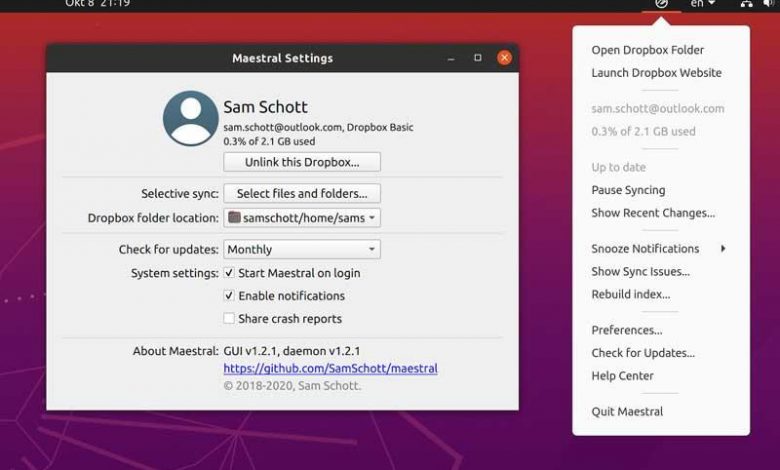 Dropbox has become one of the most popular cloud storage services, growing enormously over the years. However, its application does not like all its users since it requires a lot of storage space and excessive use of RAM memory. As an alternative we can use an application like Maestral, an open source Dropbox client for Linux and macOS.
Currently, cloud storage systems are becoming more common and open a wide range of possibilities both in the processing of data for personal and professional use. Although Dropbox has its own content client, this is excessively heavy, so, as an alternative, we can use clients developed by third parties to use the platform in a similar way, although with less resource consumption, as is the case with this application that we are going to to see below.
Advantages and disadvantages of using Maestral as a Dropbox client
Maestral is an open source Dropbox client written in Python, which has been developed with the idea of ​​providing a client for platforms and file systems that are no longer directly supported by Dropbox. It preserves the main functionality of the service, but eliminates non-essential functions to reduce both its size and the memory capacity required to function. Additionally, it also includes a command line tool.
The focus on simple file synchronization that Maestral takes has its advantages. In macOS the application package is quite smaller compared to the official application (20 MB vs 290 MB) and uses much less memory (100 Mb vs 800 MB for a not very large size). Similarly, memory usage will depend on the size of the synced Dropbox folder. Its consumption can even be reduced even more, if we decide to run Maestral in command line by omitting its graphical interface.
Maestral uses the Dropbox public API to work, making most of the service's functionalities available. Despite this, it has some limitations as we cannot transfer only the parts of a file that have changed, so the use of bandwidth is likely to be higher. However, it will avoid uploading or downloading an existing file with the same content locally or in the cloud. Additionally, Maestral lacks support for Dropbox Paper, Dropbox Teams, and shared folder configuration management, which may be worth dispensing with in exchange for a lighter, less resource-consuming app.
Maestral offers solutions for both advanced and expert users
Setting up Maestral is even easier than doing it from the official Dropbox application itself, since all we need is to log in with our account and provide an authorization token. From then on, a new synchronization directory will be created where we can choose which elements should be synchronized.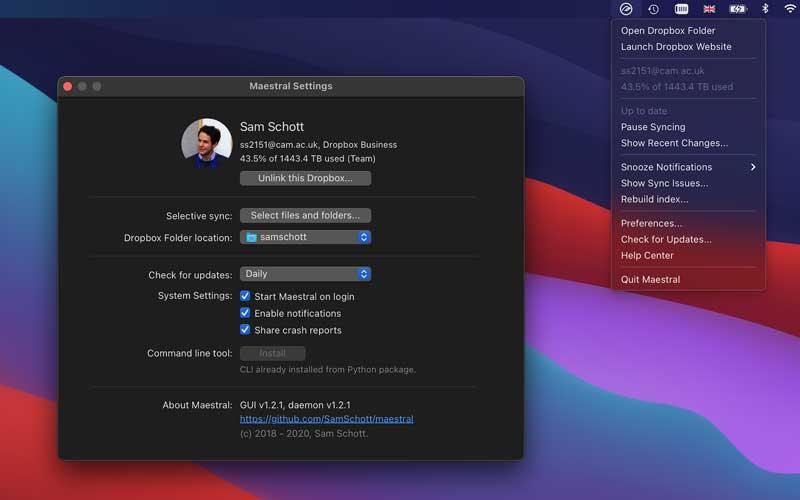 Once setup is complete, everything else will be just as straightforward. It will only be necessary to copy the files to the Master folder to synchronize them with the cloud and select those that we would like to have available locally. Thus, we can access them without having an Internet connection. It will also allow us to see the most recent changes that we have made in the cloud, as well as disable notifications that may disturb us or completely pause the synchronization at any time. In addition, we can use the application on an unlimited number of devices.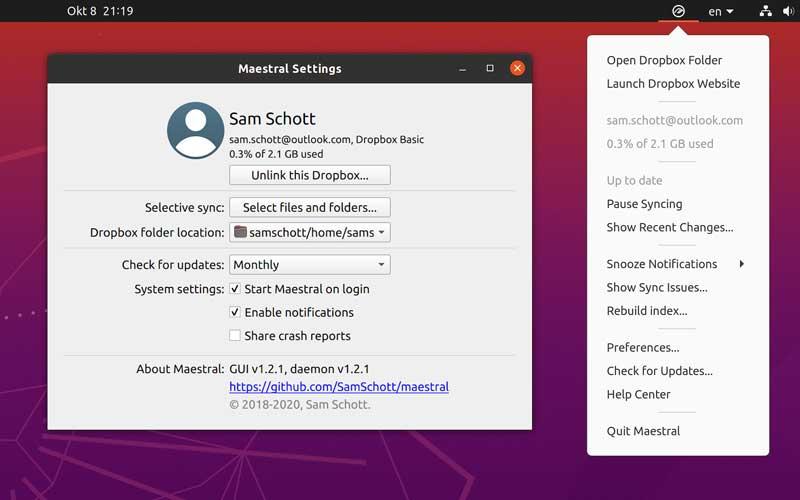 For more advanced users, Maestral incorporates a command line tool, through which we can have access to more advanced functionality. From here we can configure multiple accounts, compare file reviews, or restore a file to a previous version, among other functions.
Conclusions: is it worth using Maestral?
Maestral is a client for Dropbox that, although it is not as advanced as the official application. Even so, it can be a good alternative for users looking for a lighter software that consumes fewer resources, or simply for those who do not like the official application for whatever reason. Being an open source application, it makes it free. Therefore, it never hurts to try it and see if it is worth it. In addition, it can be used both by inexperienced users, since it is very easy to configure, and by advanced users, since it has a command line tool with additional functions.
Free download Maestral
Maestral is an open source and completely free application that we can download from its repository on GitHub. It is compatible with Linux and macOS operating systems (High Sierra and later versions). It has a very small size, below 20 MB and my malware does not incorporate advertising or viruses, making it a 100% safe application.
In Linux it will be necessary to download and install the Python package from PyPI, for which it will be necessary to execute the following command from the terminal:
$ python3 -m pip install - actualizar maestral
If you intend to use the graphical user interface, you must also specify the GUI option during installation or upgrade. For this we must execute the following command in the terminal
$ python3 -m pip install --upgrade maestral [gui]
The latest version of Maestral available to date is 1.4.3 corresponding to March 13, 2021. This shows that it is a relatively new application, but with constant updates by its developers and its user community thanks to the fact that it is an open source application.
Alternatives to Maestral
If we are looking for an application that serves as a Dropbox client, we can choose some of these alternatives to Maestral.
Air Explorer
Air Explorer is a program that will help us manage all the storage in our clouds in a multifunctional way, including Dropbox, being compatible with both Windows and macOS operating systems. With it we can upload files such as photos, videos, documents, etc. from the PC to the Dropbox space. It is also possible to encrypt the files to prevent anyone from accessing our files without an additional password. Air Explorer has a free version that we can download from this link with which we can manage an account.
Cyberduck
It is an open source and completely free software, with a similar operation to that of an FTP. We can connect this application to different cloud storage services such as Dropbox. It is cross-platform so it can be used on Windows, Linux and macOS. It has support for editing files with external editor, advanced bookmark support and advanced SSH functions. We can download it directly from its website.
CarotDAV
It is a client for Dropbox that helps us when uploading files to our storage space. The application is responsible for giving us access to the folders and files of all our accounts so that we can download the content, edit it and upload it again. It is easy to use and has password encryption. We can download it from here.