software
How to create to free steam account in spanish? Step by step guide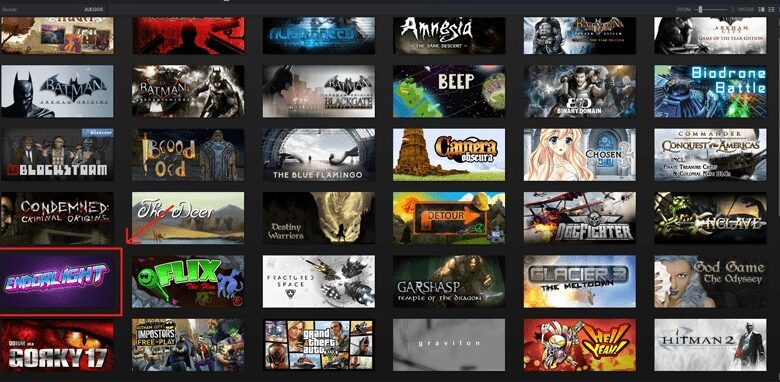 The total penetration of the internet in all possible sectors has caused many things to change in terms of mentalities, formats and mechanisms. The video game industry is one of those that has noticed it the most, not only because of the possibility of playing with friends from anywhere in the world through the Internet, but also because of the spread of the digital format as the most interesting proposal when it comes to purchase a game and install it on a console or computer.
In fact, numerous digital stores have appeared whose business revolves around this new way of selling a video game. Many platforms have emerged in these years, but none have lived up to what Valve invented. Steam is the great giant, the eminence within this sector. An ecosystem full of titles from the most cutting-edge to the most veteran in which there are countless different proposals for all audiences and tastes, but which is also committed to connecting its users from all over the planet.
Anyone who knows how to create a free Steam account knows how to access all the advantages that this system, devised by Gabe Newell and company, has been offering for years. Big discounts at key times, the most recent titles, connecting with other users, creating groups, sharing images, broadcasting and a long list of possibilities that have made this place the perfect place for all those players who prefer their computer to enjoy the games. video game.
How to register a Steam account step by step?
In this guide that we bring you, we are going to explain what you need to know to open a new user account on Steam and start moving through your entire system as soon as possible. All the procedure shelled and explained step by step so that you can follow it without problems and have your profile ready sooner rather than later, along with the requirements that you must know before registering. We are not facing a platform open to everyone and, even when you think you have already accessed it, it has some limitations that we are going to point out so that you know what is behind that re-registration form.
Before you can use the services of this company, you have to create a profile as a user to be able to access. In this section we will explain how to register an account on Steam so that, if you follow each step indicated, you will have your profile ready in a matter of minutes.
1 – Access the user registration section
To start registering your new Steam account, you must first access the platform's website. Although it is also possible to do it through the program available for download, visiting its page is something that can be done from any device with a connection. Open your web browser and type this URL in the address bar: https://store.steampowered.com
Through it you will reach the Steam home screen on its online portal.
Now, go to the top and click on "Login". When you do this, you will go to the login window, a necessary place to move forward.

Instead of putting an account name and password, go to the right side and click on the "Create account" button. This is how you will start opening your new profile on Steam.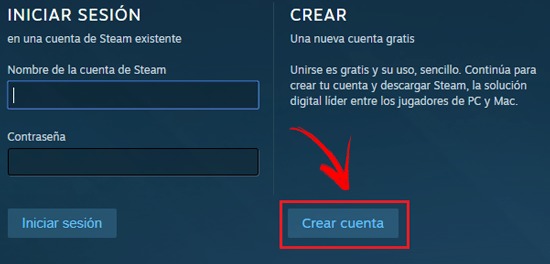 2 – First data and subscription agreement
The first fields that appear in this new section are available for you to enter the email address you want to use for your Steam profile. Write it in the first and second spaces to confirm it and, right after, choose your country of residence correctly.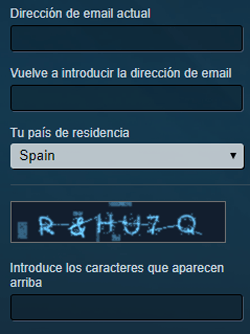 Once you have done this, scroll down a bit more to fill the next space with the characters that appear in the image (you can click on "Update " to display another image).
Keep going down and you will have the " Steam Subscriber Agreement " in front of you . You can read it or simply go down to check the box "I accept and I am 13 years old or older" and then press the "Continue " button.

3 – Verify your email
Steam needs to confirm that your email is correct and that it also belongs to you. For this purpose, it sends you an email to the inbox of said email. Enter your mailbox, find the company message and open it. When you do, you will see that there is a button with the text "Create my account." Click on it to advance.
4 – Set a username and password
After having pressed the mail button, you have to go back to the window where you were registering to check that it has changed. Now you have in front of you three different fields in which you have to write what will be your Steam username, as well as the access code (this twice, to confirm).
The user must be unique, so you have to click on "Check availability" to make sure you can use the one you want. On the other hand, it is recommended that the key have uppercase, lowercase, numbers and / or symbols to be as secure as possible. Once you have everything, click on "Complete registration".
5 – Profile on Steam ready!
You already have your Steam user profile open. From now on, you can log in whenever you want to take a look at its catalog or even play the titles you download and buy through the application that the platform makes available to all its users.
6 – Install Steam Client
Once we have registered on the platform correctly, we will only have to download and install the Steam client to be able to enjoy all the advantages that this incredible website offers us to be able to play thousands of video game titles online.

Now we are going to show you the requirements that you must meet for registration.
What are the requirements to open a Steam account?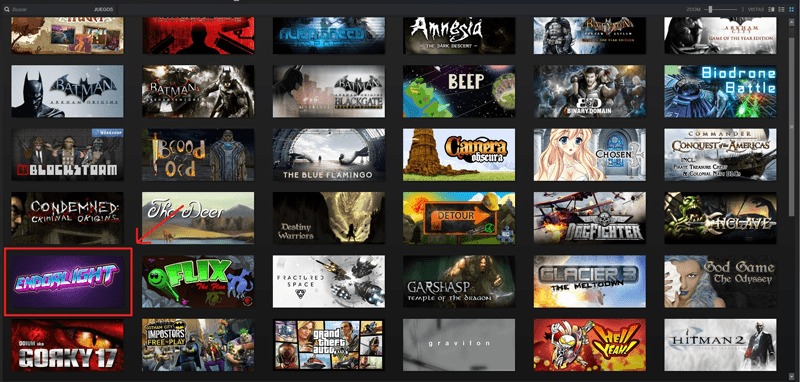 Before trying to open a profile on Steam, it is necessary to know that some simple but essential requirements must be met. Not everyone can login to this platform, nor can they register, if they do not exceed the requirements that those responsible for filtering the users who may or may not enter.
It is essential to accept the conditions of use that they impose during the registration process, as well as to have a valid and working email address (mandatory for one of the steps that we have listed) and, of course, to be over 13 years old. All people who do not meet these requirements have to forget about trying to access the possibilities offered by this online and digital gaming system.
There are also some hardware requirements for Steam to work on your computer, but practically all computers today meet them, those are:
For Windows:
Windows XP, Vista, 7 or higher (Also available for Ubuntu)
512 MB RAM
1 GHz processor or higher
It can also be used on a Mac computer:
Mac Intel, OS X version 10.7 (Lion) or later
1 GB of hard disk space minimum
A two-button mouse (Recommended)
Even so, those who comply also have another step to climb. When you create an account on Steam, you have limited access to features. Thus, for example, it is impossible to add friends or perform other tasks related to your social elements.
In order to unlock these basic tasks and functions, you must make a minimum purchase in the digital catalog for a value of € 5 (it can be several games whose value adds up to that amount, downloadable or even films or documentaries also available). Once it is carried out, it is possible to take advantage of everything that is in this ecosystem.
Age requirements, agreement with the policies of use and a minimum purchase. These are the three factors that must be taken into account before registering on Steam, since they are the ones that determine whether or not any user can take advantage of their possibilities.
If you have any questions, leave them in the comments, we will answer you as soon as possible, and it will surely be of great help to more members of the community. Thanks!