Applications
Organize and manage all your ebooks with extreme books manager

Over the years, more and more users choose to use electronic books or ebooks, instead of the conventional paper ones. But in general terms, the truth is that migration is being slower than initially expected. In Windows we have specific programs for managing these files, as is the case with eXtreme Books Manager that we are going to talk about.
As I'm sure most of you know first-hand, only a few years ago we had our shelves full of books in paper format, those of a lifetime. This is a format that has been with us for centuries and does not seem to be going away anytime soon. However, at the moment and in large part due to technology, this is changing. Specifically, we mean that little by little electronic books or ebooks are being introduced into our lives.
The importance of good ebook management
Of course, many users still refuse to migrate from paper to this more modern electronic format. In a way it is quite understandable, it all depends on the taste or preferences of each user. But due to certain advantages that they present to us, over time the use and acceptance of ebooks is increasing. This means that while in the past our collection of paper titles grew , now our library of digital books grows. Precisely for all this, it is increasingly necessary that we use a specific application to help us manage this content.
Moreover, we could tell you that this is something that is essential if at this point we already deal with a good number of these titles in digital format. For this we can use several software proposals, where Caliber is the best known. But it is not the only one, so we are going to talk about another that will be very interesting, eXtreme Books Manager.
eXtreme Books Manager, perfect application for your digital library
To begin with, we will tell you that the aforementioned eXtreme Books Manager is one of the most advanced electronic book collection managers . For this, it puts at our disposal a good number of functions and features that will be very helpful in all this. But it is that in addition to being able to manage our e-books from here, it also has support for dealing with audio books.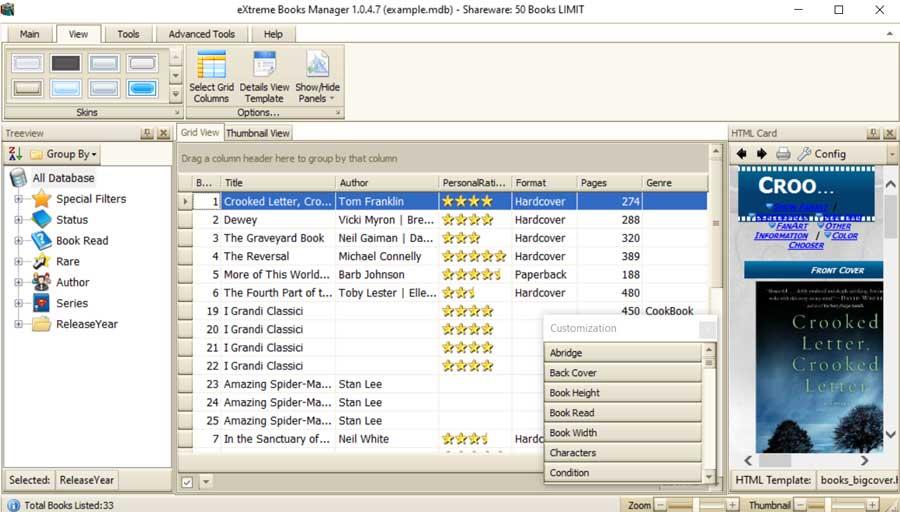 Among many other functions, we can import all the information from the books directly from specialized websites. To do this, we just have to write the title or scan the ISBN barcode to add it to the application. The program, once we have downloaded and installed it, is divided into several well-differentiated sections.
All this has been designed in such a way that the management of our digital library, no matter how extensive, is carried out in the best way.
A user interface designed for working with ebooks
Thus, in the central panel of the program's user interface , we find a large window with the electronic books that we have been adding over time. In turn, on the left side of this section, we find a series of filters in the form of drop-down lists to be able to quickly locate specific titles. As you can imagine, these filters will be very helpful in the event that we deal with a large number of books.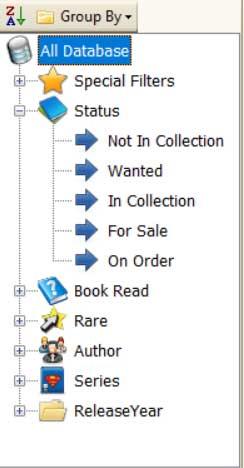 Using them, we can filter the titles that will be seen in the main panel, by author, series, state, year, etc. Similarly, at the top of this main interface of eXtreme Books Manager, we see a series of tabs that will help us to use the program.
The first one, Main, presents us with a series of shortcuts that allow us to carry out book management tasks, hence its importance. Therefore, from it we can add new titles from various sources, edit the entries made, import or export the entire library, or delete added content.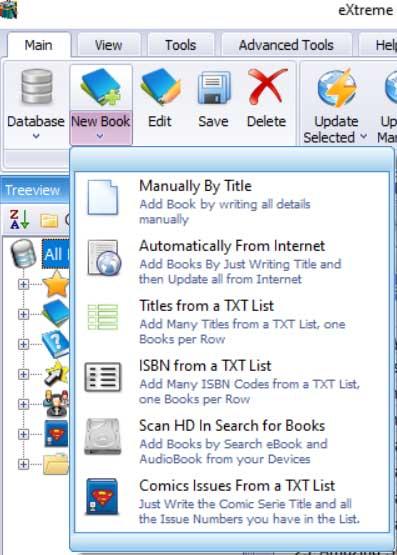 Customize the look of eXtreme Books Manager
On the other hand we find the tab called View, which basically focuses on customizing and adapting the appearance of the program. For all this, it proposes several skins that we can integrate instantly just by clicking on one of them.
Similarly, on the right side of this section, we will also have the possibility of adapting other components. Thus, eXtreme Books Manager offers us the possibility of customizing the columns that show us the information of each of the added books. In the same way, we can specify to the program what data we are really interested in viewing, in addition to being able to hide certain parts of the interface.

Other additional functions to manage ebooks
In addition, the program we are talking about allows us to carry out other additional actions, all of them related to the management of electronic books. With all this, what is intended is that we have everything necessary to get the most out of eXtreme Books Manager.
Therefore, we found the possibility of adding and removing friends with whom to share the library of titles, for example. At the same time, the program has its own file explorer to manage the book files that we are adding here.
But as we told you before, this is not the only proposal of this type that we are going to find at the moment. We have other similar ones, some more powerful than others, as in the case of the popular Caliber . Also, in case you want to know more in depth other alternatives to manage electronic books, we already talked about all this a while ago.
Download eXtreme Books Manager for free
Thus, after all that has been said, you may have made the determination to test this proposal in order to manage your digital library. Therefore, to be able to manage your electronic books in the best way, you can download eXtreme Books Manager for free from the official website of its developer.
Of course, at the same time we must bear in mind that in this case we are referring to a program that we can only use in Windows- based programs .