Windows
Give windows a more personal look with these icon packs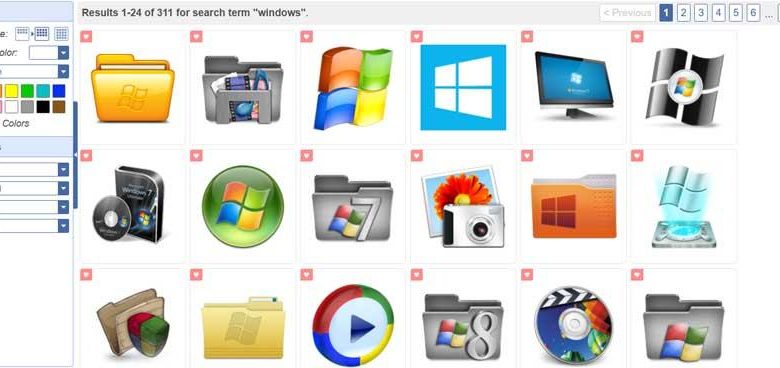 Everything related to the customization of the software that we use on our computers is increasingly the order of the day. This type of task, where we include proposals of the importance of Windows, help us to work in a more comfortable way, as well as productive. And it is not the same to spend a good amount of hours in front of a software with which we do not feel comfortable at all, than to do it with a personalized one.
That is why most software developers, in these times, launch and include a multitude of customization functions in their projects. As we mentioned before, this is something that also reaches the most used operating system on desktop computers, we are talking about Windows. In fact, along these same lines, we are going to focus on a very common type of content in the Redmond system. This is something that in general terms, over the years these Windows customization functions have been increasing. Among many other things, this is due to the fact that today's technology users are much more demanding than those of a few years ago. It is not only valid that something works, but it must also be safe, and ensure that it adapts to our needs at all times.
As a general rule, to customize Windows we usually use elements such as wallpapers or themes that change the appearance of the desktop, but there are other methods. Among these, here we are going to highlight the possibility of changing and customizing Windows icons. As you can imagine, with this what we achieve is to give a totally renewed and personalized look to a good part of the system interface. Furthermore, we must bear in mind that this is something that we can do in a simple way, as we are going to see. These are elements that often go completely unnoticed, but we are not aware of their enormous importance, until we see them or they work badly. That is why now we are going to delve into the use of these elements that we both use in a system such as Windows.
How to change Windows icons
To give us an initial idea of ​​what we are talking about, we have several ways to change these elements in the form of icons that we are commenting on. On the one hand we can access the Windows Configuration application through the Win + I key combination . At that moment we click on the Personalization / Themes option, and in the right part of the window we find a link that reads Configuration of desktop icons.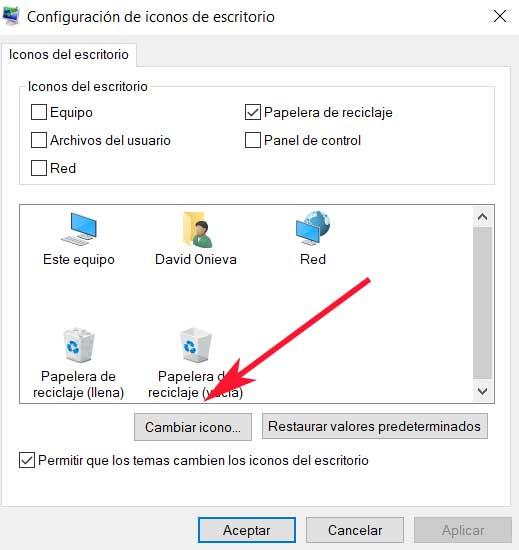 This will allow us to customize some of the default icons of the system itself. But that's not all in this sense, since for example we can also modify the icons of the shortcuts to programs that we use so much. To do this, we just have to right-click on it, select Properties and click Change icon on the Shortcut tab.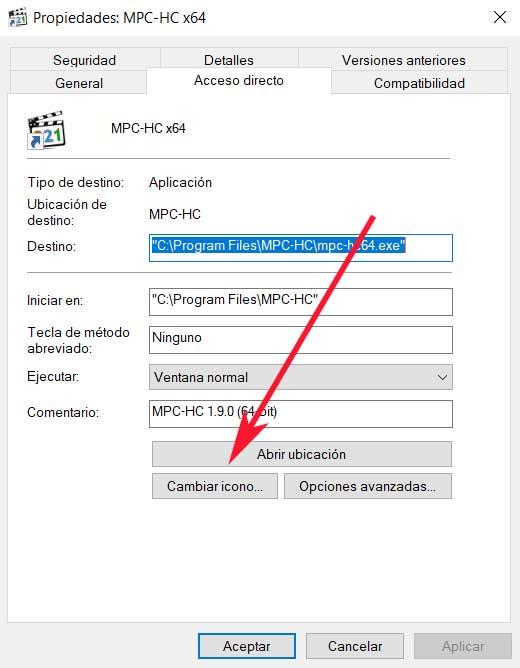 And the same happens, for example, with Windows folders, where we can also change their default icon. It should be mentioned that this is something that is extended both to the operating system's own folders, as well as to those that we ourselves create over time. Thus we will have the possibility, for example, to distinguish both types, or to differentiate these file repositories from each other by content. That will depend on the way each one has when organizing the folders on their PC in Windows.
Thus, to achieve this that we are commenting on, the first thing we do is click again with the right mouse button on the element we want to deal with. In the contextual menu that appears on the screen, we opted for the Properties option. Next, in the window that we find ourselves, what we do is opt in this case for the tab called Customize. Well, at the bottom of it we will see a button that reads Change icon, which as you imagine is the one that interests us in this case. Therefore through it we can change its icon as it happened in the previous case.
In this way and after some changes in this same sense, we will see that we work with a software much more in line with what perhaps we were looking for in the beginning, in addition to the original
Icon web pages for use in Windows
For these changes that we mention, the operating system itself brings some additional samples of these elements. But they are somewhat limited, so the best we can do is download others from the Internet. That is why in these lines we will talk about some websites specially dedicated to these tasks. In reality, all this will allow us to be able to customize Windows to the maximum. In fact, it is usual for Microsoft's own software to propose us some samples of its own for this type of task. However, if we want to go one step further, we will have to make use of the Internet, as is the case at hand now.
Icons-icons
We start with a proposal full of icons of all kinds, where we find a section dedicated to Windows. To access this portal, we can do it from this link and we will already find a series of very interesting proposals in this regard. In addition, we will find all these contents free for direct download. One of the advantages it proposes is that when selecting a content, it offers us several resolutions from which to choose the one that interests us the most.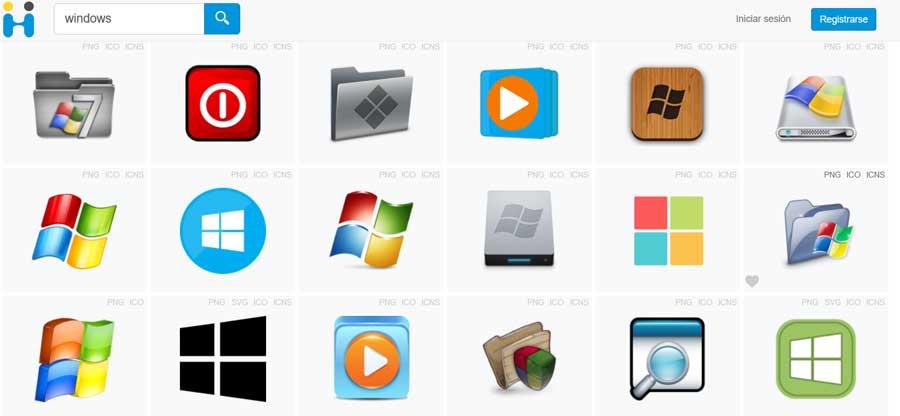 Flaticon
To access the proposal that we will talk about here, it is something that we achieve through this link. After that, unlike the previous case, we will have to search ourselves by hand for the icons that interest us in this case. In addition, we will not find them individually, but they are grouped in packs of these. Of course, once we find the one that interests us, we can opt for a specific element.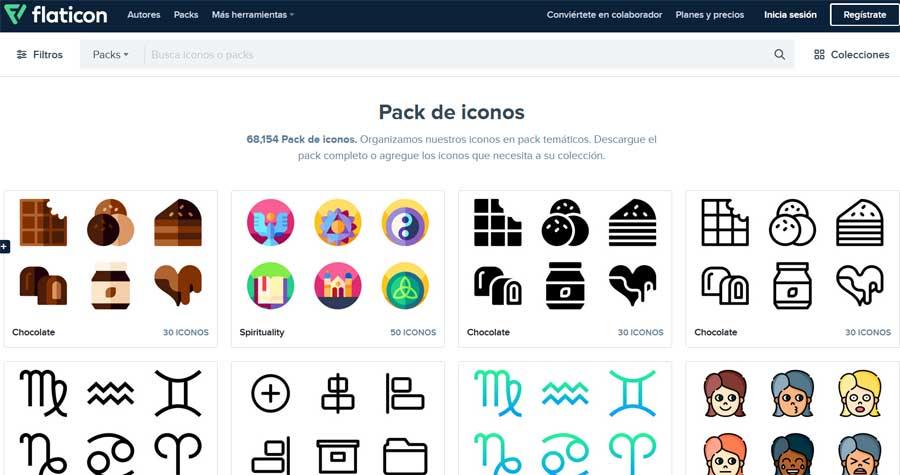 It is also worth knowing that in this case, without paying one euro, we can select both the format and the resolution we need depending on its use. This will be very useful when trying various proposals to change the default icons of the system. Also here we find designs of a very varied nature depending on the style we are looking for.
Windows 10 File Explorer
In this case we will talk about a somewhat peculiar case, since it is a set of icons based on Fluent Design that you can download from this link. Here what we are going to find are a series of icons designed by a user of the Reddit portal, which he makes available to everyone for use.

Keep in mind that unlike the rest, these are aimed especially at use in File Explorer, or the customization of Windows folder icons , little else. The only thing that with these proposals we will achieve a design more similar to the original Windows, but with a touch of originality and distinction.
macOS Icon Gallery
At the same time, it can also be the case that what we want is to give it an appearance somewhat more similar to the Apple system, to our Windows. Well, if you find yourself in that situation, this is a perfect solution. macOS Icon Gallery is a website that we access from here.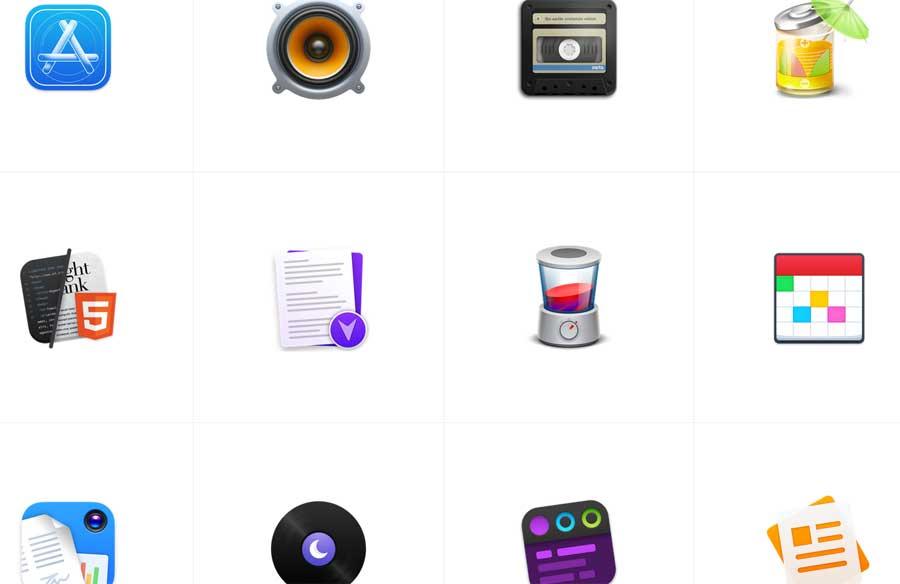 Of course, in this case, once we have opted for any of the samples to download, instead of selecting the resolution of the icon, we choose its size. We found a total of four different ones that we will have to save by the traditional method of the right mouse button on the image, Save as ; somewhat archaic.
Deviant art
Next, we will talk about another proposal of the same type that focuses on the external appearance of the Windows folder icons. Thus, in the event that we want to change this, the generalist portal Deviant Art offers us a pack specially dedicated to this and that we can use.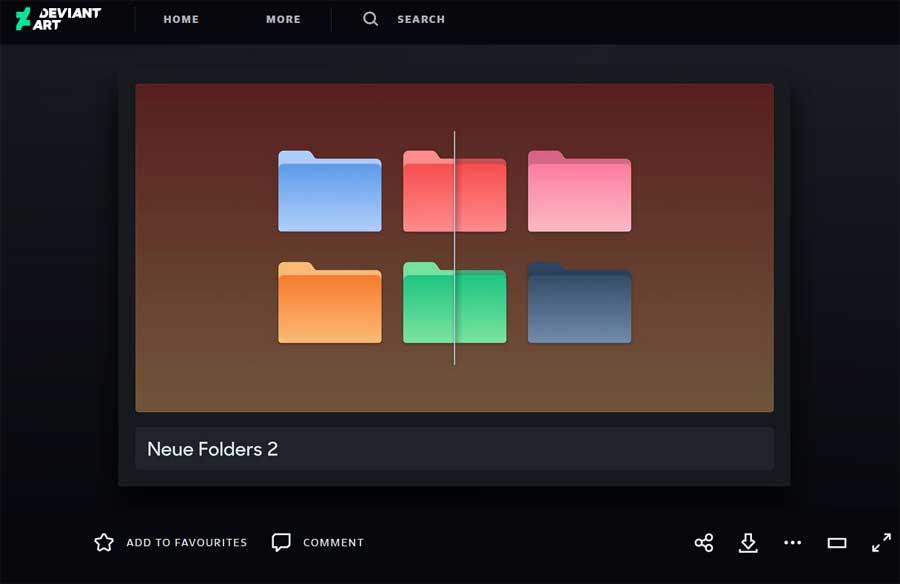 For all this that we discuss, it is enough that we access this specific URL, where you find the icon pack for folders. In addition, here it is worth highlighting the download system used, since we download a ZIP that contains these contents in a single file. In fact, this is an online platform that has been with us for a good number of years and that not only offers us content of this type. Here we also find a good number of elements whose main one is nothing more than to give another aspect to the Redmond system.
IconArchive
IconArchive is a website that contains a good number of files in the form of icons of this type. But at the same time it puts at our disposal a section specially dedicated to the customization of icons for Windows from this link. Thus, just by accessing it, we see that we have a wide range of elements to use in various sections of the system.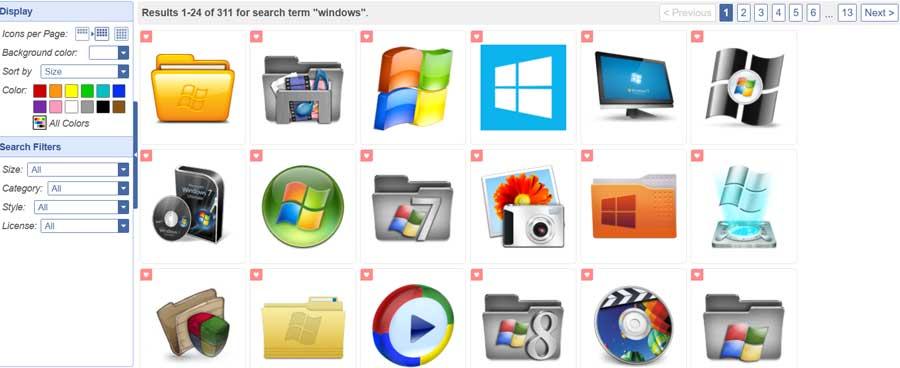 It is also worth noting that these are presented individually, in various formats and resolutions for download, all without even having to register.