Windows
All the ways to repair or reinstall windows 10 without losing your data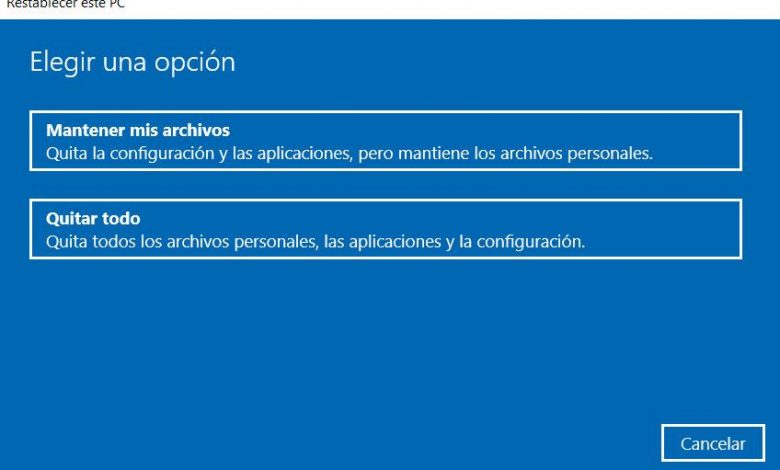 Windows 10 is an operating system that has been with us since last summer of 2015, so it has had time to evolve a lot. In fact, if we compare the first version that went on the market with the current one, they differ in a good number of factors.
This has been achieved in large part thanks to the work of Microsoft engineers and developers, who have taken it upon themselves to improve the software. Not in vain do we talk about one of the star products of the firm, hence the care they put into all of it. It is true that there are still many users around the world who distrust Windows 10 and continue to work with Windows 7, for example. One of the main reasons for all this is the problems found in many of the updates that are sent, among other things.
With everything and with this, it must be recognized that, with its problems, Windows 10 is currently a safe, robust and reliable operating system. In addition, it must be borne in mind that all this will grow, while Windows 7 has its days numbered. Telemetry is another of the sections that many argue not to migrate to the modern version of the system, another point that Microsoft is also gradually improving. But of course, we are talking about software that works on millions of computers, each with its own configuration, so avoiding certain incompatibilities or failures is almost impossible.
Causes of Windows 10 crash and crash
That is something that Microsoft is fully aware of, hence it tries to correct all this as much as possible, although without fully succeeding. Therefore, what the Redmond firm tries is, on the one hand, to have the least number of failures, and on the other to put solutions for it. That is why the firm itself tries to avoid these failures, but it also offers certain solutions implemented in the operating system itself. That is why in these same lines we are going to show you how to restore the system if there has been a serious failure in it.
Malicious software installation
When we talk about malicious code, usually the first thing that comes to mind is the arrival of some type of file with a virus that we download or open from the mail. This is quite common on a web of dubious reliability, or in email attachments, even on P2P networks. But we must also bear in mind that certain programs that we initially installed in the system in a totally confident way, are the ones that can really infect the PC in its entirety.
We must be wary of somewhat suspicious websites, especially if they are giving us free, paid programs. On the Internet, practically nobody gives away anything, and gifts usually hide something. Be it malicious code, collection of private data for sale to companies, etc. In addition, many of these malware completely block the PC, as for example happens with ransomware that also asks us for a ransom to regain control, something that is almost never fulfilled, by the way.
Own errors when using or configuring Windows
But of course, this can not only be caused by internal software problems , but we have also been the ones who have made a mistake. This can also be caused by the fault of third parties, for example, by the arrival of some type of malware or malicious software that has damaged the computer. Therefore, as we mentioned, those from Redmond offer us some solutions in this regard, as we are going to see.
As always, it is better to be proactive than later to have to regret it, so Microsoft offers us for all this, a useful function called restore points. These elements will allow us to return Windows 10 itself to some time in the past, when everything worked normally, let's see how. And it is that in the event that we have located the origin of the failure in Windows 10, this section will be very helpful.
Run the antivirus for malware
The first thing we are going to do in the event that Windows 10 suffers serious damage is to make sure that there are no malicious agents in the system. For this we will have to use the antivirus solution that we use regularly. It can be any third-party antivirus that we have installed on the computer, or, failing that, Windows Defender.
Thus, what we are commenting on is that the first step should be to scan the system in depth in search of any malicious code that is damaging its operation. For example, in the case that we use the aforementioned Windows Defender, we will have to access the Settings application. We achieve this with the Win + I key combination, and then go to Update and security. After that we click on Windows Security / Open Windows security to be able to run the integrated antivirus.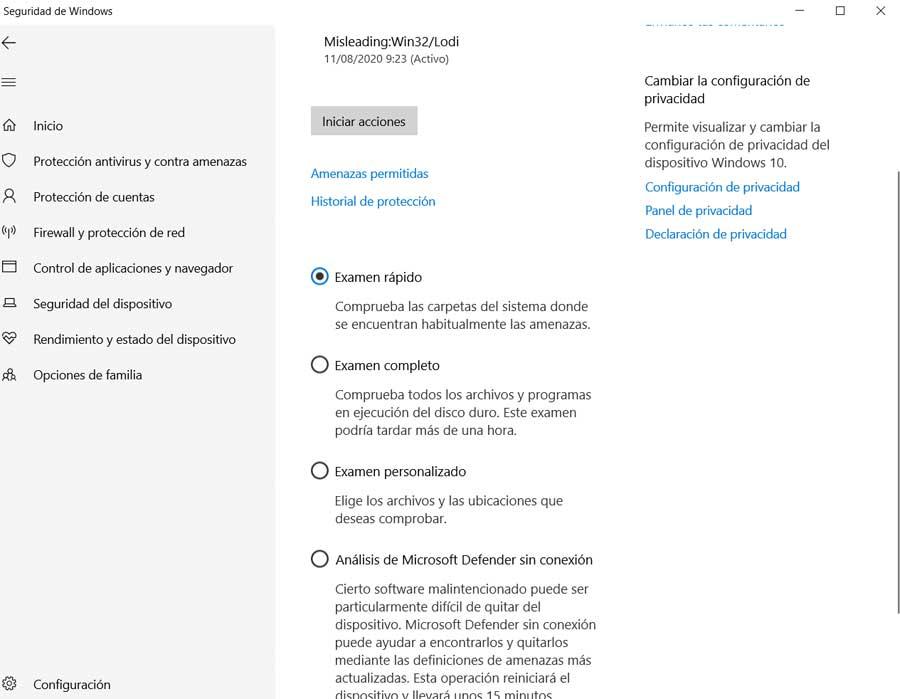 Say that here we have several modes of operation, although in this specific case we recommend you use the full Exam.
This is something that can occur after installing an application that has caused a serious error, or simply by having modified something internal to the system that we have damaged, such as the registry, for example.
Repair Windows without losing data with restore points
These serious bugs can affect all kinds of sections of Windows, some more important than others. Therefore we are also going to talk about the system restore points. The first thing to know is that these restore points to which we refer can be created both manually and automatically. In the second mode, Windows itself takes care of all this by itself.
Well, if necessary, to restore Windows without losing anything, the first thing we must do is access the functionality to which we refer. This is found in the Windows 10 Control Panel, although it is enough that we type Recovery in the search box of the Start menu. In the window that appears we will see that we can create restore points manually, but that is something that we should have used in the past.

Therefore, if we are already fully with the problem, we must choose to click on the option "Open system restore". At that moment, Windows 10 itself will propose the last point to be restored and in which changes were made to the computer, although we can also opt for any other even before this. Once the restore point is selected, the process itself will take several minutes. In the same way, we must bear in mind that personal data and applications will be kept as we had them at that moment, something that will be very appreciated.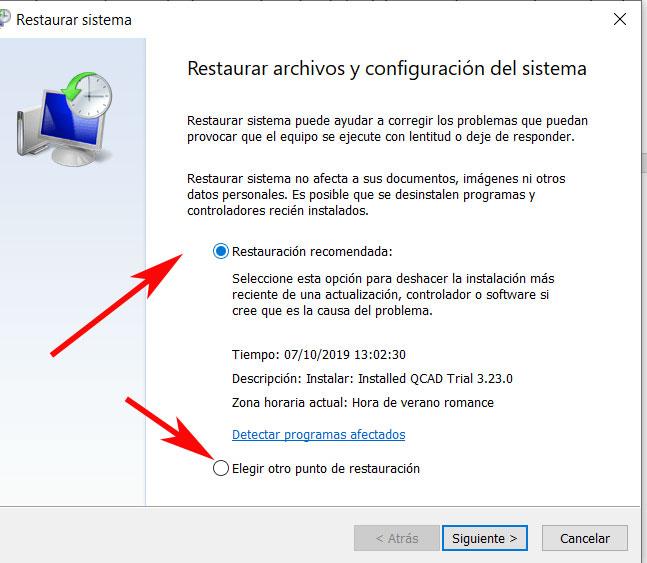 Reinstall Windows without losing your own data from an ISO
We can also use the reinstallation of Windows 10, but without losing personal data or installed applications. For this, the first thing we are going to need is going to be an ISO image of Windows 10 or a system boot drive. In the event that we do not have an ISO then we can download the latest version of Windows 10 from this link. Of course, it will be necessary for us to have this ISO if we already have a DVD or USB with autostart.
At the same time, we must bear in mind that the ISO image we are talking about is the same version of Windows 10 installed, the one that we are going to repair. Therefore, once we have the ISO on the hard drive, we navigate to the corresponding folder from Explorer. After that, we right-click on it and select the Mount option.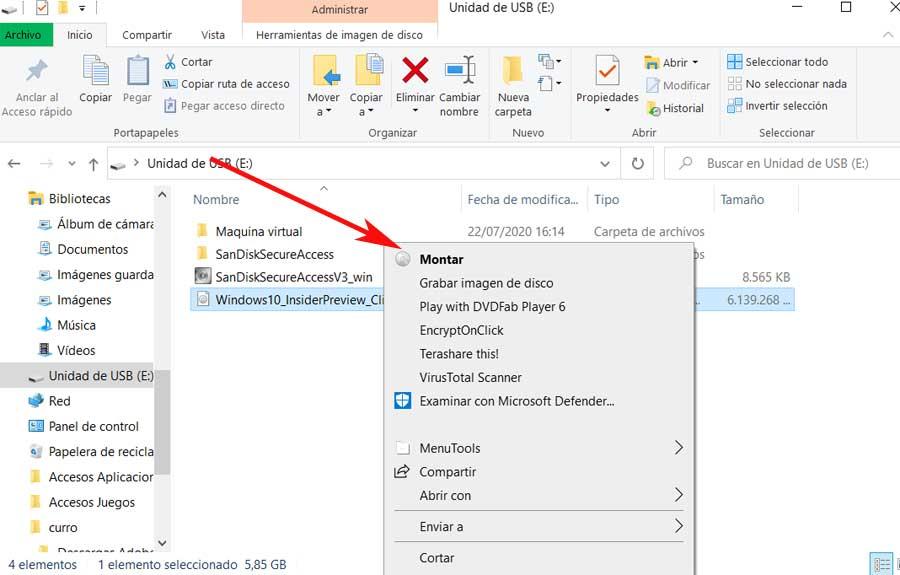 Now a new virtual drive is created on the PC that we can also access from the File Explorer. Then we can start with the installation of Windows as such from Setup.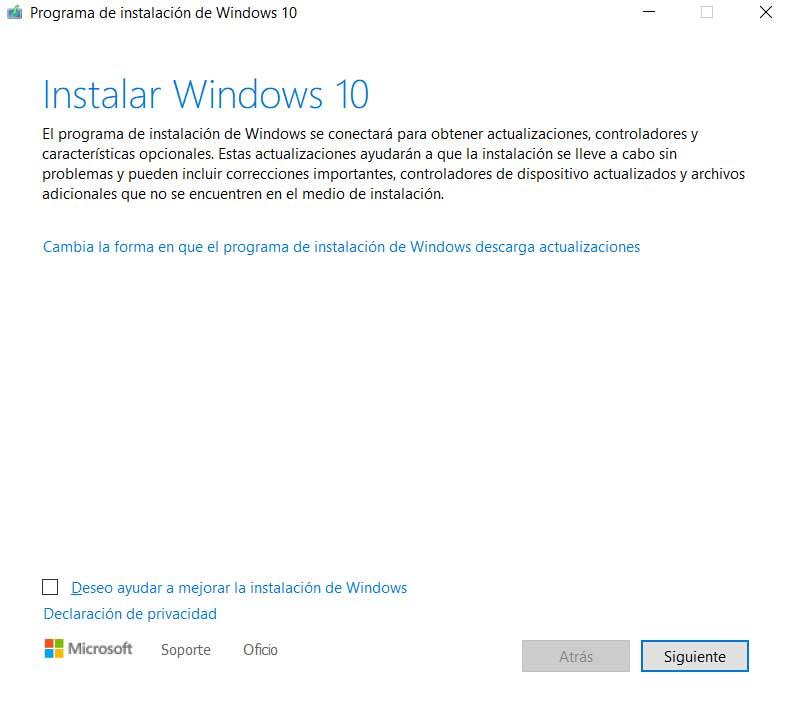 At the same time, in the wizard screen that will appear, we must make sure that the options to install Windows 10 Home / Pro and keep personal files and installed installations are marked so as not to lose our personal data. In this way, once the whole process is finished , we can go back into Windows 10 and check that everything has returned to normal. What we get with this is a repaired system and without losing the applications that we had installed or personal data.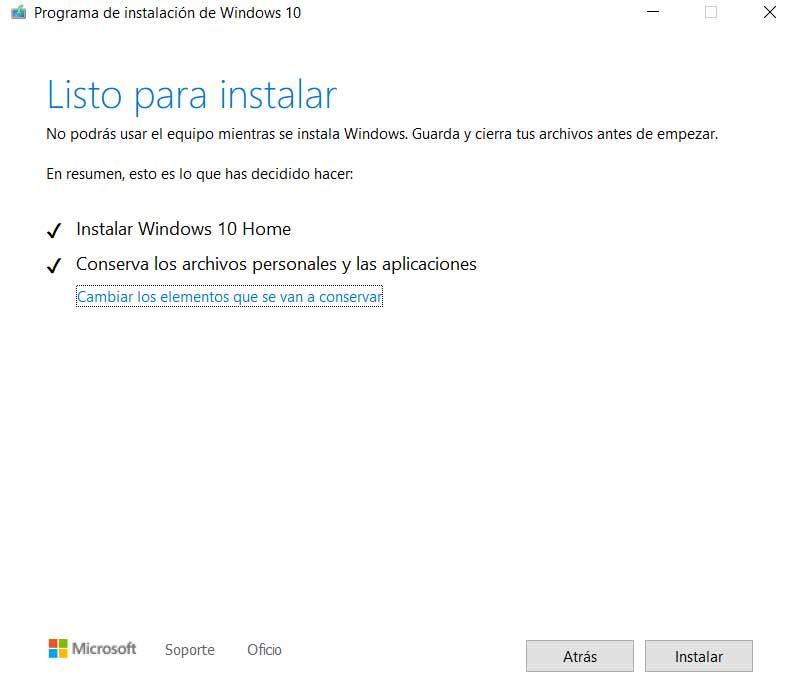 Recover Windows after a bad update
We can also find ourselves faced with the problem that, after installing any of the updates sent by Microsoft, the system does not respond as it should. Then we will have to take a step back and go back to the immediately previous update. To do this, we access the Windows Configuration application through Win + I and go to the Update and security section. Here we opted for the link to View update history, so that then we can return to the previous system update from the Uninstall updates option.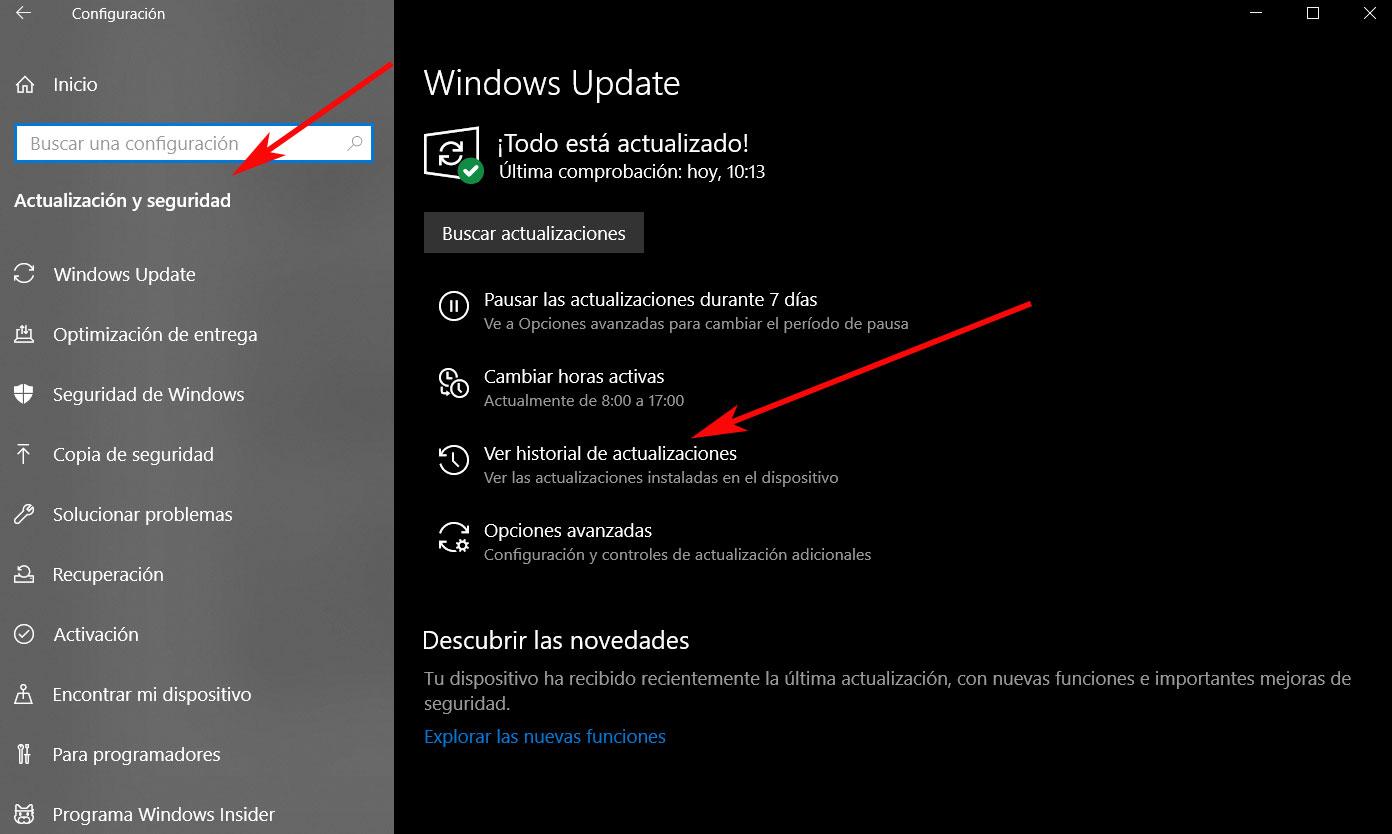 This will allow us to go back to working with the previous version of the system, the one that worked well. Now we just have to wait for Redmond to correct the compatibility bugs detailed in that new update.
Reset Windows keeping personal data
But those are not the only integrated functions that Windows 10 puts in our hands, since we can also use the functionality called precisely "Recovery". We access it, as in the previous case, from the Configuration application of the operating system. In this case we will have to go to the option "Update and security / recovery".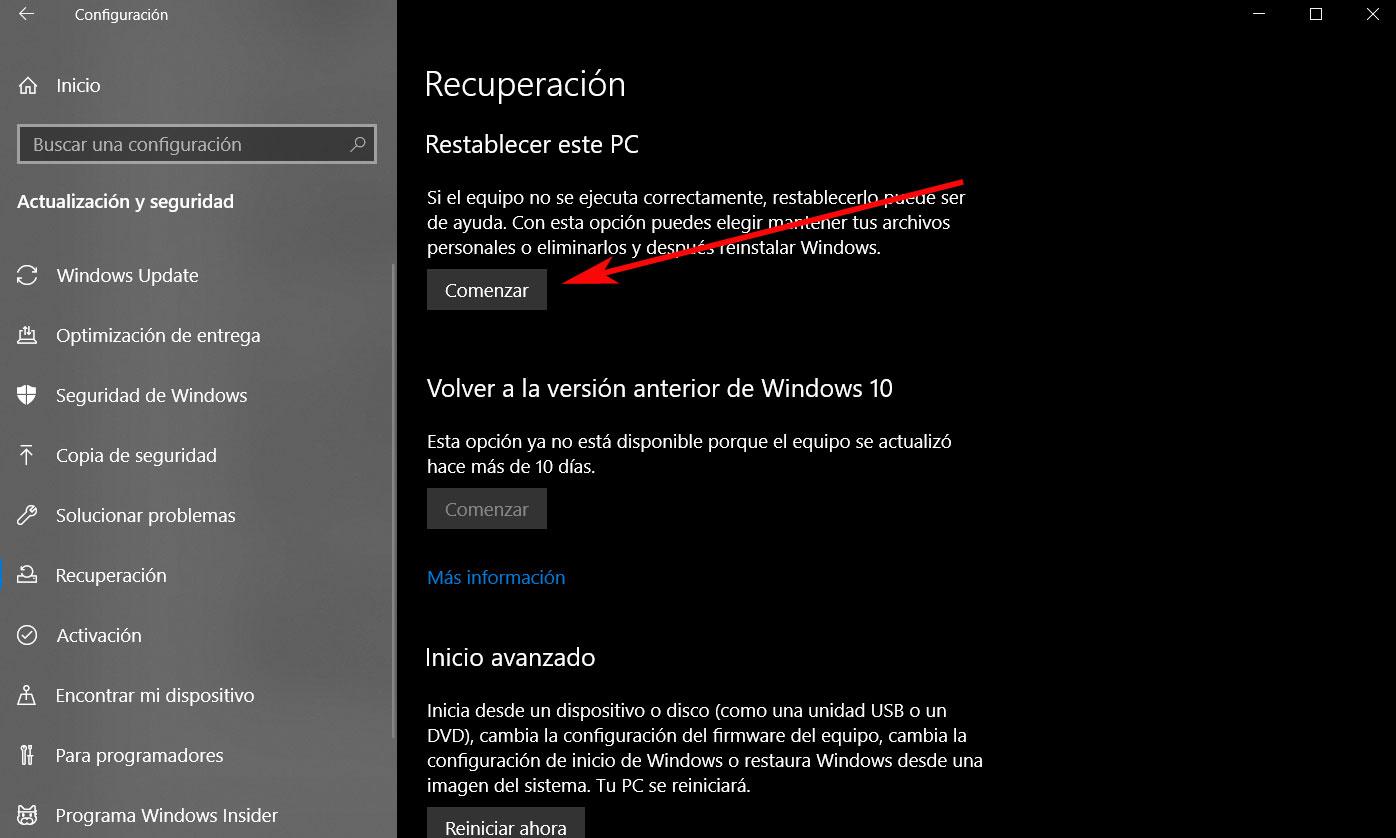 Here, undoubtedly the most interesting option that we are going to find for the task at hand, is the one called "Reset this PC". This is a functionality that has been created precisely to make use of it in the event that we encounter serious problems in Windows 10 and want to recover the system. Of course, first of all, in this section we must take into account something very important that we will see below.
How to keep files in Windows restore
We tell you this because when making this decision, necessary if the equipment has been damaged or does not work well for whatever reason, we will have to choose between restoring the equipment completely, from scratch, or keeping personal data. There is no doubt that the first alternative is the more radical of the two, since we will find a Windows 10 as just released. However, thanks to the second, we have the possibility of recovering the operating system as such, but keeping our installed applications and personal files.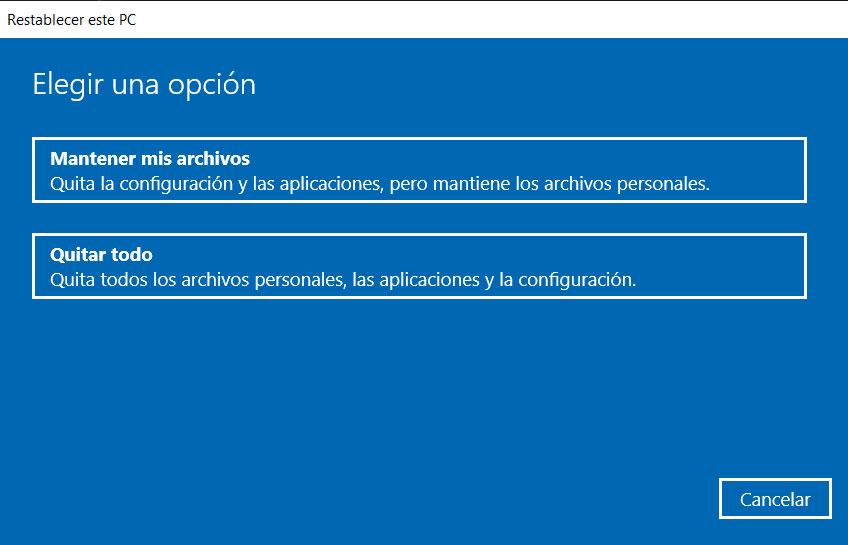 Of course, for example we have the possibility of trying to recover Windows 10 with the second alternative, and if we see that it still does not work well, opt for the most radical, recovering Windows 10 from scratch, and losing all personal data stored on the computer .
These options that we have talked about should be more than enough for most users and extreme situations that we find ourselves with in Windows 10. This only shows that Microsoft tries to offer us several solutions in the event that it happens. some disaster in the system. Of course, at the last limit point, the only thing that can help us is to completely format the hard drive and reinstall Windows 10. But of course, for that we will need to have a copy of it, or at least the license number that you provided the distributor where we buy the equipment or the system as such.
Given the options we have, as we can also deduce, is that having as complete a backup as possible of our data will never hurt, as we have commented on many occasions in the past.