Web
What are the best farm games without internet or wi-fi connection to play on android and iphone? List 2021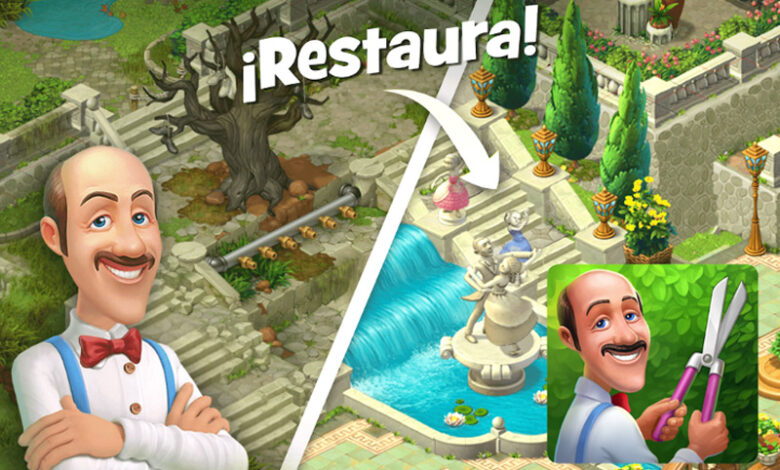 Generally, one of the most downloaded types of mobile applications is those that contain games. Since, users always seek to have entertainment at their fingertips and with it, get a little out of the daily routine. However, many of these apps require an Internet connection, Wi-Fi or mobile data to run. Which does not look attractive to most people and therefore, they better choose to look for offline solutions, that is, that work perfectly without the need to have Internet on the device.
That is why it is relevant to have game apps that work without an Internet connection, which luckily, can be easily found in the most famous application stores, that is, in the Google Play Store and the App Store. Taking into account that, for greater advantage, they are completely free. In this sense, it is worth noting that one of the categories that are most downloaded from these stores are farm games.
While it is true, this kind of games are an excellent alternative to spend free time and have fun in a way with total relaxation, which generally lends itself to the leisure time of many users regardless of their age. Since, they are ideal games for children and young people, as well as for adults. Who can feel like real farmers and carry out all the activities that this area entails, from these platforms. Indeed, here are some options for farm games without an Internet connection for your mobile or Tablet.
List of the 10 best free offline farm games to download and play on Android and iOS
Logically, today there are many solutions of this type that are compatible with both Android and iOS, but before this, it is essential to know first-hand the best farm game apps without an Internet connection, which of course have interesting features and eye-catching for users. Consequently, we have pointed out 10 of the best free games of this type and they are:
Top Farm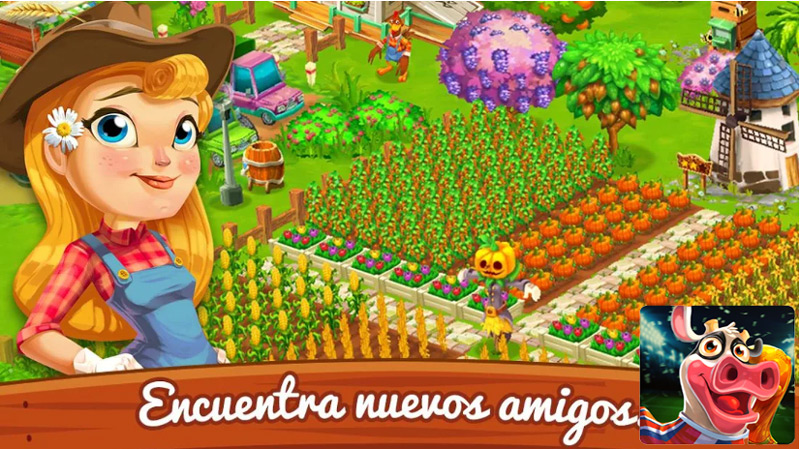 To get started, we recommend downloading this farm game app that runs properly without an Internet connection or Wi-Fi. The game focuses on a place away from the rush and stress of modern life. Therefore, it can also be a perfect option to relax and enjoy a place totally in tune with nature.
In addition, Top Farm offers total adventure, many surprises and the satisfaction of feeling in a place full of peace. Among its most notable features, we can highlight that the app allows you to complete tasks using cars, trains and even airplanes.
You also have the privilege of growing and harvesting the most exquisite organic crops in the world, as well as meeting a large cast of endearing characters and building, decorating and expanding the farm to your liking. On the other hand, the mobile application is free, it gives you the facility to invite your friends, you can log in with Facebook to save your progress and it contains optional purchases within the platform.
Hay Day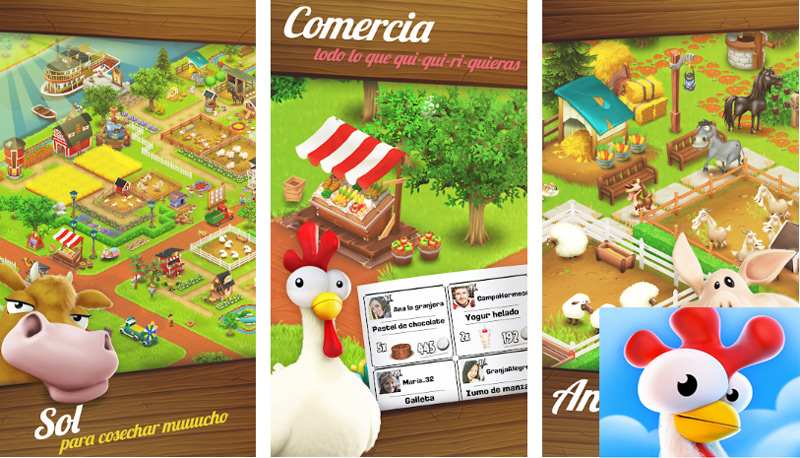 Another of the most recognized farm games without an Internet connection is Hay Day, which leads a large number of downloads in more than 122 countries and is available for free in the Google Play Store and the App Store. The theme of this app is based on taking care of your farm and doing business with your neighbors and friends, in a very charming and relaxing place.
There, it never rains but still, the harvests are impressive. For more advanced options, Hay Day allows you to buy virtual items with real money. For its part, among its most notable peculiarities, it is necessary to distinguish that this application has different tools to customize and expand your farm as you prefer, it also allows you to send orders resulting from your crops, by truck or by boat.
Additionally, you can open your own sale to buy and sell fresh products to your neighbors, as well as repair your pier to fish through it and if that were not enough, you have the alternative of building your own town and receiving whoever you want.
Township – Farm and Town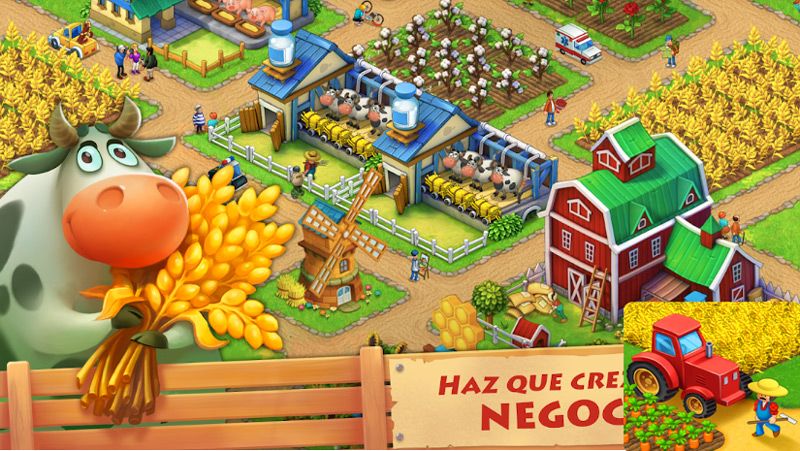 As its name implies, it is a game that mixes the environment of a farm with the city, since it allows you to build a city to your liking and harvest crops, to later process them in buildings and sell them in order to further develop your location. You can also explore a mine within the app, to find resources and ancient pieces.
All this, for free and the best thing is that it is an offline application, that is, it runs without an Internet connection. In addition, it has functions that allow you to open cafes, restaurants and community editions, to have a greater variety and that you always find the game interesting.
In this sense, you can get all kinds of crops to harvest and process in factories, also visit distant islands where you can obtain exotic products, it has a zoo where you will raise animals, it contains endless emblematic sites and all the citizens are very charismatic.
Life on the Marine Farm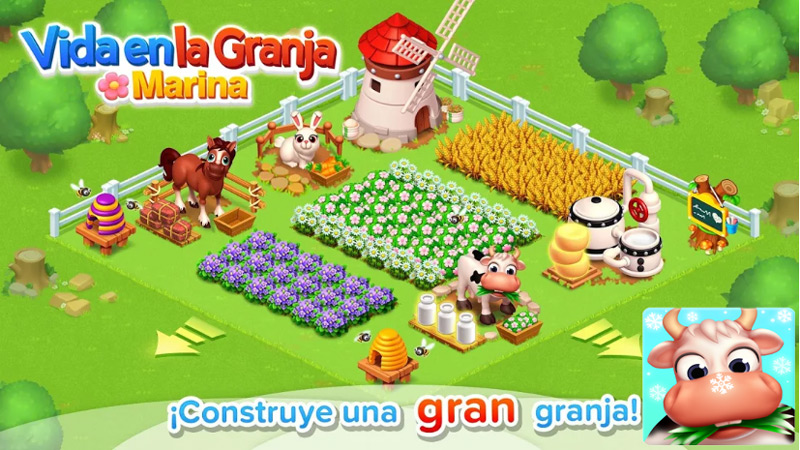 It is a farm game that works without an Internet connection or Wi-Fi and is ideal for users of any age. Thus, this app simulates the entire environment of a farm, through the various activities it contains and with which you will never get bored.
In it, you will have to create your own unique farm, compete with your friends to be the best farmer, take care of different animals, protect crops and sell them in the market, design your own boat, etc. You can do all this for free by downloading the app from the Google Play Store or the App Store. In this regard, it is estimated as one of the most famous farm games with around 80 million players around the world and thus recommended by experts in the field.
Among other features, the app allows you to prepare more than 400 dishes in the kitchen, complete orders and daily missions around the products of your farm, overcome new missions added constantly and last but not least, plant, harvest and process more than 200 original products. It also contains a section for digging in the mine and looking for minerals and precious diamonds.
FarmVille 2: Rural Getaway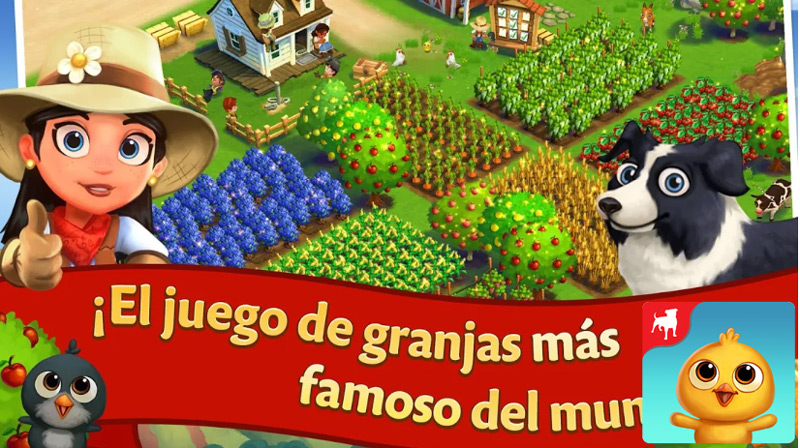 A free and offline farm game that you can download on Android and iOS and thus escape to a different world surrounded by nature, fun and friends. This application is based on multiple rural adventures that encourage you to search for special objects and prepare new recipes every day.
It also contains animal husbandry, a farmer cooperative with the purpose of trading and sharing different products. In this way, it is one of the most recognized farm game apps today.
In addition to this, you can customize your farm to enjoy the rural atmosphere that attracts you the most, explore and discover various things on the coast of the farm, build a lush family farm next to the coast (if you wish), earn rewards daily with mysterious trunks and the prodigious roulette. In addition, you can connect with your Facebook account to escape to the coast and send free water.
Funky Bay – Farms and Adventures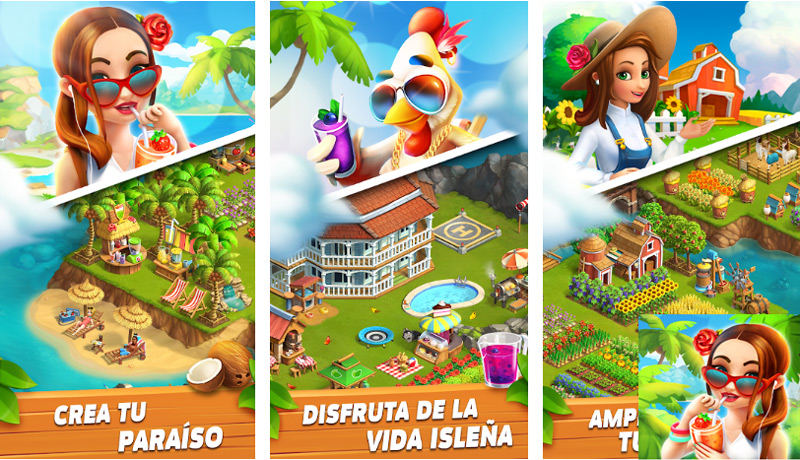 It is a game of farms and adventures without Internet connection or Wi-Fi that gives you the possibility to build your own town with a farm within sunny tropical islands. Thus, the app ensures total fun and enjoyment during the experience, showing beautiful landscapes and incredible graphics and working together with adorable plants, exotic animals and cute pets.
Likewise, in Funky Bay you can harvest crops with fruits and create valuable and original products to your liking, processing them in special factories, and then fulfilling the orders and selling them. In order to develop your own farm and a city to your right, you can explore new lands.
It also has extra resources from the mines, lots of buildings and beautiful decorations, it allows you to carry out expeditions to multiple islands, solve missions of various types and obtain pirate treasures; all completely free in an escape from the routine to be in complete peace and harmony housed within a paradisiacal island.
Farm frenzy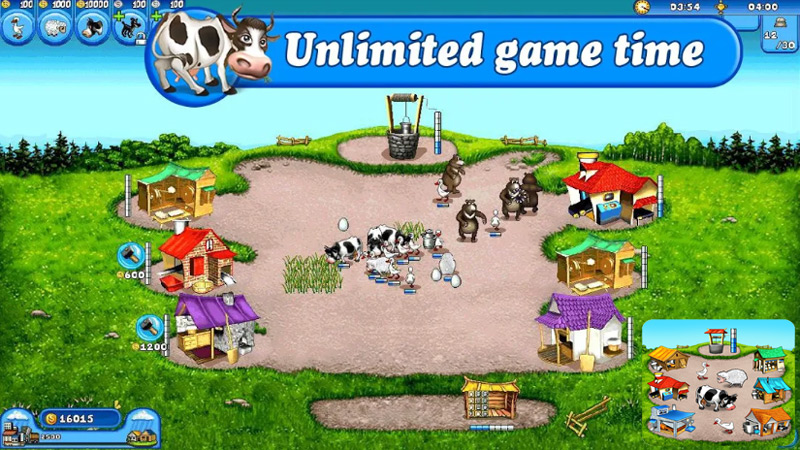 Free of charge, this other farm game alternative is an excellent solution for those who love this atmosphere and want to purchase an app that works without the Internet on any device, be it a Tablet or Smartphone. Thus, when you download the application, you will have to take care of a wide variety of animals: chickens, cows, sheep, etc. And make homemade cakes, produce milk, butter and even wool.
All this, distributed in a total of 72 levels that ensure complete fun and action for great interest throughout the experience. If you are an excellent player, you will get VIP bonuses. Among other features, you can customize the farm as you want through various tools, improve the vehicle you use and with which you transport yourself to the market to sell the products of the establishment and even allow you to produce industrial quantities to achieve significant benefits.
One of the particularities that stands out the most in this application is that it emits a fantastic soundtrack that brings you closer to reality and also provides brilliant graphics to make the experience more enjoyable. You also have the ability to buy six types of editions and sell nine types of items.
Farm and Click – Idle Fun Clicker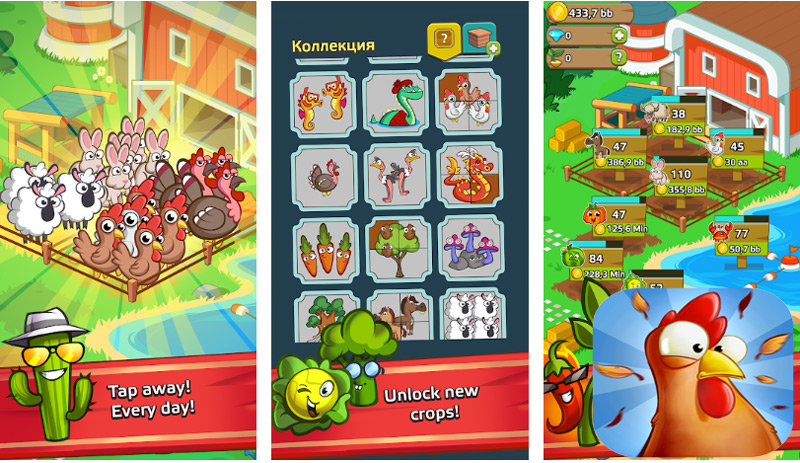 It is an app that works without an Internet connection or Wi-Fi or mobile data, perfectly and is an ideal alternative for all ages, since it integrates a completely interactive, exciting and interesting game that can captivate any user who loves the world of the farms and all this.
Thus, you can immerse yourself in an excellent farming simulator and harvest various species of plants, raise farmyard animals and also improve the equipment in order to become the leader of the best farm by producing more crops and animals than the others.
It is considered a very strategic game to collect all kinds of vegetables and animals. It also has an amazing and impressive appearance in terms of its animation, thanks to the sounds it emits and the quality of the colors shown by the platform. In addition, it is important to note that it is a free application that can be found without problems in the Google Play Store and App Store.
Idle Farming Empire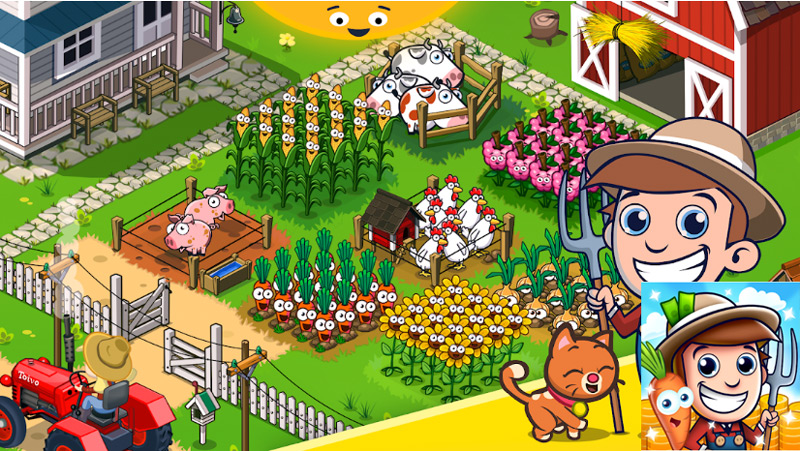 It is an excellent option to play wherever you want, since it is an absolutely free game online or offline, thanks to the fact that it does not require Internet to be able to enjoy it from your mobile or tablet. In this sense, it is an application available for Android and iOS, which integrates complete fun within an agricultural empire.
Since, it gives you all the necessary tools to grow and automate your farm, having the possibility of investing in animals, exotic crops and thanks to this, earn millions in just seconds. In this way, the app allows you to enjoy a great benefit to obtain constant and automatic income, even when you are offline.
Besides selling, you can also collect hundreds of crops and animals in their own style. In addition to this, you can get a notable reputation by selling your harvest by changing magic seeds and one of its best features is that it has a function that allows you to control the climate, in order to increase production (you can enhance the sun or make it rain in the farm).
Gardenscapes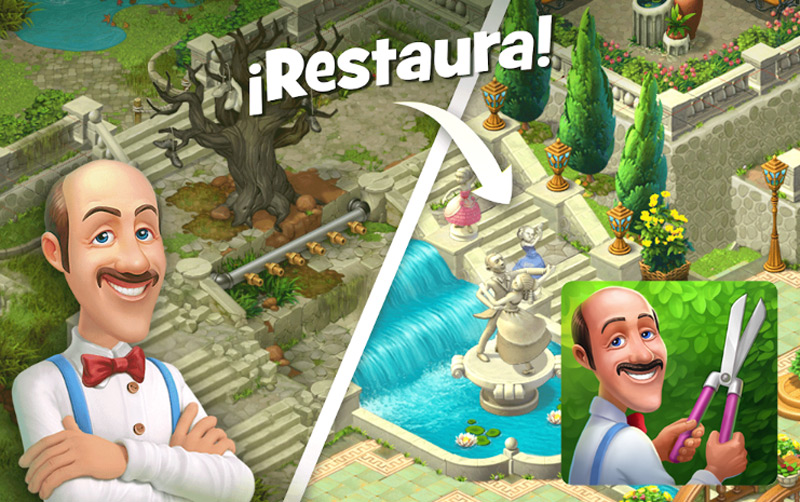 Finally, we refer to this app that although it is not a farm game, it is based on agronomy and with it, it allows you to embark on a real adventure of great fun. This, adds several combined levels to restore and beautify the areas of different gardens, as well as enjoy the company of interesting and charismatic characters from the game.
With this, you will be able to create the garden of your dreams and even become one of the leaders or stars in the history of this game. It is a completely interesting alternative because it encourages you to explore and find out the unsuspected secrets kept by various parts of the garden that you are embellishing. This game, compatible with Android and iOS devices, is free and you can play it whenever you want, even without an Internet connection.
Thus, a perfect option for all ages with its hundreds of stages, addictive style, the company of an adorable puppy, visits to labyrinths, broken fountains and magical places. Among other details, Gardenscapes has a social network within the platform so you can find out about the latest news.
If you have any questions, leave them in the comments, we will answer you as soon as possible, and it will surely be of great help to more members of the community. Thanks!