video game
Revive guitar hero and rock band on your pc thanks to clone hero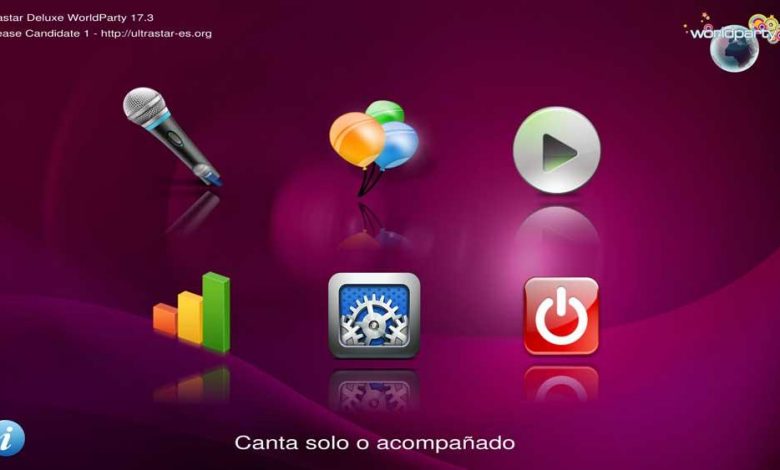 If you like music games you have surely played, or at least know, the two most popular: Rock Band and Guitar Hero. These sagas of Activision and EA have been with us for many years, and they allowed us to be part of the great rock groups thanks to their electric guitars. Even, in the most complete editions, we could mount a drums and even a microphone to sing. A true revolution for the games of that era that, unfortunately, today have passed away. However, the concept is more alive than ever thanks to projects like Clone Hero .
Clone Hero is a totally free and open source project that originally sought to allow users to create their own songs to play on the instruments of these two games. This game has been in development for almost 10 years and, to this day, it has become one of the best rock simulators, allowing us both to play the songs of the community and the songs of the dozens of games released within the Guitar Hero sagas. and Rock Band.
Main features
Its main characteristic is, basically, being a clone of Rock Band and Guitar Hero . Thanks to this game we will be able to give a second life to all the songs of these original games, in addition to being able to download a large number of songs from the Internet, and packs, created by the community with which we can entertain ourselves for a few hours .
This program is free and open source . And in addition, all the songs are also open, so we will have the total freedom to modify, or create, our own songs.
In addition, it also has other features very interesting and appealing, such as:
Practice mode, to practice with the guitar or the keyboard.
Functions to transmit our games easily.
Song search engine to find the song we want to play in seconds.
Ease of adding songs in seconds, without having to exit the program.
Custom backgrounds, and even the ability to add a video.

Supported video formats: MP4, AVI, WEBM, VP8, OGV and MPEG.
Supported image formats: JPG and PNG

Very smooth engine that enhances the experience of the original games.
Easter eggs, can you find them all?
Unfortunately, not all guitars are compatible with this game. The most compatible are the Kiosk and the Xbox 360, but we can consult the complete list of guitars to know if ours is, or not, compatible from this link .
How to play Rock Band and Guitar Hero on PC
As we can see, the game's interface is very simple, it has no loss.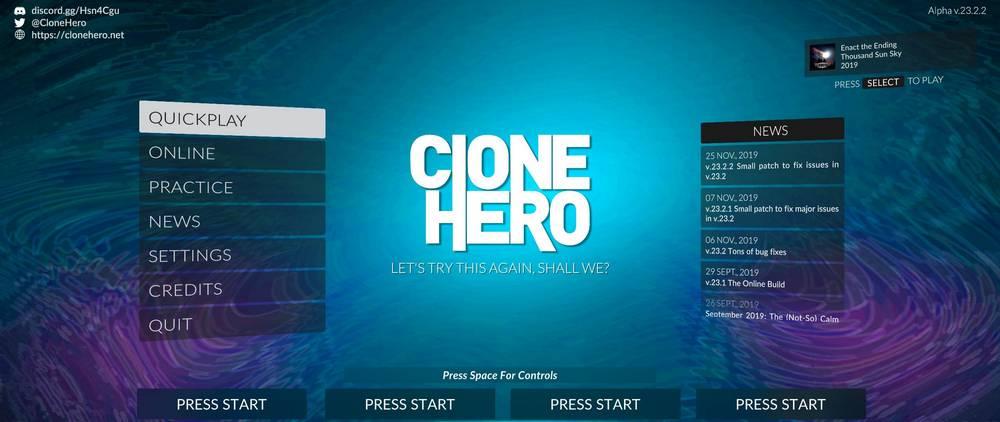 What may cost us a little more at first is learning to control it. In order to start moving around it, we will have to configure the controls, unless we connect a compatible guitar so that they are assigned automatically and we can start working with it.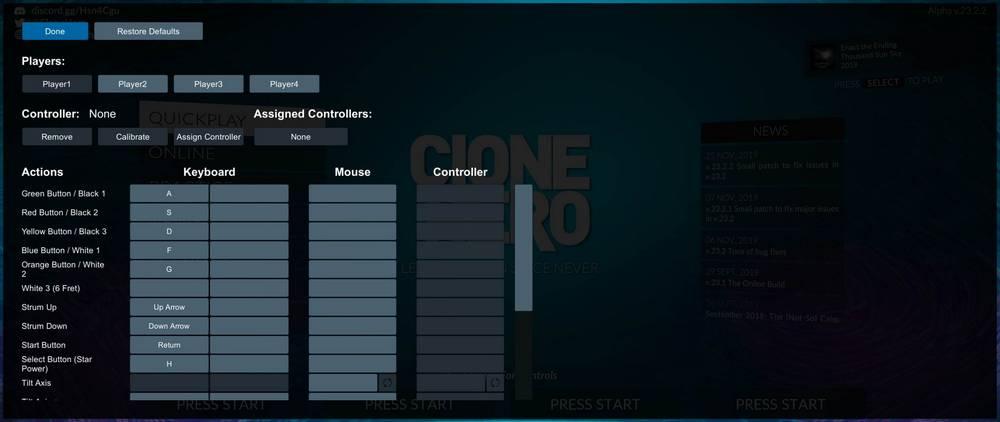 The use of the game is simple. In the main menu we are going to find the different modes that Clone Hero offers us. QuickPlay allows us to start a quick song, Online to play through the Internet and Practice to open the practice modes to start rehearsing with the guitar, see that everything works and adjust it to the maximum.
Within «QuickPlay» we can find the list with all the songs that we have added to the program.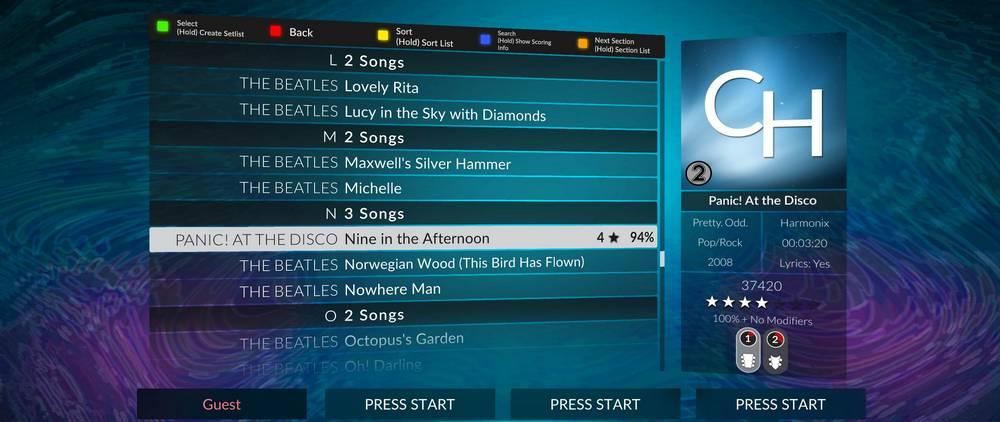 We can move through the entire list looking for the song we want to play, use the search engine or apply filters, whatever is most comfortable for us. Each song has a description, an icon that tells us if it is from another game, and the buttons that we will need to play it properly, as well as its instrument. We can also see our score if we have already played it before.
When we find the song we want, we open it and that's it. We can start playing now.
Download Clone Hero
To download this game, all we have to do is access its website, and download the latest version available for our operating system. We remember that the game is free and open source, so we will not have to pay anything for it.
The game does not need installation on the PC. Once downloaded, all we have to do is unzip it and that's it, we can start using it.
Download songs and packs
Clone Hero without its songs the truth is that it is nothing. Therefore, we must also know from where we can download the songs and their packs. In this Sheet we can find a large number of songs and song packs ready to import into the program and start working.
The songs that we add have to be copied to the «Songs» directory inside the program. After performing a scan for songs (this option is found within the program's Settings) and, immediately afterwards, these will become part of the program's song list.
Future plans
Clone Hero developers have a document where we can see the plans they have for this program. According to this document, we will soon be able to see better animations, support for reels and, most interestingly, an online multiplayer engine, although, at the moment, we do not know when all this will arrive.
Alternatives
The truth is that there are not many alternatives to this project. We could say that it is the only game that seeks to imitate the Rock Band and Guitar Hero experience. It is true that there are similar games, like Rocksmith, but these are much more professional and serious games, designed to use a real guitar, nothing to do with the concept of Clone Hero.
But there is a game that, instead of an alternative, we could consider complementary to this: Ultrastar.
UltraStar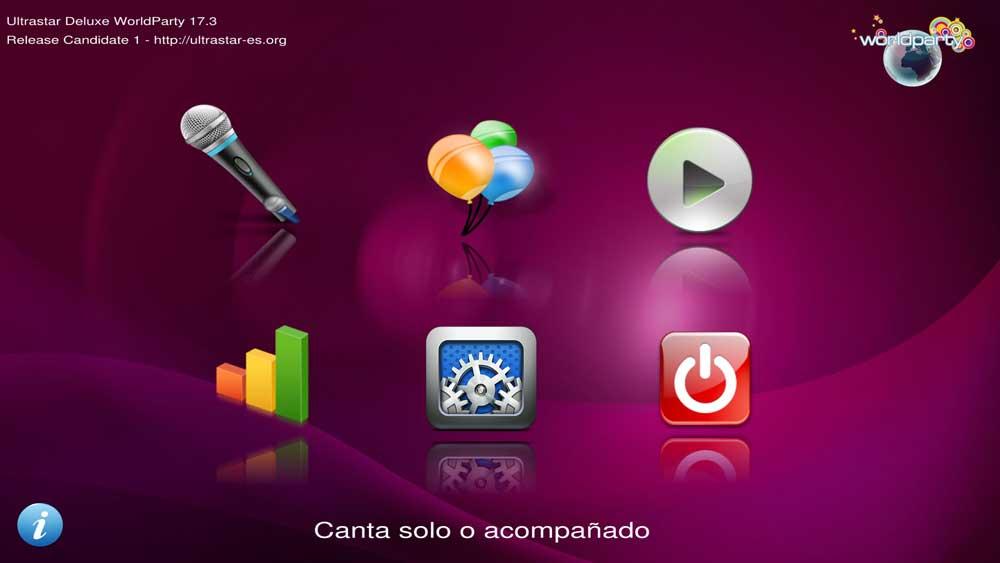 The UltraStar is the Clone Hero of the Sing Star. This game is also open source and allows us to sing an infinity of songs (created by the community) from our computer with any microphone, both PlayStation and independent. This game is responsible for analyzing our voice when we sing and, depending on how we do it, we will get a better or worse note until we become true artists of the song.
We can download this game for free from this link .
Karafun
Clone Hero and Ultrastar are excellent totally free and open source programs. But getting them started may take us longer than we have, especially if it is a last minute party. Therefore, there are times when, for a little money, it is worth opting for services like Karafun.
This software allows us to turn the PC into an interactive karaoke machine. This program plays almost all karaoke files: KFN, KAR, CDG, KOK, LRC, AVI, MPEG, etc.- In addition, it has a complete editor that allows us to edit and create our own songs.
We can access the Karafun website from here .