Windows
What to do about error 0x204 on windows remote desktop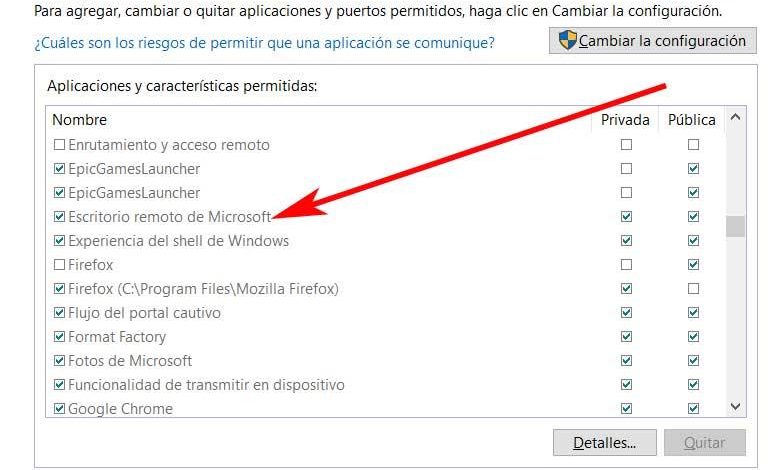 In large part due to our current Internet connections, working remotely has expanded to a great extent in recent times. By this we mean being able to manage other users' computers from our own workstation over the Internet. For example, this is something that allows us to carry out the function called Remote Desktop of the Windows system itself. As long as we don't have an error like 0x204.
In this way, both in professional and home environments, users have the possibility to solve problems of clients or friends on their PCs, the same happens in reverse. All this is achieved thanks to certain applications or platforms, both from Windows itself and from third parties. An example is the program called TeamViewer, which is sure to be more than familiar to many of you. This is an application that has been with us for a good number of years, serving all types of users.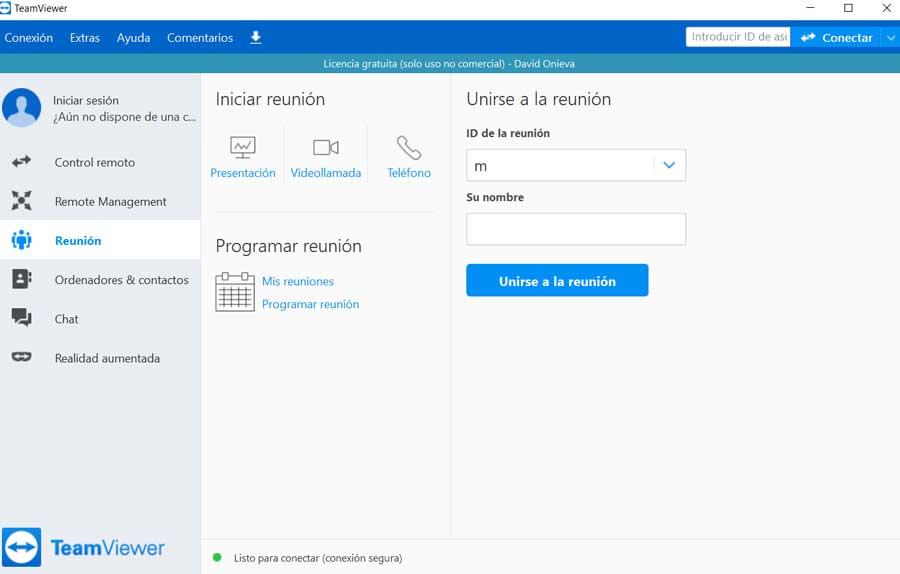 Work remotely from Windows
And it is also necessary to bear in mind that this is a perfect alternative for all those who need a remote desktop platform due to its simplicity of use. It is precisely for all this reason that at this point it has become one of the most popular proposals of this type around the world. But it is not the only one, as is easy to imagine. And it is that in addition to many other platforms of this type of third parties, Microsoft's Windows itself offers us its own solution in this regard.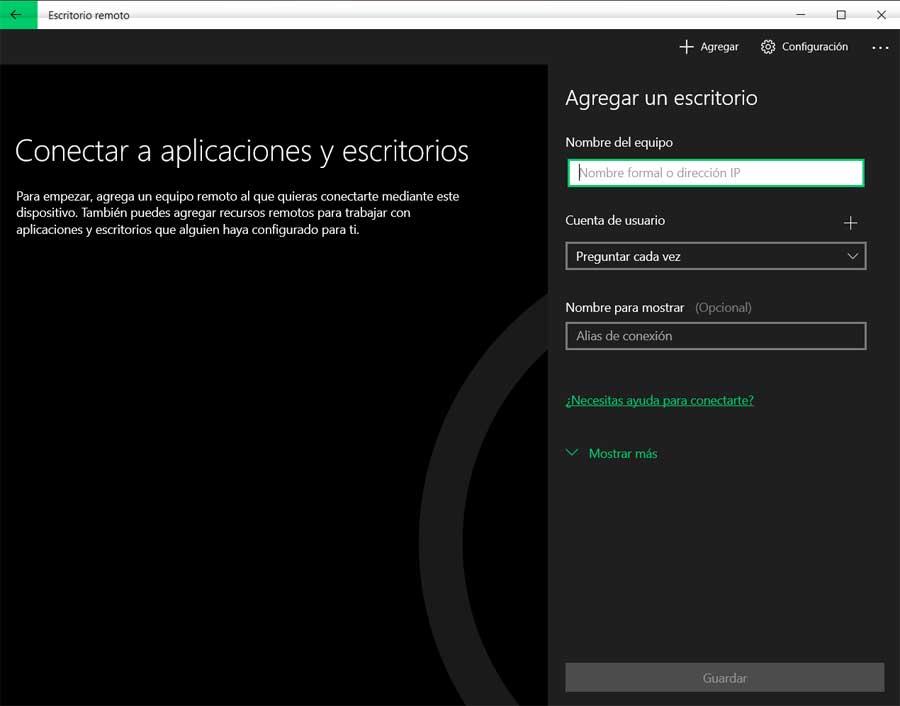 At this point, it is worth mentioning that to access this integrated functionality that we are talking about, we can do it from the Windows search box . It is enough that in this section we write its name, Remote Desktop, so that we can open the function as such.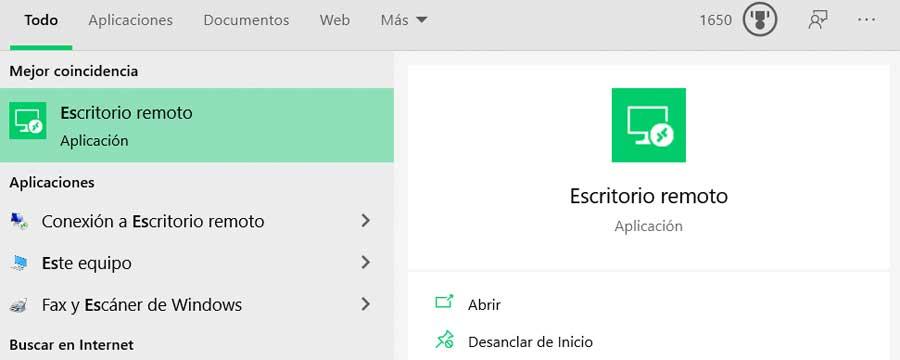 However, it does not always work the way you might initially expect. Thus, one of the most common failures here in is known as error code 0x204, which in particular is a Remote Desktop connection problem .
What is Windows error 0x204
This is something that mostly happens when a user tries to connect to a remote device, but the connection fails. That is usually due to some reasons such as a problem with the connection as such, or certain security problems. Thus, what we find is an error message that says that it cannot connect to a remote PC. At the same time it informs us that we must make sure that the PC is turned on and connected to the network and that remote access is enabled.
How to fix error 0x204
It is for all this that below we are going to give you a series of tips that you can use to solve all this. In this way we can easily fix the aforementioned Windows error 0x204 related to Remote Desktop.
Check that RDP is enabled
The first thing will be, as the message says as such, that we make sure to allow remote desktop connections in our system. To do this, we must first open the remote control settings and check if the remote desktop connection is enabled. If it is not active, our computer will not be accessible from another device, so we open the Control Panel and select the System and security / System item. In the right part of the window that appears, click on the Remote Access Settings link.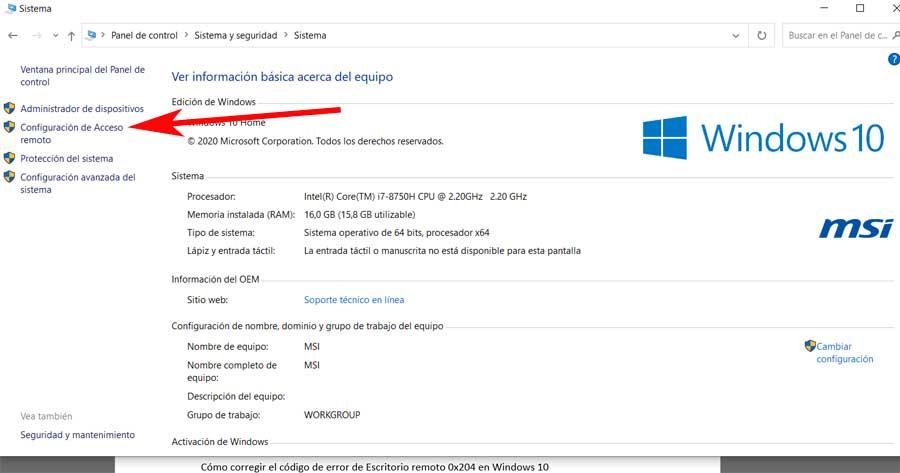 This will open the System Properties window, where we must make sure that we are on the Remote Access tab. This is where we must check the option of Allow remote assistance connections to this computer. Then we just have to click on the Apply button for the changes to take effect.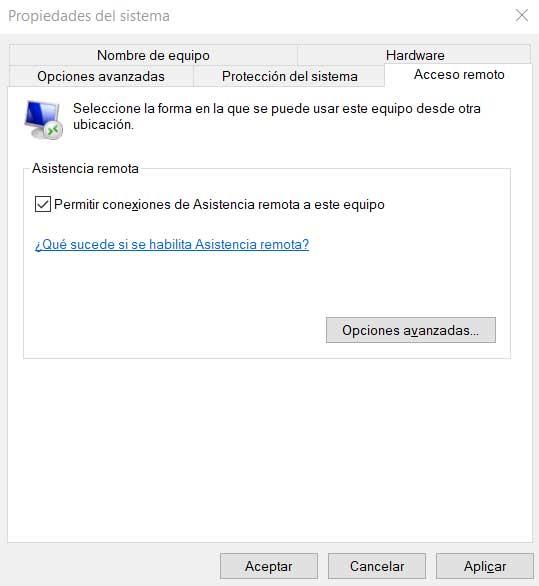 But if the problem persists, we will move on to the issue of the connectivity of the operating system itself. This will lead us to the Windows Firewall that we have talked about so many times.
Open ports in Windows firewall
Therefore, if, as we told you, the problem has not yet been resolved, we must make sure that the Windows Firewall allows remote desktop connections. For this we are going to see the steps we have to take, so we return to the previously mentioned Control Panel. At the same time, we return to the System and Security category, where in the right part of the window we can open the Windows Defender Firewall option .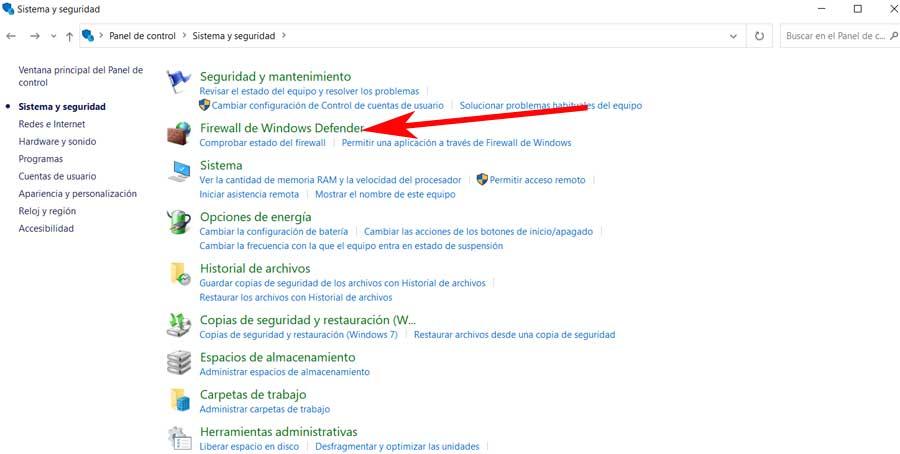 In the window that will appear then, we click on Allow an application or a feature through Windows Defender Firewall. In this way we are going to find a window full of options, among which we have to locate the so-called Microsoft Remote Desktop.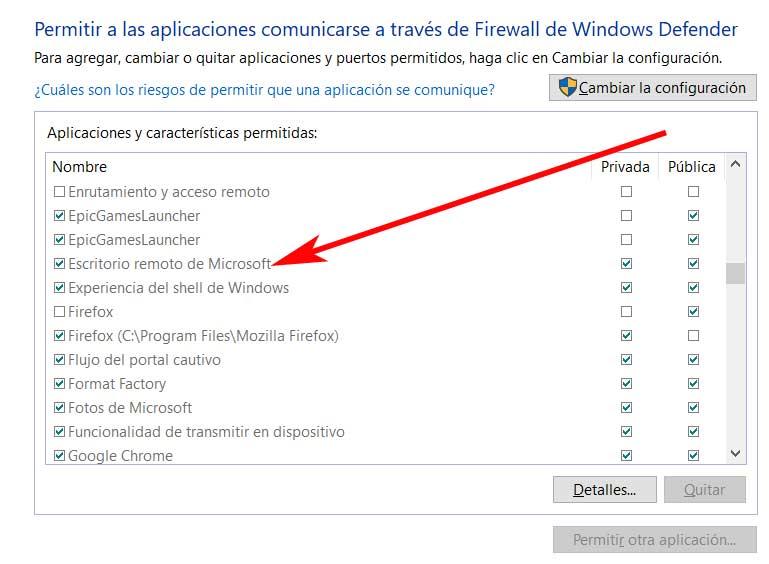 Once we find it, we mark the box to allow that access for both private and public networks , so we click on both boxes. Therefore all this should already solve the problem that we have been talking about.
Check your antivirus and your network
Another reason why this problem may appear is because another program is blocking it. Specifically, the antivirus. Windows Defender, generally, does not usually give problems with RDP because, being its own, it considers it a reliable software. Unfortunately, the same is not the case with third-party antivirus. If we have installed a security suite (such as Kaspersky, or Bitdefender, among others) it may happen that the antivirus itself, when detecting remote connection attempts to the PC, is blocking them for security reasons. Or it may happen that it is the firewall itself that blocks them.
In both cases, what we must do is check that, indeed, Windows Remote Desktop has permission to connect remotely to our computer. Otherwise, we will continue to see error 0x204 and we will not be able to establish the connection.