Windows
Take full advantage of the advanced features of msconfig in windows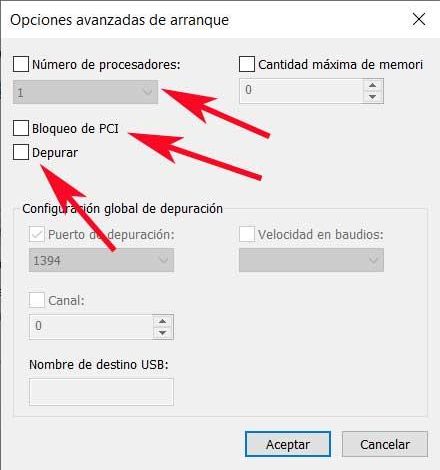 The configuration and customization functions that Windows 10 offers us, have not stopped growing over the years and the versions of the operating system. In fact, at the moment we have the opportunity to manage a good part of the functions that the software offers us.
But in these lines we want to focus specifically on a utility that has been around for a long time and that allows us to carry out multiple configurations in Windows. Specifically, we refer to MSConfig, a configuration functionality included in the operating system itself that allows us to manage the startup, services, or computer startup options, among other things. To access it enough to write the same term in the search box on the Start menu in Windows.
Once here, it should be mentioned that in the tab called Startup there is an Advanced Options button. This gives us access to configure options such as the number of processors, the amount of memory, the debugging, etc. But these options should be the last resort for diagnosing systems, particularly for more advanced users.
What is MSConfig and what is it for
MSConfig is a system application that has been with us since the appearance of Windows 98 that will help us correct problems related to Windows startup, such as enabling a restart in safe mode and activating or deactivating certain services. Currently it is used more as a command than as a system tool, as it has undergone some modifications with respect to the tasks that it can perform within the operating system. Even so, it is still important to perform certain functions with which to control the system.
That is why today we are going to talk about MSConfig and its configuration options. Of course, before entering the matter, it should be noted that an incorrect use of this system application can cause irreparable and irreversible damage both in Windows 10, and in the different adaptations that we have installed. That is why we must be extremely careful when making any application, its use being recommended only for users with advanced knowledge
Configure Windows startup with MSConfig
Before going into detail we should remember that this MSConfig advanced boot section is designed for troubleshooting. However at the same time it should not be changed if we do not know exactly what we are really doing here. That is why in the case of not being sure, it is best that we keep these settings in their default values, without changing them.
In the case that we want to improve this startup and we are advanced users, to begin with, in the Windows Task Manager we see the Performance tab. In it we see the number of CPU and memory cores , which we can write down. After that, and if we already know that information, we open MSConfig and go to the Startup / Advanced options tab. Here we can already check the box for the number of processors and select any value less than the maximum available in the drop-down list.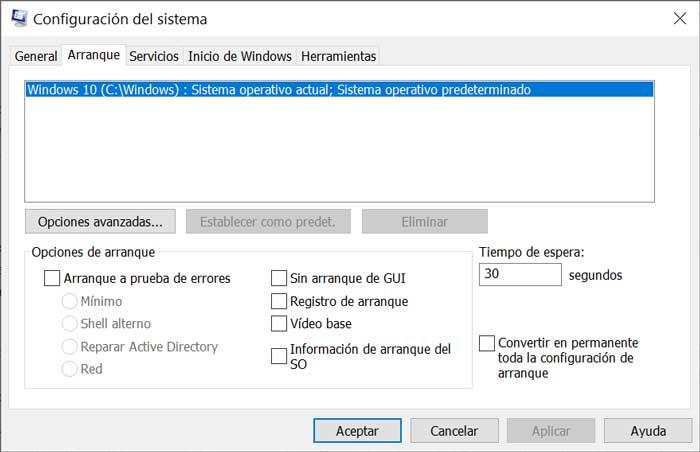 This maximum figure should be the same as what we saw in the Task Manager. After this selection, we restart the PC and check how many processors and amount of memory are available for the operating system. Of course, it is most likely that after the change we will experience a slower performance compared to the default configuration. For those of you who are wondering then what these parameters are for, they will probably be of help to developers.
When selecting Windows 10 startup, we have three different options available such as "Normal startup", "Startup with diagnostics" and "Selective startup". Each of them in turn shows a series of options with which to carry out different actions that are necessary in each of the areas.
Normal startup
Normal Startup is the option that we find established by default that is carried out every time we start or restart our computer. In this way we start the system by loading all the drivers that we have installed on the computer as well as the different services in a normal way without any changes or modifications.
Start with diagnosis
Diagnostic Startup mode is a boot mode very similar to Windows Safe Mode. This startup mode is responsible for performing functions similar to safe mode in the same way as if we entered manually. In this way, Windows starts loading only what is strictly necessary, with a basic system configuration, without taking into account other devices that are connected to it. In this way, we can solve some problems or errors with Windows startup, or solve mishaps that we could have with viruses or malware.
Selective start
Through Selective Start we can customize the Windows startup mode. From here we can choose if we want the system services to be loaded, as well as other startup items or the boot configuration. In this way, we find three boxes that we can activate or deactivate, such as those destined to load the system services, load startup items and use the original boot configuration.
MSConfig Advanced Boot Options
Thanks to these changes in MSConfig, they will be able to find out how their projects work with a lower hardware configuration without changing PCs. In fact, we could apply the same thing to the operation of Windows 10. Also and in this same window, we find the option of PCI Blocking, this is a bus on the board to add components. But the BIOS or the operating system can determine the resources to be used here automatically, thus avoiding conflicts.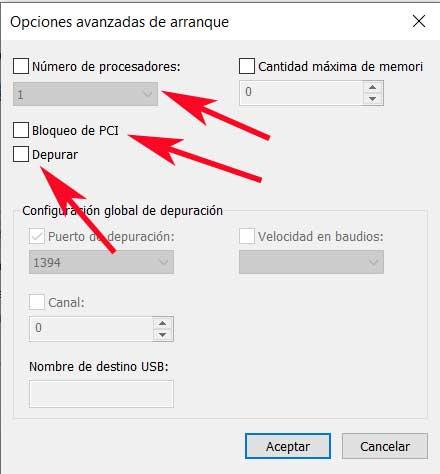 Therefore this is something that should not be changed either, unless you have problems with the connected hardware, otherwise it could lead to a blue screen or BSOD. In the same section we find the Debug box, a development function to debug the Kernel. These debugging tools are connected to the operating system and should be left as is by end users. And is that by activating this box, we can configure the rest of the options, all of them especially suitable for developers and experts who want to speed up Windows startup.