Windows
Error 0xc0000221 when starting windows 10? So you can fix it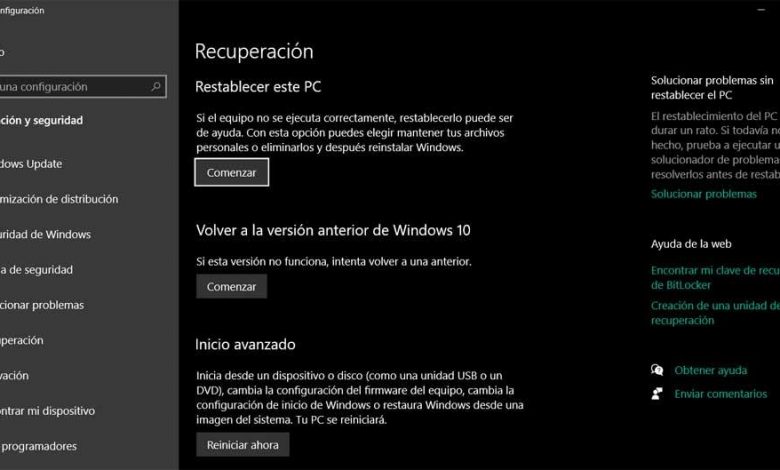 Our computer may well be the most important work or leisure element, so any failure it can give us can be very frustrating. A failure that can appear when trying to start the computer is that the dreaded blue screen appears with the error 0xc0000221 in Windows 10. This causes the system to get stuck in a continuous self-repair attempt.
Normally when this happens a message appears on a blue screen in which it is indicated:
«Your PC needs to be repaired.
The operating system could not be loaded because the kernel is missing or contains errors.
File: WINDOWS system32 ntoskrnl.exe Error code: 0xc0000221. »
Possible causes of error 0xc0000221 in Windows 10
The appearance of this error when starting our computer can be due to different factors such as:
Failure caused by a third party problem.
A failed Windows update or a virus has corrupted or deleted the Ntoskrnl.exe file.
Invalid Boot.ini configuration.
The boot volume is damaged. It may be due to a power failure, that the hard drive is corrupt or has some kind of physical damage.
System file corruption. This prevents Windows from being able to access the file system of your main partition.
Hardware problems created by a new inserted RAM module
Possible solutions
We are going to go through the possible solutions that we can try to try to fix the error 0xc0000221 in Windows 10.
Boot into Safe Mode.
Perform a SFC, CHKDSK, and DISM scan, in that order.
Check RAM for problems.
Scan your computer for viruses.
Perform a repair installation of the Windows 10 operating system.
Boot into Safe Mode and uninstall recent apps
Try starting your computer in Safe Mode to make sure the problem was not caused by third-party software. When starting in this mode, our computer will start in a limited way with the basics to be able to proceed to boot. Once Safe Mode has started, the problem may be due to a program that we recently installed, so we must uninstall the latest software that we have installed and then restart the computer.
There are several ways we have to start this safe mode, for example from the Shift + restart key combination on the Start menu. With this what we mean is that if we are already in Windows, we force the advanced options of the system startup by holding down the Shift key on the keyboard while we choose the restart option. Here we will see that we can see the startup in Windows safe mode. Next we will find a series of menus and assistants that allow us to solve problems with the operating system.
Among these we can restore the PC completely, access the command line, restore any of the restore points created in the past, etc. All this will help us to solve multiple more or less serious Windows problems, such as the 0xc0000221 error.
Corrupt File Scanning with SFC
Now we are going to scan possible correct files, for this we will use a tool that Windows has called SFC (System File Checker).
To do this, we must start in Safe Mode and access the "Command Prompt". To do this, from the Cortana search engine we write Command Prompt, and right-click and select "Run as Administrator." Once the black panel appears we write sfc / scannow. Once the process is finished, we restart the computer.
Keep in mind that this is a command that basically looks for the files of the operating system itself, which may be damaged. As you can imagine, if this is the case, these can negatively affect many aspects of Windows 10 operation. Therefore, once this command has located and solved the failures of these files, perhaps the error 0xc0000221 is no longer present. give again.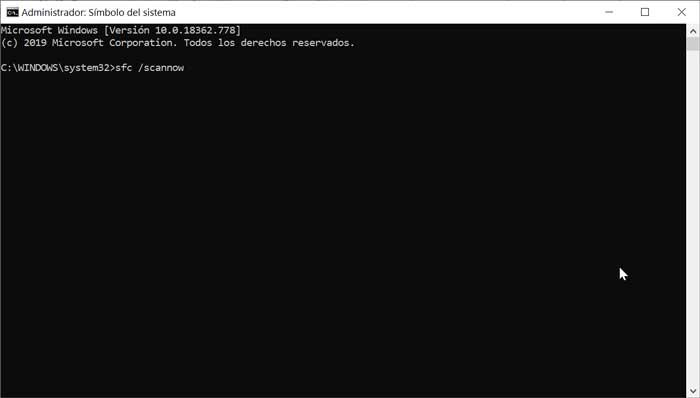 Run CHKDSK Utility
If the error continues to appear when booting, it is probably due to a hard drive failure. To check it we are going to use CHKDSK Utility. This tool is used to check the integrity of hard drives and repair file system errors.
To run it, we type Command Prompt again in Cortana's search engine and access as Administrator. Now we will write chkdsk / f / C: (If our boot drive is not in C: you must replace it with the corresponding drive D :, E :, etc). Once finished, we will restart the computer again and check that it can start correctly.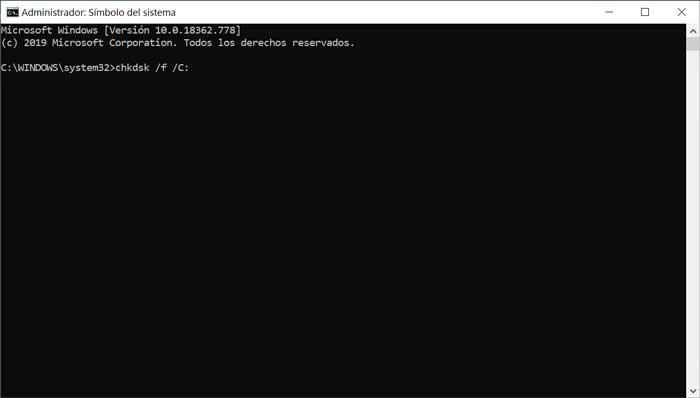 Run DSIM
In case the error persists, we will use the DSIM tool , which it uses to repair the Windows image or modify Windows installation media, taking care of detecting the defective file and changing it for a new one.
In this case we will start the Command Prompt again as administrator and type dism / online / cleanup-image / restorehealth and press Enter.
Before executing it, we must take into account that we have an Internet connection. The process can be a bit long, so we should not interrupt it. Once finished, we will proceed to restart the computer to see if the error continues to appear.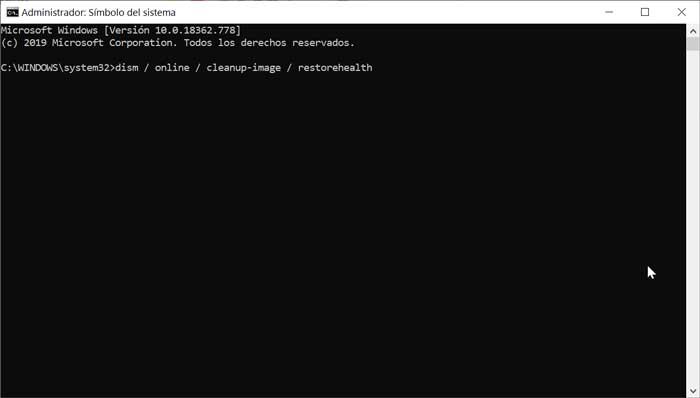 Check RAM
If all of the above did not work, it may be a RAM related problem. To check this we will use the « Windows Memory Diagnostic» tool , which will be in charge of testing all the RAM and finding faults and bad sectors.
To do this, in Cortana's search box, we type Windows Memory Diagnostics. A dialog window will appear and we will choose the option "Restart now and check for problems (Recommended)". Once the memory test passes 100%, the system will automatically reboot.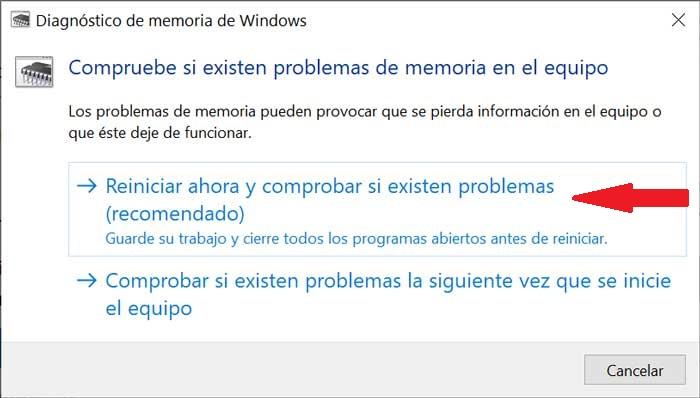 Scan your computer for viruses or other malware
In these times, we can come across all kinds of malicious code, especially if we spend a lot of time on the Internet and download all kinds of content. That is why the problems that these malware can cause us on the computer can be of the most diverse nature. That is why if we find, for example, the 0xc0000221 error that we have talked about, it can also be caused by this.
Thus, in the event that you have these problems with the system startup, we can scan it to make sure it is clean. For this type of task, we either use Windows Defender, or some other third-party antivirus. For example, if we opt for the first option, this is the security solution integrated into the operating system itself. Therefore we only have to access the Configuration / Update and security application, where we already see the Windows Security section. Here we no longer have to do a complete analysis of Windows.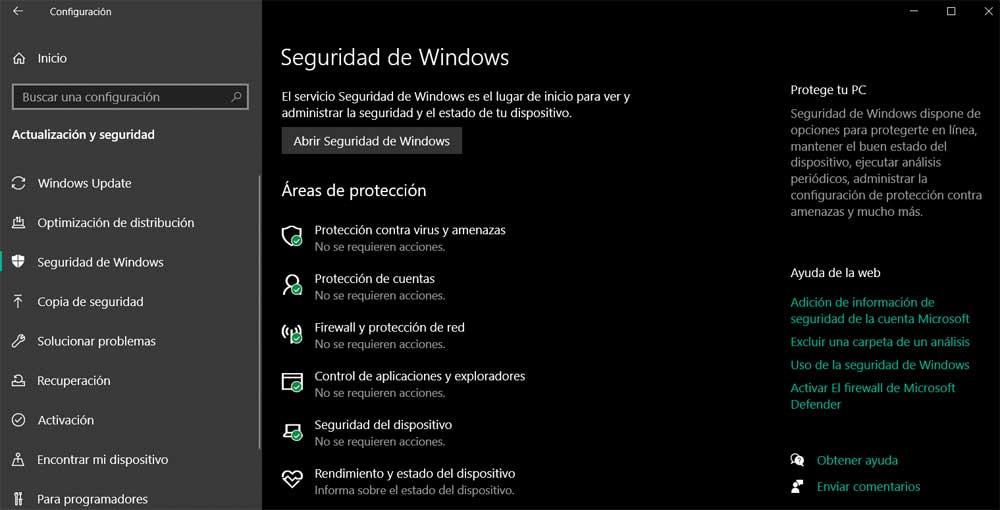 Perform a repair installation of the Windows 10 operating system
If the error error 0xc0000221 continues to appear when you start the computer, the best option is to perform a Windows 10 installation again, managing to repair any installation problems and as well as any component of the operating system that may be found to be damaged.
It must be borne in mind, at this point, that this may be the most radical solution of all those presented. This is because if we do a completely clean installation of Windows, we will lose our own data stored in the system, as well as the installed applications. Anyway, if we don't want to get to this extreme situation, we have a slightly less radical one. To do this, we access the Settings application to go to Update and security.
On the left side of the new window we find a series of options, among which we see Recovery. With this, what we want to tell you is that, from this section, we can restore the system completely, as we have commented.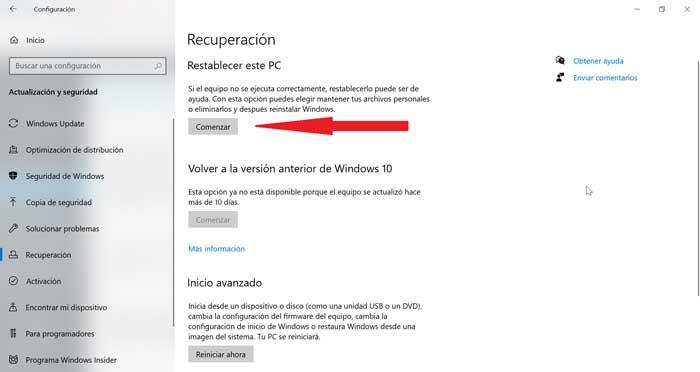 Of course, at the same time we have an option by which we perform a clean installation of Windows, but keeping data and programs. Therefore, it is an alternative to solve the error 0xc0000221, which could be interesting to us.