Streaming
How to share spotify premium accounts for your friends and family to have access? Step by step guide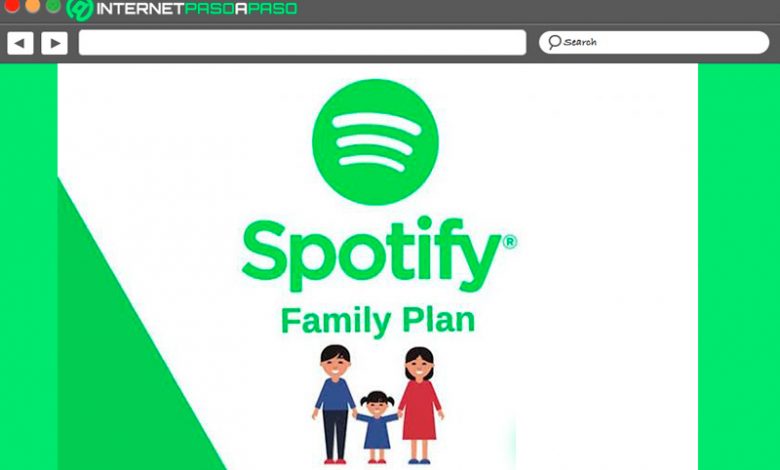 To the Like many other pla taformas streaming, Spotify also offers its users the ability to start sharing their accounts with friends and family, something really interesting for everyone.
However, it is important to know that the account to be shared has to be Premium so that you can enjoy this functionality that will allow you to play music simultaneously from different devices.
This will also allow you to share the expenses for that account, which is quite beneficial for everyone. In this way, here we teach you how to share your Spotify Premium account easily.
Spotify Family What is this Spotify fee and how much does it cost?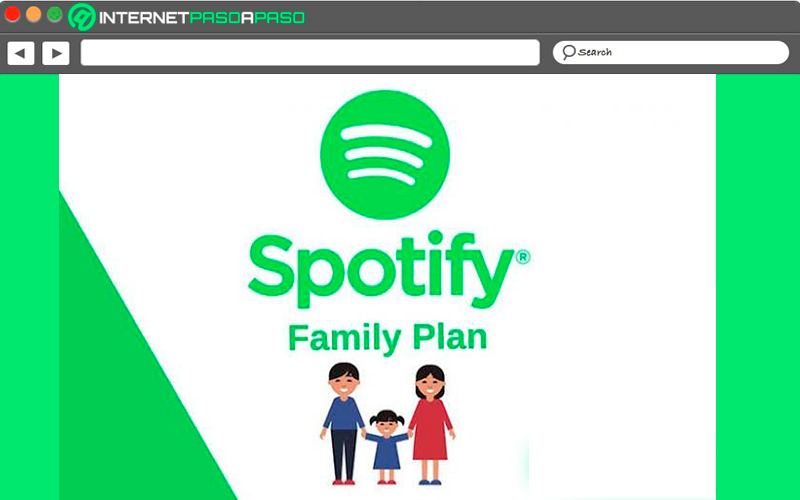 There is no doubt that Spotify has become one of the most popular streaming music services in the world, which stands out for being the main platform for many singers who constantly launch their new songs through this application. In this way you will be able to find millions of songs that you can listen to with and without an Internet connection, and in the case of being a Premium user without ads.
It is possible that your entire family or group of close friends also want to listen to music from the application, so there is a way to start sharing your account with each of them. The way to achieve this is through the Spotify family plan, which will allow you to have up to six accounts for a single payment. With this plan, users will have the opportunity to enjoy up to six Premium accounts.
In addition, you will only have to pay a single price for the six additional subscriptions where everyone can enjoy their own music on each of their devices. Best of all, it doesn't matter where you are, as you can access your account anywhere. In this case, each of the users will have their own account and password, all this works in a similar way to what are the screens of the Netflix accounts.
However, in order to enjoy this plan it is necessary that you meet the following requirements:
In order to be part of the family plan, you will need to live in the same place as the plan administrator.
You must create your own Spotify account and receive the invitation to join the family plan.
If you already have an app account, then you can use it and simply accept the invitation to join the plan.
One of the most important aspects to keep in mind is the economic value of this family plan. In this case, users will be able to enjoy this benefit for a single monthly payment with a single invoice of 14.99 euros. This amount is paid by both the administrator's account and the six subscriptions. In addition, the first three months are completely free for those users who have never purchased the Premium plan.
It should also be mentioned that Spotify does not have any type of permanence, so you can cancel the service whenever you want. It is important to clarify that all the people who belong to familiar Spotify will have their own Premium account with a different key and password, so each of them can create their own playlists according to their preferences, access them offline, among many other options.
Learn step by step how to add family members to your Spotify Family account to share access to your account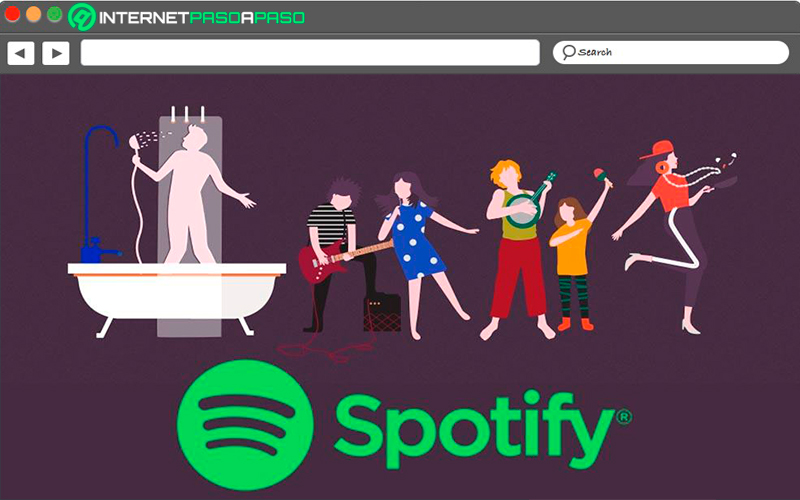 Based on everything mentioned above, the idea of ​​being able to start sharing your Spotify Premium account with your family or friends may seem like something really interesting. The truth of all this is that being able to add family members to your profile is very simple.
To do this, you just have to follow each of the steps that we are going to indicate below:
Get the family plan
In order to activate the family plan in your Spotify account, it will be necessary that you comply with some very simple steps:
Register or log in to your Spotify account, it is important that it is
The next thing will be to invite your family members who live with you to Premium.
Then each of them must accept your invitation to join.
Once this is done, each of your guests will be able to have their own application account and thus start listening to music or creating a playlist.
Join the Spotify Premium family plan
Keep in mind that in order to join this plan, your family member has to send you the invitation link. Therefore, if a family member of yours already has the Premium version in the application, then you will be able to join their account through the family plan, which must be created by the administrator of the same and thus keep all the information original account. On this occasion, both people in the family who do not have accounts in the application and those who do.
Those people who have not yet registered must download the app and register in it, once registered, the next thing to do will be to log in and enter the address, in this case it must match the one provided by the administrator. In this way, if you meet the requirements, you will only have to accept the invitation that the administrator must send you, who can only choose six members of his family to join this plan.
If the person already has a Premium profile and wants to join your family plan, they must necessarily cancel their current account and wait for the Premium to run out in order to join, otherwise it will not be possible. However, this function has been created mainly so that users who do not have a Premium profile can join, so if you already have one, it does not make much sense to join a family plan from another when you can create it yourself. .
Finally, in the event that the person does not meet the requirements or does not live in the same address as the administrator and this is detected by the system, they will automatically be expelled from the family plan and immediately their profile will go to the free version of the application, so the options for use will be much smaller.
Spotify tricks to get the most out of the most famous music streaming platform
If you already have a Spotify account, you have surely noticed that it stands out for offering many functions and tools that will help you get the most out of the application at all times. However, being able to know all of them is not an easy task, this is how here we are going to teach you the main tricks that will help you get the most out of this streaming platform .
To do this, follow each of the tricks that we will teach you below:
Discover the closest concerts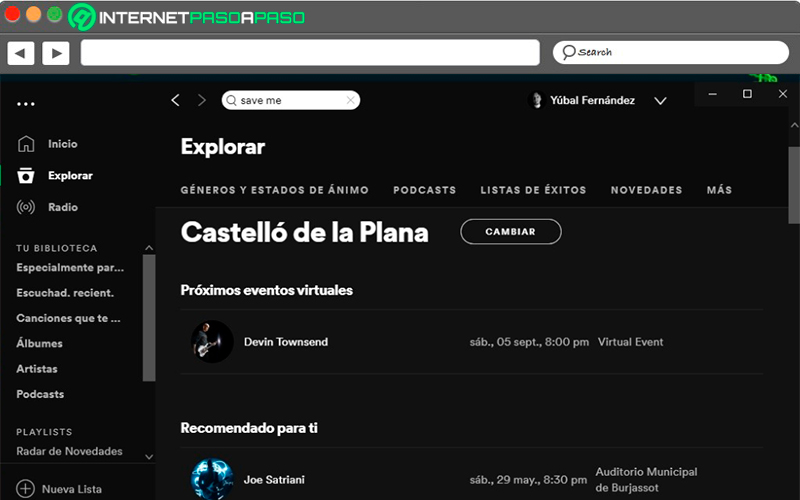 When you have an Internet connection, you can undoubtedly discover many things such as the concerts closest to your location, but if you are a Spotify user, then you will be able to use the platform to discover these kinds of things. Therefore, the app will allow you to know which concerts are close to your location and their dates, in this way you will not miss the concerts of your favorite singers.
To be able to see this, you simply have to access the profile of your favorite artist and from there you will be able to see the dates and place of their next concerts, as well as their next tours. You can also go to the "Search" section in the mobile application and there you will find the "Concerts" section, which you can also access from the "Explore" section. From there you will be able to see all the concerts near your home and that may interest you.
Get artists related to your favorites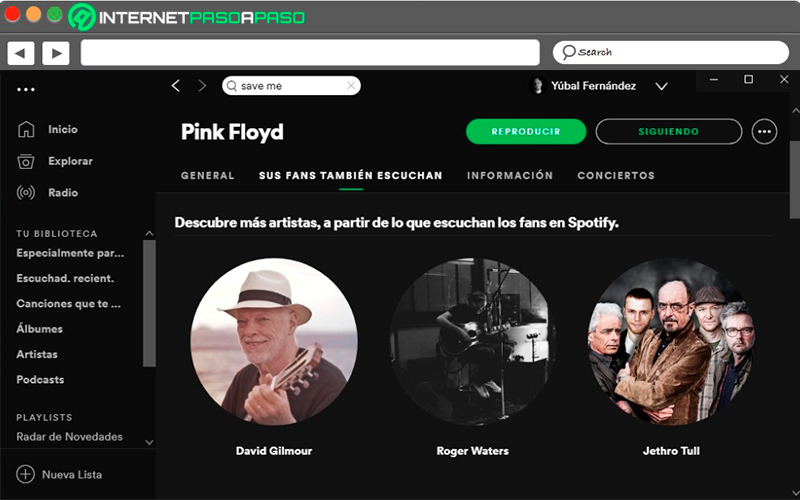 Spotify is a streaming service that has millions of songs, so you will have the opportunity to discover a large number of artists and totally new music for you. To start discovering new artists you can do it through the playlists, but it is also possible that you will receive some recommendations that will be related to your favorite artists. In this way, the system analyzes your tastes in the community to offer you a certain type of content.
In order to obtain this type of recommendation, it will be necessary for you to access the profile of an artist that you like. For this, the application offers you a section called "His fans" which is available both in the desktop and mobile app . By entering there you will be able to access a list of artists who are related, so you will have the opportunity to visit each of their profiles. In this case you will be able to discover new artists or songs that you may surely like.
Take advantage of the personalized weekly collection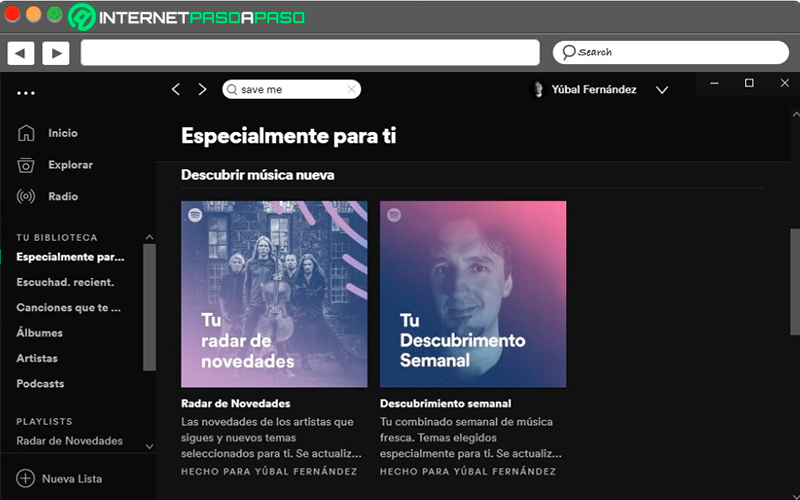 One of the most important features of this music application is that it has a list series with compilations and personalized recommendations. In this way, every Monday you will have a weekly discovery list where you will be offered new topics that are mainly based on each of your tastes and on Fridays they will offer you a list of new releases.
It should also be mentioned that every day you are going to have 6 daily mixes, this is about playlists with varied themes and based on your tastes, so you will possibly get songs that attract your attention.
To be able to enjoy all this you just have to follow these steps:
To begin you must access the Spotify application and in the column located on the left side of your screen you must select the option "Especially for you".
Now a new window will open where you must select the option "Discover new music with your weekly discovery and news radar".
At the bottom you will be able to see your daily playlists, the Daily Mixes.
Finally, underneath everything you will also find many more personalized lists such as the one of the songs that you have never heard and that you may like.
Start downloading music to your smartphone's microSD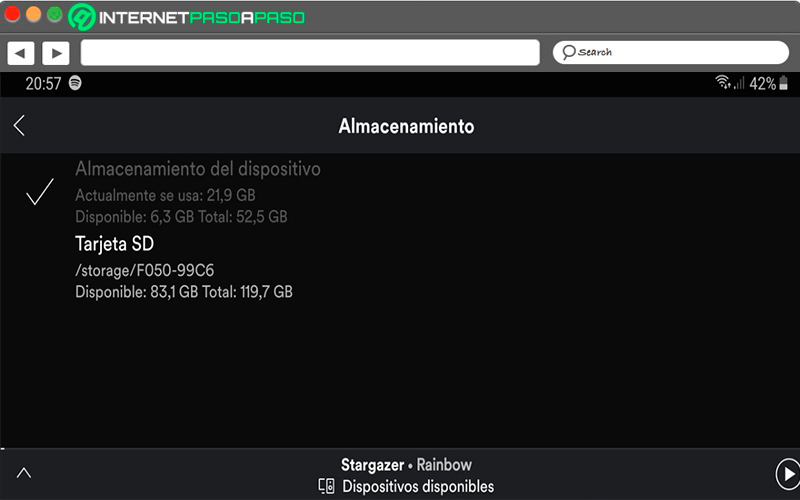 If you have an Android device, then you will have the opportunity to take advantage of all the available space on your microSD card and that way you will not have to use the internal storage of your mobile device when downloading music from Spotify. In the case that you have already downloaded some songs to the smartphone memory, then you will also have the opportunity to easily transfer them to the SD card since the app offers you this service.
To do this, just follow each of these steps:
The first thing you should do is enter the "Settings" section of the Android app and then you must select the "Others" option so that the "Storage" item that you are going to select will appear.
Once there you will have the opportunity to choose which storage you want to use, either that of your terminal or that of the SD card.
If for some reason you have already saved some songs on your smartphone, then you simply have to select "SD Card".
In this case, the application will inform you that it is going to transfer your musical data, which usually takes a few minutes, this will depend on the size of the files and how many of them you must transfer.
Transfer Spotify playback to your mobile, Chromecast or smart speaker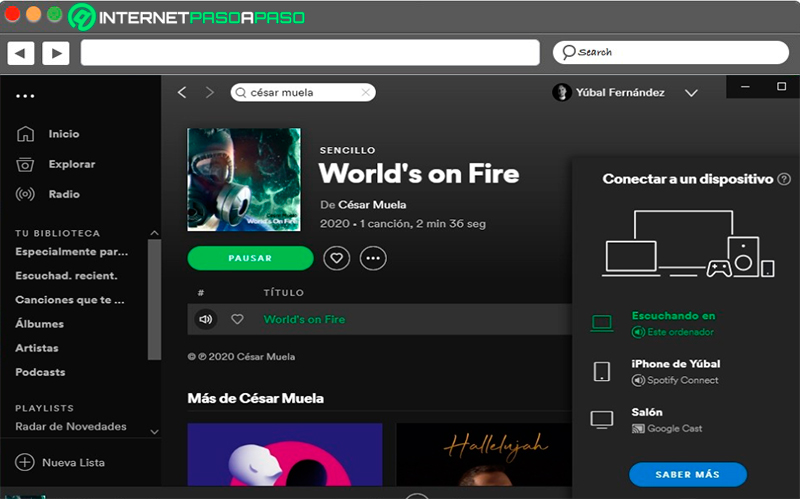 You may find yourself listening to music from your mobile device, but for some reason you want to bring that playlist to your computer or to other devices such as your smart speaker or Chromecast. If you are looking for this, then you are going to be very lucky as Spotify offers the option for you to do all of this easily.
To do this, you just have to follow each of these steps:
In the case of the computer, you will only have to click on the option "Available devices" and there you must select the one where you want the music you want to listen to start playing.
For the mobile application, the device on which the music is playing will appear at the bottom.
Here you just have to click on the site where you put it and select a new device.
Once the music is playing on another device, you should keep in mind that the music will stop playing where you were listening to it previously.
If you have any questions, leave them in the comments, we will answer you as soon as possible, and it will surely be of great help to more members of the community. Thanks!