Emails
Close open Hotmail sessions (Outlook)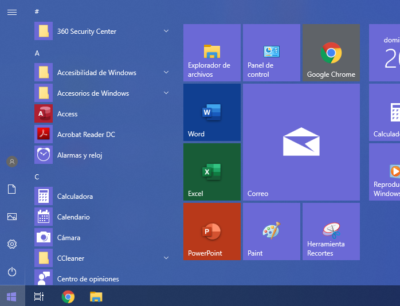 Surely you use your email to communicate with your friends, co-workers and even clients; therefore, you have personal information there that you want to keep private. However, when we leave a session open on a computer in the public domain, our information can be compromised.
It is no secret to anyone that malicious people could use your account to send inappropriate photos to your contacts, send spam or worse, impersonate your identity. Hence the importance of logging out of Outlook whenever you finish using it. Unless it is your personal computer and you have a good antivirus.
In this post we will teach you how to close the Outlook session on all devices no matter where you are, so if you checked your mail on a device or computer that you do not use frequently and you do not remember if you closed it properly, do not worry , closing it is very simple. Let's see the steps to do it.
How to log out of the current session
When moving from Hotmail to Outlook, the appearance of our mail changed dramatically. Which is why some users have a hard time finding the option to log out. For this reason, we will briefly and simply explain how it is done:
The first step is to click on the circular icon, in which your initials or your profile photo appear. This is in the upper right part of the screen.
Then, a drop-down menu will be displayed where you will find different options, including " Close Session ".
Press the option and voila, you already have your information safe.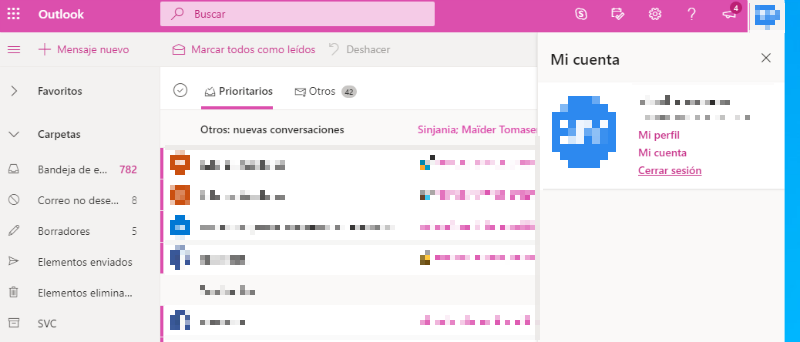 Of course, there are times when we are in such a rush that we automatically close the browser without first logging out of our email account. If this is your case, you can proceed with the following steps:
Close all open Outlook sessions
Next, we will explain step by step how to log out of Outlook on all devices
Log into your Outlook account.
Go to the upper right where your username appears and press click there.
When the submenu opens, choose the option " View Accounts ".
Next, in the " Devices " section you will be able to see the different devices where you have opened your email.
The next step will be to press where it says " Manage ".
And finally, choose the " Remove " option .
It is also recommended to clean the list of mobile devices found in the general options of Outlook.
To get there, you must click on the gear icon found in the top menu.
Then select the option " General " and then where it says " Mobile Devices ".
You will be shown a list of mobile devices that are synchronized with your mailbox.
To remove them, simply select the device you want to remove and press the " Remove " icon .
With these simple steps, you can now rest easy, as you will have logged out of Outlook on whatever device you have used.
Sign out of Outlook Windows 10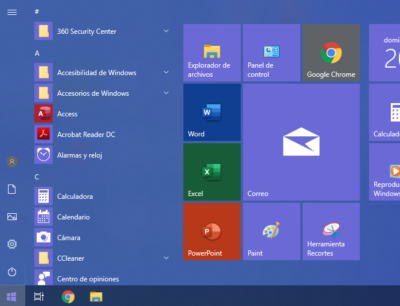 Thanks to Windows 10 we can link our email with our user account in Windows.
This undoubtedly allows an optimization of our time, because instead of accessing the Outlook page to check our mail, we can do it from the same operating system without having to log in.
Now, you may ask yourself the following question : How to log out of Outlook PC application?
It is very simple, just follow the following steps:
First access the "Mail" application found in the Start menu. If you can't find it there, you can use the search engine by clicking on the icon with a magnifying glass and writing the word " Mail ".
When you open it, you will see your open Outlook account. To close it, you must go to the lower left and click on the gear-shaped icon.
Clicking on the icon will display various options. The one you will press in this case is the one that says " Manage accounts ".
Then you will see all the emails that you have linked to the application, click on the one you want to close.
As you can see, you have two options: " Change mailbox synchronization settings " or " Remove account from this device." Any of these will do.

If you choose to change the configuration, click on the option to open the menu and where it says " Email " move the switch to the left to deactivate it. By doing this, you will still have your email linked, but the inbox will not be displayed.
In case of choosing " delete account ". You will be asked to confirm that you want to delete the account from your device. Don't worry, this option only removes the email from the application, but it will not affect the account itself.

To finish, just click on " Save " and you're done. You can close and reopen the application to verify that the change has been made.
With this you will have already closed your session in Outlook from your PC.
Close Outlook sessions on mobile
Now we will teach you how to close your Outlook session on your cell phone.
What you must do is access the " Mobile Settings ".
Then, press where it says " Accounts ", where you can see all the accounts linked to the device.
Select the one you want to close (Outlook) and then the option " Delete account ".
It only remains to confirm and that's it.
Logging out in this way will not delete anything from the email, it is only deleting the access data such as email and password.
I can't log out of Hotmail
Sometimes it may happen that we try to log out of Hotmail from the browser; however, even if we click the button, it simply cannot be closed. what to do in that case?
This is usually because the browser is blocking cookies (cookies are files created by websites that save browsing data to improve the user experience).
Therefore, all browser windows must be closed and the settings changed to allow cookies.
If this doesn't work, you can choose to delete your browsing history including passwords.