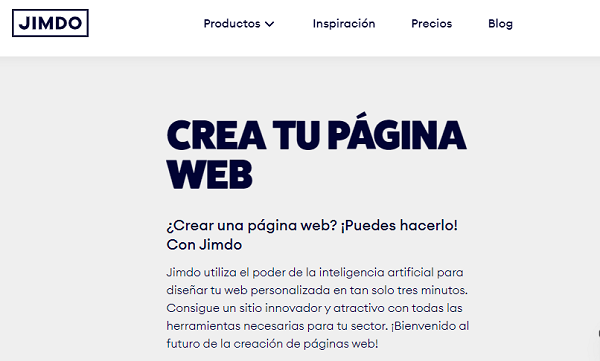 Wix is ​​a platform oriented to the creation of websites created by the company of the same name. Wix works through the HTML5 programming language and focuses on offering intuitive tools to give the opportunity to create Internet sites to those users without experience in programming or web development. To make this easier, Wix offers templates, plugins, remote assistance, and more.
There is a free mode where users can create a Wix account and build websites without having to pay for a domain and hosting service. However, the true potential of this platform is found in its different Premium modes, which allow you to get the most out of the web pages created with this page builder.
The Wix website builder has been operating since 2007 and since then, it has established itself as one of the best options when starting to develop a website. Many SEO experts choose Wix, because its model offers many optimization possibilities, which allows you to quickly improve the positioning of the created website.
How does it work
Wix.com works as a website builder that allows users with no programming experience to choose a template and build a website model using "blocks or modules". Thus, after creating an account in Wix and deciding to open a page (regardless of whether you choose a free or paid plan), the Wix wizard offers different didactic tools that guide the user to arrange the elements they need within their page .
This wizard allows a template, buttons, formats and all kinds of customizable elements to build the page. In this way, the user can modify sizes, colors and location of each component, so that each page created can be unique and different from the rest. Also, users more experienced in programming, can access the code of the site and customize the page using HTML5.
It should be noted that when choosing a free plan, the website will have an advertised domain of the type "pagename.wix.com", in addition to hosting different Wix advertising banners on different sites on the page.
Characteristics
The following are the most important features of the Wix website builder:
The Wix website builder works through a web browser, so an Internet connection is required.
It has free and paid modalities so that any user is able to create web pages through its platform.
The programming language used by Wix is HTML5.
The construction of pages in Wix works as modules, that is, it is enough to select and drag modules of text, image, forms or others, to the desired position and in that way the structure of the site is formed.
It allows you to create pages of all kinds, from blogs to virtual stores.
To use Wix and create a website through its platform, you need to create a user on your website.
It has more than 500 themes to choose from when creating a website.
Wix provides all kinds of tools to ensure SEO positioning and web optimization.
The App Market is an integrated platform from Wix. This allows you to purchase tools and add-ons to personalize the created websites.


Advantage

Being one of the most popular website creation platforms in the world, it is to be expected that Wix is ​​one of the best options to consider when creating a page, however, it is worth contrasting its main advantages:

Wix is ​​an ideal option for people without experience in creating web pages, since it provides intuitive tools that do not require much knowledge to give shape and content to the site.
By having a free mode, it is possible to create web pages without the need to invest money.
Its extensive catalog of templates is one of the most complete that can be achieved, so it is probably possible to get a theme that perfectly fits what a user is looking for.
The "modules or boxes" creation model is extremely easy to use and saves a lot of time.
It has a simple but effective image editor, it is ideal to give more personalization to the created sites.
The Wix platform receives constant updates, ensuring that creators always have more tools and improvements in their creation panel.
Wix technical support is one of the most complete and efficient on the market.
Wix uses HTML language, one of the most popular and used programming languages ​​for creating websites.
Thanks to its Artificial Intelligence Design model, sites can be created in a very short time.
It offers functionality to promote digital commerce and online stores, making WIx perfect for starting an online business or selling a product.

Disadvantages

Like any website, despite the incredible advantages it offers, it also has certain negative points that are less important. Therefore, they will be mentioned below:

The amount of customization functions offered by the platform is so great that it can overwhelm creators and cause insecurity when choosing between one or the other options.
The Wix platform does not allow you to view the traffic generated by the site from the administration panel.
It does not allow saving templates, so after changing the theme, all added content and modules will be completely lost.
Wix's free mode is not one of the best options to opt for, as it adds too invasive advertisements.
Create an account
The different functions and tools of Wix, as well as
its website builder, are accessible only from a user account on its main platform. The following section explains step-by-step everything about how to create a Wix account:
The first step in creating a Wix account is accessing your page. official website.
Once inside the Wix portal, press the " Enter " button, which is located in the upper right corner of the page.
After the above, the registration form to create a Wix account will open. Here it is quite simple, since it will request basic data such as the name, password and registration email. After filling in all these fields, you must click on " Register " and voila, you will have created a free account in Wix, which will be used to create and configure a web page within the platform.
Log in
After creating an account, you should know the steps to log into Wix. They are extremely simple and will be detailed below:
To log into Wix from a computer, the first thing to do is access theWix main portal.
Once inside, you need to click on " Enter ", to do this, look for the button located in the upper right corner of the page.
Next, the page will take you to the registration form. In the upper central part there is the " Start session " button, so you just have to press it.
Next, the login form will be displayed. Here it will be enough to enter the email and password used for registration. If you wish, you can also check the " Remember me " box, so that Wix automatically recognizes your user data.
Once this is done, click on " Login " and voila, you will have accessed the Wix user panel.
Recover password
In the event that for any reason you have forgotten or lost your account password, you must proceed to recover it. Which you can carry out through the following procedure:
Go to the Wix home page and press " Enter."
The portal will then take you to the login panel. Here you will have to press the button " Forgot your password? ", Which is located below the" Remember me "box.
After the above, the page will show three different recovery options. In this case, you must click on " I forgot my password " and " Next ".
The next step will be to enter the email of the Wix account that you want to recover. After doing so, click " Send ".
Once this is done, you will receive an email to restore the password to your email account. Open mail and press the " Restore password " button.
Now a new Wix page will open from which it will be possible to enter the new password that you want to use. After doing so, select " Change Password " and voila, you can now log into Wix with the new password.
Create a website
Once you have your user ready, you must log in and start creating a new web page from scratch with the help of Wix, see how, in the following steps.
After By logging in to Wix, you can easily go on to create a free website. The steps to be taken to achieve this are explained below.
After you log in for the first time, the page will ask you how you want to build your website. In this case, select the option " Create your website with the Wix editor " and click on " Choose a template."
Then you can choose a template to start building your free page. To do this, you must select a category according to the type of page you want to create, be it business, travel, music, etc.
After looking at the topic you prefer, place the cursor over it and press the " Edit " button.
The next step is to access the Wix page editor. This works in a simple way through a tool panel located on the left of the screen. If this is the first time you access this section, Wix will show you an informative video on how to use it.
During editing, you can add content, create categories, tabs, pages and modify all the elements that the page will display. Once you get the desired result, simply click on " Save." Remember that you can always return to this panel to continue editing the page and adding content.
Once everything previously shown is done, click on " Publish ", which will open a window from which it will be possible to determine the name of the free domain that you want to use. Likewise, if you wish, you can opt for a paid domain.
After choosing the domain name to use, click " Save and continue."
Ready! Your web page will already be created and operational so that any user has access to it from web browsers.
Alternatives to Wix
As well as Wix, there are other interesting alternatives when choosing a platform to create web pages. Some of the most striking are the following:
WordPress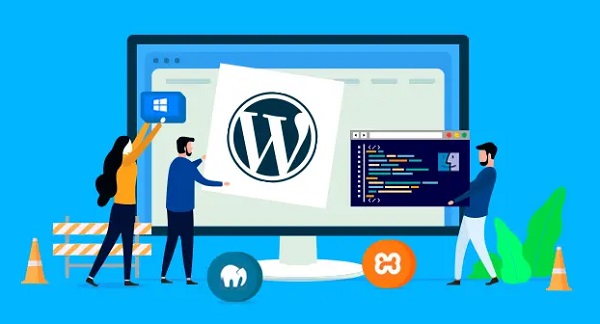 The WordPress platform is one of the most popular when it comes to website builders. This is ideal for creating textual and visual content blogs and websites. Such is the success of WordPress, which is one of Wix's main competitors in this sector. Its main characteristics lie in the ease it offers when managing and adding content to the site, as well as the compatibility with a large number of Plugins. All this, not to mention that it is a perfect platform to exploit SEO positioning in all possible ways.
Access the link WordPress.com to know all its details and start using it.
Google Sites

Google Sites is Google's free website builder. Despite its simplicity and little flexibility when allowing site customization, it is an extremely interesting option to create portals in a short time. Google Sites is ideal for people with little experience in the world of creating blogs and pages, but it also offers wide compatibility with the different Google tools, something that can be very useful.
Jimdo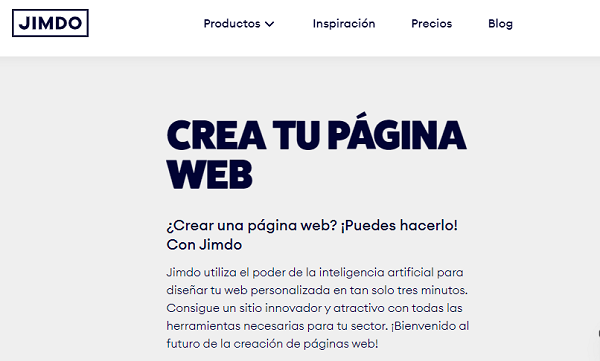 Jimdo has earned a place among website builders due to the wide range of customization possibilities it offers. Thanks to Jimdo, it is possible to create professional finishing sites in no time. In this sense, it is ideal for the creation of virtual stores, since even in its free mode, it allows you to sell up to 5 products without any limitation to the seller. To get to know Jimdo, go to its official page.