Tutorials
USBFlashSpeed: Measure the read and write performance of your USB flash drives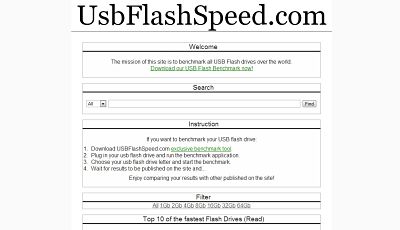 You can determine the performance of memory sticks or USB drives with a Windows application called USBFlashSpeed. With this tool it will be possible to measure the writing and reading speed of USB drives. You will be able to publish the results to an online repository, in order to reference the pendrives that are measured. This with the aim that other users have reference to decide which model or brand of flash memory to buy; depending on your needs and from the data that is published.
How to measure the transfer speed of a pendrive with USBFlashSpeed
The USBFlashSpeed ??website contains references uploaded by other users based on measuring the read and write speeds of their flash drives, which may be useful to other users when they need to purchase a USB drive. It shows the last units analyzed on its main page, but in the same way we can use the search field to find particular results about a given model of USB memory.
USB Flash Benchmark for Windows has a simple interface that allows you to determine the performance of USB drives, hard drives and SSD drives with a single click. To do this, we must select the letter of the drive to analyze in the drop-down menu in the upper left. The next step is to press the ' Start Benchmark ' button and allow the application to do the rest. If we check the ' Send Report ' option , the analysis will be published on the application site. When the analysis is complete, the read and write performance results will be displayed, displaying this data as a graph.
The data stored on the application website is displayed in 3 categories:
The top 10 of the fastest memories in terms of reading

The top 10 fastest memories in terms of writing
The last 10 flash memories referenced.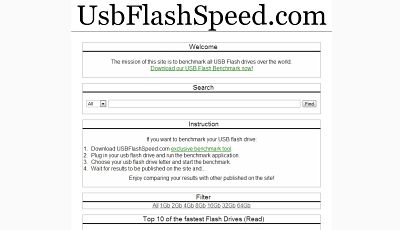 Also, all these categories or sections can be filtered by storage capacity, ranging from 1 to 64GB.rn
USBFlashSpeed ??works on Windows 8, Windows 7, Windows Vista, and Windows XP.
Download USBFlashSpeed ??here