Tutorials
New Year phrases, wishes, congratulations and reflections to share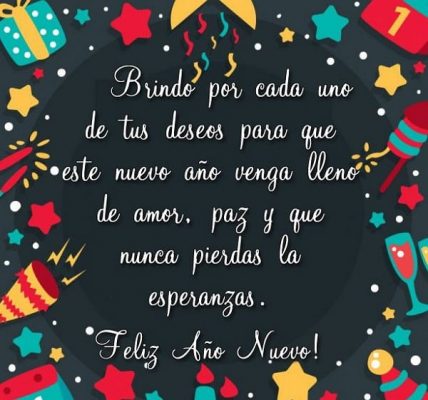 Every December 31st is known as " New Year's Eve ", as it is the last night of that year, which welcomes you to the next calendar. During these dates it is common to express wishes for abundance, success, prosperity and happiness among friends, family and loved ones. In fact, many families also share thoughts and reflections about their experiences throughout the year.
That is why this article has been prepared with New Year phrases, as well as reflections, good wishes, thoughts and other short phrases that you can share with the people you love the most. You can even find some images with wishes for prosperity and thoughts to express allusive to the farewell to the old year and the reception of the new year.
Reflections for the family
On New Year's Eve the memories of all the actions that were done during the year begin to appear . The family plays a fundamental role since reflections also usually appear when seeing those who are not present. If you want to wish your relatives some thoughts, choose some of the phrases that you will read below:
May life grant you the opportunity to achieve each and every one of the goals you have in this new new year!
May this New Year 2021 be full of personal and professional successes. I want nothing less than happiness, and that you have the necessary will to resist even if problems fall on you.
How time flies … 12 months and 365 days have passed and today is the time to treasure the people who are on this journey. May we have a full table and plenty of health next year to fulfill each and every one of our dreams.
Even if an illusion has been lost, good news will come to mend our hearts. Happy New Year 2021!
With heart in hand: Happy New Year!
Happy 2021! I know it is too early to congratulate, but I know so many beautiful people that I decided to start with the most beautiful people.
The old year is now dragging its days of unpleasant events that have made 2021 a year full of uncertainties. However, we will stand with faith in the face of any struggle. Lots of strength and energy. Happy New Year!
I wish you a happy 2021! With 12 months full of health, 52 wonderful weeks, 365 days full of opportunities, 8,760 hours of fury and 525,600 glorious minutes.
The holidays are opportunities for reflection and good times with the family. Today I want to share it with you because I love you very much.
The greatest treasure that I can have during this beginning is my family and I am very lucky / lucky to have you by my side.
Today during celebration I want to tell you that I love you and that I am really happy when I have you by my side. Congratulations to everybody!
This phrase is a box of peace sealed with a smile, wrapped with love, full of hope and sent with a kiss.
It is not the festivities that make the moments pleasant. It is us with our essence and presence, because in each encounter, we discover and know ourselves.
Hopefully you start each project with harmony, hope and faith so that everything goes well. Happy New Year.
May this be a great year of health, love and harmony with the world. I hope you welcome this new year with joy.

New Year's reflections for the family 2

New Year's reflections for the family 3

New Year's reflections for the family 1
Prosperity wishes for friends
Friends are also an essential part of moments of reflection. Sometimes, they are the people with whom they share a large part of the time and, therefore, it is important to take time to thank them for all the actions they have done. On New Year's Eve you can send any of the messages you read in the following list:
Happy New Year! May all your wishes and wishes come true.
We will never forget mistakes, but with each learning our lives are filled with wisdom. I wish happiness to reign in this new year!
You have a new dream for each day of the new year. Fight and strive for what you really want. I assure you it will be worth it. Happy year friend!
We know that 2020 was a year of many adversities. However, I hope that 2021 will be the opposite: that millions of opportunities appear! I love you very much. Happy New Year.
If the year that is about to end left bad memories, May this new year be filled with the best moments of your life!
For you, my friends, I wish all the best for the coming year. With the faith that this 2021 will be rewarded with pleasant surprises that will fill our lives with pure joy. Thanks for being in my life!
To you, who have been with me and have had good and bad times with me: I wish you a beautiful and happy New Year.
Remember that the world belongs to those who dare to see the beauty of their dreams. May the New Year bring you beautiful satisfactions.
I wish you a lot of fun, champagne, lots of gifts, crazy moments … Successes in Christmas and Happy New Year.
May this New Year everyone I love achieve their goals, make their dreams come true and be happy at all times. A hug. Happy New Year!
I have come across happiness and I have asked him to come by your house with great health and joy for these new beginnings.
Friend, smile because all the bad is over. This coming year will be better, so raise your face and keep going. You will have excellent opportunities. Do not miss them!
I wish that love floods your soul, happiness reflects on your face and peace hijacks your life. I wish you all the good because you deserve it. Happy New Year!
This is already a millionaire! I have a very valuable and priceless treasure: your friendship.
May this be a year of growth as human beings to face any difficulties that may arise in the future.
Love thoughts for the new year
If you have a partner, it is also a good time to treasure all the love, time shared, and patience that you have had for each other. Likewise, thoughts must be expressed and more if they are wishes for affection, abundance, success and prosperity. You can choose any of the following short phrases to dedicate to your loved one :
May the illusion always arise despite the moments of brokenness. May love prevail and may it be an excellent year for both of you. Happy New Year!
During this year we have gotten to know each other more and I feel that love has been reborn. I hope that this next year our love continues just as alive. Congratulations and a very happy year to you. I love you!
I toast this year! For its successes and failures. If it is with you, let many more come.
12 months, 365 days, 4 seasons, a happy heart and dreamy eyes … Happy New Year 2021!
I love you because you never stop being yourself and you are a constant fighter / fighter for what you want and believe is right.
My love … I hope you have a beautiful New Year's Eve full of harmony with those you love the most. I wish you a healthier and hopeful New Year. I just hope every day that my immense love fills your heart and makes you feel protected / protected at all times.
I will always wish for the best in life. May this year achieve all your wishes and, if you cannot achieve them, may it be because life has several opportunities in store for you. Happy New Year!
You gave me strength and courage to get ahead. In many of my days I felt that I could not and you were there. My problems seemed untenable but you helped me sustain them and from the bottom of my heart I just want to say that I love you.
I hope that, much more than any phrase, the acts I do out of love show you how much I care about you.
When you read this message, close your eyes tightly and think about all the beautiful things that have happened to you. I wish that and much more for you.
Look at the stars in the sky! Each one is a wish for you. Happy New Year!
Happy New Year! May this year bring us peace, happiness and more pleasant moments.
You are part of my universe. I thank life for putting you in my way because you fill me with enthusiasm and passion. Let's toast to a new year full of love, patience and happiness.
If you have not been able to achieve your goals, nothing happens! We try again until it is impossible to do it. May each stumble not diminish your willpower. I love you. Let's move on.
Smile! Today begins a new stage for both of us and we are going to take advantage of it. This will be our year. I love you!

Thoughts of love for the new year 2

Thoughts of love for the new year 3

Thoughts of love for the new year 1
Phrases to welcome the new year
The good new year wishes are not made to wait, therefore, can also choose some of these short phrases to share with friends or close people. New beginnings will always generate uncertainty, however, it is the perfect opportunity to wish many blessings and prosperity to those who are always present:
Let's make a toast! Let's join our glasses to toast peace, health and love around the world. It is what I look forward to the most in this coming year.
Goodbye New Years Eve ! Welcome to the new year full of hope and harmony.
A sparkling toast with good wishes for a whole new life. Happy New Year!
As the old year is gone tomorrow, receive my best wishes of abundance for the New Year 2021 today.
When all 12 bells ring, I want us to toast to thank you for having them.
This 2020 passed quickly and I only wish that the new year 2021 is extraordinarily better.
Today we have the opportunity to celebrate the year to come. May we have a better year that is vindicated with the year that left. I love! Happy New Year!
May 2021 arrive with the best moments of happiness. I do not want more.
May we add all kinds of pleasures this year, subtract pain, multiply happiness and divide love with everyone we love. Happy New Year My Love!
It is not enough to make a wish for every day of the year. It is necessary to put all the effort and the will to achieve the purposes. May this New Year infuse our homes with health, prosperity, success and love. Happy New Year!
It is possible that New Year 's Eve is a social construction, but that does not change that I wish all the best for you in these next 365 days.
I toast to a new year in which we can see each other more, hug more and put down the phones to get to know each other better.
May health and that great capacity for drive and improvement continue to accompany us during this New Year.
Let's make our life a dream and our dreams a reality. Happy New Year 2021.
Positive attitude, optimism, health, hope, strength and will. May we not lack absolutely any of these ingredients for years to come. The rest will come by itself.

Phrases to welcome the new year 2

Phrases to welcome the new year 3

Phrases to welcome the new year 1
New Year's wishes will always be a direct way of appreciating a person and wanting them to do well during the execution of their projects, dreams and goals. You have several short phrases and images that contain reflections and thoughts that you can share with the people you want to keep for the next year.