Tutorials
MyPublicWiFi: Share Internet from your computer with other devices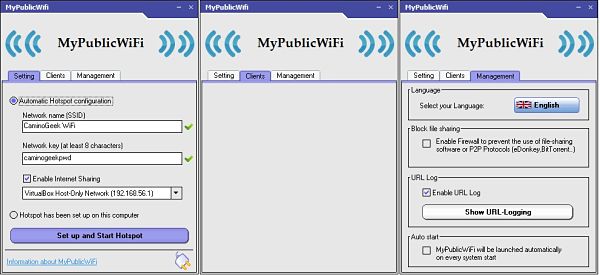 If you do not have a WiFi router handy and you want to share the internet from your laptop or PC with other mobile devices or with friends, you have the alternative of making your laptop or PC with a wireless card work as a hotspot or virtual router. To do this there are many applications on the market, and one of them is MyPublicWiFi. This application allows you to share a laptop's internet connection with other devices.
MyPublicWifi is very easy to use software and turns your laptop or PC into a virtual access point or router to share the Internet. This way, anyone nearby and has the credentials set up in the hotspot can use the internet that you share. It can also serve as a repeater to extend the coverage of your wireless network at home.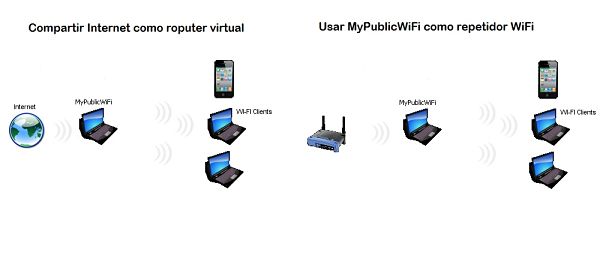 It is an ideal solution to share your Internet connection temporarily in meetings, at work or at home. It includes a firewal with which you can restrict access to specific websites, as well as block the use of certain Internet services. It also allows you to record and track the pages and websites visited through your virtual hotspot.
How to share the Internet with MyPublicWifi
Setting up the program does not require a lot of time or knowledge. Any user with minimal computer skills can make the application work. Follow the steps below to use the application:
To use the program, we must first download it from its website and install it.
When you open the application, you will see a small window, in which you can configure the Network name (SSID) or name of the network, with the Network key or 8-character password.
You must check the Enable Internet Sharing option and choose one of the sources to share the Internet, which should be Ethernet, but you can also use Wi-Fi, DSL, 3G / HSDPA / 4G.
Finally, we must click on the button Set up and Start Hotspot. The app will verify the settings you have entered and start the hotspot in a couple of seconds.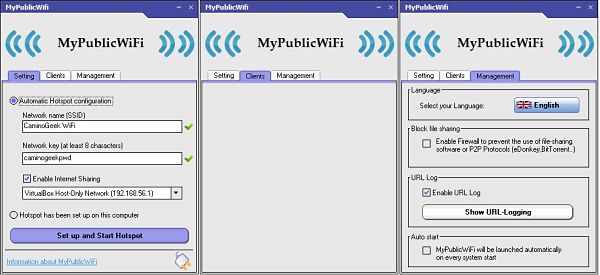 After starting the hotspot you can access your Internet connection from any mobile device, phone, tablet or PC. The program allows you to see the clients or devices connected to the hotspot in the Clients tab of its window.
In the Management tab you have the options to change the language, allow or block file sharing; enable or disable URL registration; as well as enabling or disabling the application startup when Windows starts.
MyPublicWiFi is a program that can be used for free without restrictions. It works on Windows 10/8/7 in its 32-bit and 64-bit versions.
Other programs that you can use to use your PC or laptop as a hotspot: Virtual Router Plus, MyRouter, Virtual WiFi Router, MaryFy.