Tutorials
How to subscribe to Amazon Prime for free: all methods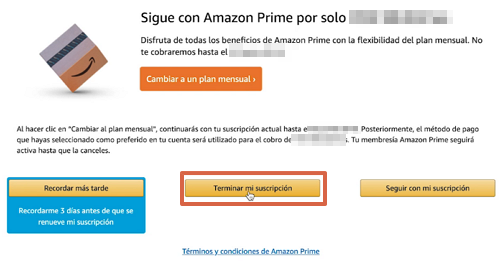 If you are looking to subscribe to Amazon Prime for free, you have different methods to perform this procedure. This website has a free trial period that you can take advantage of to see all the content available to it. Undoubtedly, this platform has begun to gain popularity among users for the different services and benefits it offers, either through its fast deliveries or through its original production.
As you should know, when you join Amazon Prime, you have different platforms that you can enjoy from the same account. Be it Prime Video, Amazon Music, Prime Reading, among others. That is why all the ways to get Amazon Prime for free will be mentioned , from getting the free period, taking advantage of promotions from external companies, to using shared accounts. You will even see how to cancel the account, in case you prefer to unsubscribe.
Steps to follow
As mentioned above, in this section you will see the steps to follow to subscribe to Amazon Prime and enjoy the free trial period. To do this, you just have to carry out these actions:
Sign up for Amazon through thislink. You must put a frequently used email and a password with at least 6 characters.
Verify the email address by entering a security code that will arrive at it.
Now, go to Amazon Prime using thislink and press " Prime Test ".
Select a payment method and choose " Continue ".

Then add your full name, an address, zip code, and phone number. Press " Use this address ".

Click on " Start your free trial period " to finish the process and be welcomed to Amazon Prime.
Note: At this point it should be mentioned that Amazon Prime allows its users to use the free trial period again with the same credit or debit card, but after 12 months. On the other hand, the free period ranges between 7 and 30 days, as that will depend on the country of origin.
Cancel the free trial period
If you do not want Amazon to charge your monthly fee from your credit card, then before the end of the free trial period you must cancel your Prime subscription. To do this, you just have to follow these steps:
Go to Amazon Prime through thislink.
Place the cursor on " Account and Lists." Press " Identify yourself ". Log in with your email and password.
Move the cursor back to " Account and Lists " and select " Account."
Go to " Amazon Prime."
Swipe and look on the left side of the screen for " Manage Membership ". Click on " End your trial and your benefits."
Choose " Cancel."
Press " End my subscription ".
Press " Cancel membership " to confirm and finish the process.
Note: One thing you should know is that you will continue to enjoy Amazon Prime until the date indicated by the platform. In case your membership is subject to an external company such as Vodafone or others, then you will need to contact them to manage and cancel your Amazon Prime subscription.
Take advantage of promotions from external companies
From time to time, many telephone companies offer promotions to acquire their equipment and rates. As a novel and attractive method, a free subscription to Amazon Prime has been included among different offers . That is, they give you a membership to the platform if you buy a team.
In view of this, you only have to be attentive to the promotions of the telephone or television companies in order to take advantage of and cancel a comfortable price for several services simultaneously.
Use shared accounts
It is not a free method, but it is with which you can save a lot of money. If you have several family members or friends who are also interested in using Amazon Prime, they can purchase the subscription and pay for it between several people so that the price to cancel is lower. Once the trial period is over, you continue with the service and divide the price among the people who wish to use the platform.
However, it is worth mentioning that the charge will be made to a single credit or debit card. Therefore, people must send their payment by other means. As you can see, it is a somewhat delicate process, so it is recommended that you do it only with trusted people so that there are no future problems.
Advantage
One of the main benefits of subscribing to Amazon Prime is that you will have access to Prime Video, Prime Music, the Kindle Book Lending Library and, if you buy from Amazon, you will have free shipping for two days. In addition, another feature to highlight is that it has most of the Disney movies and some novels from the TV Azteca and Televisa channels. Its price is quite accessible and it has various promotions that fit your pocket.
As you have seen, the process to subscribe to Amazon Prime for free is extremely easy and fast. You just have to have your credit card on hand to start filling in the fields that will be requested on the platform. Then, you have to be careful to cancel the subscription before the free trial period ends, so that in this way, Amazon does not charge the card.