Tutorials
How to sign in or sign in to Amazon Prime

To log in to Amazon Prime you will only need Internet access, your email and password. Then, you must access one of the different platforms that this digital service has, either on its website or through its official app. The procedure is similar although it varies by the interface that each one presents. However, it is not a complicated process nor will it be time consuming.
In view of this, in this article you will see all the ways to enter or log in to Amazon Prime from the computer or by using its application for iOS or Android devices. You will even find the procedure to carry out in case you cannot access your account. If you do not want to log in again on a frequent device, do not log out or activate the "Remember account" option to save your data.
Steps to follow
In the following sections you will see the steps to follow to log into Amazon Prime from its web version, as well as through the application for Smarphones and Tablets. Remember that you must have both the email and the password with which you registered on the platform.
From the web
If you have a computer with Internet access, the process will be much easier. To enter Amazon Prime from your computer you only have to follow the steps that will be explained below:
Enter the Amazon Prime page from thislink.
Place your cursor of the mouse over the " Account and Lists " to press " Log ".
Write your email and password. Then press " Enter " or " Sign in." With this last step, you will automatically be inside the platform.
From the app
By having the Amazon Prime subscription, you will get access to the benefits of the applications in " Amazon purchases ". To enter this app the procedure is very similar to the previous one. You only need to open the application and enter both your email and password, and then press the " Login " button . On many occasions, for security reasons, the app will ask you to perform a Captcha.
It is also necessary to highlight that every time you enter an unrecognized device, Amazon Prime will send you an email confirming the new login. If you are doing it personally or authorized someone else to enter your account, you only have to authorize access. Otherwise, you can deny it in order to protect your profile.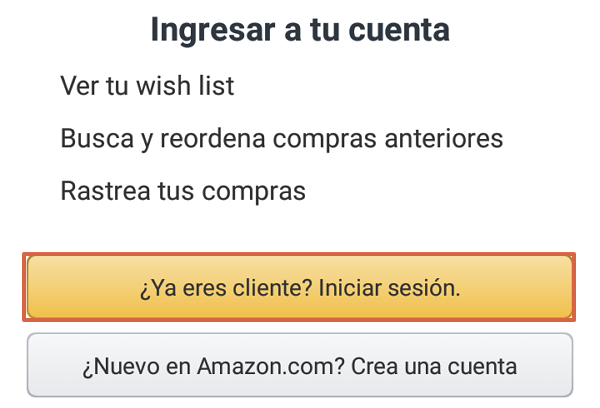 Note: In case of frequent use of the app, it is recommended to configure two-step verification. You can do it using thefollowing link. In this way you secure your account from people outside of you.
If you have forgotten your password
If you can't log into any of the devices you have available to log into Amazon Prime, there is a way to quickly recover your account. You just have to press the option " Have you forgotten your password? ", Which you will get by clicking on" Do you need help? At that time you will have to put your phone or the email associated with the Prime account.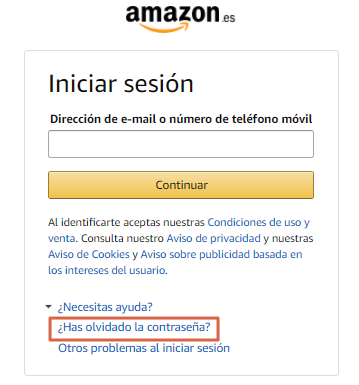 Immediately you will receive a verification code to your email or by text message to the number you registered on the platform. After you enter that code, you will have to answer a security question and enter a new password following the recommendations that Amazon Prime offers you. Thus, you will log in without any inconvenience.
Login issues
If you cannot log in to Amazon Prime, whatever the reason you present, the path you must follow to solve this problem will be detailed below . It is: "Account and Lists> Identify yourself> Do you need help? > Other problems when logging in> Select a problem> You will see the solution, an e-mail and contact telephone number with Amazon support ".

Entering or logging into Amazon Prime is a quick and easy process without too much hassle. You just have to follow the steps indicated in the previous sections, depending on the equipment you are using. Once you enter, you will be able to comfortably observe all the content that the platform has for you.