Tutorials
How to register or create an account on Wallapop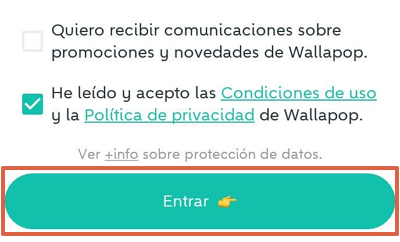 Creating an account or registering with Wallapop is the main requirement to enter this platform for buying and selling second-hand products. This is a fairly simple process that you can execute as long as you have an Internet connection and, in the following text, the step-by-step you will have to follow to achieve it will be detailed. This way, you can access the site without having to sync your Google or Facebook account over and over again.
In this sense, you can register with Wallapop from your computer or using your mobile phone. It is worth mentioning that, in the case of Smartphones, you have theweb version and the app for iOS orAndroid from which you can complete your registration. It is important to clarify that this process has no cost, however, there is a Premium plan within this platform designed for online store owners.
From the computer
To register in Wallapop from the PC, just access theofficial page of this store and follow the instructions described below:
Click the " Sign up or log in " button at the top of the page.
A pop-up window will open, click on the " Register " option .
Complete the registration form providing your first and last name, email and password.
Check the consent box "I have read and accept the Wallapop Terms of Use and Privacy Policy."
Note : In case you want to receive notifications, offers and news from Wallapop, check the corresponding box during registration.
Press the " Create an account " button.
A new window will appear indicating that you must confirm your registration by clicking on the verification link sent to the indicated email. Follow the instructions to activate your account.
Once you complete the email verification process, you will be able to become part of Wallapop and your account creation will have been successful.
From the phone
If you prefer to create your Wallapop account from your mobile, you should know that you have two options for it. The first is from the official app of this platform, which is available on Google Play and the App Store for SmartphonesAndroid andiOS, respectively. The second is to enter the web version from the cell phone browser. Each of them is described below.