Tutorials
How to record your computer screen on Windows and Mac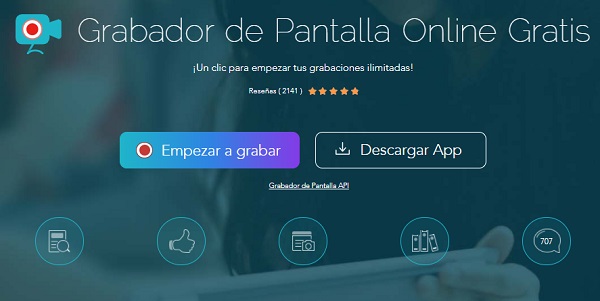 If you want to record your computer screen, you have different tools, both free and paid. The program you choose must conform to the Operating System you have on the computer, although, on the other hand, it is necessary to mention that Windows and Mac devices have a factory pre-installed program with which you can start recording your computer's screen in simple steps.
In view of this, in this article you will see how to record the screen of your computer on Windows and Mac, both with programs from the same Systems and from other tools that you can download through their links, in order to install them and start using them in your computer. Similarly, if you do not want to download any program, there are also websites that offer the service online.
For windows
If you want to record your computer screen and you have the Windows 10 System installed , you have the "Ezvid" program and another Windows application called "Game Bar" with which you can record your games or applications. Learn more below.
Ezvid
Ezvid has positioned itself as a tool to record your computer screen and also offers the option of editing. It is characterized by being a simple, practical and easy-to-use program. It has a recording limit of 45 minutes, which is a functional tool if you want to record a video in parts. To record your computer screen with Ezvid, follow these steps:
Download Ezvid by pressing thislink.
Once it has installed, open the program and press the screen icon called " capture screen ".
Press " start capture now ".
When you decide to end the recording, you just have to press the " Stop " button .
Once you have loaded the recording, right click on the cover that Ezvid adds at the beginning of the video. Press " Delete " to delete it.
Done the previous step, now you can edit the video by adding voice recordings, musical effects or speeding up the video playback.
Once you have finished editing it, to save it select " save video ".
Upon saving, Ezvid will open the folder where the video has been stored. You can play it with the player of your choice so that you can see how it turned out.
Game Bar
With this option you will only be able to record the applications or games that are being developed in the foreground of the computer. Having clarified this point, if you want to use Game Bar to record a game or application from your screen, you have to press the " Win + G " keys at the same time . You will see that several windows will appear with different options. You must select " Performance " and in " Capture ", choose " Start recording ".
If you decide to use this tool, you can also save the recordings or images as a backup for OneDrive or Dropbox. This option can be activated or deactivated whenever you want, by pressing the storage clouds icon followed by the "Configuration> Auto save" buttons.
For Mac
Mac computers have a combination of keys to start recording and their own program called " QuickTime Player " to record screens or save images as snapshots. In addition, apart from making recordings, you can edit and play them in the same program.
QuickTime Player
This is the pre-installed program that Mac computers have to record, play and edit the video, then share it with other people or upload it to streaming platforms such as YouTube. If you want to use QuickTime Player to record your computer screen, follow these steps:
Search for " QuickTime Player " through the Launchpad.
Click on " File " and choose " New screen recording ".
Choose if you want to record the entire screen or a part of it.
Press " Record."
To end the recording, press the " Stop " button . It is a white circle with a gray square in the middle.
Choose a name for the video and select the folder to save it.
Record command
To access the recording of the Mac computer screen more quickly and immediately, you just have to press the following key combination: " Command + Shift + 5 ". An options bar will automatically appear in which you must press " Record " to start recording the screen.
Downloadable programs to record screen
These programs are compatible with most of the existing Operating Systems, either Mac, Windows or Linux. On the other hand, some will not need to be installed on the computer, so it will be easier to use them for recording, editing and playing the video on the computer.
OBS Studio
This is a program compatible with both Windows, Mac and Linux. One of its main advantages is that you can make recordings of your screen and live broadcasts. It is a very useful tool for those who are dedicated to making computer tutorials or who wish to broadcast their video games live.
If you want to use OBS Studio to record the screen of your computer in Windows and you have a 64bit OS, you can download the program through thislink. If you have a 32 bit OS, use thislink. For Mac, you must use thislink and for Linux you will have thislink with detailed instructions.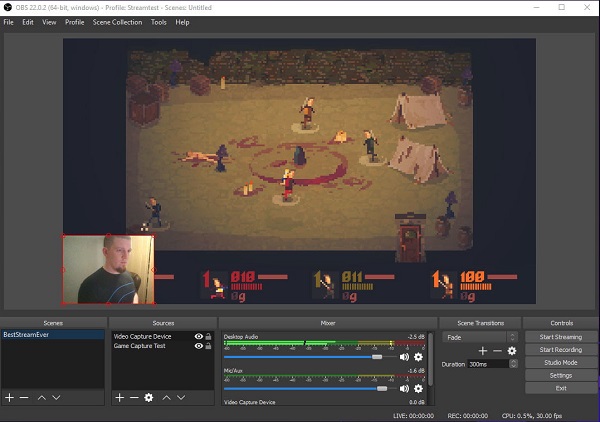 Loom
This tool provides the facility to record and share the video with other people through a shared link. In addition, it has an intuitive and simple platform that helps to edit the video to trim it, add effect, a call to action or other elements. Another advantage is that you can add a password to your works and links to talk about privacy.
To use Loom you must register on the platform and create a free account through a Google, Slack, Apple profile or through email. It is worth mentioning that this tool has a desktop version (for Mac and Windows 64bit) and an extension for Google Chrome. To create an account in Loom you can use the followinglink.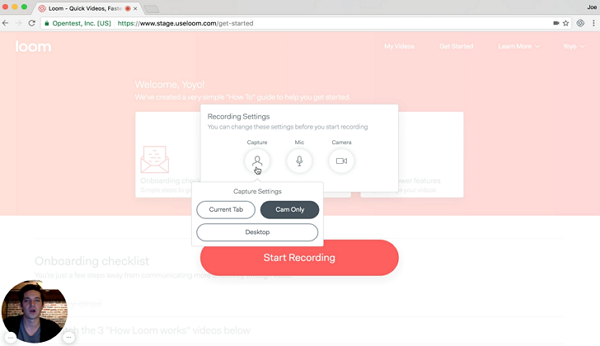 TinyTake
This program is characterized by its practical handling when recording the screen and taking image captures on the computer. Also, you can share the video and add comments while recording. It is an excellent option if you want to record tutorials or demonstration guides, since it supports up to 2 hours of video.
TinyTake is designed to take multiple screenshots or long videos. Similarly, once the video has been recorded, you can instantly share it with other people. If you want to download this program for Windows, you must click on thislink. Now, if you have a Mac computer, this islink you should use.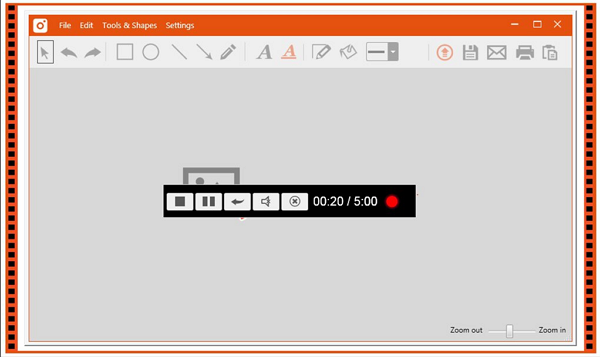 Action!
If you are a fan of video games and want to do a live broadcast, a good option to record the screen of your game is Action! It is one of the great favorites because it is designed to capture the execution of games and has direct broadcast on streaming platforms such as YouTube, Twitch, and others.
It is a free program and the screen recording has no time limit. It also allows you to record in HD and choose between capturing a specific side of the screen or the whole of it. Action! It is only available for Windows 7, 8, 8.1 and 10 Systems. If you want to download it, click on thislink.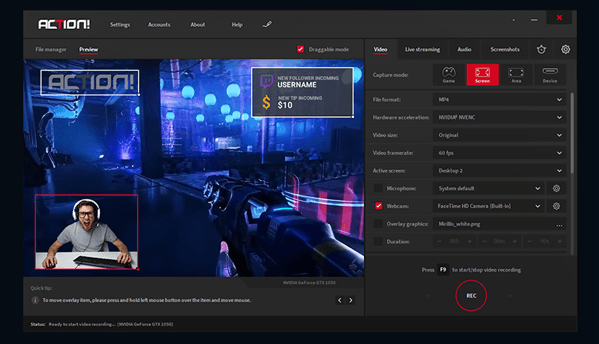 Apowersoft
You will have two options available with this screen recorder for computers: you can download it on your PC or record your computer screen from its web portal. For this you will have to install a "Download Executor", in order to start the partial or complete recording of the screen.
One of its benefits is that the videos will be recorded and saved in MP4 format, which will allow it to be played in most programs on the computer. It also has a built-in converter, therefore, you can transform the video format from MP4 to WMV, FLV, AVI and other formats, without losing its quality. To access their website you must click thislink.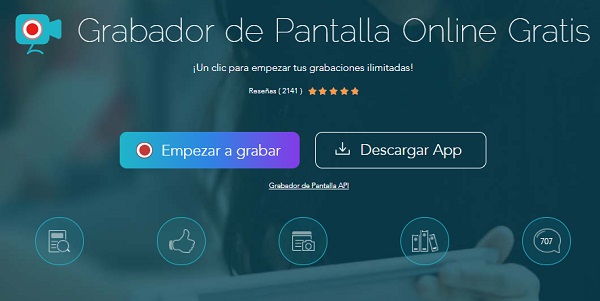 As you can see, you have several simple programs to record your computer screen regardless of the Operating System you have, be it Windows, Linux or Mac. Remember to try several options before choosing the one that best suits your projects.