Tutorials
How to open a PSD file without Adobe Photoshop?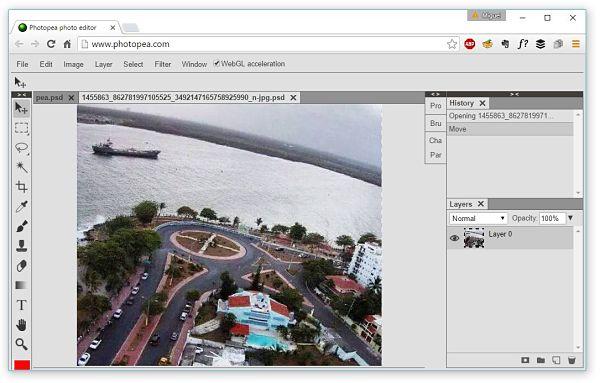 The PSD file (Photoshop Document acronym) is a native format very popular and renowned Adobe Photoshop. We usually save our images in JPEG, BMP, PNG, etc. formats for everyday tasks. But a PSD file stores a lot of additional information about images, such as layers, masks, color profiles, transparency, text, etc.
Since these files have been created to be opened and edited with Photoshop, but not all of us are willing to pay the high cost of this professional image editing suite – especially when it comes to opening and editing a few files – a Next we will list several tools with which you can open PSD files without Photoshop and completely free.
Opening PSD files without Photoshop
GIMP
GIMP is an acronym for GNU Image Manipulation Program, a free program for a large number of image editing tasks, including photo retouching, image composition and creation, etc. GIMP has long been said to be the closest thing you can get to Photoshop as a free program, in terms of its powerful features. Although you can use it as a simple editing program, it has a wide collection of features for experts, such as photo retouching tools, an online batch processor, a mass-production image renderer, image format conversion, and more.
Another feature of GIM is that its functionalities can be expanded with the addition of plugins and extensions. But GIMP can open PSD files natively, without the need to install any additional plugins or elements.
Paint.NET
Paint.NET is a free photo and image editor for Windows. Although it is quite easy to use, it has enough functions to perform all the tasks that a person might need from a program of its nature. It includes support for multiple layers, unlimited step undo, a good number of special effects, etc.
By default, Paint.NET does not support PSD files. In order to open these types of files, you will have to download and install a plugin from the program's site. Even so, it must be taken into account that not all the functions that can be included in the PSD file can be handled by this plugin, since there are many. The author of the plugin has only implemented the features that have their equivalent in Paint.NET, or those that are useful to convert the image to the formats supported in it.
In order to open a PSD, it is first necessary to download Paint.NET, and then download the PSD plugin. Unzip the plugin file and copy Photoshop.dll to the FileTypes folder in the Paint.NET installation directory. Make sure you are not running the program when installing the plugin. From that moment you will be able to open PSD files.
PSD Viewer
PSD Viewer is a free and simple tool that will allow you to open PSD, AI and EPS files, with the added ability of file type conversion. You can change the size of a file and save it in formats such as JPG, PNG, BMP, GIF or TIFF. It has several pan, rotate, and zoom options to view a file. PSD support looks pretty good and can display multi-layer files, although you can't see an individual layer.
PNG PSD Viewer
Download PNG PSD Viewer
PNG PSD Viewer is a very similar tool to PSD Viewer, but it is designed to open both PNG and PSD files, with the ability to save them as a JPG file. It is more focused on displaying multiple files in the form of a slide show. You can choose from 10 transition effects and set the preferred duration for each slide, including zoom and rotation buttons. Its ability to display PSD files seems to be very good.
XnView
In addition to being an excellent image viewer, with support for over 400 file formats, XnView's ability to view PSD files is why we put it on this list. This tool can not only load and view these files, it can also divide the PSD file into layers, allowing you to view and save them individually. It also allows you to save images as PSD files, a plus if you require this function.
XnView includes a respectable number of options, as do other high-quality image viewers or editors. It covers good editing and retouching functions, filters and effects, screen capture and batch operations.
PhotoFiltre
PhotoFiltre is a good image creator and editor with which the average user can do almost anything they need. The program has various retouching functions and various standard and artistic filters. You also have the option of employing plugins in addition to an image browser.
PhotoFiltre can open PSD files by default, though probably in flat image form as it doesn't keep many of the extras included in a PSD.
IrfanView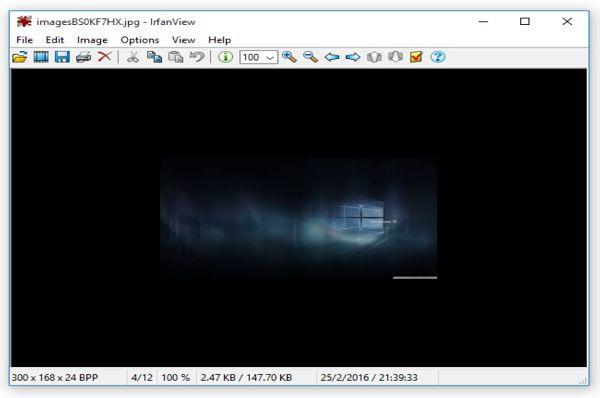 IrfanView is a free, fast and compact image viewer and converter for Windows. By default it supports a large number of image formats, but you can also download plugin packages to add support for a wide variety of additional formats and other multimedia functions. In addition, it includes options for playing slide shows, for batch conversion of images, basic editing functions.
As for what concerns us in this post, IrfanView includes support for Adobe Photoshop filters. If you just want to view a PSD file, then IrfanView may be your option. It is small, lightweight, and works on various operating systems.
Open PSD files online
Another good option to open a PSD file is without installing any third-party program, but using a service to view it and even edit it online. In this case, you only need your browser and Internet connection.
For this case I have chosen Photopea, a service with which you can open and edit image files. This includes images in PSD and WEBP format.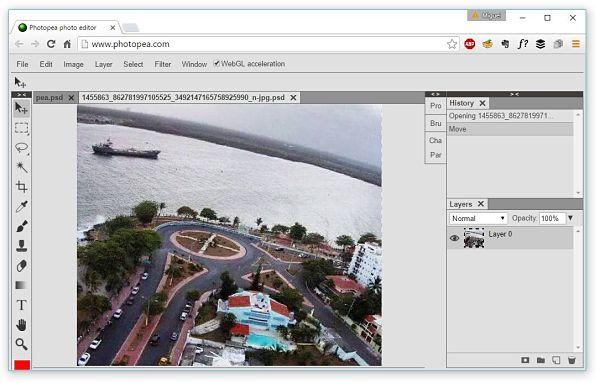 You just have to go to the Photopea site, click on the File menu and then on the Open option to upload your file. Alternatively you can drag your PSD file and drop it onto the editor panel.