Tutorials
How To Make Disinfecting Wipes With Wet Wipes – Quick And Easy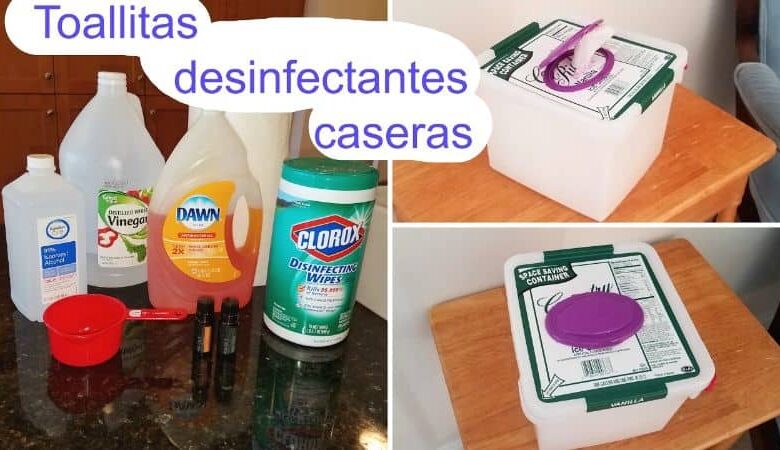 The situation we are experiencing at the moment has families around the world quite concerned. The advance of the coronavirus has created a whole social, economic, political and of course health chaos that has turned entire countries upside down. That is why many ask questions about coronavirus disease on a daily basis .
It is important that while the quarantine is in effect and there is a risk of contagion, you take all the necessary precautions to prevent the coronavirus from affecting you. One of the most effective ways to avoid contagion is the use of disinfectant wipes so that you can clean surfaces.
However, you may be wondering how you can turn your normal wipes into disinfectant wipes with materials that you have on hand at home. And we show you the 5 best applications to take care of the health of your heart .
In this article we will show you a very simple method for you to make these disinfectant wipes quickly yourself. Just follow the steps that we are going to show you in this guide and you will be able to make the wipes at home and very quickly.
How to make disinfectant wipes?
Making these towels is quite simple, you will only need a small list of materials that many have in their homes. The  materials are as follows:
Ethyl alcohol over 60 degrees
Baby lotion
Thick paper towels for kitchen
Plastic bag that can be sealed
Container with lid
Measuring cup (or conventional)
The procedure to make these disinfectant wipes is quite simple, if you have all the materials at hand, you just have to follow these small steps that we will give you below.
Step 1
The first thing you should do is fill the capped container with ethyl alcohol and then pour it into the sealed bag.
Step 2
Now you must fill the container with the baby lotion, it is important to clarify that the amount of lotion is the same that you used of alcohol, you must pour it into the bag and close it.
Step 3
It is time to mix the ingredients that you have poured into the sealed bag. You must beat it until you get a mixture that is as homogeneous as possible.
Step 4
Now, the mixture of alcohol and lotion that you whipped in the bag you must pour it into the container with a lid and place the wipes inside it and cover this container.
Step 5
It is time to shake the container so that the towels inside can absorb the mixture well. All that remains is to let them rest for 30 minutes and voila, you will already have homemade disinfectant wipes.
Why is it important to have disinfectant wipes?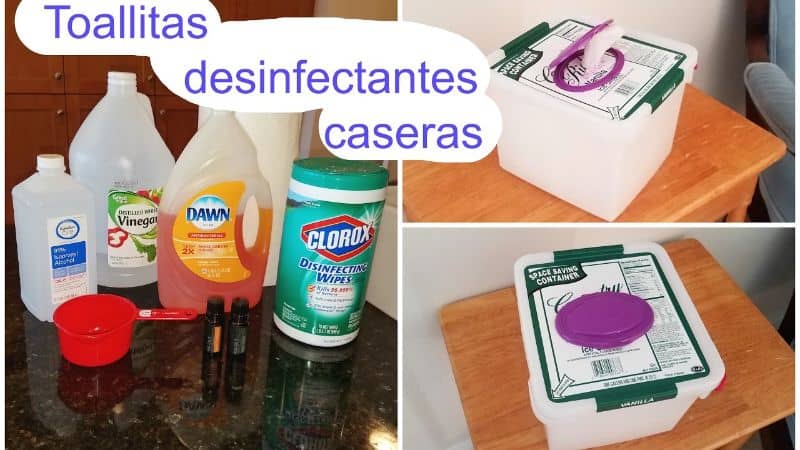 According to the researchers' studies on COVID-19, it is transmitted through direct contact, also through small respiratory particles of people who are infected with this disease and that can emit them when coughing and sneezing. You can even get it by touching a surface that has been contaminated by this virus.
Staying protected against this disease is extremely necessary, that is why it is so important that you maintain good personal hygiene, that you always keep your home clean, that you wash your hands constantly, that you be very careful when handling and preparing food.
It is for this reason that having disinfectant wipes will be very useful, that way you can reduce the risk of contagion. However, having these disinfectant wipes on hand is not the only action you should take.
Remember also to keep the recommended distance, that the cleaning and disinfection of your home and yourself is regular and also remember that you must keep clean the surfaces that you touch most frequently such as door handles, light switches, your electronic devices , etc.
Although it is true that many people use bleach wipes, this is not highly recommended. It is true that chlorine eliminates this virus and that it is very useful for disinfecting surfaces and objects.
Although it is a good helper to disinfect, it is not at all recommended for use on the skin, and specifically on the hands, since dermatologists do not consider this form of disinfection, since this can cause a severe dermatitis or allergy. .