Tutorials
How to create a PayPal account without a credit card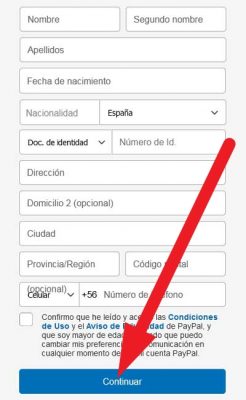 PayPal is one of the most popular and widely used platforms for mobilizing money in electronic commerce. This is due to its security, guarantees and speed to carry out transactions. In this sense, if you want to have your own account to buy online, receive money or any other reason, then surely you wonder how you can create an account without a credit card.
The answer to this is very simple, and it is that you can create a PayPal account without having a credit card. However, at some point the platform will ask to verify your identity and, for this, you will have to enter a credit card to link it to your account. However, you can create your account and carry out operations with PayPal balance without any problem just by having an account and without using any account or bank card.
Create a PayPal account without a credit card
The process of creating a PayPal account is as simple as registering on other websites. However, it is necessary to enter all your information very carefully and make sure that all the data provided is real, since when the platform wants to verify your identity, this information will be the one they use as a support point. Considering this, the steps to follow are the following :
From the web browser of your choice, access the official PayPal registration page using the following link: https://www.paypal.com/ve/webapps/mpp/account-selection.
While there, you will have to choose between a Personal or Business account. In your case, choose Personal Account.

Once this is done, you will have to answer some simple questions regarding your tastes and interests. Press Follow.
Next, you must enter the information of your new user and click Next.

Next you will fill out a new form with information regarding your nationality, address and telephone number. Remember to supply real information.

Check the Confirm terms and policies options and click Continue.
When you do this, it will be time to Enter your credit card. Instead, skip this step, go to your email inbox and click on the PayPal verification link.
Once this is done, you will be able to access your new PayPal account without having to use a credit card to start using the platform.
Withdraw PayPal money without a credit card
Once the above process is done, you will have your PayPal account operative to make payments and receive money. In this sense, the money you receive will be considered as PayPal Balance. This means that you can only use this balance to make new payments and purchases through platforms that accept PayPal as a payment method.
However, depending on your country, you also have the possibility of withdrawing the money from your PayPal account, either in cash or by transferring it to your bank account. For this, it is mandatory to have a credit card linked to your PayPal account. For this reason, if you do not link your bank details to your PayPal account, you will not be able to recharge your PayPal balance or withdraw your PayPal balance from your bank.
As you have seen throughout this post, creating a PayPal account without a credit card is very simple. It is important to note that, if you exceed certain limits of money amounts, PayPal will ask you to verify the account and may ask you to enter a credit card. Taking care of this detail, you can use your PayPal account without an associated bank account without any problem.