Tutorials
How to cancel your Amazon Prime subscription and unsubscribe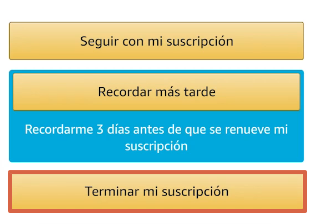 To cancel the subscription in Amazon Prime accounts with two simple methods: from your web platform or your mobile application. It is a process with which you will not have problems, but you will need to have your computer or telephone, email, password and Internet access at hand. If your free trial period is about to expire, then you must follow this procedure so that Amazon does not charge your credit card.
In view of this, in this article you will see how to unsubscribe from Amazon Prime both from your computer and from the app available for Android and iOS devices. This platform has several advantages and disadvantages. If you do not want Amazon to deduct the monthly fee from your card or you do not feel satisfied with the service, you will find the steps you must take to cancel the subscription in the following sections.
Steps to follow
To unsubscribe from Amazon Prime, you can choose whether to carry out the process from your computer or with the app for Smartphones. The procedure is similar in both, but varies a bit according to the interface.
From the web
Canceling the Amazon Prime subscription from the computer is one of the most frequent options among users. If you want to carry out the process using this method, you just have to follow these steps:
Enter Amazon Prime through thislink.
Hover your mouse cursor over " Accounts and Lists." Press " Identify yourself ". You must log in with your email and password.
Place the cursor on " Account and Lists " again to choose " Account ".
Select " Amazon Prime."
Swipe and go to the left side of the screen to find " Manage Membership ". Click on " End your trial and your benefits."
Press " Cancel ".
Press " End my subscription ".
To confirm and finish the process, press " Cancel membership ".
With these simple steps you will have successfully unsubscribed from Amazon Prime.
From the app
If you have downloaded the application on your phone Android oriOS to make purchases more comfortably, then you have another more immediate option to unsubscribe. If you want to cancel your Amazon Prime subscription from the app, follow these steps:
Open the " Amazon shopping " app .
Log in.
Tap the three horizontal lines located in the upper left corner of the screen.
Press " My Account ".
Click on " Amazon Prime Membership ".
Choose " Manage Membership."
Select " Membership."
Press " End membership and benefits."
Press " Cancel ".
Choose " End my subscription."
To finish, press " Finish now ".
Activate a reminder before renewing
To activate a reminder before the end of the free trial period or before renewing the monthly fee, just follow the same steps to cancel the subscription. That is, you must run the following path: "Amazon Prime> Sign in> Account and Lists> Account> Amazon Prime> Manage Membership> Remember me before renewing".
With this option, you will receive a reminder from Amazon Prime 3 days before your renewal date, that is, days before your free trial period ends and the platform deducts your monthly fee from the payment method you have entered. This way you will be aware that you must cancel the subscription as soon as possible, in case you are only taking advantage of the free days.
How to request a refund
If you have not used any of the benefits of Amazon Prime and your monthly subscription fee has been deducted, you can request a refund. To do this, you just have to contact Amazon preferably through their online chat (press thislink to enter). You explain your case and the agents will indicate the steps you must take.
In the same way, you also have this link to which you will enter directly to your Amazon Prime account to begin the cancellation process, if you require it. Once the company evaluates the situation and considers that you are eligible to request a refund, it will be processed within 3 to 5 business days.
As you have seen, canceling the Amazon Prime subscription and unsubscribing is not a complicated process. The platform will offer you different options to avoid cancellation, so you must be careful to press the "Cancel" buttons so that the procedure is official. In any case, once you cancel your membership, you can continue to enjoy the service until the date indicated by Amazon Prime.