Tutorials
How to buy at MercadoLibre: step-by-step guide and recommendations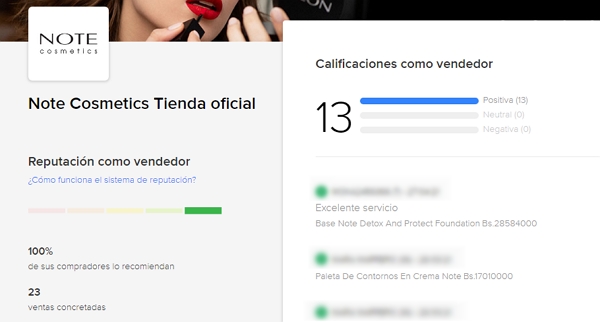 MercadoLibre is one of the most famous platforms for buying and selling new and used items in Latin America. This makes its number of users increase day after day, however, there are many people who still have doubts or do not know how to buy within this website. Well, if this is your case, in the following article you will find a detailed guide that explains each of the steps you must follow to obtain your products.
In addition to this, there are some tips or suggestions that you can take into account when buying at MercadoLibre to avoid disappointments or misunderstandings. In this sense, the first thing to keep in mind is that you need a user profile within the platform that allows you to ask questions and, therefore, purchase the products you want. So below, you will find a comprehensive guide that describes all these important points.
Sign up
Registering in MercadoLibre is the first step to buy products available on the website. This is something very simple to do, since you only need some information, such as: name and surname, email, identity document number and access password. Now, to create your account you will have to go to website and select the country that corresponds to your location.
This will take you to the MercadoLibre home page, where you can create your user profile. To do this, you must click on the " Create your account " button and complete the registration form with the requested information. Once finished, you must verify your identity with a security code sent to the email provided during registration, go to your inbox and take note of the digits to complete the creation of your username.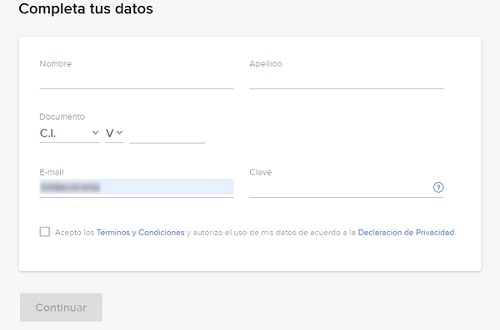 Upon completion, you will see a successful confirmation message on the browser screen. Press " Continue " to go to your new account in MercadoLibre and start buying all the products you want from the online store.
Find the products
MercadoLibre's platform is very modern and intuitive, so finding the products you want is not a complicated task. Since, you have a menu of options, as well as a series of suggestions and even a search engine. The latter is especially useful for searching for specific articles, and you can use it by typing in keywords, such as "girls bike".
If you wish, you can filter the results by model, brand or product conditions. Doing so will show you a list of possible matches along with a short description that includes: price, location, and condition of the item. In this window you can navigate through the different options, by clicking on them, until you find the one that best suits what you are looking for.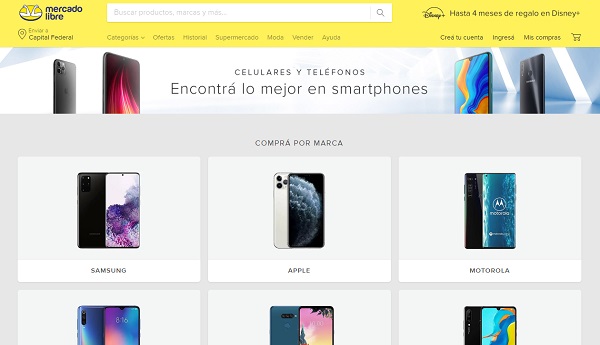 It is worth mentioning that within each publication you can find photographs or videos of the product, as well as some additional specifications. These include: whether it is battery-powered or not, types of tires, model, brand, accessories, etc. In addition to the seller's rating, comments from other users and a question section regarding the article.
The latter will be very useful when buying, as it will allow you to clarify any questions you may have, such as: shipping methods, product warranty, physical store location, etc. To use it you just have to write your comment and press " Ask ", in this way the seller will receive a notification and can respond to your concern.
Select and buy
Once you find what you are looking for and have clarified all your doubts, it will be time to press the "Buy" button. However, there are some criteria that you should consider when doing so, such as the reputation of the seller. For this, in addition to the comments of other users, MercadoLibre offers an indicator that shows how trustworthy the person is.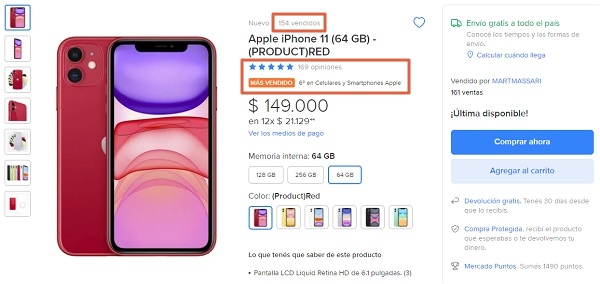 It is distributed by color codes and labels, red being the worst and dark green the best. Although there are also "titles" within MercadoLibre that will help you determine whether or not you can trust the seller. To get a clearer idea of this, look at the following list:
MercadoLibre official stores : are those distribution stores that have a commercial establishment and an excellent reputation within the platform. These have an indicator with the text "MercadoLibre official store" to show the user that their purchase is safe. These are mainly focused on recognized brands, such as: Daewoo, HP, Philips, Canon, etc.
MercadoLíder Platinum : it is the highest category as a seller. This is shown in dark green, accompanied by a badge with a verification symbol that demonstrates the excellent reputation of the seller. Which is based on: delivery time, responsibility, attention, product quality, etc.
MercadoLíder Gold : includes sellers with a very good reputation, it is also shown in dark green, accompanied by a title or logo that distinguishes them from others on the list.
MercadoLíder : they are sellers who have a good amount of completed sales and have positive recommendations from their customers. Its indicator is dark green, accompanied by a title indicating its rank in the category list.
Nothing : Sellers who do not own any MercadoLibre title or insignia do not necessarily indicate that they cannot be trusted. In this case, you should look at the color of the reputation meter, taking as a reference dark green as excellent.
Now, the fact that it is in yellow or red does not mean that it is bad either, as it can be synonymous with the fact that it has not yet reached the number of sales established to reach the maximum level. Faced with this question, you can use the comments of the buyers or click on the button " See more information about this seller."
By doing so, you will be taken to a section where you can see the different ratings it has received from its buyers, from the most recent to the oldest. In addition, you will have access to a list that includes data such as: sales made, what percentage of people recommend it, how many years it has been on the site, among others.
Choose the payment method
Once you have made sure that the person from whom you will buy the product has a good reputation, you must select the payment method. For this you have several alternatives at the time of making your purchase:
Mercado Pago : this is probably the safest alternative of all. Well, it prevents personal data from being shared, such as bank accounts, by allowing MercadoLibre to receive the payment and, once the receipt of the product is confirmed, release the money to the seller. However, it is temporarily suspended in some countries, so you will need to make sure it applies in your region before you can use it.
Go to the store and cancel with a debit or credit card : after Mercado Pago, this is the safest alternative. If the seller has a physical store or stores nationwide, you can go to any of them and make your MercadoLibre purchase using your debit or credit card at points of sale.
Agree with the seller : this is an option offered by the platform so that you can make a direct deal with the seller and establish what the means of payment will be. These include: check, bank transfer, deposit, cash, etc. Now, to use any of these you must be sure of the reputation, as MercadoLibre is not responsible for the return of the money. Since, by agreeing with the seller, the purchase is out of the reach of the platform.
Choose the shipping method
The next step in the purchase process after establishing the means of payment, will be to select the method of shipping the product. This is something that may vary depending on each seller, and you can see it in the right side panel, next to the images of the item or in the description of the item. In some cases, you must comply with what is established by the person who sells, but there are exceptions in which you can decide between:
Mercado Envíos: is an alternative that MercadoLibre offers to its sellers to streamline the product delivery process and make it more secure. However, in order for it to be available, he or she must register with Mercado Envíos. Therefore, not all users have this option.
Free Shipping: This option generally applies to expensive or delicate products. However, if your seller offers it, you can receive the item without shipping costs at your home address or at the address you indicate at the time of making the purchase. Similarly, in some countries, you have the option " calculate when it arrives " or " pick it up at the seller's address."
In the first case, you can indicate the address where you will receive the product and thus obtain an estimated time of arrival. For its part, the other option allows you to withdraw personally and thus avoid the transfer of the merchandise to prevent damage.
Agree with the seller: just like the payment, the delivery of the product can also be agreed with the seller. Whether you decide to withdraw it personally, use a courier or a delivery company of your choice, this is something that you can establish with this option.
Receive the product and rate
Once you receive the product and verify that it works without problems, you must go to MercadoLibre and rate the purchase. Well, as is evident in this text, the purchase or sale rating is an important factor in the reputation of this platform. To do this, you will have to enter your account and click on the option " My purchases ", there you must click on the title of the item you purchased.
Then, press the button " Rate " or "Rate seller", depending on how it appears. If this option is not shown, click on the nut icon and click on the mentioned button. In the next window, write a short description about your shopping experience and assign a rating between 1 and 5 stars, the latter being "Excellent".
When finished, if you have already been rated by the seller, you will see an option to read the rating they gave you. Otherwise, you can write to the person to recommend you to other sellers on the platform, in this way you will gain a reputation in MercadoLibre.
In addition to this, you will also have a "Help with your purchases" section by Mercado Libre itself. In which you will solve doubts such as: payments with QR codes, receive and return products, solve problems with purchases, benefit of free shipping, among many more frequent doubts. To access it, use the followinglink.
Tips when buying
Although at this point you should have a fairly good idea of ​​how to buy in MercadoLibre, below, you will find some tips that may be useful when doing so:
Ask all the necessary questions: do not limit yourself to the description of the product, ask all the questions you need to the seller. This will avoid inconveniences or misunderstandings that can cause negative ratings.
Use secure payment methods: if you have options like Mercado Pago in your country, ask the seller if they agree and use this alternative to pay. In the same way, if you can go to a store or physical commercial establishment, do not hesitate to do so, so you can ensure the quality of the product.
Check the seller's reputation: If you have questions about the seller, look at the comments or ratings of other buyers. Do not trust those users who do not have enough sales made or lack recommendations, always look at the reputation meter.
Share your experience: whether your purchase is successful or not, let the MercadoLibre community know about your experience with the seller. In this way you contribute to the reputation and warn others about what may happen.
Choose a reliable shipping method: When it comes to delicate, expensive or fragile products, choosing a reliable shipping method is the best alternative. If you have "Mercado Envíos", ask the seller for this alternative or a parcel agency that you have used before.
After having read this guide on how to buy at MercadoLibre, you will be able to make your purchases successfully, quickly and easily. Remember to take into account the aforementioned tips and get the most out of this online platform.