Tutorials
Edit audio online: the best free web tools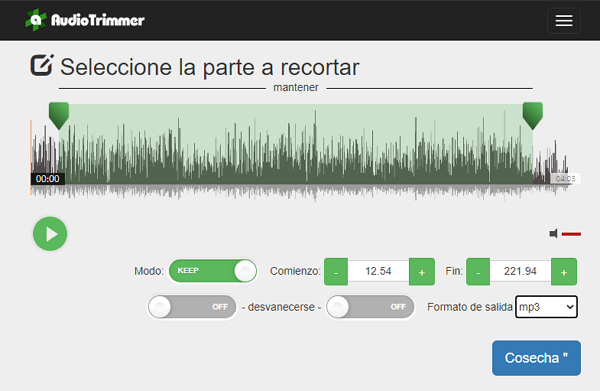 If you want to edit an audio online, you have several completely free tools that have several basic and advanced options, which will facilitate the editing process on any audio file regardless of its source format. This is a viable and available option in case you do not want to install any program on your computer and you require more practicality and immediacy.
In view of this, this article will detail the best tools to edit an audio online. One of the pages will be explained step by step and the functions, advantages and disadvantages of the other options will be described. In this way, you will have a wide catalog of programs to use and among which, you can make evaluations and comparisons so that you can choose the one that best suits what you are looking for.
Hya-Wave
It is a simple tool that provides the ability to cut, copy, paste, mix, select and delete parts of the same audio. In turn, it also allows recordings from the page by activating the microphone and granting permission to record. Similarly, in its old version, you can include more than 10 effects to a part of the audio or to all of it. If you want to use Hya-Wave to edit an audio on the Internet, take a look at the steps you will see below:
Enter Hya-Wave through this link.
Select the audio from your computer and drag it onto the page. Release it when you see the file say " Move."
Wait for the audio to load. When finished, if you want to cut it, you just have to place the cursor exactly where you want to cut and then right click to press " Split element at cursor ".
To move the audio, press either end. Now, right click again to delete the part you cut. Press " Delete item ". Perform this action as many times as you need.
Next, if you want that part cut over some minute of the song, move the element and place it above the audio.
To alter the volume and bass, go to " Volume " and " Pan."
To save the audio, press the " Export " button located in the upper right corner. The audio will automatically be downloaded in WAV format.
Audio Joiner
Audio Joiner is a page to cut and join songs in a very practical way. It is very easy to use, because to cut the audios you only have to reduce the corners of the songs and once they are ready, you only have to press the "Join" button. You can add, edit and mix more than 5 audios at the same time, which makes it easy to create several mixes or potpourri.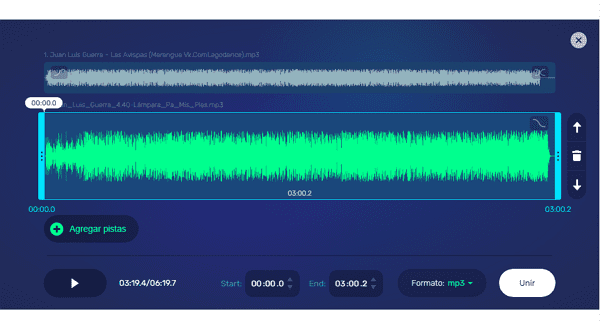 Another advantage of Audio Joiner is that you can export the audio in MOP3, M4A, WAV and FLAC formats. It also has tools to determine the exact second where you want the song to start or end. When you press the "Join" button, the audio will automatically download to your computer. If you want to edit an audio with this tool, press the followinglink.
Bear Audio Tool
This page has an old but simple interface and easy to use for those who are beginners in the subject of editing. It has several basic options, although it also has advanced effects such as overlay, fade, mute, among others. When you want to save the audio, press the "Save" option and choose if you want it to be downloaded in MP3, WAV, M4R format (for iPhone).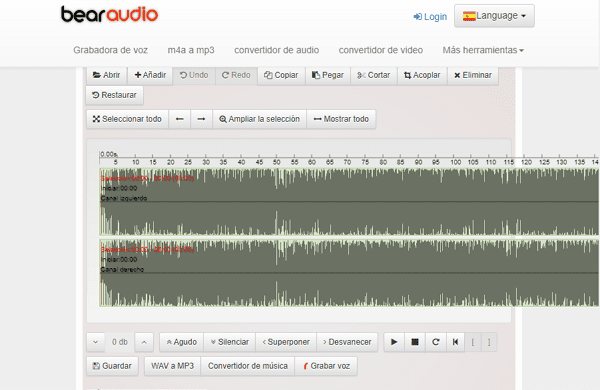 Another fact to highlight is that Bear Audio Tool has a WAV to MP3 converter, therefore, if you want to make a conversion before editing the file, you can do it from the same page. Without the need to download any program or register, you will edit the audio of your choice quickly and easily. You just have to drag the audio onto the page and start the editing process. If you want to use Bear Audio Tool to edit an audio, go to thislink.
Sodaphonic
It is a page that has several options to edit the audio you want. With Sodaphonic you will be able to carry out the basic actions such as cut, paste, delete and you will also be able to execute a little more complex actions such as the application of silences, attenuations, fades, among others. If you want to make a quick recording, this tool has aextension for Google Chrome.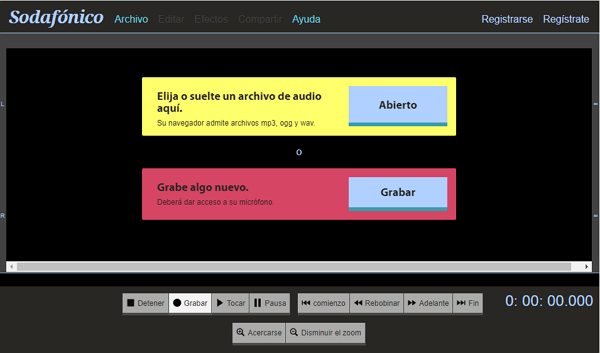 On the other hand, another advantage to highlight is that you have the options of creating an account or using the program without registration. When saving the audio, you just have to press " File " and choose the " Save " option . You will have to enter a name, choose the audio format, the quality and the folder where you want to save it. To edit a Sodaphonic audio, enter thislink.
TwistedWave Online
To edit an audio with TwistedWave you must first register on their web portal. In this way, all the work you do within the page will be stored within your account, regardless of whether you have not previously saved them. It has a free service in which you can only edit 5-minute files, while in its paid version you can increase this limit.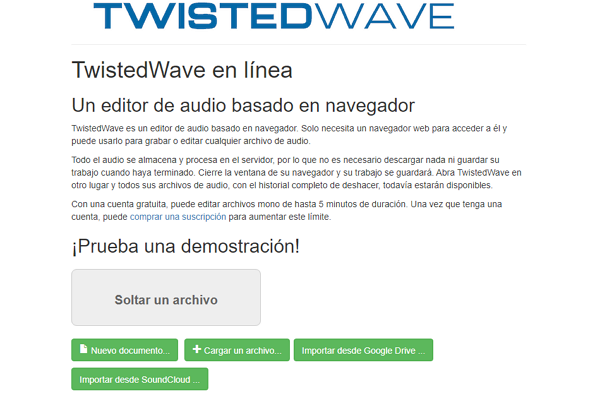 Additionally, TwistedWave has an application for iOS devices where its tools are more extensive. Once you have your edited audio, you can share it directly to an iPhone, to your email or to any of the social networks you use. If you want to work with TwistedWave to edit an audio, go to thislink.
Audio Trimmer
Audio Trimmer is nothing more than a program with which you can trim your audio and add detailed special effects such as "fade". You will have the possibility of using it both on your computer and from any Smartphone or Tablet, since its use is simple and easy. At the time of exporting the audio, it only has MP3 and M4A formats.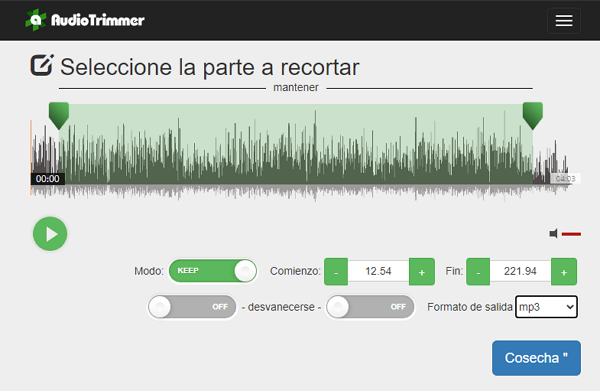 Like Audio Joiner, this page has a tool to identify the exact second in which you want to cut the song, either at the beginning or at the end. Once the audio is ready, press " Harvest " to bring up a page with your edited audio and the " Download " button. To edit and trim an audio with Audio Timmer, enter its web portal through thislink.
As you can see, you have more than 6 online tools with which you can edit an audio quickly, conveniently and easily. If you want to do a simple job or you are starting to get to know the world of publishing, all these tools will allow you to fulfill your objective and start with the basics so that you can gain experience and enter much more complex processes.