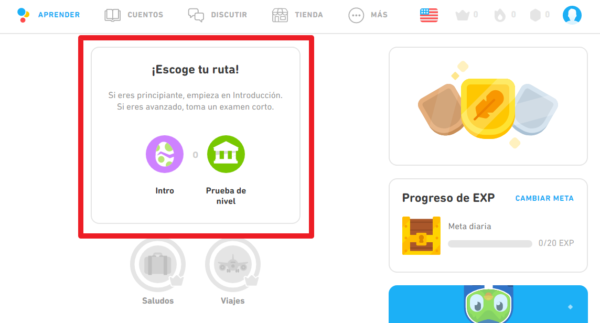 Duolingo is an application aimed at learning different languages ​​through courses provided through its own platform. Dolingo, launched in 2011, is responsible for providing the ease of teaching for free through devices with iOS, Android and Windows Phone.
The Duolingo developer company is one of the most popular because it stimulates the self-taught learning model , one of the most used by those who want to learn languages, which is an extra stimulus compared to other learning modalities.
The Duolingo platform is known for providing personalized, dynamic teaching that keeps students motivated , which in effect makes them notice rapid improvement in their learning, which is why Duolingo is the preferred language learning system among the community. of bilinguals .
Characteristics
Duolingo is a platform that was created to teach languages, however it has several interesting features that are shown below:
The Duolingo platform

offers 100 courses in 28 different languages

for users.

A 34-hour Duolingo course is

equivalent to a semester of language classes

.

The Duolingo learning system maintains the minimum number of

55 levels per language

.

It does not adjust to schedules,

the user is the one who organizes when and where to learn

.

In order to save progress on Duolingo,

you must register an account on the platform

.
How does it work
Duolingo is a platform that works as a learning tool for those who are interested in learning one or more languages , it can be accessed through Android, iOS and Windows Phone devices. However, it is also accessible through the Chrome browser by clicking on this direct link toDuolingo.com
How to take advantage of Duolingo
To take full advantage of the Duolingo learning system, the first thing to take into account is that this platform cannot provide learning with immediate results , for this reason the use of the following points should be prioritized:
If you are starting a course to learn a language, using Duolingo as a booster can improve and speed up your results.

If you have learned a language in the past but have forgotten it out of practice,

Duolingo can help jog your memory

.

Duolingo can be used as

a complementary tool

to review university classes or a private or face-to-face course.

Since Duolingo is available for different devices, it

is recommended to use all of them, especially the PC

.

Learning through Duolingo goes hand in hand with perseverance and self-discipline, so it

is recommended

that

you spend a minimum of 30 minutes of practice a day.
Learn to keep a rhythm

, for this, Duolingo allows you to advance by sections: "basic 1" basic 2 "" phrases "etc.

Using the practice mode "against the clock"

this option is important to think fast

and is extremely beneficial for learning languages.

Avoid skipping the written lessons

, as the idea is to make the most of the platform.

Duolingo has

forums where you can participate

with people who are also looking to learn languages.

Practice activating the microphone and speaking through it

, to mimic intonation for excellent pronunciation
Duolingo account
To learn languages ​​on Duolingo and make use of the classes or courses on this platform, it is necessary to register an account, the following explains step by step how to create it:
Create Duolingo account
The first step that must be taken to create an account on Duolingo is to access the official website of

Duolingo.com

.

After accessing the page, you must press the green "

Start " button.
Now choose which language you want to learn through Duolingo in your first course.

Choose an option in

Why are you learning a language?

and then click "

Continue ".

In the next step you will be able to choose other learning parameters. However, from this moment the option to create an account will be enabled, so we choose to click on "

Create account ", leaving the rest of the learning options for later.

Next, a form will appear in which the data corresponding to age, name, email and password must be filled in. Finally we click on "

create account ". It should be remembered that it is possible to use a Facebook or Google account to speed up the process.
Once this is done, you will have a Duolingo account, so you can continue the process of selecting the learning parameters now or when you want to access the platform.
How to use Duolingo
To start using Duolingo to receive classes and courses, it is necessary to have an account on the platform.

Once the account is created, you must log in through this link the platform of

Duolingo.com

and click on "

I already have an account ."

Now we enter the data corresponding to "name" "password" and proceed to click on the "

enter " button.
So once inside the platform you can choose between the two options of "choose your route" and "level test" and learning begins.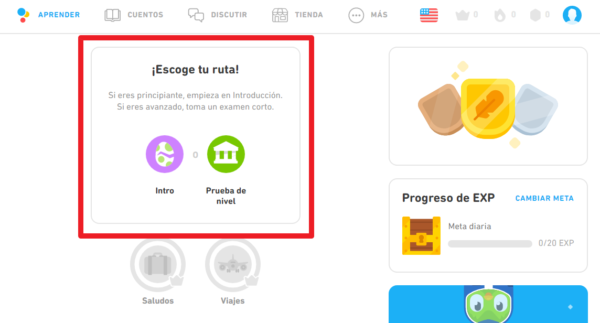 How to download Duolingo

Downloading Duolingo requires Android, Windows Phone or iOS devices.

Duolingo can be downloaded for Android OS through this direct link to the

Play Store

, you must click on "

install

" and that's it.

For Windows Phone devices, Duolingo is available at this direct link to the

Microsoft Store

here you must click on "

get

"

The Duolingo application can be downloaded for IOS from this direct link to the

App Store

and click "

download

".
Advantages and disadvantages
Duolingo is considered an excellent platform for learning languages. However, despite its positive points, it also has some disadvantages that are explained below:
Advantage
Duolingo provides the user with the facility to

study from anywhere at any time

.

The platform is made for those who are better at self-taught learning,

everyone learns at their own pace and without pressure

.

Duolingo users find

learning fun and dynamic

.

The Duolingo learning system provides

more than 100 courses in 56 different languages

.

The use of the platform through its different devices or browser

is free

.
Disadvantages
The teaching provided by the platform

does not focus on grammar, phonetics, or text comprehension

.

Some Duolingo users find that

the exercises are often repetitive and stiff

without adapting to the different needs of each user.

The Duolingo platform

does not have a teacher

who answers doubts or questions online.

The Duolingo teaching system

does not work for students who do not understand self-discipline

.

You need a smart device or PC to access your platform.

Users with no prior technology experience will likely have a difficult time adjusting to the Duolingo learning model.
Alternatives to Duolingo
For Duolingo users looking for alternatives on other platforms, some of the most popular are briefly reviewed below:
Memrise
Memrise is a dynamic tool created in 2010 with the intention of allowing its users to learn more than 5 languages. This platform is available for devices with IOS and Android OS, in order to register it is only necessary to click on the following link to the official website ofMemrise.com
Mondly
Mondly is a language learning platform developer company launched in 2014. It teaches 33 languages ​​and is available for iOS devices and Android OS. To download or start using this application, it is only necessary to access this link to the official page ofMondly.com.
Busuu
Busuu is an application dedicated to teaching languages ​​within a community, this app was created in 2007. Busuu includes 14 languages ​​and is available for devices with Android OS or devices with iOS, to register, access or download the application, simply access this link to the official page of Busuu.com.
Elsa speak
Elsa Speak is a platform dedicated to those who wish to learn one or more languages, although it is only available for 3 languages ​​(Chinese, English and Japanese). This application was launched in 2017 and can be used through devices with iOS or Android OS, to download it you only need to access this link to the official website ofElsaspeak.com
Babbel
Babbel is an online learning system developed in 2007, currently the platform has 14 languages ​​to learn. Babbel is available for devices with Android and IOS OS, to access it or download the application for the different devices it is only necessary to access this link to the official page ofBabbel.com.