Tutorials
Christmas thoughts and reflections to share with your loved ones this holiday season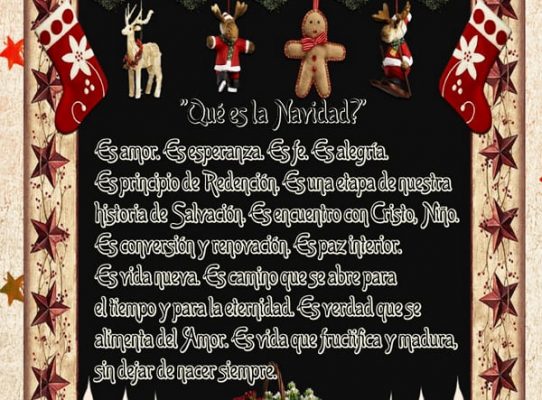 The holidays of December are the times when you share the most with family and close friends. The spirit of Christmas, the exchange of gifts, Christmas Eve and the New Year are some of the celebrations with which meetings and meetings are usually held. For this reason, many times, between the sharing and the celebration, reflections and thoughts arise that they want to expose to the loved ones who are present.
In view of this, this article will write some Christmas thoughts that you can share with the people you love. You can take advantage of Christmas dinners and meetings to make the meeting more enjoyable. Also, you can use these phrases to send them as a postcard or by text message to those friends or relatives who are in other cities or countries.
Reflections to share with the family
Christmas is usually one of the times when more thoughts and reflections arise regarding the family bond. Many people appreciate family unity despite difficulties, and wish for prosperity for years to come. Therefore, here are some reflections that you can choose to say some words during a toast or a family gathering:
May Christmas be the perfect excuse to be grateful for all the good things that have happened during the year. For the pleasant experiences and opportunities.
The holidays that await us will unite us if our hearts are open and receptive.
Christmas is a good reason to revive the bonds and connections with those around us in this world.
All memories are like candles: they keep their shine and are enhanced during Christmas.
How beautiful it is to observe that, when we are at Christmas, all roads lead home.
I still don't have an answer to define what Christmas is. It reminds me of the warmth of home, the tenderness of memories, the value of the present and the yearnings for the future.
May we always have the spirit of a child! Observe with innocence and curiosity the things that surround us and that we do not stop being surprised by the small details that life offers.
No sorrow is forever, everything will pass and we will see the sunrise. Although the shadows try to be the protagonists, these dates are small portals to observe and appreciate what has been achieved with so much effort.
It is curious to observe how just by saying "Christmas", hearts are filled with joy. It is beautiful to appreciate the people who are there and who will now accompany us from another place. Between nostalgia and hope, let us forge a path filled with abundance for the years to come.
For the memories, learnings and experiences: Thank you! May Christmas just be a perfect reason to give thanks for the steps that have been taken along the way.
It is time to recognize that one of the most pleasant moments of Christmas is the opportunity it offers us to be able to return to the time when the world entered and fit on the string of a toy.
Thoughts to share with friends
Friends are an important part of celebrating Christmas. The exchange of gifts from a "secret friend" and video calls are some of the most frequent activities during these celebrations. If you want to share some Christmas thoughts, choose some of the phrases that will be written below:
Appreciate the value of your surroundings. Money always runs out before friends. Forget about the price and the haste with which you live day to day. Stop, hug and offer all the love you have.
There are no coincidences, but causalities. Everything has a purpose. Think about the opportunities and possible experiences that you can win. Do not be afraid. I'll be here, friend.
Let us always be essence. Never appearance. There we will see the difference.
Who has a friend, has a treasure. Let's not forget to appreciate those around us and have supported us throughout our growth and discovery. May these celebrations be one more excuse just to value and thank!
Many times, someone comes into our life and we know immediately that they were born to be there. That is why dear friend, I appreciate so much that you are here. Merry Christmas!
Do you know what the true meaning of Christmas is? Keep the peace, practice generosity, and appreciate friendship in industrial quantities. Thanks a lot! I send you a sincere hug this Christmas!
The tears are gone, the words are forgotten, the kisses are erased but the memories that we forged during our friendship will never be forgotten.
May you never lack the hope of knowing that, although the shadows cover your life, tomorrow will be another day and you can try again.
This Christmas I just want to tell you that you will never know what you are worth until you hit certain potholes. Never stop working for your promises and goals. Believe in yourself, forge your dreams, fight for your ideals and do not fear failure. It all depends on how you approach it. It's worth a try!
Let's stop looking for happiness! It is within ourselves. In every dream, goal, idea, hug, failure and success. Look at her! Happiness this Christmas is in your hands and in the hands of those who believe that they will make you happy with a gift wrapped in paper.
Love phrases to share at Christmas
At Christmas, couples also tend to strengthen their bonds and give thanks for all the moments shared during the year. If you want to dedicate a few words of love to express your gratitude, loyalty or simply express some Christmas reflections for your partner, choose some of the phrases from the following list:
Perhaps the best Christmas ornament is your big smile.
What if we change the arrival of dawn? Let it dawn every time we hug! With the arrival of dinner, toys and special beings to our abode.
May you in this new year have a thousand joys to enjoy, a willingness to learn, a hundred reasons to laugh, a dream to live for and no reason to suffer.
May the annoyances turn into smiles at this time, the sadness into hope, and the continual surprises become the new routines. May we never lack kisses, admiration and an "I love you."
"Do you want to know what the Christmas recipe is?" Add in a bowl a splash of tenderness, three cups of illusion, a glass of friendship and a liter of love. Stir it all together and put it in the oven. Wrap it up with laughter, lights, and songs. Finally serve it with joy and goodwill. Merry Christmas!
May the magic of Christmas unite, even more, love in our hearts.
May abundance prosper on our path, success follow us, let us put away fights and we never lack smiles.
I don't want material gifts. Nothing whose price is very high. I will appreciate your time and the genuine actions that come up at different times. That will be my best gift and memory. That will be my best Christmas.
You are the reason why I consider that there is still goodness and sincerity on the planet. I feel special to have you around and you have no idea how much I appreciate your time and patience. Thanks for the good moments! Merry Christmas!
Let us appreciate every second of encouragement. While we breathe, we still have the opportunity to continue and, if I still have you, the road becomes more pleasant and light.
Phrases to express good wishes
Expressing wishes for abundance, prosperity and success is a way to share and strengthen the bonds of friendship between those close to whom you appreciate. During the Christmas holidays, if you want some ideas to express good wishes through your thoughts and reflections, here are some options to choose from:
There is no Christmas without beautiful wishes, nor a New Year without goals to achieve.
Merry Christmas! Let us be portals of illusions towards our childhood and beautiful reflections of the adventures of the grandfather.
Christmas stirs up feelings, emotions, thoughts and reflections. Because of this, the world becomes kinder and more beautiful.
I wish it were possible to enclose the Christmas spirit in 12 vases and open them every month of the year.
Don't worry about the size of your Christmas tree. To a child's eyes, it will be over thirty feet tall.
That one of your primary goals is to be comfortable with your conscience. May your inner child be proud of who you are today. Do not give up! You will see the fruits of your effort one day.

Reflection on the family at Christmas

Christmas reflection

Christmas reflections of Pope Francis

Reflection on Christmas

Christmas thoughts

Thought about what Christmas is
These dates are really special to share with all the people you love. Expressing feelings, reflections or thoughts is a way of appreciating those around you. These phrases can also serve as inspiration to create your own reflections or Christmas thoughts regarding the aspects that you consider important in your life.