Tutorials
Best office applications for Android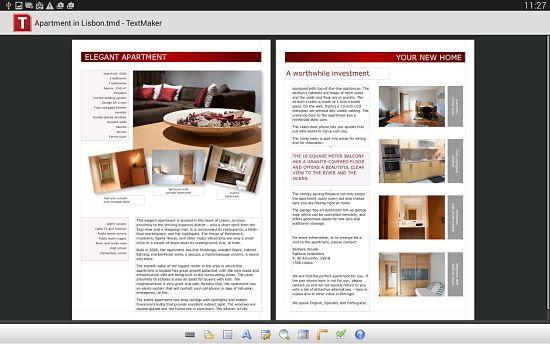 Occasionally we need to edit or modify a document while we are away from work, the office or home. It is about using the Smartphone or mobile device to be able to modify some detail of a document wherever we are. It is at times like these that we would like to have one of the office applications for Android installed on our device.
In this post we will show you some of the best office applications to create, edit or update documents from anywhere with your Android device. Below you will see a small selection of applications to edit documents on your Android mobile phone.
Office applications for Android
Google Docs
Google Docs is an application to edit documents on mobile that keeps getting better over time. With this you will not only be able to edit your documents, but you can also host them and work with them in collaboration directly in the cloud.
With this application you will be able to have access to the updated versions of Google's office applications in the cloud; either for creating and editing text documents, spreadsheets, and slide shows. In this way it will be easier and faster for you to edit your documents and presentations; without the fear of losing your files, as they will be automatically saved in Google Drive.
With Google Docs you can do the following things:
Create new documents or edit any that have been created on the web or on another device.
Share documents and work together with other users on the same file at the same time.
Open, edit and save MS Office documents.
Do your work at any time, even without an internet connection.
Add and reply to comments.
You won't have to worry about losing your work, as everything is automatically saved as you type.
Microsoft Office Mobile
Microsoft Office is, and most likely will continue to be, the office suite that sets the standard for office work. By using this application you will experience the most up-to-date compatibility with the equivalent desktop Office suite. In terms of office automation, Microsoft Office Mobile will increase your productivity by bringing the user experience and features closer to Microsoft Office for PC to your Android Smartphone or tablet.
Main features:
Support for cloud hosting, including OneDrive, Google Drive, Dropbox, Box, and Sharpoint.
Its user interface is similar to the desktop version.
Excellent compatibility and similar presentation with Microsoft Office formats.
Includes templates to streamline the document creation process.
You will also have the latest functions available, such as opening files from the cloud. This way you can work with your files from anywhere you want. It also allows you to synchronize your files with the desktop; so that you can check them on larger screens when you need to, or continue working from where you left off.
WPS Office + PDF
WPS Office is one of the office applications for Android with the highest user rating on Google Play. It allows you to open a wide variety of file types, including DOC, DOCX, TXT, XLS, XLSX, PPT, PPTX, PDF, etc. Includes advanced editing features for modifying text documents, spreadsheets, and presentations; in addition to the function of converting your documents to PDF. It also has support for cloud hosting, such as Google Drive, Dropbox, Box.net, and others.
WPS Office can be used to create simple documents, but it is equipped with advanced options for creating professional documents, such as tables, graphs, images, etc.
Main features:
You can access and edit your files in the cloud (Google Drive, Dropbox, One Drive, etc.).
Excellent compatibility with Word, Excel and Power Point formats.
Compatibility with USB and Bluetooth keyboards.
Support for wireless printing.
Document encryption and auto-saving.
Share files by WiFi, NFC or DNLA.
It is a light and fast app.
Docs To Go – Free Office Suite
Docs To Go will allow you to work on your office documents in all kinds of formats, including Microsoft Office, PDF, and many others. The most recent version has added functions such as the ability to insert graphics, manage footnotes, create tables, write comments, and table of contents configuration. This is another of the office applications for Android that allows the use of cloud hosting, such as Dropbox, Google Drive, One Drive and Box.
Main features:
View, edit, and create Microsoft Office documents.
You can use it to view PDF files.
Save changes directly to the device, memory card, to various cloud services, or to your Windows computer.
Available in multiple languages.
Polaris Office + PDF
Polaris Office + PDF is a simple and straightforward application that has gained a lot of popularity, even coming pre-installed on many Android devices. Like almost all the applications on this list, it supports Microsoft Office formats and includes a built-in PDF viewer. Its main attraction is its friendly, elegant, clean and distraction-free user interface, so you can concentrate on your work. The application supports all types of office document creation and editing; and also project documents, spreadsheets and slideshows to Chromecast. Like others on this list, Polaris also includes support for cloud hosting.
Main features:
It comes with various templates.
Chromecast support.
It has a desktop client.
Microsoft Office compatibility.
You can export to PDF and Memo.
You can scan documents through the camera.
Quickoffice
Quickoffice is another of the office suites that you can use completely for free on your Android terminal. With this you can create and edit text documents, spreadsheets and slide shows. It is fully compatible with the file formats of the main MS Office applications, such as Word, Excel and Power Point; and it also allows you to open PDF files. You can access and share your documents from Google Drive and attach them to emails.
Smart Office 2
Smart Office 2 is another Office-like application that you should try. It comes with all the basic functions that could be found in an application of these; including support for document processing, spreadsheets and presentations. You can also use it to open PDF files, or to convert to PDF; same as some image files.
Quip
Quip. The best thing about this app is that it looks and feels good. Its developers have put their best effort so that you can work your documents on customizable screens. It can work with all kinds of office documents, slides, spreadsheets and works on any kind of Android device. This is an app you can turn to when you need to get things done quickly or do a quick review of your documents.
It is an application designed for teamwork. It has a chat function for collaboration tasks. Teams or groups of people can interact through this app, maximizing efficiency.
OfficeSuite Free
The developers of this app have gone to great lengths to provide the best way to use an office application. Includes support for a wide range of formats and numerous cloud hosting; like One Drive, Google Drive, etc. And it also comes available for 50 languages.
OfficeSuite will allow you to view, edit and create Word, Excel and Power Point documents; convert to PDF, and manage your files. All this with the most feature-rich office solution available for Android.
You will be able to do all kinds of writing and editing that you may need to do on your office documents. This application has had such good references, that it even comes pre-installed on many devices to attract its customers.
Main features:
View, create, and edit complex office files, all from a familiar desktop-style user interface.
Support for Microsoft formats, including DOC, DOCX, DOCM, XLS, XLSX, XLSM, PPT, PPTX, PPS, PPSX, PPTM, PPSM, etc.
Additional support for common formats like RTF, TXT, LOG, CSV, EML, ZIP.
Preserve the format and presentation of your documents, being able to use advanced editing functions very little implemented in mobile platforms.
Integrated file browser for quick and easy access to local and remote files, including recent files, My Documents folders, and templates.
You can share through cloud hosting, etc.
Includes support for different keyboard shortcuts, including moving objects and selections.
Zoho Projects
If what you are looking for is an office app to work on confidential matters from your Android phone or tablet, then Zoho Projects is your best choice.
With Zoho Projects you have the advantages of Google Docs and Office Mobile; but without the obligation of having to entrust your information to these technology giants. You can download, edit and create office documents and use cloud hosting. Zoho Projects supports all types of formats and can handle various types of documents. You can sync your files to your Zoho account, so that you can continue working on them from any browser.
Free office
Free Office is an office automation app that is having its push in the field. It integrates three applications within the suite, including TextMaker, PlanMaker and Presentations; which have been a word processor, a spreadsheet and a slide show, respectively. These applications are completely free and have a good number of functions; including support for PDF, TrueType and OpenType fonts, and support for most MS Office file formats.
Free Office is a simple alternative for everyone who is looking for something simple to work with on their work documents.
Conclution
The office applications for Android on this list are so you can make your life easier, making it convenient to work on your files from anywhere. These are mostly for users with a busy professional life, who are looking for the possibility of reducing their stress by working from where they are in their work files.