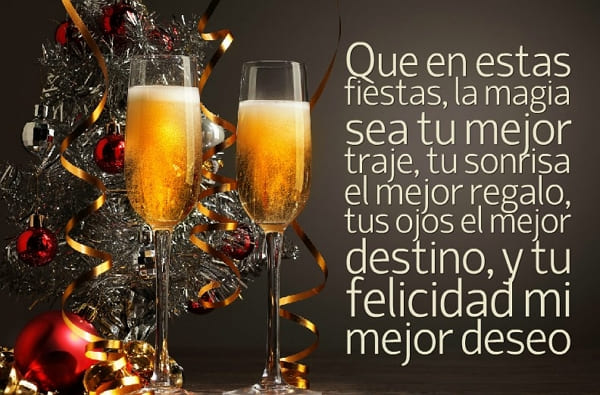 Christmas is a season to share with friends, colleagues and family. December is dressed up with happy music, Christmas dinner, family reunions and the giving of gifts among those closest to you. As it is the last month of the year, many people start making a wish list for their family, friends and partner for the coming year.
Therefore, in this article you will find a list of the best Christmas wishes for both your friends, your family and partner. You can send these wishes by text message, WhatsApp, postcards, emails, etc. The goal is to make this holiday memorable and inspire loved ones to have a year full of goals, hopes, and successes.
Wishes for your family
In these December holidays, family reunions are a fact that should not be missed. Despite everyone's work and different projects, it is a time to get together, enjoy good food, and make good Christmas wishes for the year to come. In view of this, below, you have a list of the messages with motives of love, union and hope:
May these times be one of sharing, reflecting and understanding the good luck we have in being united.
I send you a big hug full of energy, joy, harmony and peace. Merry Christmas!
I wish with all my heart that health always reigns in your home and that you appreciate the little details that life offers you. I love you so much Merry Christmas!
Memories are portals to the past to remember those we have always loved. May your memories allow you to treasure those who are present with you today.
Enjoy Christmas and share it with your loved ones. A big hug from a distance.
I hope that this Christmas peace awakens among us in order to put an end to all the problems that afflict us.
Although you are physically far away, my heart accompanies you wherever you go.
I wish you prosperity, success and many more holidays to share with all the people who love you.
If you want to talk and remember, I'll be here! Between nostalgia and the future, I will always be by your side.
Christmas gifts are those that money cannot buy.
If you don't know what to give, give love to those you love! And if you don't know how to decorate, just smile!
We don't need Christmas magic, because you already give it to us with every gesture every day.
The best thing about this Christmas is your company: Thanks for being here!
The presence of the whole family in the same home is the best Christmas gift. Happy Holidays!
May the holiday of this celebration be just the beginning of a better life.
May the magic of Christmas envelop your home and remain in the family today, tomorrow and forever. A hug. Merry Christmas!
I hope that hope, peace and prosperity reign in your life so that you can achieve all the goals that you set for yourself.
Thank you for making these dates a special moment!
This month is always well received with a smile, because with it, you return. Merry Christmas!
May your heart light up this Christmas when you remember those who are gone, because you will see that they live within you. Merry Christmas!
How beautiful that Christmas has arrived. The moment when memories, pleasant moments, laughter and happiness reign in homes.
I ask that each wish become a flower, each pain a star, each tear a smile and each heart a beautiful abode.
Do you want to know what love is? Don't look at the gift. Look at the hands of the person who gives it to you. There is a real treasure there.
I wish you as much health as there are stars in the sky, as much love as light has the sun and as much success as salt has the sea. Merry Christmas!
Wishes for your friends
The good Christmas wishes from friends can not miss these dates. Over time, many of the friendships become that family that is chosen for loyalty and companionship. Therefore, a list of messages with good wishes will also be left here for your closest friends:
In these Christmas holidays of reunion and joy, I thank God for having had the opportunity to meet you, my friend. Merry Christmas!
Do you know what is better than having you as a friend? To be able to share these moments together! I love you. Happy Holidays.
Don't wait for things to happen. Make them pass!
May the spirit of Christmas envelop you with a lot of love, health, peace and happiness. I wish you that and much more!
If this year he gave you a thousand reasons to cry, it shows that you have a thousand and one reasons to smile.
Let nothing make you suffer this Christmas. I wish you are always happy.
During this Christmas, I want 4 angels to guide and protect you: luck, love, tranquility and health. If you need one more angel, here is my friendship. Merry Christmas!
In these times, I fondly remember childhood moments and understand why our friendship is so special. Thanks for being! Merry Christmas!
On these dates, my family and I wish you the best of health so that you achieve all the goals and dreams that you have in this next year.
May you never miss a book to read, a dream to fulfill, something to learn, a bottle to uncover and a smile to give away. I love you very much!
My Christmas wishes are that you have the perfect amounts of happiness and laughter.
Christmas is the perfect excuse to share with the family, sing at the top of your lungs and enjoy good food. Do you want to come to my house this Christmas?
Cross your arms in the shape of an X over your shoulders. Clever? There you have my hug!
May you never lack the warmth of the people you love the most. Have a beautiful Christmas.
In this freezing weather, I wish that your heart always remains warm with the hugs of those you love the most.
Although the phrases seem to be the same for several years, the good wishes remain sincere and intact. I send you a big hug.
Your friendship is like a star! I can't always see it, but I know it will be there to enlighten me when I need it. I love you!
Look, the reindeer, Santa and Mrs. Claus, the elves, the little virgin, Joseph, the baby Jesus, the mule, the ox, my family and I wish you a beautiful Christmas.
Despite the distance, my heart and mind embrace you and I only wish you have a beautiful Christmas.
If the star of Bethlehem gave me to choose between a million euros and the best friend in the world, without a doubt, I would choose the million euros … And I already have the best friend in the world. It's you! I love you Merry Christmas!
May your seconds be filled with prosperity, your minutes of love, your hours of laughter and peace, joy and goodness always grow in your heart. Merry Christmas!
I will always want the best for your life, on these dates and in the future. You are amazing!
For Christmas: I wish you happiness. For the New Year: I wish you prosperity. And forever: may our friendship last.
May your home never lack the best gift of all: the company of your family, loved ones and friends.
And as the little prince said, the essential is invisible to the eyes. Therefore, I only wish that you have a wonderful celebration surrounded by those who complement and bring light to your life. Merry Christmas!
Wishes for your partner
If you have a partner, it is a good time to wish them good Christmas wishes. That will undoubtedly strengthen their relationship and the bond they have. Therefore, a list will be detailed with some messages of affection, prosperity and love for your loved one:
Santa has come forward with my gift and has brought you. Merry christmas, love!
Everything I was going to wish for this Christmas is already here before they start: it is your company and that of my family.
Let Santa take care of filling your tree with gifts! I will take care of giving you love, understanding and company.
You are my star this Christmas.
I just want to surround you with the most affectionate hug and decorate our home with the best company. Merry Christmas!
I celebrate being able to continue counting on you in this new year that life gives us.
May the magic of Christmas surround you with much peace, wisdom, patience and love. Thanks a lot! I love you!
I want you to keep the essentials that you already have: your humility, your desire to improve yourself and the ability you have to do it with total ease. You are incredible, my love! Merry Christmas!
Your smile is by far the best of Christmas decorations.
May we never lack laughter, enthusiasm and a sense of humor to continue creating history together! Merry Christmas, sweetheart!
An angel has been reported to have escaped from heaven. Don't worry, I won't tell them where you are.
The good thing about Christmas is that I increasingly appreciate having you in my life year after year.
I don't want to ask for anything this Christmas. I prefer to thank your presence in my life. May your life be full of joy and health always!
May the spirit of Christmas enlighten you to achieve all your dreams and goals. I love you! Merry Christmas.
This Christmas, you turn cold days into warm ones.
I toast your presence and celebrate your life! May it be many more Christmases being together.
Don't let the desserts distract you from the sweetest thing in these celebrations: each other's company.
You are a wonderful person who deserves the best of the best. Therefore, this Christmas, I wish life would smile at you in a thousand and one ways.
Recapitulating, and thanking you therefore, I must tell you that you are one of the people I am grateful to have in my life.
Let's celebrate Christmas like a child! Let no wish escape enjoy your innocent joy.
I wish you don't forget to enjoy yourself, don't stop dreaming and don't stop growing.
Let anger turn into smiles and sadness turn into hope, let your flag be love, your language kisses and your routine turn into surprise.
May God always bless you even if you are not by my side. I love you. Happy Holidays!
I only wish that the wind always blows in your favor, love. May the universe be able to give you what you want so much with the actions that you will do daily. May the year that come be better and may we be more united with our hearts! I do not want more. Merry Christmas!
May this year you grow both personally and professionally and continue to illuminate the lives of those around you. Merry christmas, love!
Images with wishes
Images can simplify writing a text. For this reason, this section will show some images with Christmas wishes that you can save on your computer or Smartphone and then share them with your friends and family, through the different social networks that you manage.
As you can see, you have a large number of phrases for you to express your good Christmas wishes to all your loved ones. Surprise them with an unexpected message through the medium of your choice, be it text message, WhatsApp, email, etc. Make the most of this holiday season with your family and friends!