Tutorials
Applications to check the performance of your Android device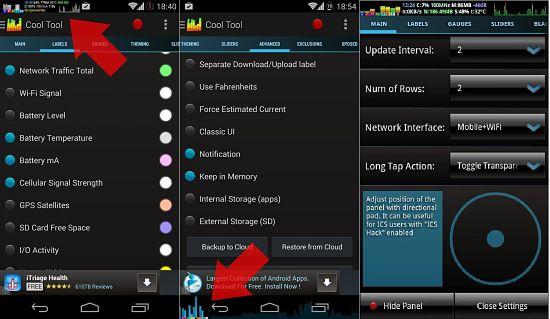 Probably the performance of your Smartphone is satisfactory most of the time, since you can run applications and games without problems. But you may have had those times when your mobile has become unstable, slow and the battery life is less than usual. Many users overlook this, not caring what happens inside their terminals as long as it continues to work. Although you are surely one of those who wonder why the performance of your device has deteriorated lately and that is why you are here.
The Android operating system is renowned for its elegant design and functionality; But when you install and run too many applications at the same time, problems appear. Sometimes some applications can freeze and the CPU processing and browsing speed slows down.
If you want to know everything about the performance of your Android device and its processing, you should know that Android allows you to monitor its performance in real time. There are applications that help you identify various problems with your terminal; including problematic WiFi connections, apps that consume a lot of battery, irregular behavior of the CPU or any background process that is consuming all the battery of the device. Next I will present the list of applications that you can use to monitor the performance of the system on your Android Smartphone.
Apps to check the performance of your Android device
Elixir 2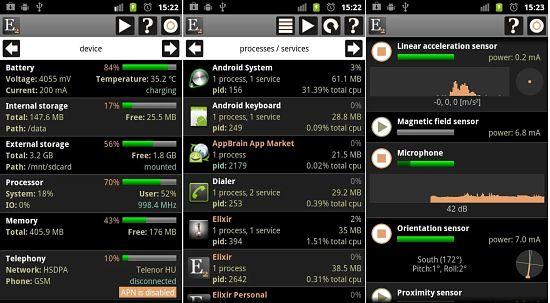 Download Elixir 2
Elixir 2 is a system information application, with which you can find out all the information about your computer's hardware and software. In terms of hardware, it includes battery, CPU, memory, telephony, WiFi, Bluetooth, internal and external storage, screen, camera, video, USB, input devices, etc. On the software side, it includes information about the operating system, settings, accessibility, synchronization, and much more.
With this app you will be able to see the processes that are running or the recent ones, process log, kill background processes, total CPU, network traffic and more. You will also be able to monitor the reading of the sensors in real time and obtain in-depth information from your device.
Antutu Benchmark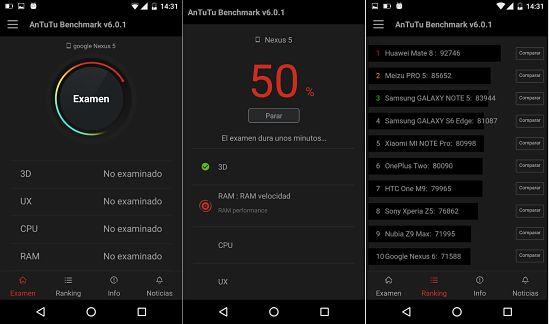 Download Antutu Benchmark
This is one of the most popular performance benchmarking apps on Android. With Antutu Benchmark you will be able to check the performance of your Android smartphone or tablet effectively. The application exhaustively checks all aspects of your device, including CPU, GPU, RAM, etc., and after the evaluation it will give a score that will then be used to rate your terminal.
AnTuTu Benchmark can evaluate your phone's memory performance, processor speed, 3D rendering capacity, memory card read and write speed; and then it will let you compare your smartphone with others. It is an app that is being used by many amateur phone analysts. If you want to know in depth information about the CPU, GPU, memory and gaming performance of your Android phone, then this is the tool you need.
OS Monitor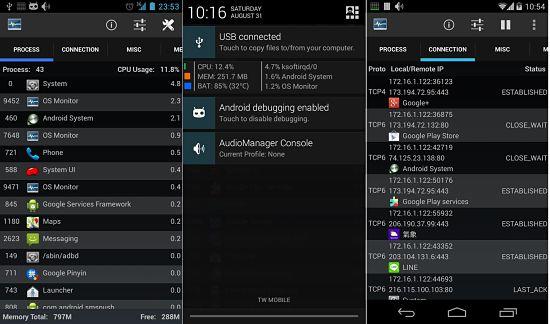 OS Monitor is another very good application to monitor your Android device. You can monitor all processes and show every connection. It is very easy to use, providing all the necessary information about your device; monitoring battery, network interfaces, file systems, processors and more in real time.
System Monitor Lite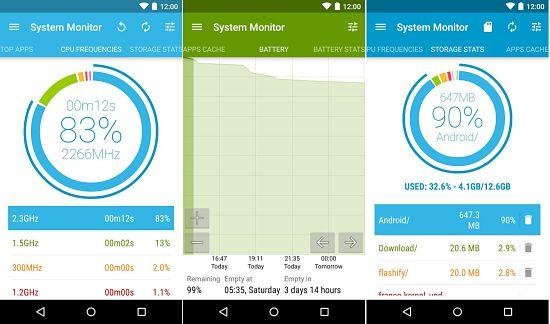 Download System Monitor Lite
System Monitor Lite is one of the most versatile performance monitoring applications on Android. With it you can easily monitor CPU, RAM, battery, network, input and output devices, applications, and more. Save and schedule monitoring sessions in the background, and also provide battery life estimate.
You can choose to monitor total CPU usage or by individual CPU cores for real-time performance. System Monitor Lite is undoubtedly one of the best providing real-time system load statistics, to have a better understanding of your device.
CPU Temperature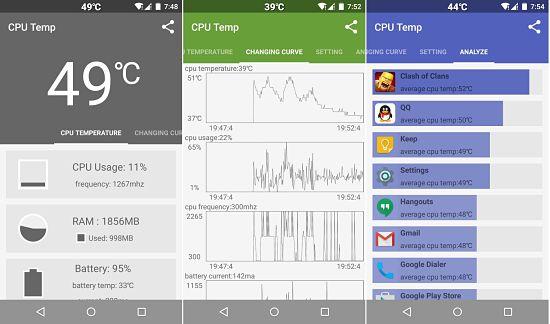 Download CPU Temperature
With CPU Temperature you will be able to know how hot your Smartphone really is. It allows you to monitor the CPU temperature and the clock speed of your Android mobile or tablet; and it tells you exactly when these parameters are abnormal. It will also let you know the charge level and battery information; all through various graphs to understand changes over time easier and better. It also includes a CPU temperature pressure test to monitor processor pressure, temperature usage, and frequency change.
Cool Tool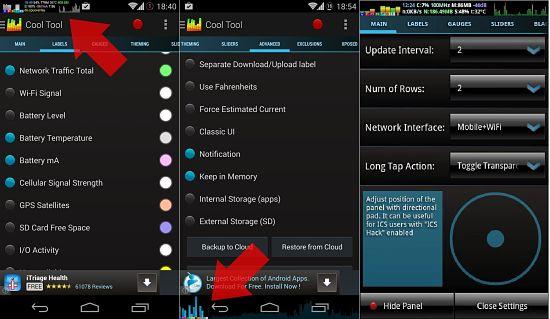 Cool Tool is a system monitoring tool that will allow you to monitor various information about your mobile phone through a mobile window. Includes CPU usage meter, available RAM meter, CPU frequency indicator; also battery temperature, battery charge, I / O activity, app closer, audio and video equalizer, etc.
With this utility you can easily diagnose many system problems and monitor internet traffic.