Tutorials
Amazon Prime Music: what it is, what it is for and how it works

Amazon Prime Music is Amazon's music platform subscribed to the Prime plan. This, together with other services, such as Amazon Photos, Amazon Prime Video and Amazon Prime Now, are part of the payment plan offered by the best-known online store in the world. It offers an immense catalog of songs that you can listen to on all your favorite devices, since it has a versatile platform that adapts to both Smartphones and computers.
In this sense, you can use it as an application on your cell phone, whether you use Android oriOS or, if you prefer, from the Windows or Mac computer. It can also be used in other Operating Systems, from the browser. It is important to clarify that Amazon Prime Music should not be confused with Amazon Music Unlimited, because, although they are part of the same company, the latter requires an additional subscription.
What is it for
Amazon Prime Music is used to access music content by different artists, stored in playlists or stations selected by their developers. It does not include advertisements or annoying interruptions, so you can spend many hours of entertainment, listening to your favorite songs. However, you must take into account the monthly time limit when using the platform.

How does it work
To use Amazon Prime Music you must have an account within Amazon.com, which you can quickly create by followingthis link. The only thing you will have to provide will be your first and last name, email and password to access the account. Later you will have to activate it from the attached button in the Amazon message sent to the email in question. When everything is ready, you will be asked for some additional information, such as country of origin and payment method.
Now, once you have a profile on Amazon, you must subscribe as a Prime customer to be able to access the benefits of that service. To do this you simply have to hover over the " Prime " option in the upper options bar, this will take you to the billing window, where you can decide between paying with a credit card or adding your bank account.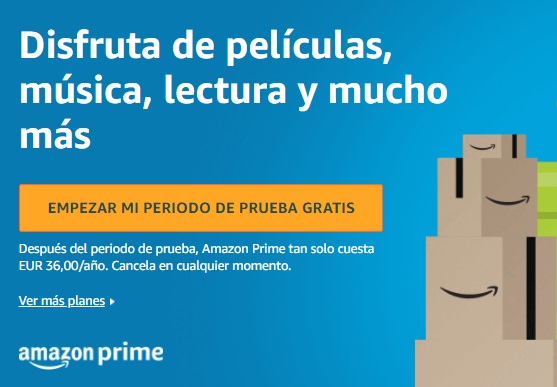 Keep in mind that, for the latter you need the BIC and IBAN codes, which you can obtain by calling the corresponding bank or looking in the bank statements. When everything is ready, you can start using Amazon Music Prime without any problem.
How much
The Amazon Prime Music subscription is attached to the Prime service, at no additional cost or payment. In other words, the fee is € 3.99 / month, which is equivalent to € 36 per year. It is worth mentioning that, at the time of subscribing, you will have 30 days of free use to check if the contracting of the service is what you really want, they can be canceled at the time you want.
Compatible Devices
Amazon Prime Music is a versatile platform that can be used from different devices. Either as a mobile application, from a Smartphone Android oriOS, and the web version on computers laptop or desktop, Windows or Mac. However, the latter can adapt to any browser or OS using the browser of your choice on your computer.