Tutorials
5 programs to clone a hard drive or create an image in Windows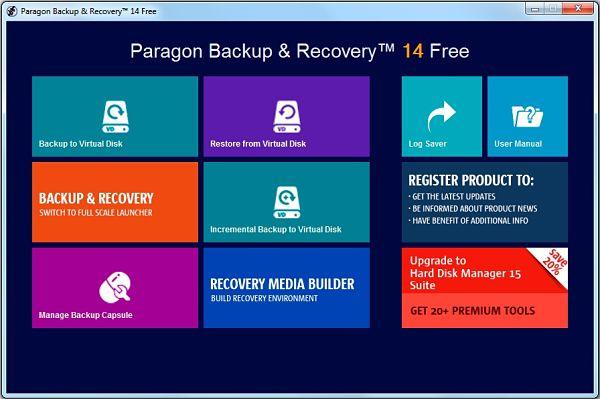 It is very possible that at some point you will have to recover from a disaster on your computer. If at that moment you have an image of your hard drive, the process will be much less traumatic and you will be able to get your system up and running as soon as possible. For this there are various programs to clone a free hard drive.
In this post I will show you 5 applications that you can use totally free, which can do an excellent job to create disk images or clone your hard disk.
What is cloning a hard drive?
Cloning a hard drive is the process of creating an exact replica of your hard drive or your system on another drive. Since hard drives can fail at any time, this is the best way to be prepared for such a disaster. With the cloned disk, you can quickly recover the system to practically 100%. For this you need a good hard drive cloning program .
But in addition to preparing for an eventual catastrophic failure, there are other advantages to cloning a hard drive. Among them we can mention the ease of moving from a system disk to another disk, either to another disk with a higher capacity or to an SSD disk.
Programs to clone hard drive
Here is a list of programs that you can use to create or clone a disk image.
1. Clonezilla
Clonezilla is a hard drive cloner that has earned a reputation for respect for many years. Although during the cloning process it is very similar to a bootable Linux distribution with an old-fashioned appearance, this program is still one of the most preferred by users, due to its great performance and it is free.
Besides disk cloning, Clonezilla also offers the functions of creating images of the hard disk and disk partition. The program can be run from a Clonezilla live CD, or in a more up-to-date approach, run from a pendrive or USB stick.
It has a built-in unattended mode and multicast support. Clonezilla could easily be the most powerful free hard drive cloning program you can use. If you need to clone multiple computers quickly, Clonezilla SE can clone 40 machines at a time simultaneously.
2. Macrium Reflect Free
Macrium Reflect Free bills itself as one of the fastest disk cloning utilities available today. It only supports Windows file systems, but it does the job very well and has a fairly straightforward and simple user interface.
With this application you can easily create disk images or clone the hard disk. You can also access the images from the file manager and create a Linux rescue disk.
Among the features of Macrium Reflect, we could highlight the following:
Supports the essential task of direct disk cloning.
Provides restoration of a system that will not boot.
Backup scheduling with flexible templates.
Disk imaging of a running system.
Unlike other programs, its free edition is licensed for home and commercial use.
In its paid domestic edition, it adds the functions of encrypting backups, creating incremental backups and protection against ramsomware.
3. DriveImage XML
runtime.org/driveimage-xml.htm" target="_blank" rel="noreferrer noopener">DriveImage XML is an ex, with which you can create an image of your system or backup the drives and partitions of your computer. It uses Microsoft VSS to create disk images, and it does so with reliability you might not expect from a free tool. It can also hot image, which means you can clone a disk that is in use.
Among the features of DriveImage XML we can highlight:
Ability to backup and restore images to the same disk or to a different one
Automatic backups can be scheduled so that you have all the recent information backed up.
When creating hard disk images, the program uses Microsoft's VSS (Volume Shadow Services), so you can create hot images of drives in use.
The images are saved in XML format, so you can access them using any third-party software that is compatible.
DriveImage XML can restore a disk image to a machine without the need to reboot the system.
4. Runtime ShadowCopy
ShodowCopy sacrifices its interface design for simplicity. When using this tool you don't need to do a lot of things, just decide what you want to clone and where you want to store or save the image. ShadowCopy uses VSS, so you can even copy locked files on a running system. You can copy a single file or an entire system with just one click.
5. Paragon Backup & Recovery Free
paragon-software. is for standalone Windows computers. It does an excellent job with scheduled system image manipulation. Its free version is based on its powerful professional version, but it is for personal use only. It is advisable to use the free version to test the software, and if it meets expectations, then purchase the professional version.
Use a hard drive cloner
Don't wait for disaster to come. It is always good to have a backup or backup of the system, in case chaos takes hold of the situation. By cloning the hard drive we make sure we can recover the files and the computer settings. In this way, we are protected against eventualities such as disk failure, system failure, accidental or incidental loss of files, etc.
With the tools presented in this post, you can ensure some immunity when cloning your hard drive. If a catastrophic failure occurs, you can quickly return your system to normal. I hope this post has been useful to you. If you think we should add some similar utility to the list, don't forget to share it through the comments section.