Windows
You can still upgrade from windows 7 to windows 10 for free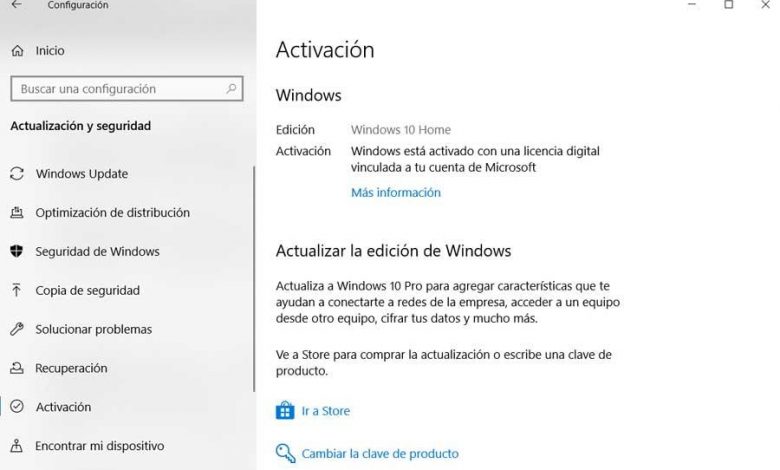 Windows 7 has its days numbered. Starting in January 2020, Microsoft's veteran operating system will no longer receive all kinds of support, not even security updates. For this reason, Microsoft insists on the importance of updating, before it is too late, to its new operating system. And still, there are a lot of users who still inadvertently make the leap to one of the newer versions of the operating system. Users don't trust Windows 10.
Windows 10, Microsoft's latest operating system, can have a lot of bad stuff. The company collects a lot of data through it (although everything is optional and anonymous). Some users claim that, although the minimum requirements are the same as those of Windows 7, this new system is slower and performs worse than Windows 7 in games. There are also many problems with updates, both with the monthly and with the large ones, those of every 6 weeks.
And of course we cannot forget the fact that users have paid for a Windows 7 license and now they don't want to do it again for a Windows 10 license. Fortunately, Microsoft has a remedy for the latter.
Free upgrade to Windows 10 is possible since 2015
When Microsoft released the first version of Windows 10, all users with a valid Windows 7 or Windows 8.1 license could easily upgrade to Windows 10. In this way, the operating system would be fully activated and legal without having to pay for it. new for a new license (licenses that are also not cheap).
In theory this was going to be a one-year promotion. After this period, users would no longer be able to update their licenses for the new version of the operating system for free and would have to go through the checkout. Although this little "offer" has never ceased to exist.
After Microsoft's official year, the company allowed free upgrades to Windows 10 through its accessibility tool. Although this tool was intended for disabled users, anyone who wanted could take advantage of it and upgrade their Windows 7 to Windows 10 for free.
And although 4 years have passed since this, today there are still ways to go from Windows 7 to Windows 10 completely free of charge and, moreover, 100% legal.
What to do before updating
The upgrade process from Windows 7 to Windows 10 is already very clean. However, it is advisable to follow a series of recommendations to minimize the probability that something can go wrong and we will have problems.
The first thing we must do is make sure that we have our Windows 7 updated with all the patches published until its end of support. In this way we will be solving small code bugs that may lead to problems when updating. In addition, we must also make sure that we have the most up-to-date drivers possible, thus avoiding possible compatibility problems.
Next, we must uninstall any old program that may cause problems from Windows. If we have all the programs installed in their most recent versions, we can skip this step, since if any of them give problems, the wizard itself will uninstall it. What we should uninstall is the antivirus and the programs that may cause conflicts with the update process. Windows 10 comes with Windows Defender as antivirus by default, so we will be protected from the first moment.
It is also advisable to disconnect all the peripherals that we have connected by USB to the computer, such as USB memories, external hard drives, printers, etc. It is recommended to leave the PC as clean as possible, with keyboard, mouse, network cable, HDMI and nothing else.
Last but not least, we must make a backup of our data. It is rare that if we have followed the steps above, the update process fails. And if it does, it will return to Windows 7 and we will have the computer as it was at the time of starting the update. However, there is always a small chance that something will go wrong. And, therefore, it is highly recommended to have a backup of our most important data. For what it could happen. Better safe than sorry.
Free upgrade to Windows 10 from the media creation tool
Microsoft has controlled the accessibility hack to prevent users from abusing it. However, the company has left other small doors open so that everyone who wants to can continue to update to the new version of the operating system for free.
The first thing we must do to do this is check that we meet the minimum requirements of Windows 10 to be able to install it. If we have Windows 7 installed, the safest thing is that we will not have any problem updating.
The next step will be to know which edition of Windows 10 we are going to upgrade to. Depending on the license, this will translate into one or another edition of Windows 10.
Once this is done, what we must do is  download the media creation tool, something we can do from the following link.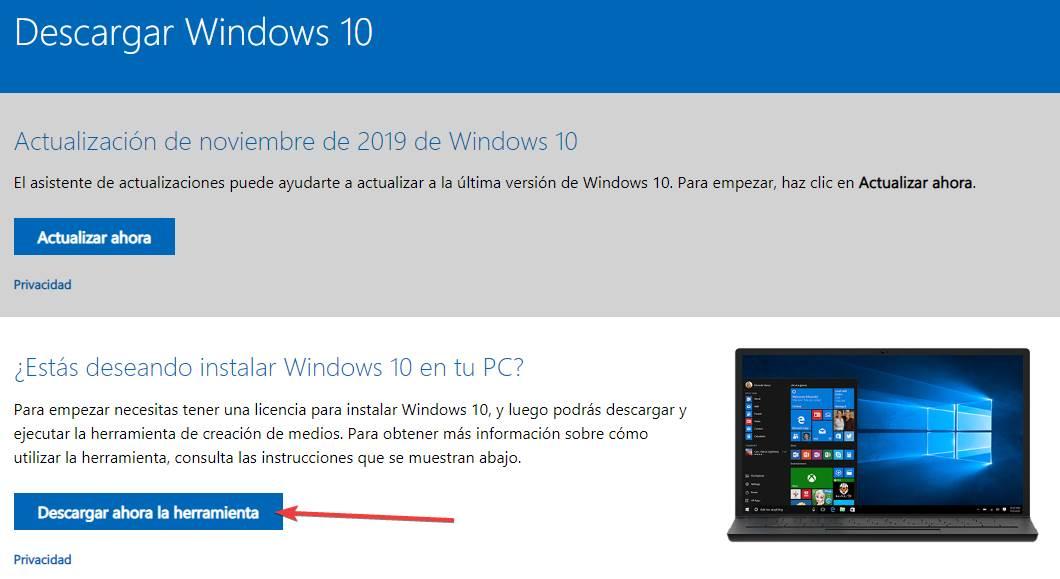 This tool will give us the possibility to choose if we want to update our PC now or create an installation medium. We will choose the first option.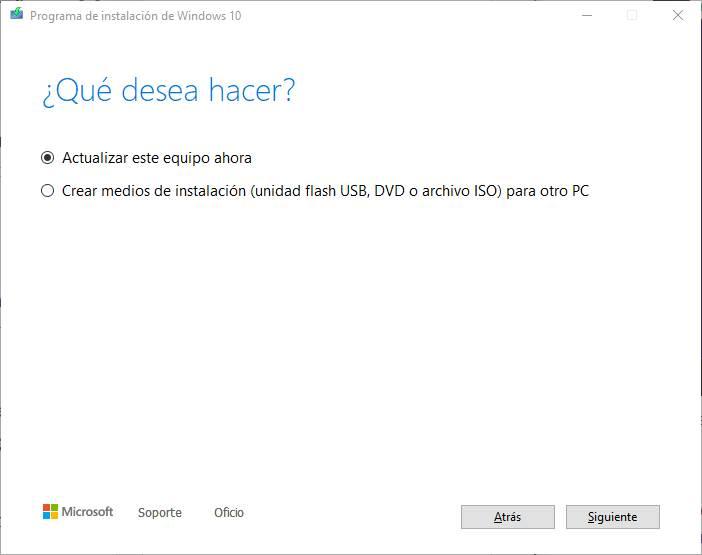 We continue with the wizard and, as we will see, we will not be asked for a license. And in the rare case that it asks us for a password, the one we must enter is the one for Windows 7 or Windows 8.1, the password for our computer.
The process of upgrading from Windows 7 to Windows 10 is long, so we must wait patiently. And if all goes well, it will also respect all our programs and our personal files.
When finished, we can start using Windows 10. And, as we have seen, the operating system will be fully activated. If we log in with our Microsoft account, the license will be linked to the cloud, so we will never lose it (except if we have an OEM license and change the computer hardware).
When the installation is finished, we recommend going to the Settings> Update and security> Activation section to check that our Windows is correctly activated.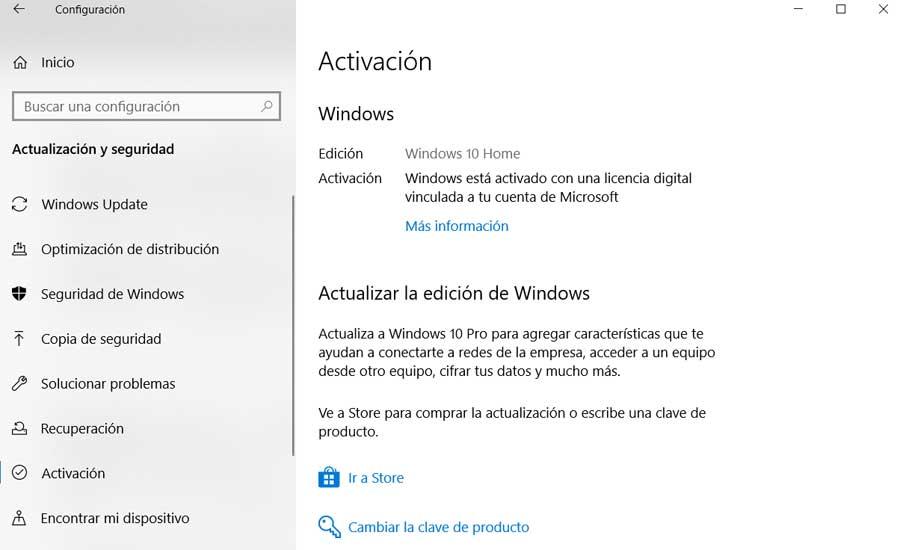 The key has already been linked to the Microsoft Account. Now, if we want, we can format and install Windows 10 again on our PC, since it will be activated automatically after installing it and logging on to the PC.
Why am I getting an error when upgrading from Windows 7 to Windows 10? Solutions
Microsoft has fixed many of the compatibility issues that were preventing you from upgrading to Windows 10, but not all. This operating system still has some compatibility problems with older software, and therefore if we have an incompatible driver it may be the reason why we cannot update our computer. It is recommended to install the latest version of all drivers before proceeding to reduce the likelihood of something going wrong.
Uninstall the antivirus
Perhaps the culprit of this is also some program. Especially if we use old versions of any antivirus. If we plan to update our computer to Windows 10 and we do not want problems, it is best to temporarily uninstall the antivirus. When we install the new operating system it will come with Windows Defender by default, so we will not have to worry about viruses.
Disconnect non-essential devices
Before starting the installation, try to disconnect all non-essential hardware, those devices that are not necessary for the equipment to turn on and work. In case we are installing Windows 10 from a USB memory, we will try to disconnect it once the system starts for the first time after starting the installation.
Update drivers
It is also very important to  update all the drivers of our computer, especially the chipset, the audio, the network, USB and the graphics. Old drivers are one of the reasons why the update process is canceled the most and can give an error. We can update them by hand, or use software, such as IObit Driver Booster, to bring our entire PC up to date.
If we want to know if we will have any compatibility problems, in the following link we can see a complete list with all the compatibility problems, software and drivers, recognized by Microsoft. And also its possible solutions.