Windows
Windows build 20279 is coming just to see if it can be updated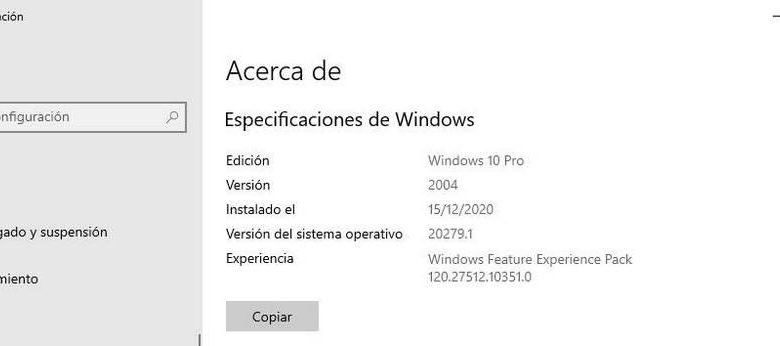 The new Insider versions of Windows 10 usually arrive on Thursday or Friday of each week. However, this time it was different. This same Monday, Microsoft has released a new compilation by surprise for all users pointed to the Insider channel DEV, build 20279. However, much more surprise has been to find that this new compilation does not bring, literally, any change. What has been its purpose?
FE_RELEASE, the person in charge of this new build of Windows 10
Currently Microsoft carries two types of updates. On the one hand we have the RS_PRERELEASE, updates that correspond to a specific version of the operating system, and on the other we have the FE_RELEASE, builds that add changes but without pointing to a specific version. This new build 20279 corresponds to these second ones.
After releasing build 21227 and build 20277 last week, this week Microsoft has just released the new build 20279. In terms of code, this compilation is identical to build 20277, so it does not bring any changes or news that did not come to this new branch last week. The 20xxx builds belong to the FE_RELEASE, while the new 21xxx belongs to the RS_PRERELEASE.
After making the leap to RS_PRERELEASE versions last week, Microsoft wanted to make sure that nothing was broken in their update system and that users could still receive new FE_RELEASE builds. So the best way to test it was to release a dummy update, the new build 20279.

While the new development branch RS_PRERELEASE belongs to 21H2, the second 2021 update for the operating system, the FE_RELEASE branch does not have a specific goal. Some of the changes may belong to version 21H1, while others may be part of the development of Windows 10X, the new operating system that will arrive in the first half of next year.
Changes to fix in build 20279
Although this new build of Windows has not brought any changes, Microsoft has updated the list of known errors that are still pending to be fixed:
Microsoft continues to investigate why the update process hangs for many users for long periods of time when installing new versions.
Pinned website previews are not enabled yet.
The new taskbar experience still doesn't work properly.
Microsoft is working on a solution to error 0x80070426 when logging in with the user account in different applications.
The disk and volume manager does not display some drives correctly.
These bugs and problems will be the next to be fixed before the release of future operating system updates. Of course, we remember that, except for new surprises, Windows 10 should not receive new updates until next January, since Microsoft said that it was going to dedicate that period of time to rest and plan future updates.
Starting on January 12, the second Tuesday of the month, Microsoft will resume all its updates, both security and cumulative and of the Insider program for previous versions of Windows 10.